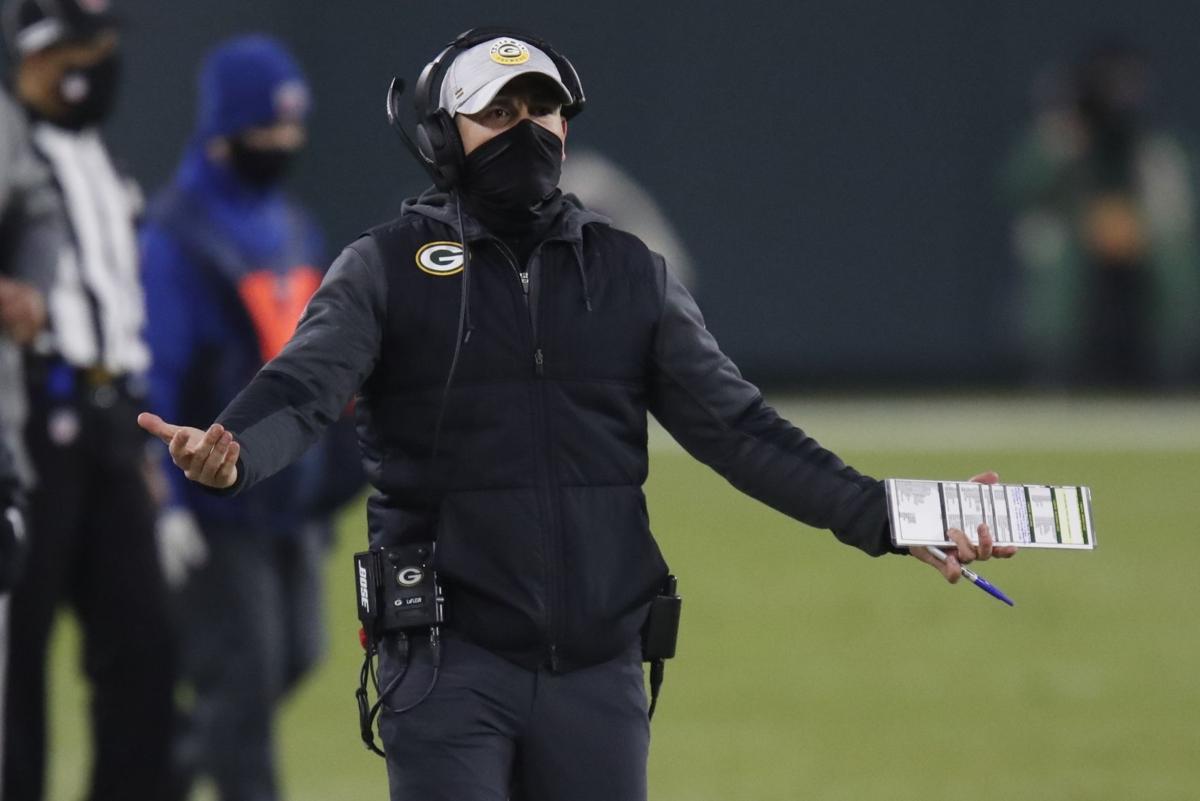 GREEN BAY — The Green Bay Packers' 2021 coaching staff is set, with two trusted position coaches having received coordinator designations — and, presumably, pay raises — to reward their groups' performances last season.
Having fired special teams coordinator Shawn Mennenga and parted ways with defensive coordinator Mike Pettine following the team's Jan. 24 season-ending loss to the eventual Super Bowl LV-champion Tampa Bay Buccaneers, Packers head coach Matt LaFleur took just over a month to finalize his reconstituted staff.
In addition to hiring Joe Barry as his new defensive coordinator and promoting Maurice Drayton to special teams coordinator in a pair of moves that were already announced last month, LaFleur gave offensive line coach Adam Stenavich, a rising star in the coaching ranks, an additional title on Monday as the team's offensive run-game coordinator.
Veteran defensive backs coach Jerry Gray, a well-respected defensive voice and an internal candidate to replace Pettine, was given the defensive passing-game coordinator title.
LaFleur also promoted Rayna Stewart from special teams quality-control coach to assistant special teams coach, and promoted Connor Lewis from offensive quality-control coach to special teams assistant/game management specialist.
Four new coaches were also hired: John Dunn as a senior analyst, Justin Hood as a defensive quality control coach, Ryan Mahaffey as an offensive quality control coach and Tim Zetts as an offensive quality control coach.
Dunn is the most experienced of the new hires, having spent the past two seasons coaching tight ends for the New York Jets after spending two years as an assistant with the Chicago Bears.
The remainder of the staff remains intact, including outside linebackers coach Mike Smith, who will return to his role for a third season despite his mentor's departure. Smith has spent most of his NFL coaching career working with Pettine, having played for him in Baltimore and coached under him with the New York Jets before joining the Packers staff in 2019.
Nathaniel Hackett – Offensive Coordinator
Luke Getsy – Quarterbacks/Passing Game Coordinator
Adam Stenavich – Offensive Line/Run Game Coordinator
Justin Outten – Tight Ends
Ben Sirmans – Running Backs
Jason Vrable – Wide Receivers
Luke Butkus – Assistant Offensive Line
Ryan Mahaffey – Offensive Quality Control
Tim Zetts – Offensive Quality Control
Ruvell Martin – Coaching Assistant (Minority Fellowship)
Joe Barry – Defensive Coordinator
Jerry Gray – Defensive Backs/Passing Game Coordinator
Jerry Montgomery – Defensive Line
Kirk Olivadotti – Inside Linebackers
Mike Smith – Outside Linebackers
Ryan Downard – Assistant Defensive Backs
John Dunn – Senior Analyst
Wendel Davis – Defensive Quality Control
Justin Hood – Defensive Quality Control
Maurice Drayton – Special Teams Coordinator
Rayna Stewart – Assistant Special Teams
Connor Lewis – Special Teams Assistant/Game Management Specialist
---
Photos: Packers' 2020 season in pictures
Photos: Packers' 2020 season in pictures
Check out photo galleries from every game of 2020 through the end of the regular season and the playoffs.
"We're not closing the door for anything...but yeah it definitley feels weird. Looks like all signs are pointing towards snapping the ball somewhere else next year."

Free Agent C @Linsley71 discusses free agency and the Packers

⬇️AUDIO⬇️ pic.twitter.com/dNh6eCbG3P

— SiriusXM NFL Radio (@SiriusXMNFL) February 25, 2021