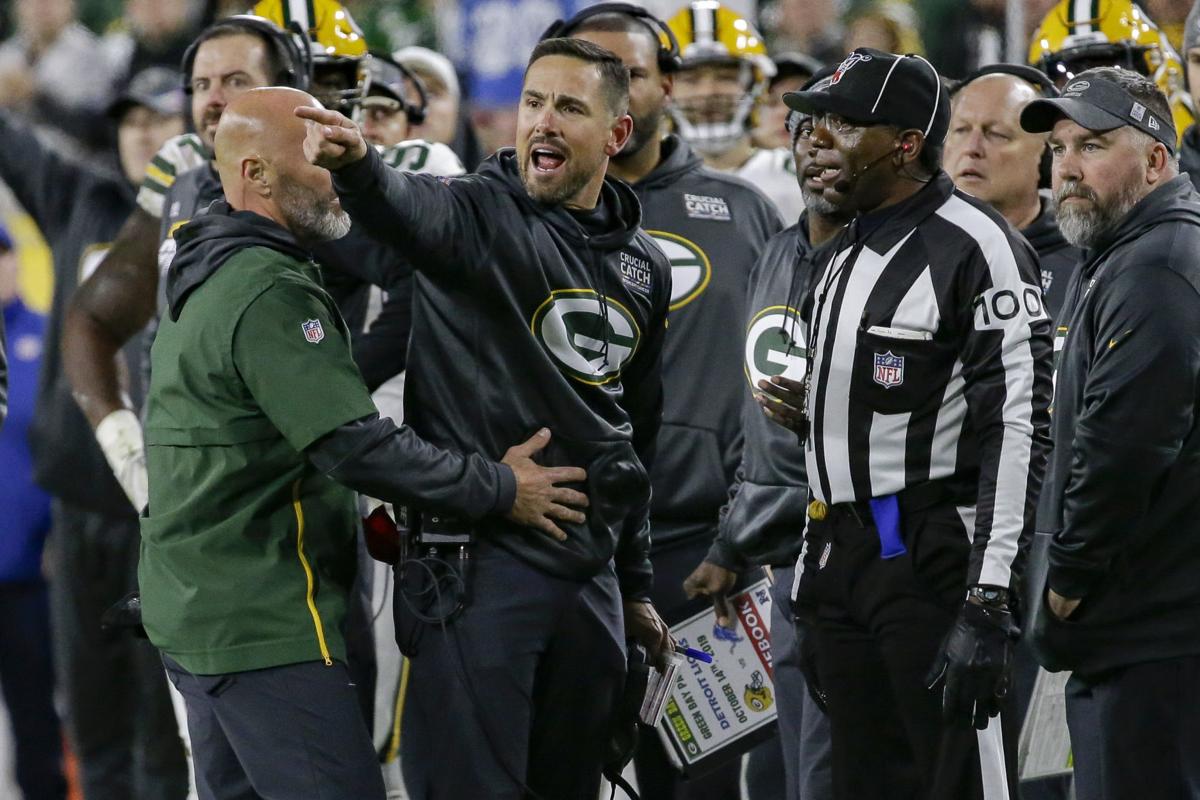 GREEN BAY — Matt LaFleur isn't sad about the demise of the NFL's misguided one-year experiment with coaches being able to challenge pass-interference penalties.
NFL coaches — led by New Orleans Saints' Sean Payton — pushed hard at last spring's NFL meetings for such plays to be reviewable after a blown pass-interference call cost Payton's Saints a trip to the Super Bowl in the 2018 NFC Championship Game against the Los Angeles Rams. The rule was passed on a one-year experimental basis, and last month the NFL competition committee declined to endorse its renewal.
NFL executive vice president Troy Vincent acknowledged during an interview with NBC Sports last week the rule had "failed miserably," saying, "You can't rush and just shove something in there without knowing all the consequences. And we found that out last year."
LaFleur was among the coaches mystified by the inconsistent nature of how calls were reviewed and judged. After two questionable non-calls in the Packers' first loss of the season against Philadelphia in late September, LaFleur said he sent the Packers' final offensive play into the league office looking for a better understanding as to why the play wasn't reviewed by the replay official in the final 2 minutes of the game for possible pass interference.
LaFleur also was frustrated by another non-call on an earlier pass to Marquez Valdes-Scantling down the sideline that appeared to him to be textbook pass interference but was not flagged. LaFleur challenged the lack of a pass-interference call, but the call on the field was upheld by replay. After the game, LaFleur vented, "I really don't know what pass interference is anymore."
LaFleur said Thursday he likes the idea of having an additional official serve as the "sky judge," a concept that league owners approved to be implemented on a trial basis in preseason. The sky judge would allow for real-time communication between the officials on the field and one upstairs in the booth above the field with access to video.
"I know that the whole 'sky judge' (idea) has been kicked around and I understand the challenges with that, as well," LaFleur said. "I would certainly love to see that implemented in some form on a trial basis, whether it's in the preseason (or regular season).
"It's really the egregious missed calls that you're trying to eliminate, if you can have somebody upstairs that can see it. It's not meant for the ticky-tack calls. I think that would be the best way, just to experiment that way. I know that was kicked around two years ago at the owner's meetings, but it obviously didn't go through."
LaFleur was also intrigued by the proposed fourth-and-15 alternative to onside kicks, an idea that was tabled by league owners during their virtual meeting Thursday. The thought there was to give teams another way to get the ball back given how less successful onside kicks have been since rule changes to kickoffs were implemented two years ago.
"I think it would be interesting," LaFleur said. "We're going to adjust and adapt to whatever the rules are. There were some unintended consequences with the changes to the kickoff rules, and the onside kick was one of them. It's just extremely hard to get them now. Yeah, I'm all for whatever we think is going to help make the game as interesting as possible."
During his 25-minute interview, LaFleur also touched on myriad other topics, including:
On his relationship with quarterback Aaron Rodgers following the team's first-round selection of Utah State quarterback Jordan Love: "I think you're always working on that relationship no matter who you pick. We've had so many good conversations prior to the draft, after the draft. Obviously I've spent a lot of time with Aaron throughout this virtual offseason. We talk four times a week whenever we get those opportunities to meet in those individual meetings, and I feel really good about where we're at. We both understand that this is a business. When that whole thing went down, it was just one of those situations where there were a couple of guys we had targeted that had just previously been picked and Jordan was the next guy on the board. And so we went with the best player at the time."
On how Love is progressing without any on-field practices so far this offseason: "Anytime with a young quarterback, there's so much to learn. Obviously you'd love to have him in the building so you can put him through the proper fundamentals, because I think when you look at the quarterback position — and all positions really for that matter — it all starts with the fundamentals. So we have got to try to show him as many good examples of what it looks like because the challenge is, he's going out on his own and working those different techniques and fundamentals, but you're not there to be able to correct him or show him the right way."
On what it would have been like had the COVID-19 pandemic hit last year and forced him to do a virtual offseason program as a rookie coach: "I don't even like thinking about it. It brings on anxiety. I wouldn't even know what to do or how to handle it. Obviously, you've got to make the best of the situation and make sure that you're getting the information to your players. Not getting a chance to have them in the building, to practice with them, I look at our install from a year ago to now and how vastly different it is — more so on the offensive side of the ball, but certainly there were tweaks made from a defensive standpoint, as well. It would be an enormous challenge."
On where the Packers' offense can most improve: "If you look back at last season, I know that one area that we really need to improve upon is creating more explosive plays. We were pretty efficient as an offense. I think we were fourth in efficiency, but we were 23rd in explosive plays. I think it does start with the play-calling — maybe taking a few more chances to try to help generate those plays down the field. Typically, if you're getting explosives, you've got a much better chance at scoring points."
Be the first to know
Get local news delivered to your inbox!