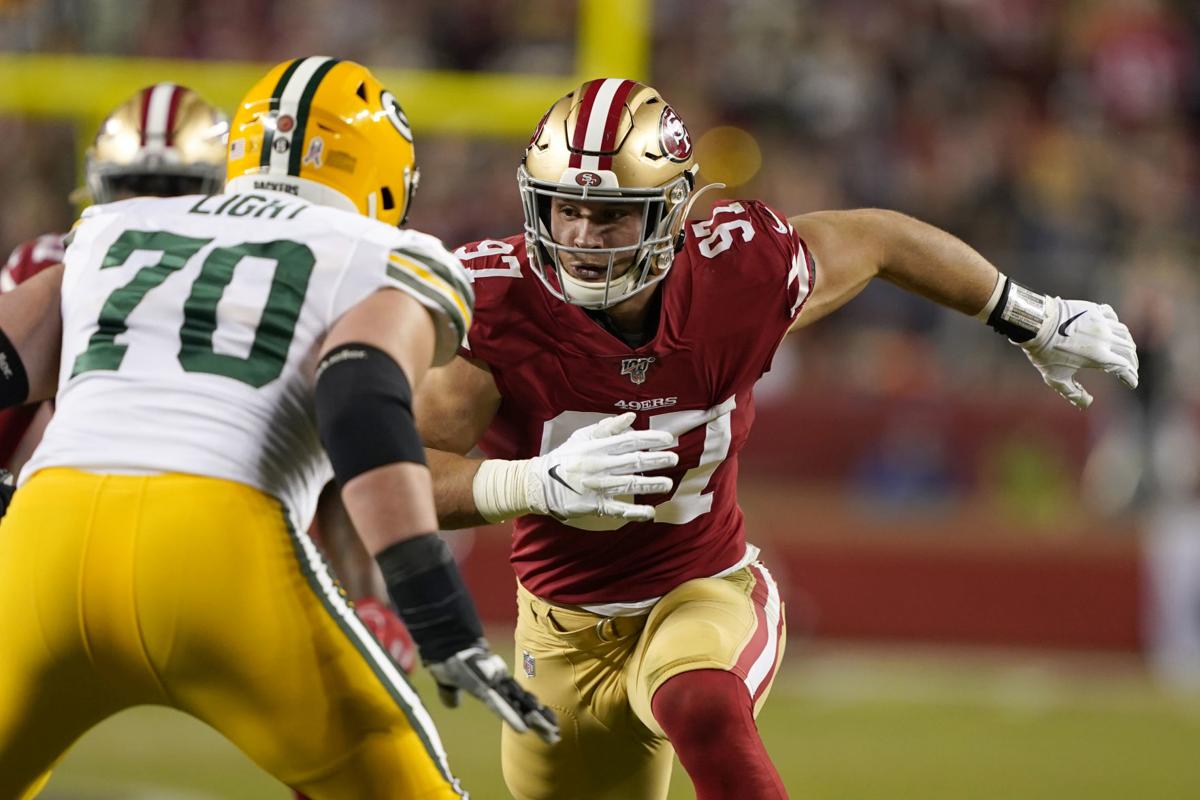 GREEN BAY — While Bryan Bulaga's right knee injury is not season-ending, it is significant enough that the Green Bay Packers veteran right tackle will likely miss multiple weeks — including next Sunday's game against the New York Giants at MetLife Stadium.
But while head coach Matt LaFleur went to second-year swing tackle Alex Light after Bulaga went down during the team's 37-8 loss at San Francisco, LaFleur said Monday that he's considering alternatives – which likely means he and the offensive coaches are mulling moving veteran right guard Billy Turner to right tackle and bringing someone else off the bench to take over for Turner at right guard.
Asked if having a full week of practice with the starters to prepare for the Giants would help Light perform better than he did against the 49ers, LaFleur agreed that it would. But he then offered up the fact that the coaches were considering a change with Bulaga sidelined.
"I think definitely that will help," LaFleur replied. Then, he added, "We've got some other thoughts potentially to make sure that we put our best five out there."
If the Packers do move the versatile, experienced Turner, who has played all four non-center offensive line spots in his career, the logical option at right guard would be Lucas Patrick, who filled in earlier this year for center Corey Linsley and has experience at all three interior offensive line spots.
You have free articles remaining.
When Bulaga suffered a shoulder injury after playing 30 snaps during a Sept. 26 loss to Philadelphia, Light came on in relief. And when Bulaga suffered a finger injury Oct. 28 at Kansas City and missed the final 13 offensive snaps in that game, Light again got the call.
But Light struggled against the 49ers' formidable pass rush and admitted after the game that he didn't play well.
"It's my job to be ready at all times. Bryan went down, and I had to step in. (I) didn't get the job done good enough," Light said. "I've got to come in (Wednesday) and be critical of myself and move on to next week. Just got to do better."
Bulaga, who has sustained two ACL tears during his career, including a right ACL tear that ended his 2017 season, avoided another ACL injury against the 49ers, an NFL source said. But the NFL Network reported that his injury is a sprained MCL, which can take several weeks to heal. Bulaga left Sunday night's game after just nine offensive snaps, and Light played the final 71.
"It's tough coming in in the middle of that game especially against that front, but with a week of preparation, I have all the confidence in the world in Al," said Linsley, who also didn't play well against the Niners. "He's a great guy and we have a bunch of a great dudes in that room."
Asked Monday how he thought Light played, LaFleur replied, "I think there was some good, and overall I would say this: That was probably our worst game up front all season, overall. It wasn't good enough. Again, I always want to look at myself critically and making sure that we're doing everything in our power to make sure we're putting those guys in good position. And I don't think we did. That's on me."