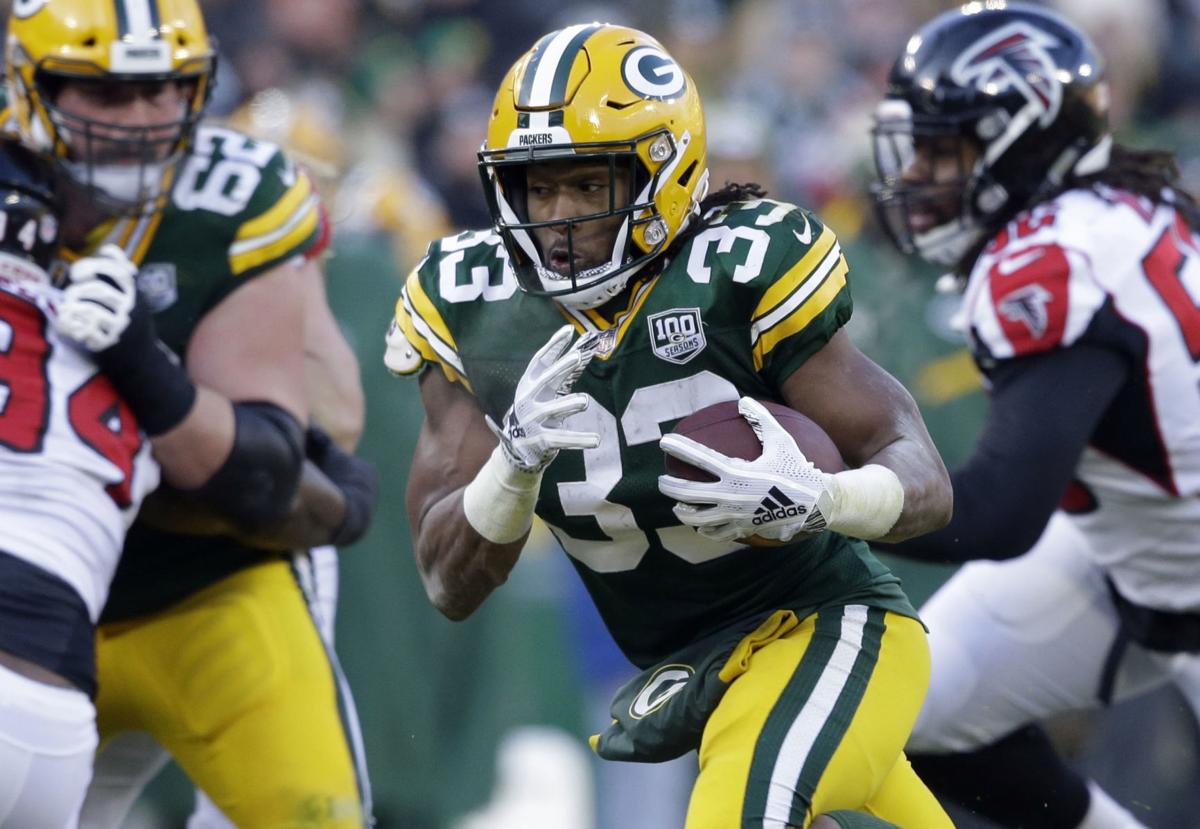 GREEN BAY — Ben Sirmans knows his old boss meant it when he'd say he wanted to run the ball more.
Sirmans, entering his fourth season as the Green Bay Packers running backs coach, was one of a handful of offensive position coaches retained by new coach Matt LaFleur from Mike McCarthy's staff.
But while Sirmans enjoyed his time working for McCarthy and appreciated McCarthy giving him the opportunity to come to Green Bay in the first place, Sirmans also knew McCarthy — especially with two-time NFL MVP Aaron Rodgers at quarterback — was a pass-first play-caller at heart.
McCarthy was fond of saying his offense was predicated on making the quarterback successful, and his play-calling revolved around that. LaFleur said something similar shortly after his January hiring, but in his scheme, a key component of helping his quarterback be at his best is running the ball more often and making sure defenses are playing run-or-pass guessing games because so many different plays are run out of the same formation.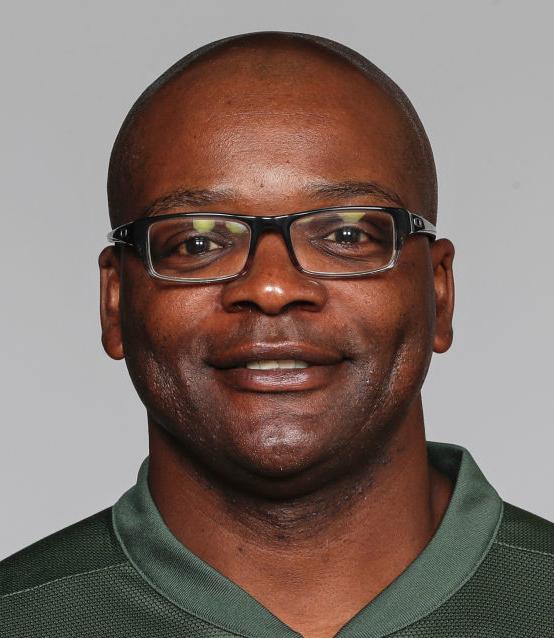 That's why, throughout the offseason installation of the offensive playbook, Sirmans could tell LaFleur's emphasis on the ground game was more than just lip service.
"I think you can definitely see (the difference), just through the commitment to it," Sirmans explained. "When you look at where Matt has been and just how they have run the ball at those different places — and just through the process of how we're installing stuff — you can tell and see that everything is predicated off the run game in this offense.
"It's something that obviously has the guys up front and the guys in the backfield all excited. I think everything that we've done so far leads us to believe that it is an important factor within this scheme. We've got a major job ahead of us as a backfield, as guys in the backfield, to make sure that we get it done."
The challenge, though, will be making sure the linemen and the backs get comfortable with an outside zone-oriented blocking scheme, something the Packers used sparingly toward the end of McCarthy's nearly 13-year tenure but an approach that will be vital to making that all-the-plays-look-alike ethos work against opposing defenses. And while the linemen and backs were able to learn the scheme throughout organized team activity practices and minicamp, running it in camp and in preseason games with pads on will be a better barometer of their understanding of the scheme.
"We're asking them to do some new things that they haven't really done before," offensive line coach Adam Stenavich acknowledged. "It's kind of hard to see what kind of runners the backs are when no one's really hitting them. It's kind of a process too with how they read plays and stuff like that where they have to learn the system just like the O-line.
"The good thing about that scheme is, you can pretty much run it full speed without pads on, just because it's not downhill gap scheme where you've got pullers and kicking people out and stuff. You can get a lot of good work without pads. So I think that helps us."
Here's a closer look at the running back position as the Packers prepare for training camp, which kicks off with its first practice on July 25:
Depth chart
33 Aaron Jones: 5-foot-9, 208 pounds, age 24, third year from UTEP.
30 Jamaal Williams: 6-0, 213, 24, third year from BYU.
22 Dexter Williams: 5-11, 212, 22, rookie from Notre Dame.
32 Tra Carson: 5-11, 228, 26, third year from Texas A&M.
46 Malcolm Johnson: 6-1, 231, 26, third year from Mississippi State.
45 Danny Vitale: 6-0, 239, 25, fourth year from Northwestern.
Burning question
Just how much would the offense — and the quarterback — benefit from a genuine commitment to the run game?
No team in the NFL dropped back to pass more often in 2018 than the Packers, and while McCarthy's play-calling and game-planning surely were factors in that, so too was quarterback Aaron Rodgers' freedom at the line of scrimmage and predilection for changing run calls to pass calls when opposing defenses presented appealing looks for throwing the ball.
But if Rodgers is going to buy into his new coach's new scheme — which LaFleur insists will lighten the heavy burden Rodgers has carried in recent years — he'll have to be amenable to throwing the ball less and handing it off more. He can always consult his predecessor and good buddy Brett Favre, who benefited from a run-oriented approach in the early 2000s when then-coach Mike Sherman called halfback Ahman Green's number constantly.
While his personnel is different in Green Bay, LaFleur put his play-calling money where his mouth was last year in Tennessee, where the Titans and coach Mike Vrabel gave him his first chance to call the offensive plays. The result? The Titans ran the ball 48.4 percent of the time, compared to the measly 32.5 percent of the time the Packers ran it last year.
With Rodgers looking to bounce back from an injury-racked 2018, running the ball could be a huge help to him.
"I know we want to run the ball. That's important. Everything (in this offense) comes off of a positive run game," Rodgers said during the offseason. "They ran the ball really well last year (in Tennessee) with their guys. The (play) action comes off of that, the boot (leg) comes off of that, so we're going to have to run the ball. And we have those two guys (Jones and Williams) and some guys behind them who can really play as well. I'm excited about them."
On the rise
There's no denying Jones is a field-tilting player when healthy. The key phrase, of course, is when healthy.
Through his first two seasons, Jones has carried 214 times for 1,176 yards and 12 touchdowns. He led the league in 2018 when he averaged 5.5 yards per carry — his second straight year of leading the league in that category. But he also missed six late-season games the past two years with knee injuries, so he spent the offseason working to strengthen his lower body while also adjusting his diet in hopes of improving his durability.
"I feel good in this scheme. It's a lot of things I've seen before, so it's nothing new to me," Jones said. "I just have to stay healthy. So I've been staying in the weight room as much as I can, working on my lower body, doing (physical therapy), more stretching, all of that. Just so that you can last a physical 16-game season."






LaFleur said early in the offseason that he'd like to have three running backs who could all be part of a rotation, and then watched as general manager Brian Gutekunst added Dexter Williams in the sixth round. While a late third-day draft pick contributing as a rookie might not be the norm, Williams could be the exception, given how productive he was for the Irish last season (995 yards in only nine games). Even if Jones can stay healthy and Jamaal Williams remains as durable as he's been to this point, there should be touches for Dexter Williams or even fullback Danny Vitale, whose skill set appeals to LaFleur. LaFleur has also said he wants his backs to get touches in the passing game.
"Certainly, you'd like to have three quality backs going into any season," LaFleur replied when asked about his philosophy on spreading carries around. "And I know I've said this before: You better have at least two backs that you feel really good about."
Key competition
When Jamaal Williams and Jones were picked by the Packers in back-to-back rounds in the 2017 NFL draft, it created an interesting competitive dynamic with two guys who play the same position, have the same agent (Leigh Steinberg) and befriended each other during the pre-draft process. At least publicly, the duo has appeared to maintain their friendship despite battling for playing time
Last season, while Jones missed the first two games while on suspension and two more at the end of the year with a knee injury, Williams played in all 16 games and played more snaps (522) than Jones (376). But Jones actually got more carries (133 to 121) and more overall touches (159 to 148). While Jones finished with 728 rushing yards and scored eight rushing touchdowns, Williams finished with 464 yards (a 3.8-yard average) and scored three TDs.
"We just need to keep doing what we need to do, keep pushing each other in a positive competition and keep showing that we have two backs that can produce," Williams said. "I feel that how the league is, you need two backs. You need more than just one and don't want to weigh somebody down. As long as you've got two (or) three, it makes the offense more scary."
That said, Williams takes pride in his durability and would love more opportunities. Then again, if LaFleur is as committed to running the ball as he says he is, there should be more carries available for everyone.
"I just looked at all the places he's been and all the running backs he's been able to have, the amount of numbers they've had and the production they've had. And it really just makes us excited to get out there and be part of this offense," Williams said. "I think it's just endless possibilities, really."