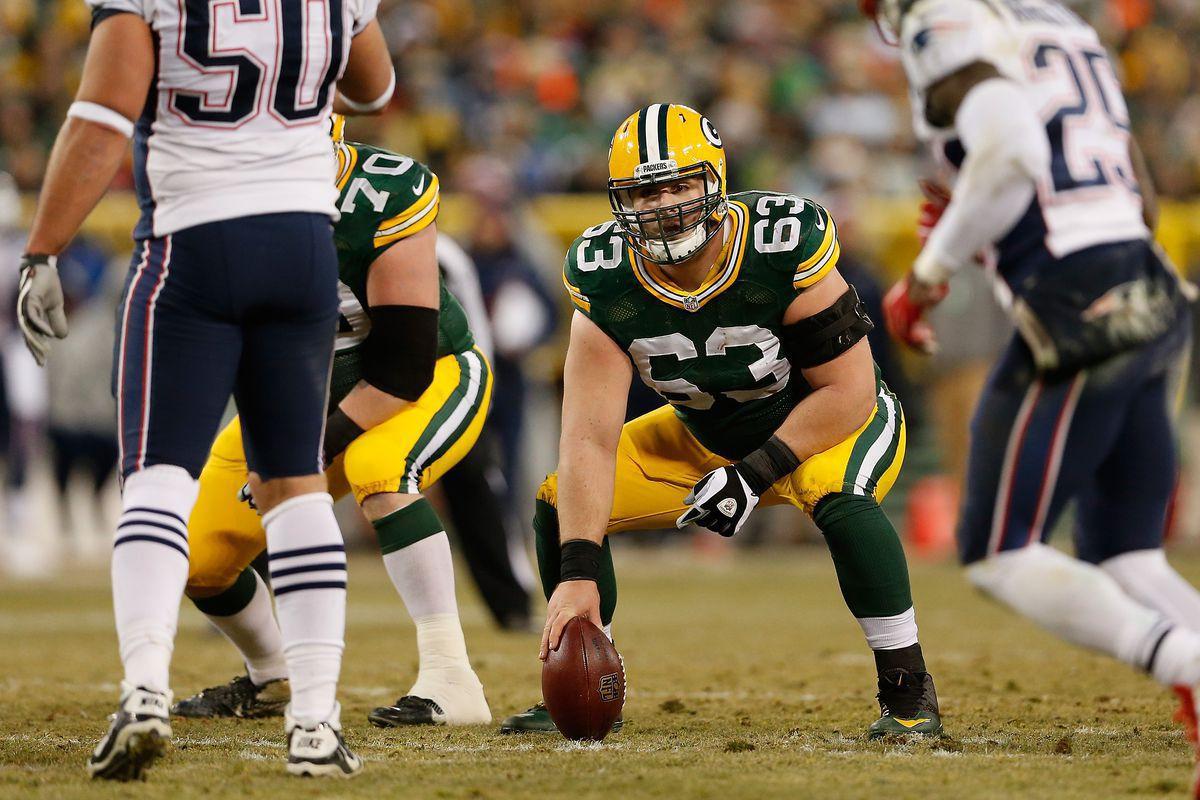 GREEN BAY — The number jumps off the page — or off the Green Bay Packers' team website, as it were.
As the Green Bay Packers prepare to embark on the 2019 season under first-year head coach Matt LaFleur, changing offensive systems — not to mention run-blocking schemes — and starting fresh on that side of the ball for the first time in more than a decade, they do so with an ultra-experienced offensive line as the foundation.
The five projected starters up front — left tackle David Bakhtiari, left guard Lane Taylor, center Corey Linsley, right guard Billy Turner and right tackle Bryan Bulaga — have a combined 31 years, 408 games and 325 starts (including playoffs) of experience among them.
Add in five potential backups who also have NFL regular- or post-season action — such as interior linemen Justin McCray (25 games, 13 starts) and Lucas Patrick (26 games, six starts) — and the Packers have one of the most experienced lines in the league.
Everywhere except in their offensive line coach, that is.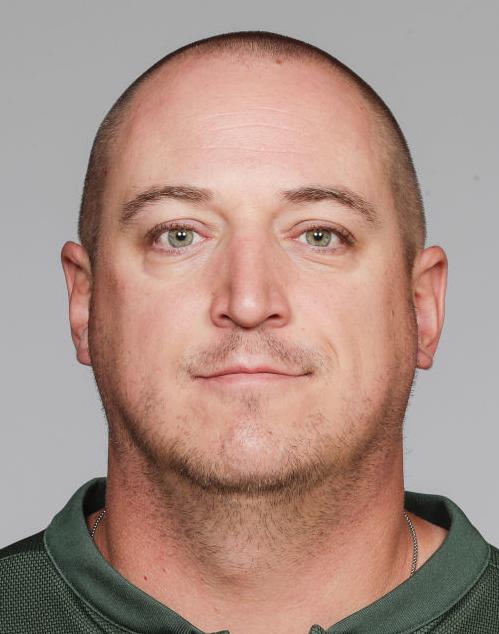 After moving on from 55-year-old James Campen, who spent a combined 20 years as a Packers player and coach, including the past 11 seasons as line coach, LaFleur hired 36-year-old Adam Stenavich, who has never been a lead offensive line coach and actually played for Campen as a Packers practice-squad player in 2006 and a training camp prospect in 2007.
LaFleur decided not to retain Campen, who said in an ESPN Wisconsin interview following his departure for the Cleveland Browns that he had "fought like hell" to stay in Green Bay, in part because he wanted a line coach well-versed in the outside zone blocking scheme he will employ in the run game. Stenavich came to Green Bay after serving as the San Francisco 49ers' assistant line coach.
Stenavich is one of a host of young coaches the 39-year-old LaFleur hired as his assistants, but his inexperience should be mitigated by how much football his charges have played.
"I think we can maybe relate to the players in a different way, have a different perspective on things. How we motivate and coach might be a little different than an older coach," Stenavich replied when asked how he might relate to such veteran players while having to follow Campen — a veteran who may have been the most-respected position coach on ex-head coach Mike McCarthy's staff.
"But it really doesn't matter. It's really about how you coach and how you teach. You can be 55, you can be 36, as long as you are on your stuff and you're presenting it in a way that makes sense so the players can buy in, that's what it's all about."
Throughout the offseason, it certainly appeared that the veterans were buying into the new system, as the open-to-the-media practices were dotted with moments where Bakhtiari, Bulaga, Linsley or another vet would stop a drill to ask Stenavich or assistant line coach Luke Butkus for details on a technique or blocking pattern.
While the pass-blocking expectations won't be vastly different than what they've done while protecting quarterback Aaron Rodgers in the past, the zone blocking scheme will be. The Packers did some of it under McCarthy, but his run-game philosophy was a hybrid that utilized more of a power scheme. That figures to be the biggest adjustment for the linemen, and while the offense worked on the ground game throughout the offseason, training camp will be the more important testing ground.
"I think you'll get a better feel once the training camp stuff comes in," offensive coordinator Nathaniel Hackett said. "But I think they're understanding of what we're trying to accomplish. They're very athletic guys up front, so you can see them move and run and take advantage of that. So, I think that's been really good.
"We got see Bakhtiari run around the corner and watch him use his athleticism, and I think that's what this system's going to allow those guys to do with Corey and everybody. So, it's exciting."
Here's a closer look at the offensive line as the Packers prepare for training camp, which kicks off with its first practice Thursday morning:
Depth chart
69 David Bakhtiari: LT, 6-foot-4, 310 pounds, age 27, seventh year from Colorado.
65 Lane Taylor: LG, 6-3, 324, 29, seventh year from Oklahoma State.
63 Corey Linsley: C, 6-3, 301, 27, sixth year from Ohio State.
77 Billy Turner: RG, 6-5, 310, 27, sixth year from North Dakota State.
75 Bryan Bulaga: RT, 6-5, 314, 30, 10th year from Iowa.
64 Justin McCray: G, 6-3, 317, 27, third year from Central Florida.
78 Jason Spriggs: T, 6-6, 301, 25, fourth year from Indiana.
74 Elgton Jenkins: G, 6-5, 311, 23, rookie from Mississippi State.
62 Lucas Patrick: G, 6-3, 313, 25, third year from Duke.
You have free articles remaining.
61 Cole Madison: G, 6-5, 308, 24, first year from Washington State.
70 Alex Light: T, 6-5, 309, 23, second year from Richmond.
77 Adam Pankey: G/T, 6-5, 313, 25, second year from West Virginia.
72 Gerhard de Beer: T, 6-6, 312, 25, first year from Arizona.
71 Anthony Coyle: G, 6-4, 298, 22, first year from Fordham.
73 Yosh Nijman: T, 6-7, 314, 23, rookie from Virginia Tech.
67 Larry Williams: G, 6-4, 322, 22, rookie from Oklahoma State.
Burning question
As the five-year anniversary of the Packers' 2014 NFC Championship Game meltdown approaches — sorry, we know for some Packers fans, it'll forever be "too soon" to bring that up — fans who allow their minds to wander back to that gut-wrenching game have a host of bad memories to dredge up. But a small fact that often is forgotten: That season, the Packers enjoyed virtually unprecedented good health on the offensive line. Only one starter missed one game all season — Bulaga, who missed a Week 2 game against the New York Jets with a knee injury — meaning together, the Packers preferred starting linemen started a combined 79 of 80 possible games that season.
That kind of good health up front is rare, and while Bakhtiari has started all 16 games in four of his six NFL seasons, and Linsley has started all 16 in three of his five seasons, even they haven't been impervious to injury. But at least one person — Rodgers — sees strength behind the five starters.
"As I look across the line, I feel great about those first five, but like I said last year, I feel good about those next guys, too," Rodgers said. "Lucas and Jason and the young kid we drafted (Jenkins), and Alex Light, and Justin McCray who played a lot of time for us. I really like our depth right now."
On the rise
The 2019 season could be the year that Linsley, one of the league's top young centers, breaks through and earns his first Pro Bowl selection. He was named as an alternate last season and was rated as a top-five center by Pro Football Focus, and oftentimes Pro Bowl recognition lags about a year behind when a player earns it.
Linsley, who entered the league as fifth-round pick in 2014, started as a rookie and has been the team's opening day starter every year since except 2016, when he missed the first half of the season due to injury. Before that, the Packers had had three opening day starters in as many years (Scott Wells in 2011, Jeff Saturday in 2012, Evan Dietrich-Smith in 2013). Now, the Packers expect Linsley's game to take the next step in a new system.
"He's perfect," Stenavich said. "I'm really excited about what he's going to do this year. I think he's a great fit."






Bakhtiari finds it entertaining that he still hasn't officially been voted to a Pro Bowl even as he's been named all-pro three times – including a first-team nod last season. If he is in any way bothered by the Pro Bowl snubs – and you couldn't blame him if he was, because it really is preposterous – he hides it well. He's reveled in his newfound internet celebrity after his beer-chugging exploits, and has said it would be "hilarious" if the snubs continue into perpetuity.
What Bakhtiari cares more about, having been drafted in 2013 and missed the Packers' 2010 Super Bowl XLV championship, is being part of a winner. The closest he's come was losing the NFC title game in 2014 and again in 2016.
"Look, I appreciate all the individual accolades. People can say a lot of nice things about my play," Bakhtiari said. "But offensive linemen, at the end of the day, are team players. We don't have statistics, so we pride ourselves on wins. We pride ourselves on other players' success in the offense and ultimately winning a Super Bowl. That's all I want. That's what I was so proud about when I was drafted here and that's my one goal. I want to win a Super Bowl."
Key competition
Turner's signing seems to solve the issue the Packers had at right guard, where they started Byron Bell, McCray and Patrick during the course of last season. There's some thought that Turner's time at right guard might be short-term, with Bulaga entering a contract year and possibly reaching the end of the line in Year 10 in Green Bay, despite being only 30. But with Turner taking over that spot, who's the next man up?
Inside, the Packers have McCray, who was praised two years ago by McCarthy for being one of the team's most valuable players but played with injuries last season and fell out of the rotation, and Patrick, who filled in and started four games last year. Jenkins is an intriguing prospect as a second-round pick but it's unclear how ready he is for prime time. And at tackle, Spriggs has been up-and-down in his first three seasons and must earn his roster spot this summer.