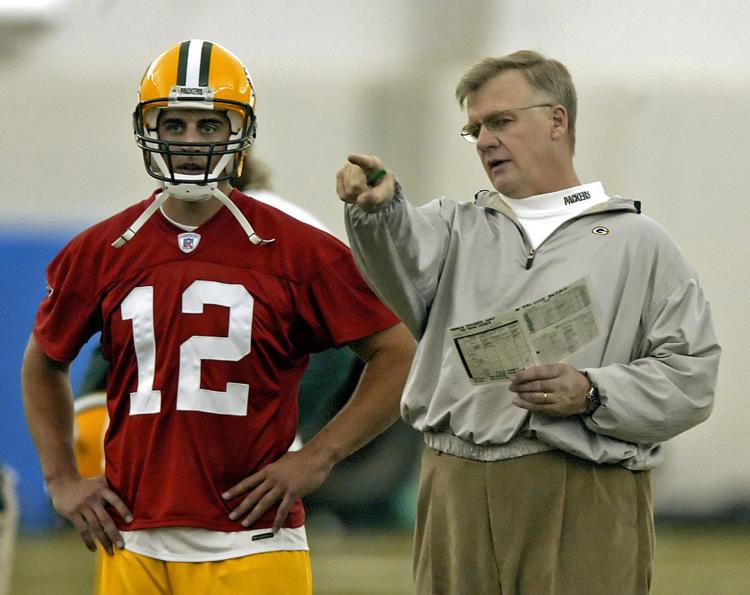 Because Sherman's tenure ended with a 4-12 thud in 2005, after an awkward season following team president Bob Harlan's decision to strip Sherman of his general manager duties and give them to new GM Ted Thompson, it's easy to forget just how successful the Packers were for much of his six-year tenure.
In his first five regular seasons, the Packers went 53-27 for a winning percentage of .663 — the fourth-best in franchise history at the time, behind only co-founder Earl "Curly" Lambeau (.668), Super Bowl XXXI-winning coach Mike Holmgren (.670) and icon Vince Lombardi (.753). Even with that disastrous 2005 season, Sherman finished with a .594 winning percentage, just behind his successor, Mike McCarthy (.618).
Taking over after Ray Rhodes' one-and-done year, Sherman had limited NFL experience — he had been the Packers' tight ends coach under Holmgren in 1997 and '98 and had been Holmgren's offensive coordinator with the Seattle Seahawks in 1999 before getting the Packers job. But in his first year, he led the Packers to a four-game winning streak to end the 2000 season for a 9-7 finish. (A one-game improvement over the 8-8 record they'd had under Rhodes a year earlier.)
After that season, GM Ron Wolf retired, as he'd told Harlan earlier in the year he might do. Not wanting to bring in another GM and lose Sherman as coach, Harlan consolidated the coach and GM job into one — despite having felt that structure was a mistake in the past.
"I think it was the worst decision I made, quite honestly," Harlan confessed years later. "We did have momentum going into the next year. I had talked to Brett Favre, he said it was the best chemistry he had seen in the locker room in all the years he had been here. He'd been through a couple of Super Bowls by that time. And I was concerned that if a new man came in from the outside, Mike might have trouble getting along with him, (or) the new man might want to come in and want to totally change the scouting staff, which I thought was a capable young scouting staff. And so I decided to do something that I don't like to do — give one man both jobs."
The next four years, the Packers went 12-4, 12-4, 10-6 and 10-6. ("He did a great job of coaching," Harlan acknowledged.) But Sherman's GM shortcomings and some gut-wrenching postseason losses piled up. In the 2002 NFC wild card round, the Packers lost at home to the Atlanta Falcons — the franchise's first postseason loss at Lambeau Field. Then, in the 2003 NFC divisional round, they blew a 14-0 lead and lost in the infamous "Fourth-and-26" game at Philadelphia. And the 2004 season finished with the Minnesota Vikings and fake-mooning Randy Moss winning at Lambeau in the NFC wild card round.
A year later, Sherman was out of a job.
"I think the hardest thing going through it as the head coach of the Packers is knowing you had the best job in sports," Sherman said during an interview with ESPN Wisconsin last December. "No matter how you cut it, no matter if you're right or wrong, you feel like you let people down.
"When you lose that job, there might be a little bit of relief in the sense that the pressure is off, but at the end of the day, it's a job you would have always wanted to have kept if you're a football coach."