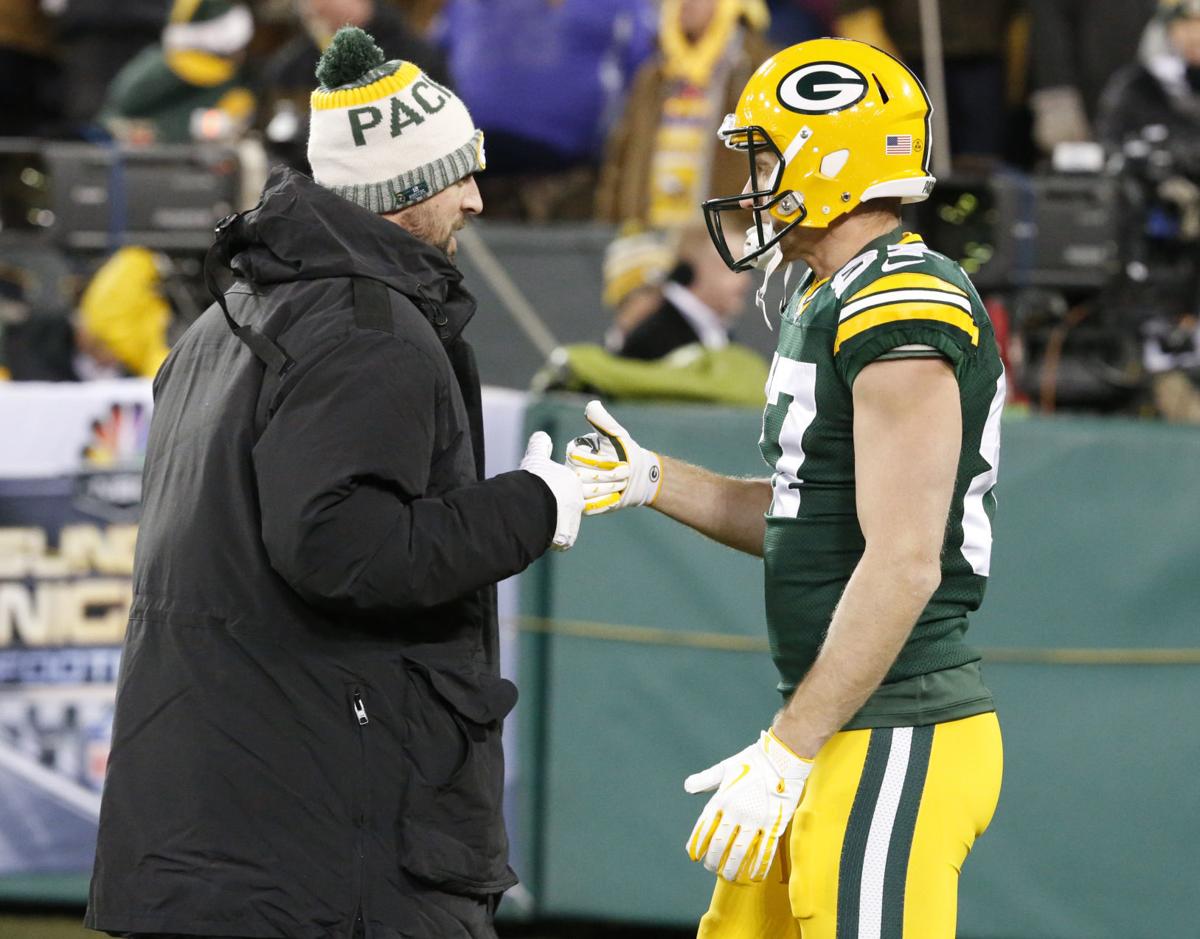 GREEN BAY — Jordy Nelson let the questions hang in the air for a moment. He didn't reflexively disagree — not because he thought the premise was correct so much as he was willing to allow for the possibility.
Are you no longer the player you used to be?
"I don't know," the Green Bay Packers veteran wide receiver replied. "I'll look at myself after the season. That's the question I'll have for personnel (people). I think it's hard for me to judge it personally."
One-on-one conversations with Nelson are seldom contentious — his group interviews are unfailingly cordial as well — and this one was no different, despite the subject matter. Rather than being offended, he is self-aware and introspective enough to realize no one stays at the peak of his football powers after 10 years in the NFL.
But one year removed from catching 97 passes for 1,257 yards and a league-leading 14 touchdowns — and winning NFL Comeback Player of the Year after missing the 2015 season with a knee injury — Nelson isn't ready to concede his playmaking days are over, either.
Nonetheless, this year has been a struggle without quarterback Aaron Rodgers — Nelson's closest friend on the team and his quarterback since entering the NFL in 2008 — for more than half the season. Set to turn 33 in May and with one year left on his contract, Nelson said he understands why some might wonder.
"There's a lot to it," Nelson said. "I don't know (if I'm not the same player). I can't give you the answer. That's a conversation I'll have at the end of the year with coaches, see what they think. They haven't told me any different. I would hope if that was the case they would have started changing playing time or something to help the team out. So, that's their decision, not mine."
Nelson enters Sunday's regular-season finale — assuming he can play after suffering a left shoulder injury in last Saturday night's shutout loss to Minnesota — with just 53 receptions for 482 yards (9.1 yards per catch) and six touchdowns. (The same six touchdown catches he had when Rodgers fractured his right collarbone Oct. 15 at Minnesota.)
"I feel like you can get caught up in numbers," Nelson said. "I think numbers and film can differ game-in and game-out."
Nelson's numbers have certainly differed with Rodgers versus without him. Including a seven-snap stint at Atlanta in Week 2 when he suffered a quadriceps injury, Nelson caught 20 passes for 240 yards and those six TDs before Rodgers' injury. (He had three receptions for 28 yards in Rodgers' one-game return against Carolina two weeks ago). With backup Brett Hundley, Nelson has caught just 30 passes for 214 yards and no TDs in essentially nine games.
"What's happened over these last few weeks is just a reflection of (Rodgers being out)," wide receivers coach Luke Getsy replied when asked about Nelson's decreased productivity. "When Aaron Rodgers is out there, you know we throw the ball a lot more and there's a lot more opportunities. There's special chemistry between the two of them.
"I think you've got two really good football players that have played a lot of football together. When you have that type of relationship that they have — he started off the same way this year; he was leading the league in touchdown receptions — the chemistry they have is special. There's no denying that. Anybody in this league that watches those two play, they know that."
With a base salary of $9.25 million next year — plus $500,000 in roster bonus money and another $500,000 in workout bonuses — the Packers would save roughly $10 million in cap room if they parted ways with Nelson before next season. But the team has given no indication it wants to move on from Nelson or ask him to take a pay cut, even with Davante Adams having surpassed him as the team's top wide receiver and in line for a major payday in free agency in March.
As long as he's playing with Rodgers, Nelson seemingly can still be an effective possession receiver who lines up in the slot (something he's done more and more in the last two years) but can still use his craftiness and savvy to be effective outside, too. Rodgers said upon his return for the Carolina game he still believes Nelson has plenty of "juice," and getting them back together in 2018 should yield far more production.
"This is 10 (years). Obviously one more for sure," Nelson replied when asked how much longer he wants to play. "Everyone wants to end playing out their contract. No one wants to get cut. So I think one more, and then I think at the end of that year I'll analyze everything, evaluate how I feel, how the game is, and obviously what this organization wants to do."
And if the organization wants to move on before that and allocate more money to Adams?
"At this point, I've seen enough crazy things in this locker room that I don't ever assume anything. We cut an All-Pro guard a week before the (2016) season started (in Josh Sitton)," Nelson said. "I think, knowing some of the financials of Tae and whatever he's going to get — which is a lot more than I got — but cap number-wise, it makes a difference. You can still do things with that. That's an issue for them to figure out, what they want to do. But I think there's ways to get it accomplished, so I'm not worried about it. And if they give me a call, I'll listen and see what they want to do."
For his part, Nelson said he is fine playing second fiddle to Adams, having been the young up-and-comer surpassing an established veteran himself in 2011, when he moved past vets Donald Driver and Greg Jennings to become Rodgers' go-to receiver.
"I have no problem with it. I'm happy for Davante. He's put a lot of work in and grown so much," Nelson said. "Again, you can't get mad, because I was in that same situation six years ago or whatever with Greg (Jennings) and Donald (Driver). So I'm not mad at all. I'm happy for him, I'm happy with the way he's developed, I'm happy with the way he's grown as a football player, as a person, everything."
For his part, Nelson said he feels good physically. Although, he joked, "Fifty fewer catches probably makes your body feel better." Meanwhile, despite the disappointment of missing the playoffs for the first time since his rookie year and his own statistical struggles, Nelson said he's enjoyed certain moments this season.
"I think it's just been a weird year and it hasn't worked for whatever reason," Nelson said. "It's not what you want; you want to win games. But I will say some of the wins we've had have been some of the more gratifying ones that I've had in my career, how everyone's having to do their part instead of just relying on Aaron to do what he does — putting 35 on the board and we win by 14. So it's had its positives. But you want to win all of them."