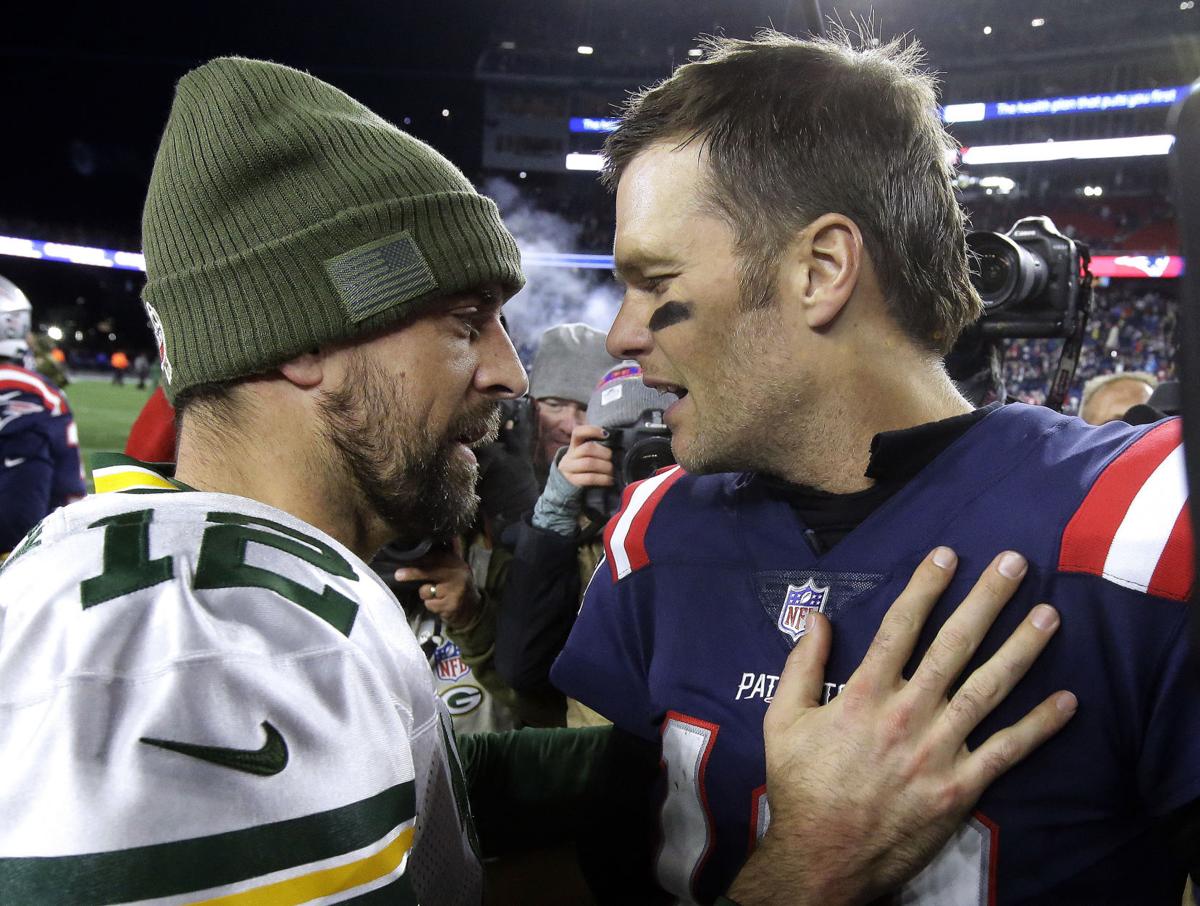 GREEN BAY — Aaron Rodgers served notice last week, doing his best to tamp down any thoughts reporters might've had about asking him about Sunday's game featuring two future Pro Football Hall of Fame quarterbacks — him, and his friend and fellow legend, Tampa Bay Buccaneers quarterback Tom Brady — on the same field.
The Green Bay Packers quarterback wanted to preemptively make it clear that he and Brady would not be going head-to-head, that — for those he felt didn't quite understand the intricacies of professional football — Brady would be going against the Packers defense and Rodgers would be going against the Buccaneers defense.
"That's how it should be viewed," Rodgers reemphasized Wednesday.
But aware of Rodgers' earlier pronouncement, left tackle David Bakhtiari couldn't help himself during his own call with reporters right after Rodgers finished his.
"You've got the Tampa Bay Bradys versus the Green Bay Rodgers. That's the way I look at this game," Bakhtiari said in his best smart-alecky tone. "It's a one-on-one battle."
Of course, it isn't a one-on-one battle. But for as great as the 36-year-old Rodgers and 43-year-old Brady have been during their combined 37 NFL seasons and 375 regular-season games throughout their mostly overlapping careers, their matchups have been disappointingly rare: Sunday's game at Raymond James Stadium will mark just the third time they have started against one another.
Because they'd spent their entire careers with the same teams — Rodgers with the Packers, Brady with the New England Patriots — the NFL's scheduling formula for interconference matchups meant they could only play each other in the regular season once every four years.
And, two other matchups that should have happened, didn't: In 2010, Rodgers missed a December road game at New England because of a concussion he suffered a week earlier at Detroit; and in the 2014 playoffs what appeared to be a preordained showdown between the Packers and Patriots in Super Bowl XLIX didn't happen because of the Packers' late-game meltdown at Seattle in the NFC Championship Game.
Rodgers and Brady have only faced each other as starters twice: In a 2014 regular-season matchup at Lambeau Field, and a 2018 meeting at Gillette Stadium. (The two also were on the field together in 2006, when Brett Favre started a 35-0 loss but left the game with an elbow injury. Rodgers came on in relief and finished the game despite playing the entire second half on a broken foot.)
Which is why, despite Rodgers' lack of interest in the conversational topic, this is the kind of game fans, players on other teams, media members and even coaches want to see.
"It's great entertainment. I mean, you can't ask for anything better than this — these two guys, going against each other," Packers offensive coordinator Nathaniel Hackett said of the matchup. "Now, when it comes to those two guys, from the standpoint of how it affects them, they're at such a high level that I don't even think they think of it. They're just out there to do their job. They understand what they have to get done and they're going to go out there and execute.
"But for us as coaches, as players, as fans, as reporters, I just think it's great entertainment and a fun thing to be a part of. Anybody who's a part of either organization, it's just a great opportunity for us to watch them go at it. But for them, it's another game. It's just about the level they're at."
Rodgers comes into the game on fire through four games, having led the Packers to a 4-0 start before last week's bye by completing 70.5% of his passes for 1,214 yards with 13 touchdowns against no interceptions (128.4 passer rating).
Brady, whose team is 3-2 and is coming off a 20-19 loss at Chicago last Thursday night, has completed 64.3% of his passes for 1,375 yards with 12 touchdowns and four interceptions (96.8 rating) for his new team.
"It's been fun. It's been a lot of collaboration," Tampa Bay coach Bruce Arians said of coaching Brady, who left the Patriots after 20 seasons to sign a two-year, $50 million deal with the Buccaneers in March. "(I'm) really enjoy working with him. He's a very, very bright guy. When we first started talking, he loved what we were doing; we loved some of the things he was doing. It's been a good collaboration just getting together. I wish we could have had spring practice and all that stuff so we could have gotten more adjusted, but I like where we're at. It's great to have a leader like him.
"When you have a young guy, you mold him the way you want him. When you get a veteran guy, it's more of a collaboration of what they know and how they read things. Their input is precious. You want to know how they think."
Rodgers and Packers coach Matt LaFleur have gone through a similar process over the past year and a half, which has led to the offense being in sync this season to a far greater degree than last year.
"I just think that there was so much good dialogue in the offseason for all of us to get on the same page in terms of what exactly we were going to try to get done, how we want to go about it," LaFleur explained Wednesday. "I just think anytime there's more familiarity with not only us, but with (all) coaches to players or vice versa, just with the playbook and everything we're trying to do, certainly I think that relieves a lot of stress. And (then) you can enjoy going out there and playing each and every day.
"He's done a hell of a job. Not only that, I t think he's being a great mentor and a great leader and a great role model for his teammates. I think he's done an outstanding job."
For his part, Rodgers relented Wednesday and acknowledged that he understands why the matchup is so fascinating and important given how few times it has happened. He even admitted it's different than, say, the Packers' matchup with the New Orleans Saints and their future Hall of Fame quarterback, Drew Brees, a few weeks ago since he and Brees have faced off more frequently.
"(Brady) has obviously done it at the highest of levels for so long. He's been an icon at the position. He's been somebody that we've all looked up to for so many years as the standard of excellence," Rodgers said. "I think there's a ton of admiration and respect for the way that he's played the game from so many of us, especially us guys who've been in the same era for so many years with him and gotten to compete with him every now and then, (me) being an NFC guy.
"We've played some really good quarterbacks the first four weeks. Obviously, playing Drew a couple weeks ago, as well, another 40-year-old guy who's been doing it for so long. I think fans should enjoy what they get to watch, because there are some guys who people have watched for 15-plus, 20-plus years at the position who are some of the best to ever play it. I think it's good that we just enjoy it for what it is, have respect and admiration for the way that we have played over this time and enjoy where we're at in our careers now."
Extra points
Wide receiver Davante Adams (hamstring) was a full participant in practice and expects to play Sunday after missing the past two games. "We're back. Good," Adams said. "It's a little different when you're dealing with a hamstring. It's one of those muscle/soft-tissue injuries you can't really tough through — because your leg literally doesn't function the same way without everything working together in there. I feel like we gave it ample time at this point." … Adams also clearly felt that way before the Packers' pre-bye win over Atlanta on Oct. 5, having Tweeted his frustrations that Monday morning about being told by the medical staff he would not play against the Falcons. While not exactly acknowledging that it was the right decision for him not to play, Adams said his hamstring does feel better than "when the Tweet was put out." Asked about the Tweet, Adams replied, "It's not too much to read into it to say I was frustrated. Obviously, I'm a competitor. I think everybody knows that." Adams said he deleted the Tweet on his own "just so there were no distractions on gameday and my teammates could go out there and take care of business without hearing about too much extra stuff." … Nose tackle Kenny Clark (groin) also practiced in full and appears on track to return to the lineup for the first time since the opener at Minnesota. … Cornerback Kevin King (quadriceps) and running back/returner Tyler Ervin (wrist) were the only two players who didn't practice Wednesday.
---
Photos: Packers' 2020 season so far in pictures