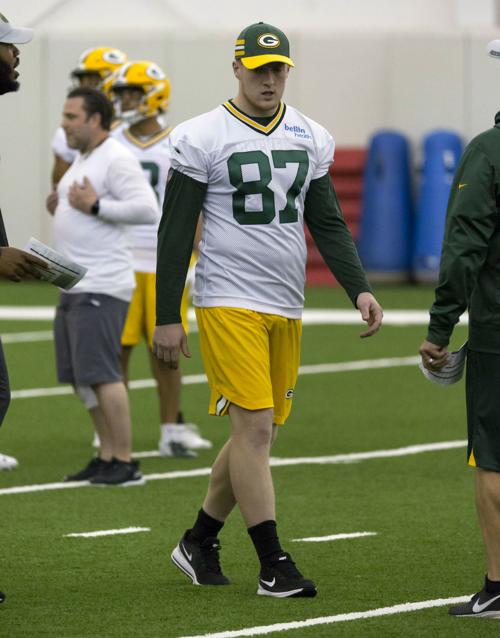 GREEN BAY — Jace Sternberger getting jersey No. 87 didn't get nearly the attention that the issuance of No. 52 to fellow draft pick Rashan Gary did. Maybe that's because the previous owner of that number, wide receiver Jordy Nelson, didn't take to social media to point out that the Green Bay Packers had given it away.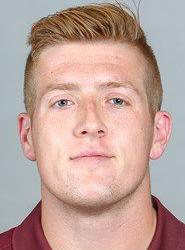 But for Sternberger, inheriting Nelson's number — which was held out of the rotation last season after his 10-year Packers career had ended with his March 2018 release — won't be a burden. The rookie tight end from Texas A&M not only knows who wore the number in Green Bay, he also knows a couple of high-profile tight ends who've worn it with distinction: New England's recently retired Rob Gronkowski and Kansas City's Travis Kelce.
"I grew up watching him, too," Sternberger said of Nelson. "When they offered (No. 87), they were like, 'We have that number available.' I wasn't even trying to live up to his legacy by any means, but it was like, 'It would be a really cool experience.' I feel like 87's a really cool tight end number nowadays with 'Gronk' and Travis Kelce. Jordy did his thing — a Hall of Famer — so I'm not trying to overtake him by any means."
What the 6-foot-4, 251-pound Sternberger is trying to do is continue a remarkable path to the NFL that began at Kansas, detoured to Northeastern Oklahoma A&M junior college and finally led to Texas A&M, where in his only season with the Aggies he caught 48 passes for 832 yards (17.3 yards per catch) and 10 touchdowns as a redshirt junior last year.
Sternberger also would like to provide the Packers with a young, athletic tight end who can stretch the field while also learning from a pair of veterans — Jimmy Graham and Marcedes Lewis — with whom he'll be sharing the tight ends room. Sternberger bumped into Graham on the third-round pick's first day of work at Lambeau Field last week.
"He was here when we got here," Sternberger said of his arrival for last weekend's rookie minicamp. "He was like, 'I've got a rookie now.' He told me, when he was a rookie (in New Orleans), his veteran tight end was Jeremy Shockey.
"We just small-talked from there and were talking about my whole route and going from KU to juco. It wasn't too long of a talk, but he was nice and introduced himself, so that let me know that he's here to help. I think it's going to be a great opportunity. You've got two established vets who've had amazing careers. Everybody wants to dream to do that. It's just a great opportunity.
"You dream of playing right away but sometimes that's not the case, so you have to do all the little things."
The Packers are expecting big things from Sternberger, since they see him as an excellent fit for coach Matt LaFleur's offense, which requires a tight end who can catch and block. Sternberger, like many tight ends coming out of college, needs to improve as a blocker.
But LaFleur sees Sternberger's potential — "He's got a pretty cool skill set in the fact he's a tight end that can separate, and anytime you've got those types of guys, it becomes a little bit of a matchup nightmare for a defense," LaFleur said — and the Packers' scouts were on Sternberger early in his one season at Texas A&M.
"Our guys were aware of him pretty early in the season. But he wasn't a guy that's been there three or four years that's been producing," Packers general manager Brian Gutekunst said when asked about Sternberger's potential. "But he had an outstanding year there in a pro system, (was a) matchup problem in college and we think he can translate that to the NFL.
"(LaFleur's offense) has multiple different positions for the tight ends, there are different kinds of guys. He certainly likes a 'Y' tight end that can come off the ball and block in some of the run stuff. He also uses an 'F' tight end that can move around, be in the backfield. We think Jace fits that tight end that can be a matchup problem. He's a tough cover down the field, he can create separation from (line)backers and safeties, can stretch the seam.
"Again, he had one year at Texas A&M, so there's a lot of development (to do) there, but we're excited to get him in with the group that we've got and see what he can do."
Jason Wilde covers the Packers for ESPN Wisconsin. Listen to him with former Packers and Badgers offensive lineman Mark Tauscher weekdays from 9-11 on "Wilde & Tausch" on your local ESPN station.