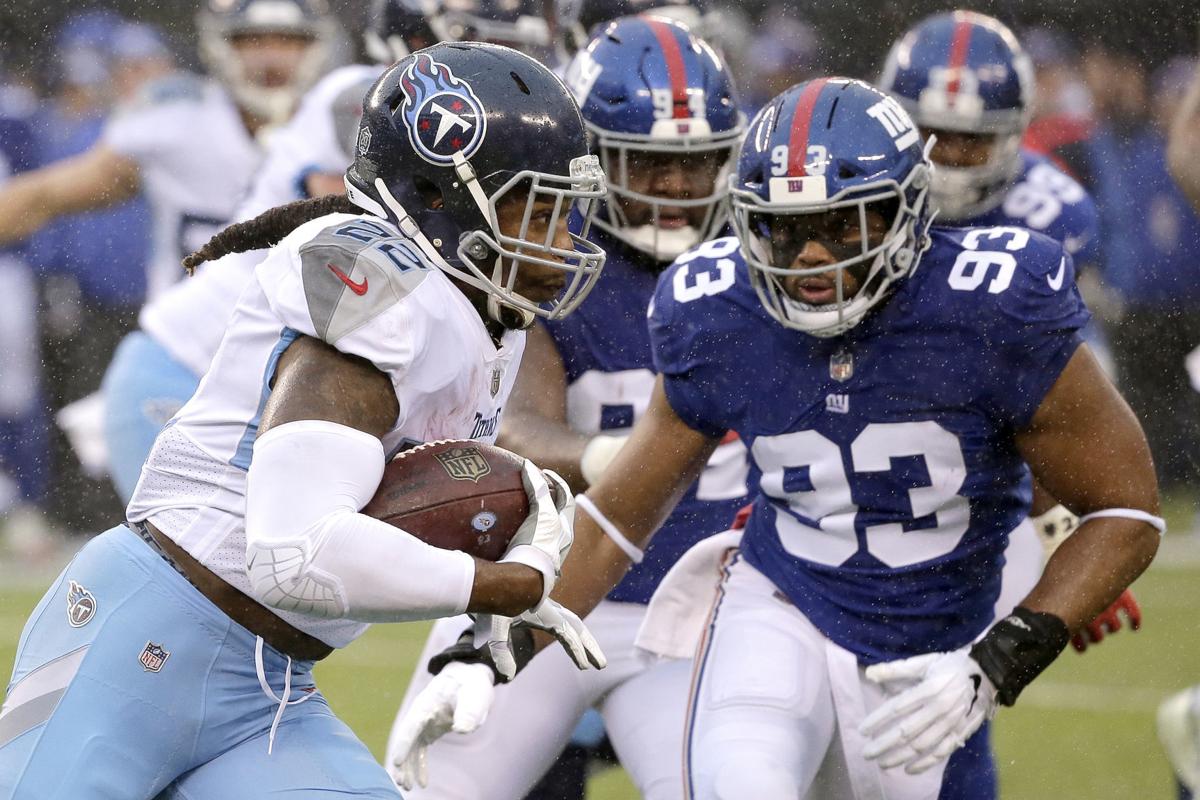 GREEN BAY — While B.J. Goodson might not be ready for prime time and the Green Bay Packers' regular-season opener against the Chicago Bears at Soldier Field on Thursday night, the decision to acquire him from the New York Giants in a trade made a few things clear amid the team's uncertainty at inside linebacker.
The deal, which according to the NFL's official transaction wire will have the Giants and Packers swapping seventh-round picks, showed:
Projected starter Oren Burks is likely just a few weeks away from returning from the partially torn pectoral muscle he suffered in the Aug. 8 preseason opener against Houston.
General manager Brian Gutekunst wasn't sure the team's young inside linebackers, having been inconsistent tacklers in preseason play, could hold down the fort.
Despite the flexibility of defensive coordinator Mike Pettine's scheme, the Packers do want to have the ability to line a true inside linebacker up with Blake Martinez in the middle of their defense.
To make room for Goodson, the Packers released inside linebacker James Crawford, a significant special-teams contributor last season who struggled on defense throughout the preseason, missing a host of tackles. Rookie seventh-round pick Ty Summers, who also had trouble with missed tackles throughout the preseason but led the NFL in tackles made (30), still is likely to start alongside Martinez against the Bears.
Goodson wasn't at the portion of Monday's practice open to reporters, and whether he can be ready to contribute on Thursday night is hard to say.
Asked how difficult it is to get someone like Goodson up to speed in the defense on a short week, Pettine replied: "It's always dependent on the player, their experience, what they've played in. If the player has played in your system before, then obviously he'd be much quicker up to speed. Just in general, it would be rare that you would give a player a lot on their plate. It would be more of a package or situational thing, stuff that you felt comfortable putting him out there."
The Giants were reportedly planning to release the 26-year-old Goodson, a 2016 fourth-round pick from Clemson who started 20 games over three seasons in New York, including 13 last season. But he was drafted by ex-GM Jerry Reese and the new regime, led by GM Dave Gettleman, has remade the roster over the past two years, as only 10 players remain from the roster Gettleman inherited.
The 6-foot-1, 243-pound Goodson had been working with the Giants' third-team defense during training camp, having been surpassed by ex-University of Wisconsin linebacker Ryan Connelly, a rookie fifth-round pick.
Martinez said he'll be prepared whether it's Goodson or Summers lining up next to him but added he felt he could get on the same page with Goodson quickly because both are experienced players.
"Obviously I don't know what the plan is with him yet but for me, I pride myself on being kind of the nerve center of this defense, and making sure if anyone has questions on the field about what they need to do, that I can get them lined up so they can go and play," Martinez said.
That the Packers opted to release Crawford rather than putting Burks on injured reserve with the possibility to return later in the season is a strong indication Burks will be able to return sooner than later. A source said Burks might miss the first four games, which could have him back in the lineup for the team's Oct. 6 game at Dallas.
It marked the second straight year Gutekunst has added inside linebacker help at the end of training camp, having brought in Antonio Morrison and Korey Toomer late last summer, even though the Packers defense can use a safety/linebacker hybrid inside to mitigate the need for more depth at the position.
"Obviously, Ty had a really good preseason and kind of stepped up and made us feel pretty comfortable about keeping him around," Gutekunst said Sunday night before Monday's trade. "I also think if you look at our history, the (few) amount of times we actually have two inside linebackers on the field is another thing.
"I've said this before, this roster is 365 days, living and breathing, so things change and we're always evaluating where we're at. But Ty did a nice job, hopefully we'll get 'Burksie' back here soon and then obviously Crawford's been a pretty standout special-teams player for us. I feel good about that room. But again, the roster's always kind of in flux."
Injury report
While cornerback Kevin King may feel like he's good to go after a second straight day of practicing, Pettine indicated he might only see part-time action. That likely means Tony Brown will continue to start opposite Jaire Alexander.
"He's got to work back. He's in shape, but there's just no substitute for getting those playing reps," Pettine said of King, who did not play a single snap in preseason. "So we're optimistic that we'll be able to handle some of the workload, but for any player that's had that period of inactivity, I doubt it will be a full game."
Although the Packers listed a whopping 18 players on their injury report — compared to the Bears' two — only three players did not practice on Monday: wide receiver Darrius Shepherd (hamstring), tight end Jace Sternberger (ankle) and Burks.
Tight end Jimmy Graham, who suffered a finger injury midway through camp, was a limited participant but told coach Matt LaFleur he's good to go.
"He told me, 'It's game week. What finger?'" LaFleur said. "I know he's excited to be back out there and we're obviously excited to have him out there."
Be the first to know
Get local news delivered to your inbox!