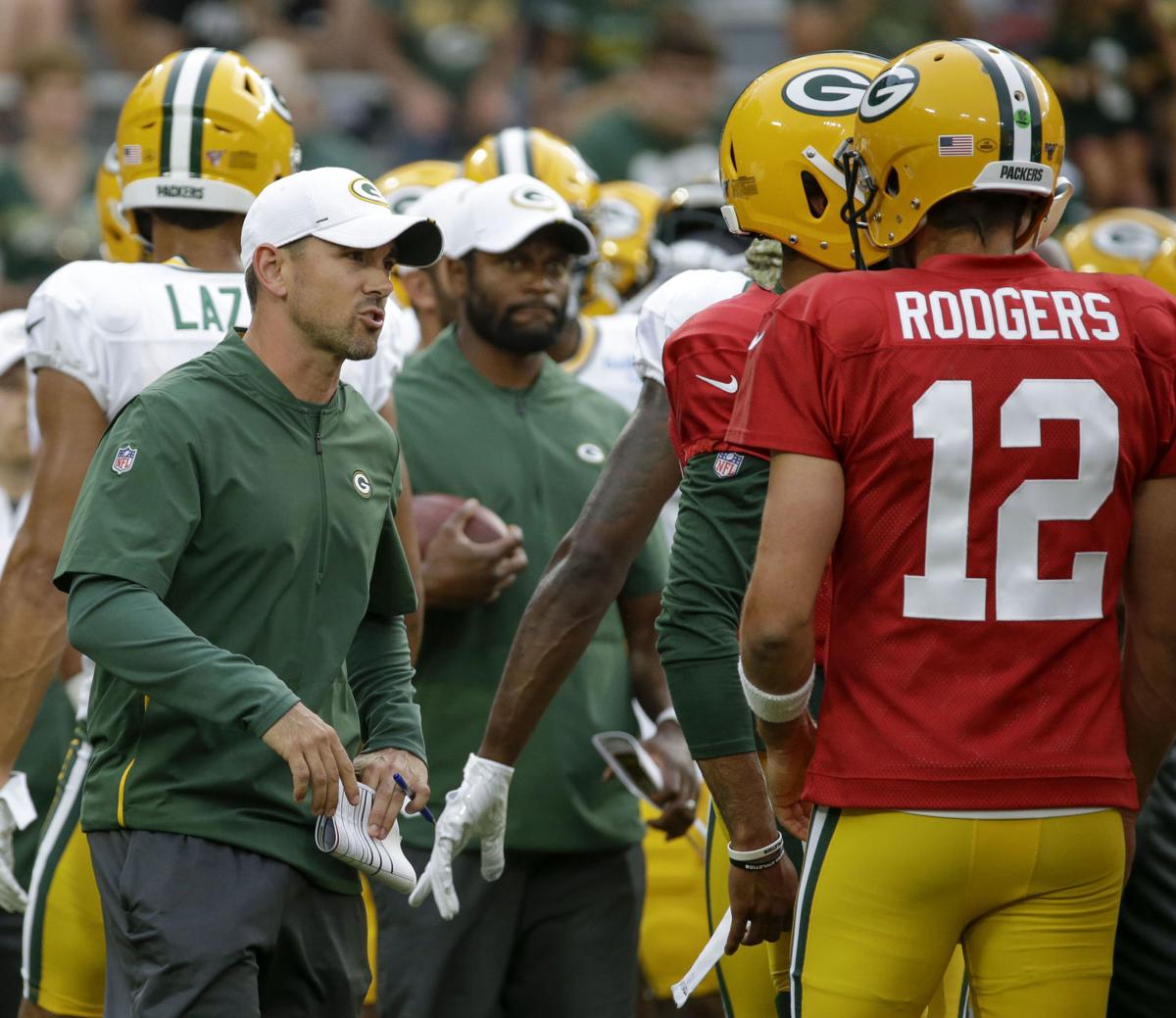 GREEN BAY — There was never any come-to-Jesus meeting. No late-night, closed-door, 1-on-1 conversation about what they were going to do.
No, after all that offseason hand-wringing about how Green Bay Packers coach Matt LaFleur and quarterback Aaron Rodgers would find common ground on the issue of how much freedom Rodgers should have in LaFleur's offense, the issue — if it ever truly was an "issue" — was apparently resolved simply, quietly and without drama.
All it evidently took was for LaFleur to see what Rodgers could do with his innovative scheme during training camp practices to decide there was, indeed, some flexibility to be had in what has been a mostly rigid approach for less-accomplished quarterbacks in other iterations of the system.
Maybe that's why LaFleur put the much-debated topic to bed with an understated, last-answer-of-a-news-conference statement Monday afternoon, three days before the team's regular-season opener against the Chicago Bears at Soldier Field.
Asked if having a quarterback with Rodgers' experience level is an advantage in the first game of the season, when opponents deliver so many unscouted looks, LaFleur's answer was so out-of-the-blue that none of the reporters in attendance followed up — perhaps shocked by the reply or because they didn't fully comprehend what they'd just heard.
"Absolutely. We've given him all the freedom," LaFleur said matter-of-factly. "So if he sees something, he's got the green light to do whatever he needs to do to get us into a good play. We're not going to take that from him."
Historically, this offensive scheme, popularized by Los Angeles Rams coach Sean McVay and San Francisco 49ers head coach Kyle Shanahan, hasn't given quarterbacks that kind of freedom. Instead, as LaFleur explained at the annual NFL scouting combine in Indianapolis in February, quarterbacks are given "Can" plays — meaning, if the defense shows something before the snap that indicates the called play won't work, the quarterback "can" change to the corollary second play build into the call.
Of course, the scheme has never had a quarterback with Rodgers' football IQ running it, and it appears that became clear to LaFleur during a training camp in which Rodgers didn't take a single snap in the preseason games but got plenty of work — and opportunities to show what he could do within the scheme — in practice.
The line-of-scrimmage debate made headlines in June when NFL Network's Michael Silver shared a partial quote from an upcoming story about the Rodgers-LaFleur dynamic in which Rodgers said: "I don't think you want to ask me to turn off 11 years (of recognizing defenses). We have a number of check-with-mes and line-of-scrimmage stuff. It's just the other stuff that really not many people in this league can do. That's not like a humble brag or anything; that's just a fact."
That quote drew lots of attention but in the end, just as both Rodgers and LaFleur predicted, they worked it out. And earlier in the week, Rodgers spoke glowingly about how the game-planning process has gone with LaFleur, offensive coordinator Nathaniel Hackett, quarterbacks coach Luke Getsy and himself.
"It is a very creative process. There's great collaboration," Rodgers said. "You have a lot of guys in the room who have been a part of calling plays. Obviously Matt has, Nate has for a long time, Getsy was an offensive coordinator last year in college (at Mississippi State). So it's a great collaborative process."
Asked Monday how that collaborative process works, Hackett explained it begins with the coaches formulating the game plan and then getting players' — including Rodgers' — input on it.
"As a staff, you're always trying to find a way you want to attack somebody. Then you want to present that to the players — and one being Aaron," Hackett explained. "So, we kind of come together — Matt, myself, the entire staff, everybody in their different situations, and try to figure out the best way to gain an advantage and put ourselves in a good spot. And then the next thing we do is we present it to the players.
"I think that's one of those things where you want to give it to Aaron and say, 'Aaron, what do you think? What have you seen?' And that's where even more collaboration starts. So, I think it's always a fluid kind of organism as you're going through the whole week, (and) you try to find and kind of tighten everything up so that he's comfortable, he has enough tools in his toolbox to be able to make something happen and we're comfortable with how we want to attack."