After Davante Adams' 1-yard touchdown catch late in the first quarter of "Sunday Night Football," NBC Sports' cameras panned to the Green Bay Packers' sideline, zooming in on Matt LaFleur. And you didn't have to be an expert lipreader to see that the head coach was delivering a few choice expletives that may or may not have been aimed in the general direction of the San Francisco 49ers' bench.
For as effectively as LaFleur had navigated the potential storyline of the week about the 49ers attempting to poach his quarterback — with more than a few folks around the league believing the Niners tampered with Aaron Rodgers during his offseason of discontent, although it's unlikely to ever be proven — it sure looked like LaFleur was awfully fired up about his team's strong offensive start against his "friend," 49ers coach Kyle Shanahan.
And while they had to hold on for dear life at the end after every bit of their early 17-point lead had disappeared — and the head coach continued to downplay what the game meant to him personally, even after an icy postgame handshake between him and Shanahan — in the end, LaFleur got something he surely wanted desperately: A 30-28 victory over the 49ers Sunday night at Levi's Stadium in Santa Clara, California.
The victory, delivered off the foot of veteran kicker Mason Crosby on a 51-yard field goal as time expired after the Packers defense had allowed the 49ers to take a 28-27 lead with just 37 seconds left on the clock, improved the Packers to 2-1 on the season, putting the team's embarrassing blowout loss to the New Orleans Saints in Jacksonville further into their rearview.
"It gives some legitimacy to some of the things we've been talking about. That that (loss to the Saints) was kind of an aberration and that we are a talented football team," Rodgers explained. "It felt like in the locker room today that we finally had the energy that I've been waiting to see.
"(And then) the energy in the locker room postgame, that felt like a win. It felt like it was such a growth moment for us. I'm really happy for the guys to feel that, and it feels like, 'OK, now we're on our way. Now we can get into this, now we know how to win, and we can get this thing moving in the right direction.'"
And it happened after the Packers saw their 17-0 lead disappear and found themselves trailing, 28-27, with just 37 seconds to play. But Rodgers and Adams connected on two passes, of 25 and 17 yards, during that fateful final drive, despite working without any timeouts.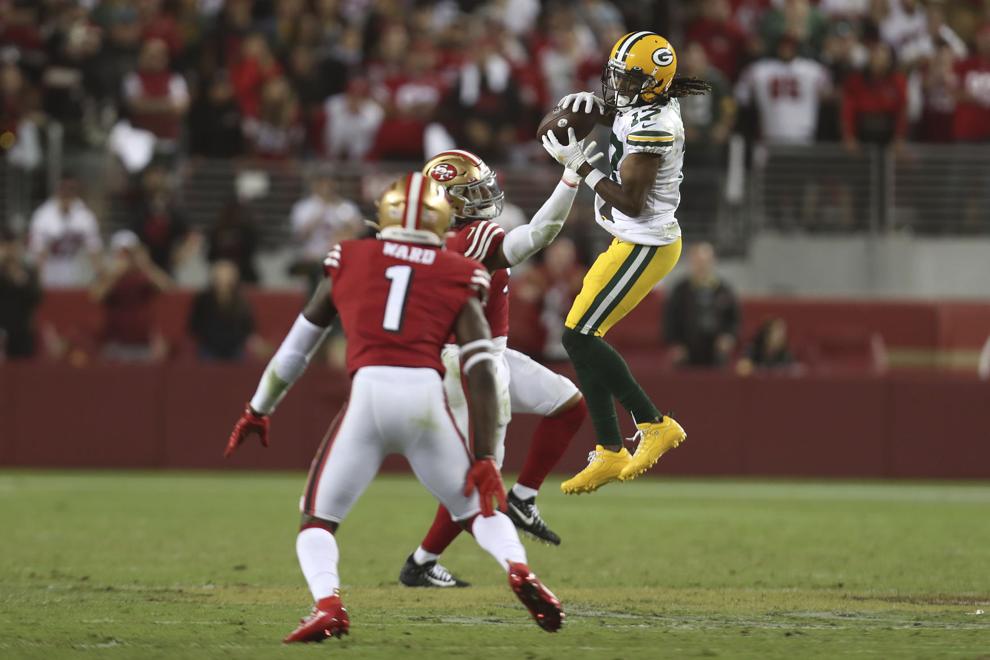 "This might shock you but I was actually kind of cautiously optimistic, just knowing the type of players that we have. I thought, 'Hey, there's a chance here,'" LaFleur explained. "We knew we had to get to about the 36-yard line, and we got beyond that. (And then) what a clutch kick by Mason. He consistently does it. Just really happy for him."
The Packers had burned their final timeout of the second half on their previous possession, just before a crucial third-and-4 from the 49ers' 20-yard line with 2 minutes, 47 seconds left to play. Rodgers had tried to hit Adams near the pylon on a sideline route against cornerback Emmanuel Moseley. Moseley broke up the pass — Rodgers admitted it was a "bad throw" by him — and the Packers settled for a 38-yard Crosby field goal to give them a 27-21 lead with 2:38 to go.
Going against the Packers' oft-criticized defense on the ensuing possession, the 49ers faced a third-and-10 from their own 25-yard line when quarterback Jimmy Garoppolo hit tight end George Kittle for a 39-yard gain just before the 2-minute warning to set up a first down at the Green Bay 36. Kittle beat nickel cornerback Chandon Sullivan on the play, catching the ball at the 49ers' 37-yard line and gaining 27 yards after the catch.
The defense got the 49ers to third-and-10 yet again after back-to-back incomplete passes, only to watch wide receiver Deebo Samuel snag a 12-yard strike from Garoppolo in front of Jaire Alexander to pick up the first down. On the next play, Garoppolo hit Kittle for 12 more yards.
Then, with 37 seconds left, Garoppolo hit fullback Kyle Juszczyk across the middle, as Juszczyk beat safety Adrian Amos' coverage and then ran over sixth defensive back Henry Black at the goal line for the game-tying touchdown. The ensuing extra point by kicker Robbie Gould gave the 49ers the lead.
"I was thinking, 'It's a lot of time on the clock to count us out,'" Adams said when asked what crossed his mind as Juszcyk crossed the goal line. "I knew it'd be tough with no timeouts. But as long as they gave us the right looks for the plays we were going to be getting into, I felt good about it."
On the first play, Rodgers hit Adams for a 25-yard gain to midfield — on a play that had been drawn up during practice late in the week — then spiked the ball to stop the clock with 20 seconds left.
"I do the 2-minute (period), and I like to adjust some routes from time to time," Rodgers explained. "I get a look at what it feels like against our defense, and so I just adjusted one of the routes and we all liked it. And Matty suggested it right before we went out. He said, 'What do you think about this play?' I said, 'Yeah, I like that. I think that'd be pretty good.'"
Added LaFleur: "We had a similar play in our third-down package … we were actually calling it to throw it over on the other side, so we changed the route and changed the concept. When we got into that situation there at the end, we talked about it on the sideline, how potentially that could be a really good play for us. And the guys went out there and executed."
Rodgers then threw incomplete for Adams on the next play, leaving the Packers with third-and-10 with 16 seconds and no timeouts. But Rodgers hit Adams again for 17 more yards on that play, and after the offense hustled to the line of scrimmage, Rodgers spiked the ball again with 3 seconds left, then pumped his fist, almost as if he knew the game was in hand before Crosby even trotted onto the field.
Rodgers finished the game having completed 22 of 33 passes for 261 yards with two touchdowns and no interceptions for a passer rating of 113.3. Adams finished the night with 12 catches for 132 yards.
"We still had a 51-yard field goal, but my old partner Mase, I felt good about him nailing that," Rodgers said. "He's made some big kicks over the years."
Crosby then delivered, after the 49ers called a timeout to try to ice him, with his 22nd consecutive made field goal dating back to last season.
"It felt good. Operation was great. Protection was solid. I felt really good from that spot," Crosby said. "As soon as I hit it, I was kind of leaning and then as I was trying to get a visual on it to make sure it had the distance, nothing crazy happened (to the flight of the ball) and then I just kind of went blank. Took off running. Everybody else was watching. I was already going."
The kick set off a wild celebration among the players, including Rodgers, who leaped into the air on the sideline. LaFleur bounded off the sideline as well, then walked toward midfield, where he and Shanahan barely broke stride for one of the chillier handshakes in recent memory between two coaches who'd spent so much of their careers working together.
"I know Kyle, and he is ultra-competitive and that's a tough moment for anybody to be in," LaFleur said. "I'm sure he was ticked off that we were able to take the ball down and kick a field goal to win the football game. We've had a lot of history together, so I'm not going to let anything come between our friendship."