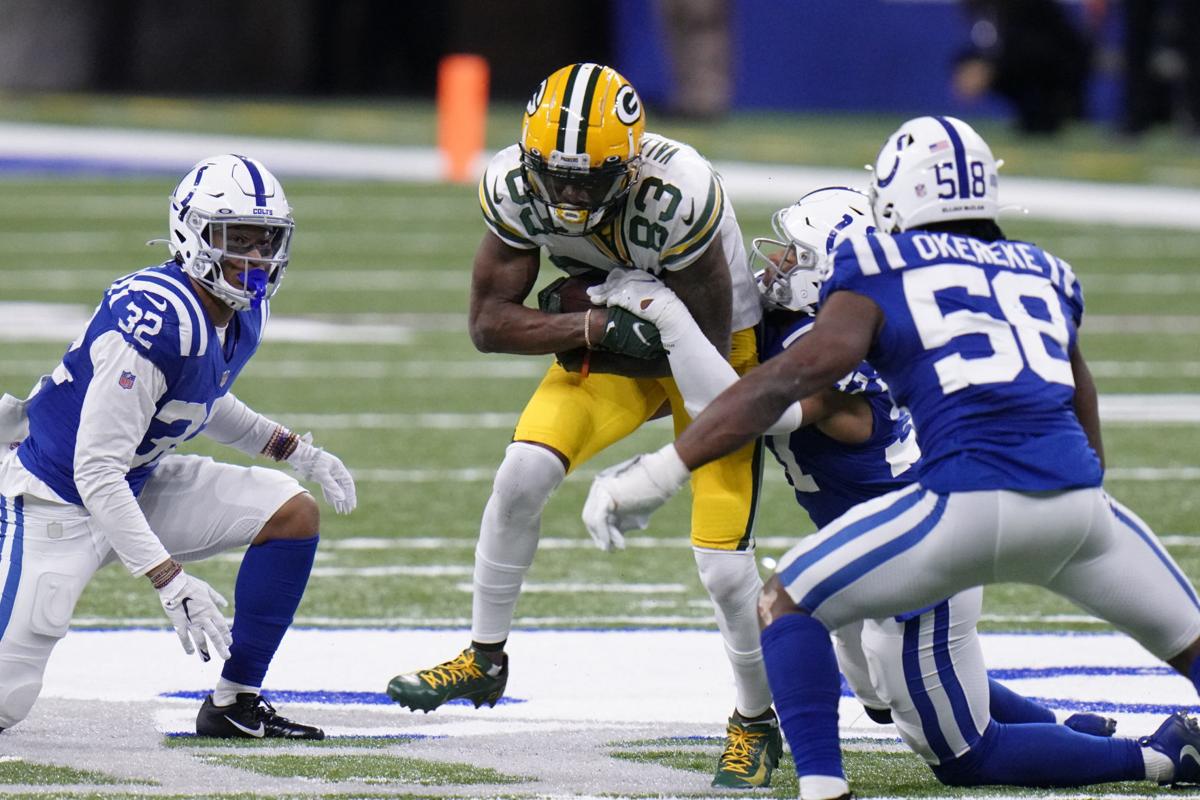 GREEN BAY — In the age of COVID-19 and Zoom interviews, Marquez Valdes-Scantling surely could have gotten away with avoiding any conversations with the media Monday.
Unlike during normal times, when reporters are in the locker room five days a week (including after games) and players are contractually obligated to make themselves available, the logistical challenges of the pandemic and NFL media access have made it easy to avoid reporters' questions.
So the Green Bay Packers third-year wide receiver simply could have passed when a member of the public relations staff approached him about doing a virtual interview to talk about what transpired during Sunday's 34-31 loss to the Indianapolis Colts — from his 47-yard catch that helped the Packers force overtime, to his fumble in overtime that essentially cost the Packers the game.
Instead, Valdes-Scantling, who hadn't seemed to particularly enjoy the Q&A sessions earlier in the season, agreed to log on and Zoom in. Why?
"There's no anger in my heart toward the media or anything. It's a part of the job, and I can take the good days with the bad days," Valdes-Scantling said. "Obviously, I talked to the media after a career game the week before, so I was at the highest point of my career and at the lowest point. I can take it on both ends and not be fazed by it."
Indeed, a week after Valdes-Scantling had the best statistical game of his career (four receptions for a single-game career high 149 yards, including a 78-yard touchdown) against Jacksonville, he was willing to discuss his fumble, which came on a bubble screen on the Packers' second offensive play of overtime.
Colts rookie safety Julian Blackmon sliced between tight end Robert Tonyan and wide receiver Allen Lazard's attempted blocks to knock the ball from Valdes-Scantling's grasp, and defensive end DeForest Buckner recovered it to set up Colts kicker Rodrigo Blankenship's game-winning 39-yard field goal.
The fumble was Valdes-Scantling's first in 42 career NFL games, although he has struggled with drops at different points over his three seasons in Green Bay.
Asked about the play and what happened, Valdes-Scantling replied, "At the end of the day, the ball's in my hand and I've got to protect it. ... It was just the perfect timing where he caught me transitioning the ball from the catch to the tuck. It was a great play by him. That's what it boils down to.
"I have to be better with the ball security. I think that was my first fumble in my career. I just wasn't protective enough with the football. That's something that we take pride in is taking care of the ball. We've done a pretty good job of doing that all year up until (then). I've just got to take that one to heart and be better."
What Valdes-Scantling insisted he was not taking to heart were the harsh words he received via Twitter after the game. Although a scan of Valdes-Scantling's mentions showed far more supportive messages from many Packers fans, Valdes-Scantling said he received death threats via the social media platform in the aftermath of the loss.
"Obviously, I wasn't fearful of my life or anything. That's never the case," Valdes-Scantling said when asked why he brought up the death threats in a Tweet after he'd received them. "It was more so the fact that to get people to understand that we're humans, too. We're not just some number on a jersey. We're people first. I wasn't concerned with my life or fearful in that regard. It was just to show people that you can't be disgusting to other people around the world.
"Social media gives cowards the right to say whatever they want with no consequences. People can say whatever they want as long as people in this building and in my family, they all care about me. That's all that matters."
And it was clear Valdes-Scantling's teammates and coaches do indeed care about him. Quarterback Aaron Rodgers voiced his support in his postgame interview session with reporters, while multiple players Tweeted their support. And coach Matt LaFleur stood up for Valdes-Scantling again on Monday.
"This is the ultimate team sport, and I don't think there's anybody in that locker room that doesn't have Marquez's back," LaFleur said. "He did so many good things (against the Colts). We wouldn't even have been in a position to win the game without his efforts. … There was so much good, and he had one bad play. And like we say to all our guys, it never comes down to one play. There were so many factors in that game that led to the result.
"I have more confidence in Marquez because of the game, just because all of the little things he's been doing. And, I think that his practice habits have been great. We've got to continue to build upon that."
And therein lies Valdes-Scantling's challenge. With 25 receptions for 518 yards and four touchdowns, he enters next Sunday night's matchup with the Chicago Bears on pace to surpass his season highs for receptions and yardage, set in 2018 during his rookie year (38 receptions, 581 yards). The four TDs are already a career best.
But Valdes-Scantling's consistency and up-and-down confidence have been problematic in the past, and what happened to him last year is one of the 2019 season's great mysteries. In the final nine games of the regular season, he caught five passes for 36 yards. He managed one 8-yard catch in the NFC Divisional playoff win over Seattle, then played only one snap in the team's loss to the San Francisco 49ers in the NFC Championship Game. He finished the year with just 26 receptions for 452 yards and two TDs.
But LaFleur insisted he sees a different player this year — despite Sunday's gaffe.
"I just think he's playing with a lot more confidence," LaFleur said. "He's more decisive. I see him catching the ball with strong hands. He's had his (down) moments, just like everybody has. That's football. This is a tough game for tough-minded men. You have to be mentally strong. And I think that's where he's improved the most. Despite maybe having a bad play, he's able to bounce back. And I would expect nothing other than that moving forward from him."
Extra points
The Packers will take a small step Sunday toward allowing limited fans back into the Lambeau Field stands on game day when they allow roughly 500 team employees and their families to attend the game against the Bears. Because of the COVID-19 pandemic, the Packers have yet to allow fans in the stadium this season. "We want to ensure that we are ready to host fans if and when that time comes," Packers president/CEO Mark Murphy said, adding that no fans will be allowed on Dec. 6 against Philadelphia. That would leave only two regular-season games where limited ticketed fans could potentially attend: Dec. 20 vs. Carolina or Dec. 27 vs. Tennessee. So far, 19 of 32 NFL teams have allowed fans into their stadiums this season. … LaFleur indicated center Corey Linsley's back injury, which forced him out of the game after just 10 snaps, isn't serious. "Certainly it's never easy to lose a player of Corey's caliber," LaFleur said. "As far as the long-term concerns for Corey, I don't think it's going to anything long term. But we'll kind of assess that (as) he'll go through everything throughout the course of the week." … The Packers released punter Drew Kaser, whom they added to the 53-man roster on Saturday when they were concerned about whether regular punter JK Scott would be available for Sunday's game due to an undisclosed personal matter. The Packers had signed Kaser during the 2018 season when Scott and his wife, Sydney, were expecting their first child and Scott's availability was unclear. He ended up kicking in that game, too, so Kaser has now spent two weeks on the Packers' roster without ever getting to punt in a game.
---
Photos: Packers' 2020 season so far in pictures
Photos: Packers' 2020 season so far in pictures
Check out photo galleries from every game of 2020 through the end of the regular season and the playoffs — if the Packers make it.