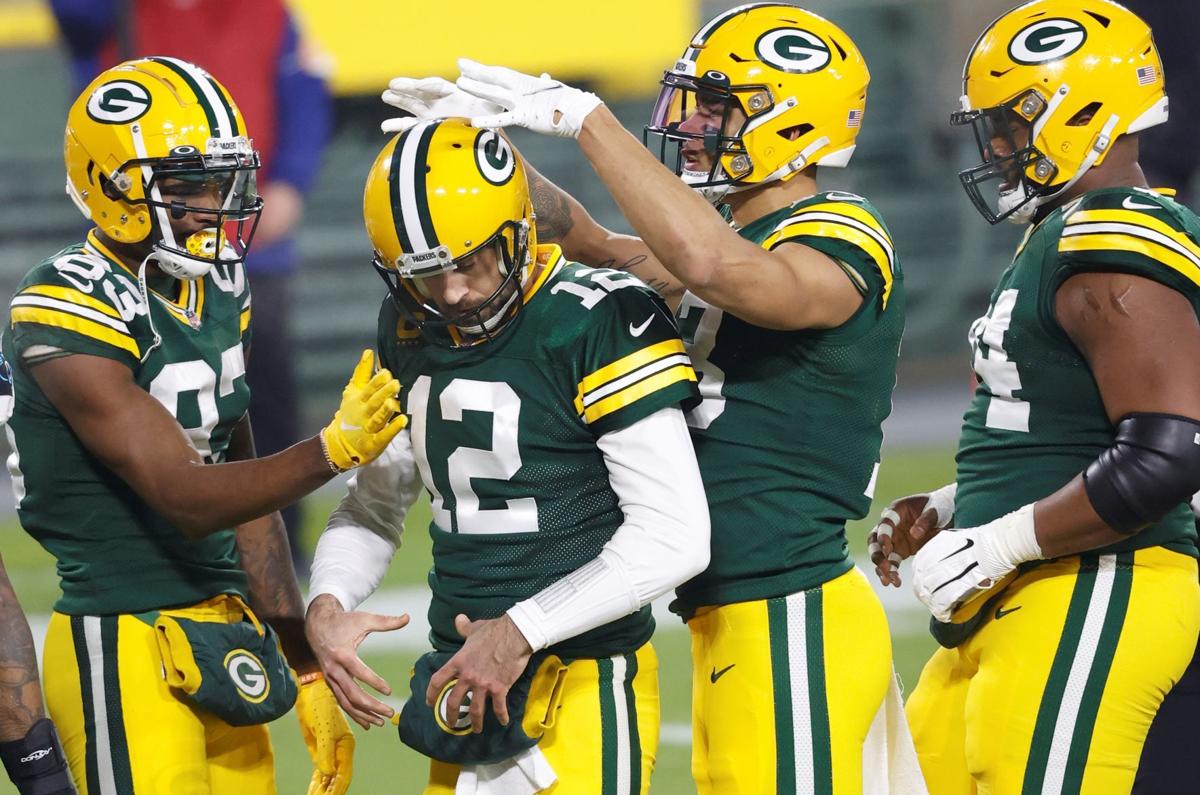 GREEN BAY — Nathaniel Hackett saw it immediately, the moment he saw Aaron Rodgers hit the practice field during training camp. Then, he watched as the quarterback carried it through the entire season, and now into the playoffs.
"His focus has been unbelievable this whole year," Hackett, the Green Bay Packers offensive coordinator, said. "He's been on a mission."
During the regular season, that mission took Rodgers to remarkable statistical heights that have him now as the presumptive NFL MVP — which, if he does indeed win it, will be the third of his career. Completing a career-high 70.7% of his passes, he threw for 4,299 yards with an NFL-best 48 touchdowns, five interceptions and 20 sacks for a league-high passer rating of 121.5 — second only to the NFL single-season record 122.5 rating he had in 2011, his first NFL MVP season.
But for years, Rodgers has lived by a simple credo, one he's reiterated again and again over the past decade, as he and the Packers unsuccessfully chased their second Super Bowl berth: "You earn your paycheck during the season," he has said, "and you create your legacy in the postseason."
As he prepared for Saturday's NFC divisional playoff matchup with the Los Angeles Rams at Lambeau Field, Rodgers did so acutely aware of what a golden opportunity he and his team have before them. As the conference's No. 1 seed, they had a bye last weekend, and they are two victories away from getting Rodgers back to the Super Bowl for the first time since he led the 2010 team to the Super Bowl XLV title as a third-year starter.
Now 37 and well aware that he's closer to the end of his career than he is to the start of it, Rodgers by his own admission has tried to savor this season's journey more than he has in past seasons.
Rodgers has never admitted that general manager Brian Gutekunst's decision to trade up in the first round of the NFL draft to pick Utah State quarterback Jordan Love at No. 26 overall angered him. Instead, on multiple occasions, including last month, Rodgers said, "I don't need any extra motivation," which isn't the same as saying he drew no motivation from the Love pick. But it's hard not to think Rodgers' smell-the-roses approach to the season and the man-on-a-mission focus Hackett has seen can at least be traced in some small way to draft night.
Nine months later, though, it is all about winning another championship for Rodgers, knowing how close he came in the 2014, 2016 and 2019 seasons, when the Packers lost in the NFC Championship Game each year.
"I have mentioned a few times this year that I feel like I have been trying to cherish every moment a little bit more — different perspectives maybe with this season, with a lot of things that happened in the offseason, and in my own personal growth," Rodgers said this week. "I'm just trying to live a little more positively and with a little more gratitude every single day."
Observed coach Matt LaFleur: "He's had a great approach, he's had a great attitude. He's our leader. He does such a great job on a daily basis making sure everybody's on the details. He definitely owns the details. It's been a lot of fun, this whole process. We want to just keep it going."
Rodgers' impact on the team's preparation, to hear Hackett tell it, is where that focus manifests itself. He's seen Rodgers ratchet it up in the past several weeks, pushing his teammates while also keeping things light when necessary.
"His ability to focus and be serious and make sure everybody's doing the right stuff, holding everybody accountable, but at the same time, he's still enjoying it and having fun," Hackett said. "I think that mesh is what you're always looking for. With his skill and those two attributes, it's awesome. And that's what we've seen."
What All-Pro wide receiver Davante Adams has seen is a Rodgers who has gained such a mastery of the Packers' scheme in LaFleur's second season that he can effectively break down the intricacies of the offense to allow less-experienced teammates to better understand them. To Adams, it's one of the lesser-known reasons why the Packers offense led the NFL in scoring with 509 points — the second-most in franchise history.
"The way you start getting into some of these games, the way he can simplify for you (is amazing)," Adams said. "A lot of guys know the team that's in front of us and they know how to prepare for games. But when you have a guy like him — he's under a lot of pressure, you know, whether it's literally in the game or just him being an MVP candidate every single season, that type of pressure can be tough on you.
"You'd think that would be a stressful thing, but the way he simplifies and just reminds people that we're here for a reason. It sounds cliché, but the way he conveys that message, whether it's in the huddle, before the game or throughout the week or whatever, you can see a weight come off of guys' shoulders just from hearing that from Aaron. And you can see it in his face, it's just a genuine confidence (and) comfortability of, 'I've been here. Just follow my lead.'"
Added veteran center Corey Linsley: "The attitude and the leadership that he brings, everybody benefits from that. Everybody puts in that little extra added effort because that's how he treats it — and he's the one leading the way. So, we all follow what he does. And everybody's looking to him to get extra motivation, to see how to handle the playoffs and everything from his work ethic to what he says to the way that he conducts himself. I think that's obviously why he's been ridiculously successful."
While he is in a good headspace psychologically, Rodgers is also feeling good physically, saying this is the "strongest" and "least sore" he's felt during a postseason. Now, he knows he must make the most of it.
"I'm thankful to be in this opportunity, to be one of the final four teams in the NFC and have a team that has the opportunity to go the distance, the type of talent and chemistry that you're always looking for, building during the season," Rodgers said. " We've gotten to this point with a lot of good football, and guys coming together the right way. So, I really do cherish these opportunities. And we're going to make the most of them, everything that's in our control."
---
Photos: Packers' 2020 season so far in pictures
Photos: Packers' 2020 season in pictures
Check out photo galleries from every game of 2020 through the end of the regular season and the playoffs.