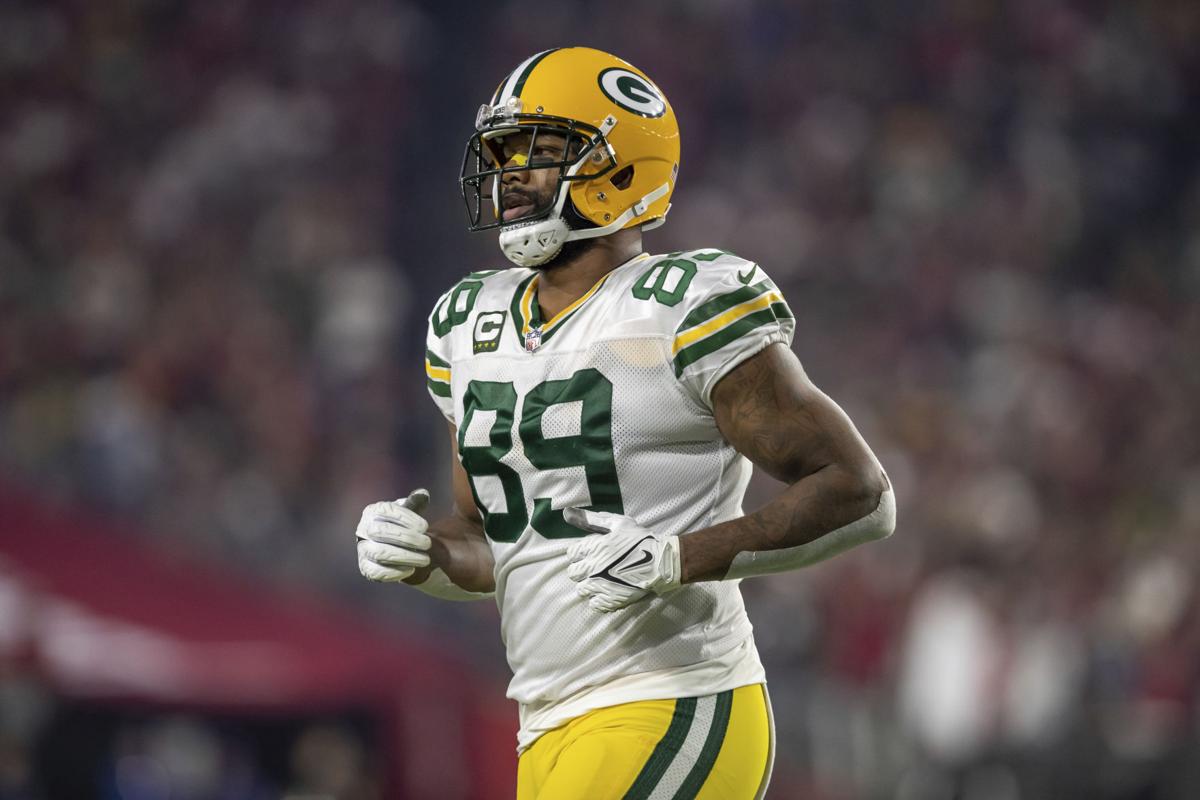 GREEN BAY — The NFL trade deadline came and went, and the Green Bay Packers stood pat — meaning any roster help they find from here on out will have to come from the waiver wire or on-the-street free agents.
After losing starting tight end Robert Tonyan to a torn ACL in his left knee suffered during Thursday night's 24-21 win over the Arizona Cardinals, the Packers appeared to be in the market for help at tight end. Reports said they were doing their due diligence on several tight ends thought to be available via trade — the New York Giants' Evan Engram or the Atlanta Falcons' Hayden Hurst.
But neither Engram, a 2017 first-round pick, nor Hurst, a 2018 first-rounder, moved teams Tuesday, so the Packers will move forward with Marcedes Lewis, Josiah Deguara, Dominique Dafney and Tyler Davis on the active roster, plus Bronson Kaufusi on the practice squad.
"Bobby provided so much, and the thing that you really, truly appreciate about a guy like him is even when he wasn't getting the targets, he was still doing his job," coach Matt LaFleur said of Tonyan. "Again, I feel sick for him, just knowing how much that he puts into this game, not only during the season, but in the offseason. … It's definitely disappointing for us as a football team and I know it is for him, as well."
LaFleur had said on Monday he thought the Packers could swing a trade at the deadline: "If the right opportunity presents itself, that's something that we could be involved with. I know Gutey and his staff are working extremely hard at trying to find something. It's just whether or not the right opportunity exists."
LaFleur also said that making up for the lost production caused by Tonyan's injury wouldn't necessarily have to come from the tight end group, as the running backs and wide receivers — including Allen Lazard, who has some tight end-like size and blocking skills — could pick up the slack.
Gutekunst has been active with in-season pick-ups amid the team's injury troubles, adding cornerback Rasul Douglas (who had the victory-clinching interception in the end zone against Arizona), outside linebacker Whitney Mercilus (who has given the pass rush a boost during his two games on the roster), Davis (who has played five offensive snaps and 41 special teams snaps since being signed off the Indianapolis Colts' practice squad) and inside linebacker Jaylon Smith (who was released Tuesday, less than a month after being signed following his release by Dallas on Oct. 5).
Gutekunst also pursued ex-New England Patriots cornerback Stephon Gilmore before the Patriots traded him to the Carolina Panthers. Because trades require that player's new team to inherit his existing contract — unless the trading team is willing to absorb an additional portion of the player's salary — the Packers weren't in position to trade for Gilmore and take on more than $5 million in base salary the way the Panthers did.
Had Gilmore been released, he would have been free to sign with any team, and the Packers were definitely interested, according to two sources. But with roughly $5 million remaining in salary-cap space and having restructured virtually every player on the roster's contract to go all-in this season, the Packers' trade options were limited — and continued to be on Tuesday.
How interested they were in Engram or Hurst is unclear, but now that the trade deadline has passed, all players who are released moving forward will be subject to the waiver wire. Tied for the NFL's best record at 7-1, the Packers would be at the bottom of the priority list for claiming players while the winless Detroit Lions would have first dibs on any player who is cut.
That means the Packers would need the rest of the league to pass on ex-Los Angeles Rams wide receiver DeSean Jackson, for instance, after the Rams announced their plans to release the 34-year-old wideout. The Rams and Jackson explored potential trade options but nothing came to fruition, and because he wasn't released before the trade deadline, Jackson will be on the waiver wire on Wednesday.
The Packers' roster is set to get a boost from the expected returns of some of their most prominent players, though.
Wide receiver Davante Adams, who was placed on the reserve/COVID-19 list on Oct. 25, could be reinstated to the roster on Thursday, LaFleur suggested. Fellow wide receiver Marquez Valdes-Scantling, on injured reserve since suffering a hamstring injury Sept. 26 against San Francisco, has been designated for return.
And franchise left tackle David Bakhtiari could return to game action Sunday at Kansas City, more than 10 months after tearing the ACL in his left knee during a Dec. 31 practice. Bakhtiari has been practicing for three weeks and is eligible to be activated at any point.
The Packers are also hoping two of their defensive stars — cornerback Jaire Alexander and outside linebacker Za'Darius Smith — could still return this season. Alexander is on IR with a shoulder injury, while Smith recently returned to the team but remains on injured reserve following back surgery.
"We've got to get healthy," quarterback Aaron Rodgers said recently. "We've got to get healthy as we move forward against an important stretch coming up."
Photos: Packers' 2021 season in pictures
Check out photo galleries from every game of 2021 from the preseason through the end of the regular season and the playoffs.