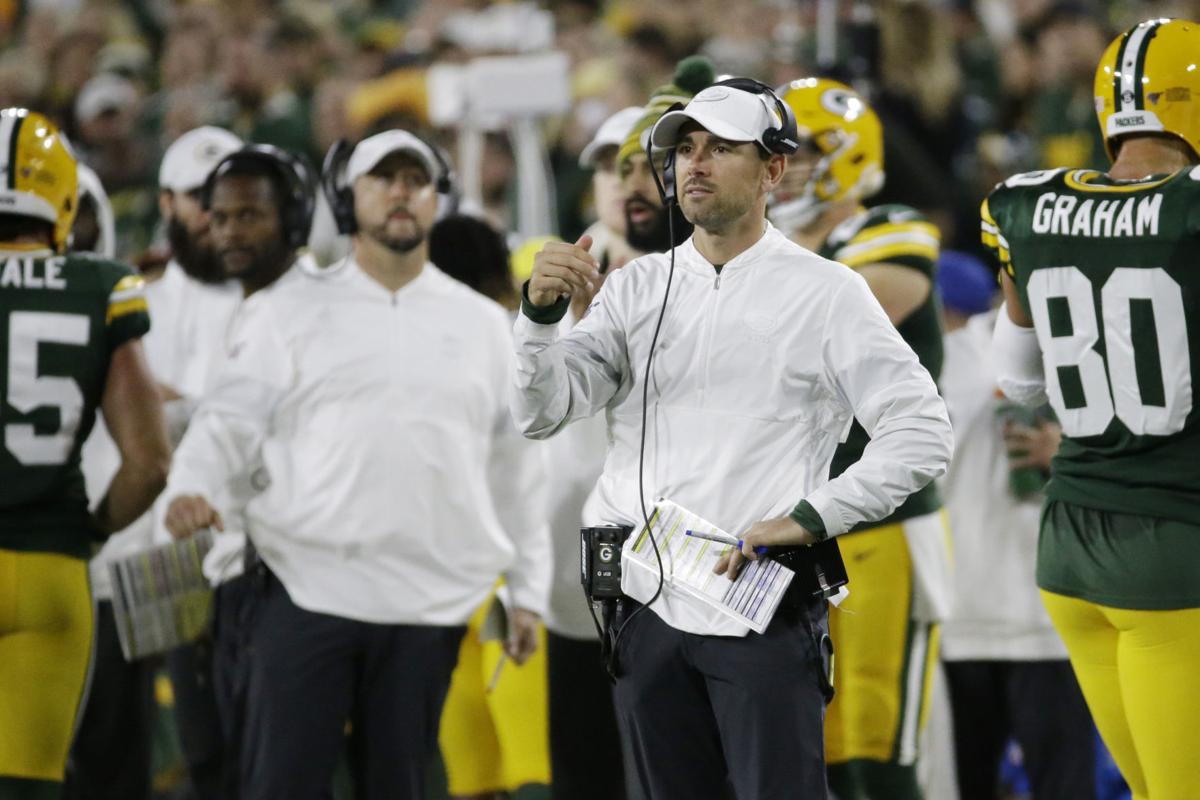 GREEN BAY — By beating the Chicago Bears and Minnesota Vikings in their first two games of the season, the Green Bay Packers have already doubled the number of NFC North victories that last year's team managed.
Sunday's impressive victory at Dallas ran the Packers' record to 4-1 — tied for the best record in the conference — but coach Matt LaFleur made it clear Monday that continuing the intra-division success the team has already experienced is vital entering next Monday night's meeting with the Detroit Lions at Lambeau Field.
"That's absolutely critical," LaFleur said.
The Lions had their bye week last week and come in 2-1-1, having given the Kansas City Chiefs all they could handle before losing 34-30 and having blown a 24-6 lead in their season opener before tying the Arizona Cardinals 27-27.
For a Packers defense that got three interceptions (by Jaire Alexander, Kevin King and Chandon Sullivan) and three sacks (two by Za'Darius Smith, one by Preston Smith) but gave up 563 yards to the Cowboys, Detroit poses an interesting challenge.
Following Sunday's games, the Lions offense ranked 12th in scoring (24.3 points per game) and eighth in total offense (387.5 yards per game). Coordinated by ex-University of Wisconsin quarterback and ex-Packers assistant Darrell Bevell, the Lions' offense has been led by quarterback Matthew Stafford, who has thrown only two interceptions, has a career-high 102.6 passer rating, and is on pace for his fewest sacks since 2013.
"The bottom line is whoever wins this next game is going to be the leader in the North, in the division," LaFleur said. "We know we have a team that's a really good football team coming into our place and playing on Monday night."
The win over the Cowboys also marked the Packers' second road victory and doubled last year's road victory total. Their only triumph away from Lambeau Field last year was in their final game on the road, a win over the New York Jets at MetLife Stadium.
To contend for a playoff berth, the players know they have to win both their division games and their road games going forward. After facing the Lions and Oakland Raiders the next two weeks, the Packers will play six of their final nine games on the road.
"I don't think we got our first road victory until the last game (last year) and we know that won't get you in the playoffs," Packers running back Aaron Jones said. "We know you've got to come out here and compete on the road. You've got to win."
LaFleur didn't divulge any injury updates about center Corey Linsley (concussion), King (groin, knee), safety Darnell Savage (ankle) or Za'Darius Smith, who was in and out of the lineup with a knee injury.
Balanced approach
You have free articles remaining.
LaFleur said from the moment he was hired that he wanted to keep defenses guessing on whether the offense would run or pass after last year's team was so pass-heavy. Well, through five games, the Packers have had 126 first-down plays — and they've run the ball 63 times, and passed it 63 times. Not that LaFleur was looking to be that perfectly balanced.
"I think it's just so game dependent," LaFleur said. "Obviously, you'd like to keep the defense guessing a little bit of whether it's going to be run or pass, but ultimately you've got to do whatever is going to help produce yards, produce points. Because this game is about points. We're not necessarily going into it thinking, 'Hey, we have to be 50-50.' But we better be pretty close to be as unpredictable as possible."
Monday night schedule
Hoping to get his guys healthier with the extra day afforded by a Monday night game, LaFleur pushed back his usual schedule and gave players Monday off. They'll come in Tuesday for their normal Monday schedule (film, meetings, weight room workouts) and then have Wednesday off before starting their typical work week on Thursday.
"We kind of kicked everything back a day, give our guys a little bit more rest," LaFleur said. "As you know, we've got some guys battling through some things, so I thought an extra day of rest could serve us well."
LaFleur praised King, who had a critical interception and played well in 37 snaps despite having been listed as doubtful on Friday with his groin injury. LaFleur said he couldn't remember a player who was listed as doubtful at the end of the practice week being able to play on a Sunday.
King left Sunday's game with the knee injury after his interception and did not return.
"It was one of those deals where, as he was going through his rehab, he felt pretty good at the end of Friday's practice. Our trainers kept him out (on the field) afterward and put him through some 1-on-1s," LaFleur explained. "He said he felt like he could go, so that's why we upgraded him the following day. I thought he did an excellent job. He competed. Obviously, he made the big play on the pick. He challenged the receivers and I thought he played a really solid game."
Weah works out
Former Madison Memorial standout Jester Weah was one of four wide receivers who worked out for the Packers on Monday, ESPN.com reported.
Along with Weah, who played collegiately at Pittsburgh, the Packers also worked out receivers Jeff Badet, Ryan Grant and T.J. Jones, quarterback Tyree Jackson, running back Roc Thomas, linebacker Curtis Akins, defensive end Frank Herron and defensive tackle Eddie Vanderdoes.
Weah was the Panthers' leading receiver in 2016 and 2017, having been recruited to Pitt by now-University of Wisconsin coach Paul Chryst. Undrafted in 2018, the 6-foot-3, 209-pound Weah spent last season on the Houston Texans' practice squad and was in camp with the Texans this summer before being cut Aug. 31. He took part in the Packers' joint practices with the Texans and caught two passes for 29 yards in the teams' Aug. 8 preseason meeting at Lambeau Field.
Grant is the most experienced receiver in the group, having played four seasons with Washington and last season with Indianapolis, catching 119 passes for 1,319 yards and one touchdown in those five seasons. He saw action in two games for the Oakland Raiders earlier this season, catching four passes for 14 yards before being released Sept. 25.