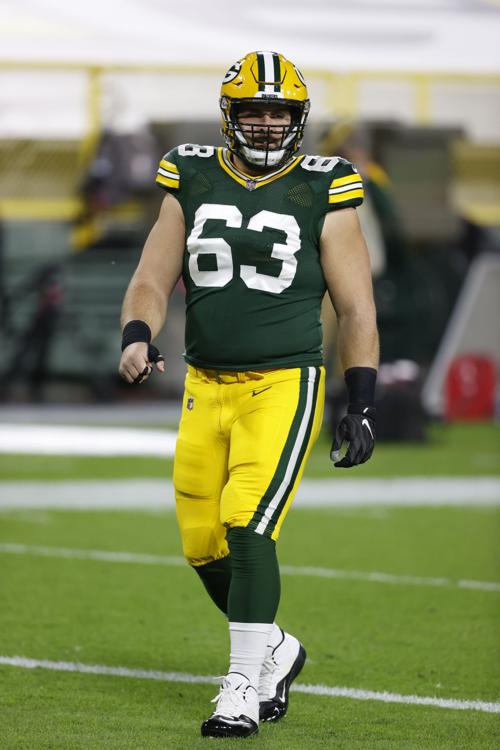 GREEN BAY — There doesn't appear to be an official Corey Linsley Fan Club, but if there was, his father, Jim, would surely be the president.
The Green Bay Packers veteran center's dad rarely posts any of his own thoughts on his Twitter account, opting instead to use it for sharing others' posts. Preferably, ones that point out how awesome his son is playing in the middle of the Packers' offensive line.
And so, it wasn't exactly surprising when ol' Jim passed along a Tweet from Pro Football Focus earlier this month — one in which the analytics and analysis site rated his son as the highest-graded pass-protecting center in the NFL. Given how humble and it's-not-about-me the younger Linsley is, there's probably nothing wrong with his proud papa passing the info along to his whopping 264 followers.
"My dad," Linsley said with a chuckle Thursday afternoon as he paused for effect, "I'm going to have to have a little chat with him about what he tweets and retweets, I guess."
As it turns out, Linsley's fan club extends far beyond his family tree. From head coach Matt LaFleur to offensive coordinator Nathaniel Hackett to quarterback Aaron Rodgers, the anchor of the line has plenty of other admirers.
"I mean, it's pretty impressive. I think you have to take into perspective, here's a guy that is in the middle of the entire field, has one hand on the ball," Hackett said Thursday evening. "And (he) can look up and see the entire field — the front; where the linebackers are; he can sometimes even get all the way to where the (defensive backs) are.
"Just his understanding of what we're trying to accomplish with the different fronts and angles, I mean, it's unbelievable. And he makes calls and between him and Aaron, who can get the call first. I think that something when you have those two guys on the same page, I mean, it's a great relief for a coach.
"Really, we have a two football coaches right there that are communicating and running the show. I think it's so great. It's a great comfort for Aaron. And his ability to; just how he's been blocking, is awesome, just to be able to reach people to be able to drive people, to be able to pass protect. It's a great thing to have. I can't speak highly enough about Corey."
And Linsley's ability to read defenses, diagnose intentions and adjust plays on the fly will be crucial this Sunday against the Tampa Bay Buccaneers, whose creative defense entered the week second in the NFL in fewest yards allowed per game (298.2), eighth in fewest points per game (22.4), fourth in sacks (17) and tied for fourth in takeaways (nine).
"Corey, he's an essential part of our offense. He's the guy that gets everybody on the same page up front," LaFleur said. "And when you're going against some of these defenses that give you some exotic looks, that's not always easy to do. There's a lot of moving parts involved with that. I think he's a premier center for what we're trying to get done, and we're lucky to have a guy like that.
"Not only that, I think he's a great team leader as well — not only in the offensive line room but for our football team."
It's a good thing everyone else is so happy to lavish praise on Linsley, since he genuinely doesn't enjoy talking about himself. But considering the way the offensive line has limited opponents to just three sacks this season — with Rodgers claiming responsibility for two of them — it's hard not to notice how Linsley has been a rock while playing through thumb and groin injuries on a line that has been reshuffled repeatedly due to injuries in other spots.
"My No. 1 focus — and I know this is a cliché and whatever — but my No. 1 focus is always, obviously, playing the best I can, but it's getting everybody on the same page. Because it really does all start with that," Linsley said. "It starts with Aaron, and once we get to the line, I have to make my calls and I have to be flawless with that. So that's the main focus every week.
"We have some smart dudes in our room — I mean, some really in-tune dudes who know the offense. Obviously, we've been in (this scheme) for a year now in the system, so we have better communication than we did last year and we can get on the same page easier. But that's my main focus every week is to dial in on the playbook, dial in on the game plan, know what we're going to do so that everybody else can do their job."
And Linsley knows that job will be appreciably harder against the Buccaneers and Bowles, the former New York Jets head coach who has a diabolical pressure scheme that offensive line coach Adam Stenavich admitted leaves coaches "always paranoid" in preparing for it.
"It'll be interesting to see how they play us," Rodgers said. "A lot of teams have certain tendencies, and then they play us and they play us completely different than the stats show. Todd likes to bring pressure. I wouldn't necessarily call it 'blitzing' all the time. To me, blitzing is usually involving a linebacker or secondary. A lot of it (with Tampa Bay) is usually a five-man rush and playing various coverages behind that. But you definitely have to be ready for the blitz packages that they offer."
Linsley confessed that Bowles' scheme has him pumping up his preparation this week — "You'd like to say we study an equal amount every single week, but it does take (more) when teams bring a mix of pressure and they have a little more complexity to that," Linsley said — and that he must be at the top of his game to keep Rodgers as safe as the line has so far this season.
"It directly impacts me. I've got to identify what they're doing. And obviously a lot of that falls on Aaron as well," Linsley explained. "I've got to know from the jump, kind of anticipate what the options are, what he could call, what adjustments we could make. They're obviously — you can tell on film — they're a smart defense and when do they bring a good amount of pressure, they know what they're doing with it."
For all the value Linsley brings to the Packers offense, there's the real possibility that he won't be back in 2021. In the final year of the three-year, $25.5 million contract extension he signed near the end of the 2017 season, the seventh-year veteran hasn't heard anything from the Packers on another extension and, at age 29, might price himself out of Green Bay with the Packers' other impending free agents.
"There hasn't (been any communication). But there really wasn't the last time, which doesn't speak one way or the other," Linsley said. "I wasn't really concerned with it the first time around. This time around, I'm not really concerned with it either. Again, the minute I start thinking about that, I'm not thinking about I'm not thinking about my job and how I need to perform and how everybody else kind of relies on (me). I'm just trying to play the best I can and get everybody on the same page."
Cornerback Kevin King (quadriceps) missed his second straight practice and his status for Sunday is in doubt. "We've looked at all the options knowing there's a chance that Kevin's not going to be able to go," defensive coordinator Mike Pettine said. "Some of it depends on what grouping we're in, what grouping the offense is in. (But) we do have multiple options and we've been working those all week." … Returner Tyler Ervin (wrist), tight end Marcedes Lewis (knee) and defensive lineman Montravius Adams (neck) also did not practice. … Wide receiver Davante Adams (hamstring) and nose tackle Kenny Clark (groin) once again were full participants, putting them on track to return to the lineup.
---
Photos: Packers' 2020 season so far in pictures
Photos: Packers' 2020 season so far in pictures
Check out photo galleries from every game of 2020 through the end of the regular season and the playoffs — if the Packers make it.
Be the first to know
Get local news delivered to your inbox!