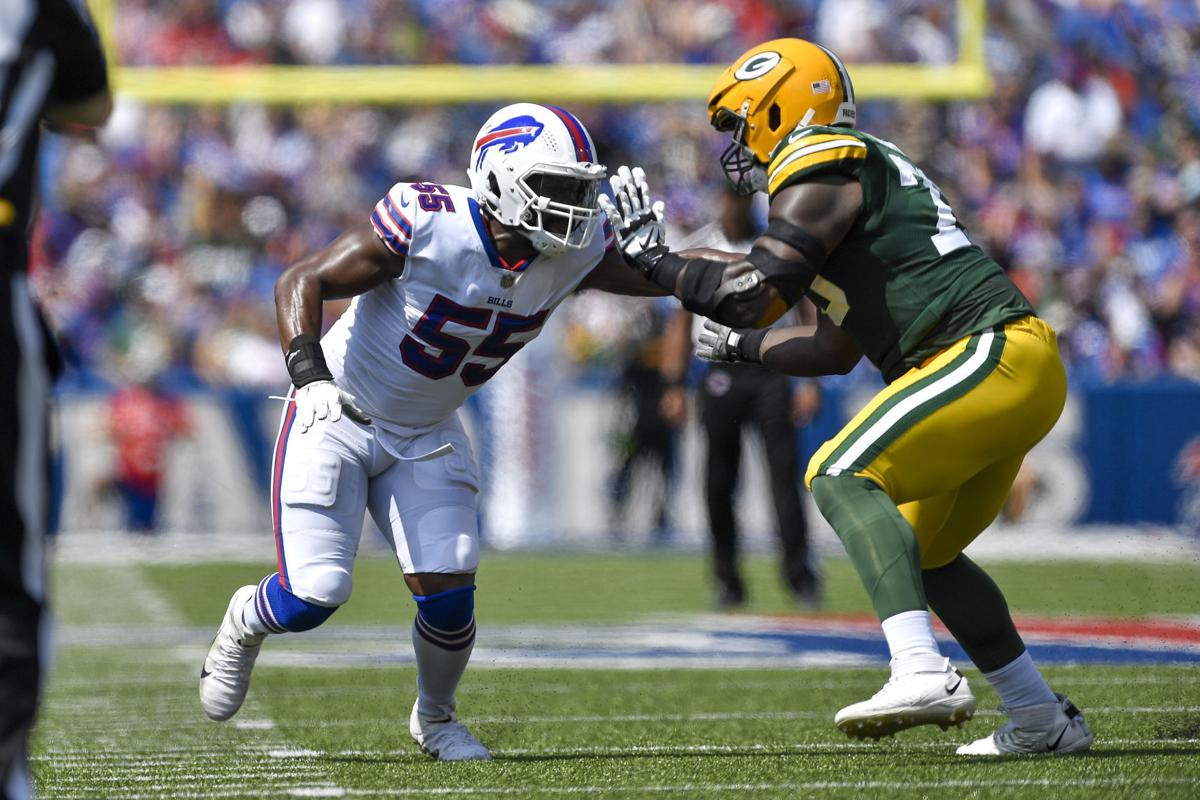 GREEN BAY — Yosh Nijman went into preseason play not quite sure what to expect.
He knew the Green Bay Packers offensive line was in flux in the wake of franchise left tackle David Bakhtiari's knee injury late last season, and that do-it-all lineman Elgton Jenkins was going to man Bakhtiari's spot until the five-time All-Pro got the all-clear from the medical staff.
He also knew the team had drafted six offensive linemen in the previous two drafts, though most of those picks were spent on interior linemen — meaning he would likely still have ample opportunity to earn his roster spot.
He just never envisioned just how much of an opportunity he'd be getting.
Playing nearly every preseason snap at left tackle across the team's three preseason games against the Houston Texans, New York Jets and Buffalo Bills, Nijman was on the field for 157 of the offense's 176 snaps (89.2%) and showed significant improvement in his third training camp.
"Yosh has done a good job," general manager Brian Gutekunst said in advance of Tuesday's final roster reduction to 53 players. "I think he's gotten better each year. A lot of credit (goes) to him for his work ethic and patience and resilience. I think he's playing his best football right now, and I'm excited to see where he goes."
At a time of year when the make-the-most-of-your-opportunity mantra is uttered on a daily basis, Nijman came to epitomize it this summer.
"I didn't necessarily know exactly. I was just preparing as if it was a regular-season game and doing my studying and just carrying myself accordingly," Nijman explained. "I just did some self-reflection. I have some stuff to clean up as far as technique-wise, so that's the stuff I'm focusing on. Any praise, I accept it — but I'm looking more to perfecting my craft and working on it every day."
The 6-foot-6, 314-pound Nijman entered the league as an undrafted rookie free agent in 2019 despite starting 32 games in college at Virginia Tech and putting up impressive athleticism numbers at the NFL scouting combine (4.88-second 40-yard dash, 4.5-second 20-yard shuttle).
"Obviously, he's got a lot of physical traits that we look for," Gutekunst said.
But after spending most of his first NFL season on the practice squad (he was on the 53-man roster for three games before a season-ending elbow injury) and last year on the roster all season (but playing only 14 offensive snaps to go along with 81 special-teams snaps), it looks as if things have clicked for him in a way they hadn't before.
"I feel like football, at the NFL (level), is a little more natural to me," Nijman said. "I'm still learning every day and learning from my older teammates, my coaches, (and) I'm really keyed into any adjustments or anything that's asked of me."
That doesn't guarantee him a roster spot as final cuts approach, but it would be hard to imagine the Packers moving on from him now when their patience is bearing fruit.
"I was very excited about Yosh and how he played this preseason. (I) kind of challenged him to see if he could take on the role of being a guy we can count on. I thought he did a good job," offensive line coach Adam Stenavich said following the preseason finale.
"For him, it's just understanding the different nuances of the system and being able to translate that on the field, blocking different looks, reacting to different scenarios. That's the biggest thing he's had to learn, is just how to handle himself. Even though a play might be one way versus a certain front, it's completely different versus a different front. It's just learning how to play fast versus multiple looks."
While Bakhtiari's initial roster status is up in the air — the team could put him on the in-season physically unable to perform list, meaning he'd miss six weeks, or on injured reserve, making him eligible to be activated after three games — many of the roster spots on the line seem set. Stenavich said he's hoping to end up with 12 linemen, between the active roster and spots on the 16-player expanded practice squad.
With veteran swing tackle Dennis Kelly, added early in camp after starting 17 games for the Tennessee Titans last year, coming back from a right knee injury suffered on Aug. 18, the Packers' tackle options are limited beyond Nijman, so he seems like a safe bet to continue his development in Green Bay. He'd likely get claimed on waivers if the Packers tried to sneak him through to the practice squad given how much preseason film tackle-needy teams can see of Nijman this summer.
"It's a hard time. It really is," offensive coordinator Nathaniel Hackett said. "They come into this building, we want to do everything we can to make them be the best versions of themselves, be the best player. As a coach, we want them to feel that from us and know that we love them. We've spent a lot of time with these guys and invested a lot. But it's part of the business. (We) let them know, 'Hey, control what you can control, get ready, and who knows what can happen? You might be in there.'"
Photos: Packers' 2021 season in pictures
Check out photo galleries from every game of 2021 from the preseason through the end of the regular season and the playoffs.