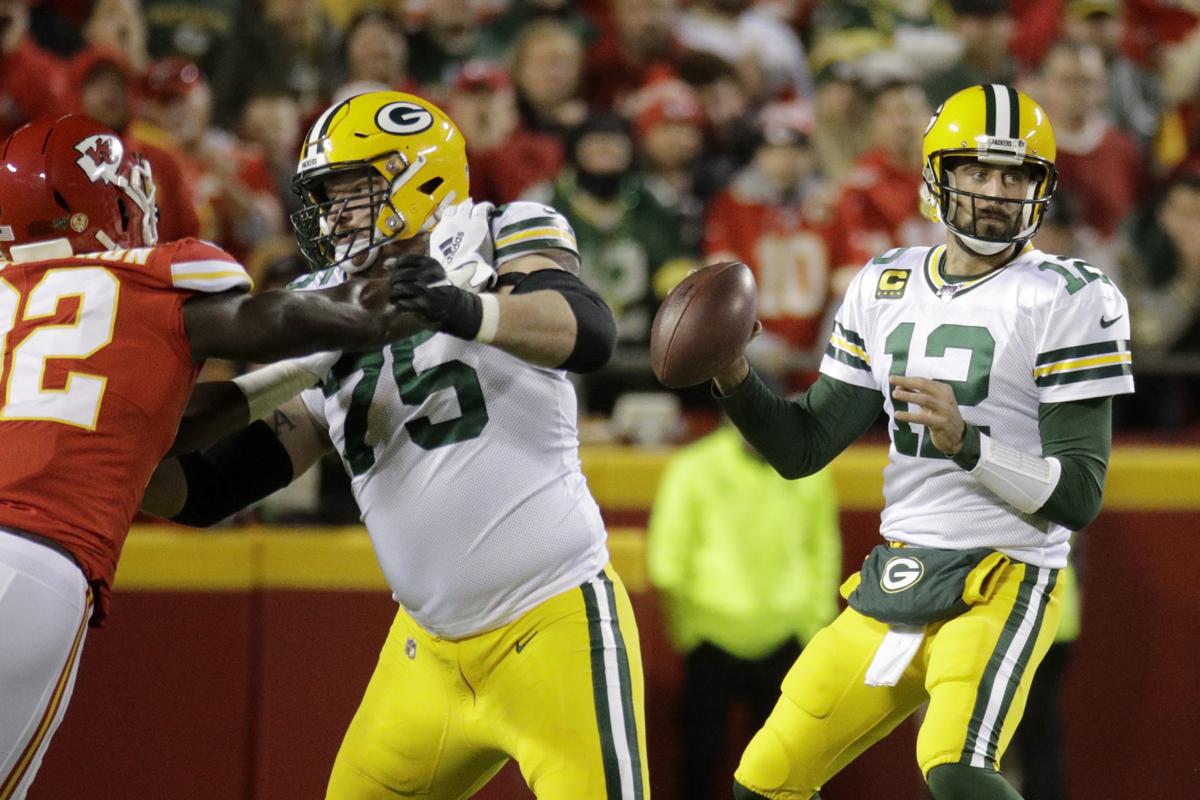 Bryan Bulaga and his wife Abbie have done their best not to think too far into the future.
With the Green Bay Packers headed to the NFC playoffs and Bulaga in the midst of what might be the best season of his 10-year NFL career, the right tackle — an impending unrestricted free agent — has kept his focus on the present.
"I don't talk about it too much, but we did talk about it over the bye week — 'What if? What if we're not back?'" Bulaga said at midweek as the Packers prepared for Monday night's NFC North meeting with the Minnesota Vikings at U.S. Bank Stadium in Minneapolis. "To me, there's a lot left in play here. So just make the most of it. I think that's the biggest thing.
"I can't control what's going to happen in March. What their plan is, I don't really know it. And if I'm part of it or not, I really have no idea. I can just control what is right now, and that's playing to the highest level I can and helping this team win.
"It's been 10 years here. We've had a lot of fun here, we've grown up here, got married while we were here, we had both kids while I've been a Green Bay Packer. Made a lot of memories — been in the same house for 10 years. So, yeah, there's a lot of nostalgia that goes along with thinking about (leaving). But business is business.
"I'm not quite thinking about that because there is a lot left here — big games, big things ahead of this team right now."
And Bulaga has been at the heart of it. Despite a gruesome late October finger injury and a partially torn MCL in his right knee in late November, Bulaga has started all 14 games the Packers have played this season and is on course to make all 16 starts for only the second time in his star-crossed career.
"He's been absolutely critical," Packers coach Matt LaFleur said Saturday. "First of all, I think he's playing at a really high level. And, he's been instrumental. It's always important, especially when you talk about the offensive line, the cohesiveness in that group. If you can get all 16 games with the same starting five, that's huge. That didn't happen for us, but for the most part, we've been healthy up front."
As has Bulaga, for the most part. He dislocated his right ring finger at Kansas City on Oct. 28 — an injury so painful he expected to see a bone protruding from his glove when he looked down — and missed the final offensive possession, then suffered the knee injury on the ninth play of the team's Nov. 24 loss at San Francisco. Remarkably, he was in the lineup the next week at the New York Giants in part because he doesn't want to miss a moment of the Packers' unexpected success after all the injuries he's endured in past seasons.
"It wasn't comfortable, it's still not comfortable. It probably won't be comfortable until I'm down in Florida training (in the offseason), not doing anything for a while," said Bulaga, who suffered season-ending injuries midway through 2012 (hip) and in training camp in 2013 (ACL tear) before another ACL tear ended his 2017 season.
"It's just one of those things where, if I feel like I can go out there and do it and still be productive, and play at a high level, I'm going to go out there and do it. I've missed a handful of games in my time here, and if I can go out there and play, I'm going to go out and do it. It doesn't feel great, but you deal with it and go out there and get the job done."
And Bulaga has. During a season in which the Packers' offensive line has been among the NFL's best, it's no coincidence the group's two worst games came in the wake of Bulaga's injuries: He played poorly at the Los Angeles Chargers when he was overcompensating for the awkward protective splint he wore on his right hand, and the line clearly missed him when he left that 37-8 loss to the 49ers after just nine snaps.
Remarkably, since left guard Lane Taylor's season-ending biceps injury after two games, the Packers have started the same five linemen — David Bakhtiari at left tackle, rookie Elgton Jenkins at left guard, Corey Linsley at center, Billy Turner at right guard and Bulaga at right tackle — in the 12 games since. Bakhtiari, Linsley, Turner and Bulaga have all made all 14 starts, and not only have they kept quarterback Aaron Rodgers safe (32 sacks) but their blocking for backs Aaron Jones and Jamaal Williams (1,916 combined yards from scrimmage, 23 total touchdowns) has been excellent.
"I think the line has been fantastic. And I think Bryan Bulaga has had a fantastic season," Rodgers said. "Bryan has been an absolute rock for us at right tackle. He's an absolute warrior when it comes to playing through injuries. Dave gets a lot of credit and well-deserved. Dave is a generational talent at left tackle, but I think Bryan has been fantastic on the right side."
Even so, it was Bakhtiari who was voted to his first Pro Bowl team, while Bulaga wasn't selected.
"He and I actually just talked about it the other day. I think this is the best year since I've been here that we've been together," said Bakhtiari, who became the team's starting left tackle as a rookie in 2013 after Bulaga was slated to start there but suffered that season-ending knee injury during the annual Family Night scrimmage. "Who's better? I told him, quite honestly: I think he's played better than me. He's had some outstanding games against some of the best pass rushers. He's showed up and showed out."
Asked if he believes right and left tackle should be treated as separate positions in the Pro Bowl voting, Bulaga replied with a laugh: "I would advocate for that, yes. But I don't want to say I'm 'disappointed.' Obviously every year, you have goals — making the playoffs, winning the Super Bowl. But then guys have personal goals, as well — Pro Bowl, All-Pro, statistics-wise, whatever. I think every guy's goal in here is to make an All-Pro team, to make a Pro Bowl. But it doesn't always work for right tackles."
Right now, there are more important things anyway. Bulaga was the youngest player in NFL history to start a Super Bowl when the 2010 Packers won Super Bowl XLV with a 20-year-old rookie at right tackle, and now he'd like to make it back – regardless of the uncertain future ahead.
"There's still a lot of football left, but overall, I feel like I've done a solid job," he said. "I've gone out there, I've done my best to help the team win, to help win football games and create good running lanes for Aaron and Jamaal, and give the 'other' Aaron time to throw the football.
"We've played some really good defenses this year and I feel like as a unit, we've done a really good job. And I think I've done all right."