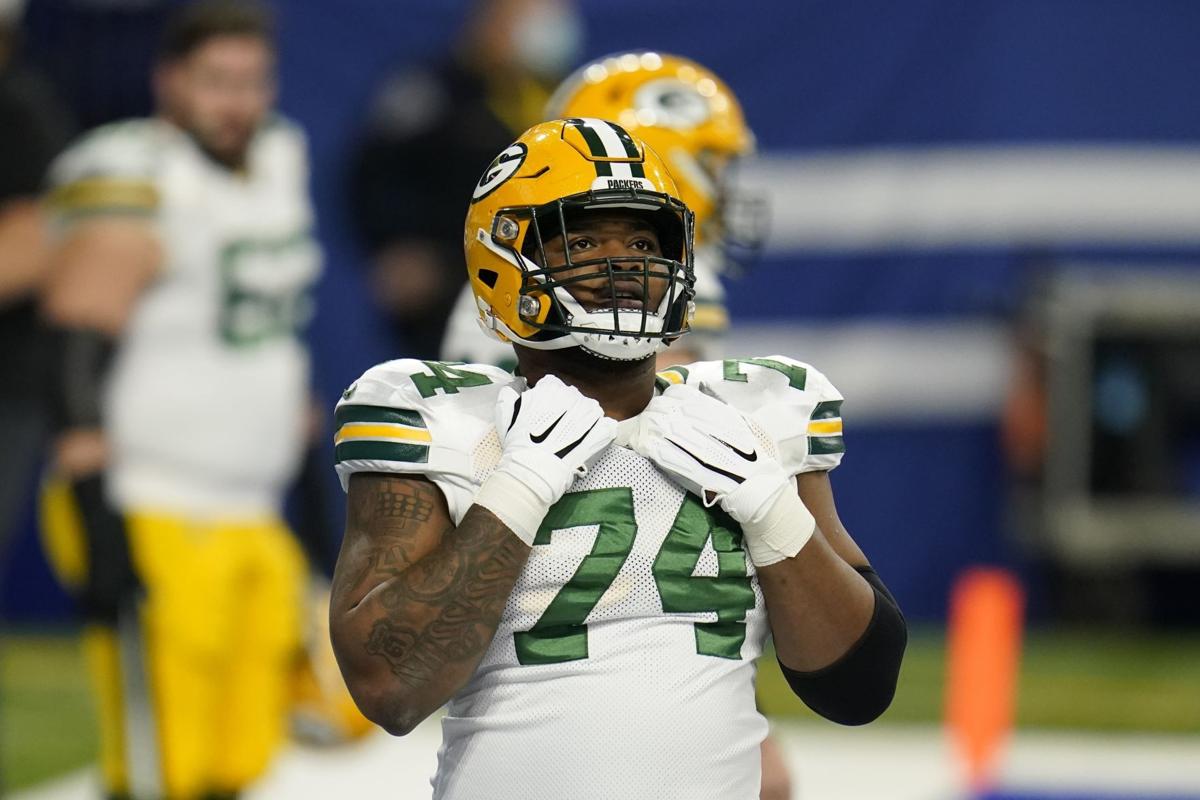 GREEN BAY — Maybe, if the Green Bay Packers can get out to a comfortable lead against the Chicago Bears on Sunday night, coach Matt LaFleur might be open to the idea.
It wouldn't be the same as a Major League Baseball player playing all nine positions in a single game — a feat that has been accomplished by five players, by the way, most recently by the Detroit Tigers' Andrew Romine in 2017 — but if somehow LaFleur could be convinced to let second-year offensive lineman Elgton Jenkins take a few snaps at right guard, Jenkins would do something that quite possibly has never happened in the more than 100 years of Packers football.
Through 10 games, Jenkins has played 663 of the Packers' 665 offensive snaps. While the vast majority of them have come at his usual starting spot of left guard (552 snaps), he's also seen time at right tackle (32), left tackle (25) and center (54). The only spot on the line he hasn't played this year is right guard — but given the way 2020 has gone, you never know.
"Elgton, I mean, the fact that he can play anywhere on the offensive line is absolutely incredible," LaFleur said this week after Jenkins shifted from left guard to center after starter Corey Linsley suffered a back injury 10 plays into the Packers' 34-31 loss at Indianapolis. "I've never been around somebody like that who has that ability."
Such versatile players are certainly rare, which is why LaFleur and his coaches see such value in Jenkins' ability to move around —something he's had to do plenty this season.
"Elgton could be a solid starter at all five positions. He's that talented. He possesses those abilities," offensive line coach Adam Stenavich said. "I think interior guard and center are his best spots, but he definitely has the flexibility to play tackle, which he has shown and done a good job."
Because in-game position changes aren't traditionally tracked within game play-by-plays and box scores, discerning how often a player moved from one line position to another within a game is virtually impossible. There certainly hasn't been a Packers lineman in the Super Bowl era who has started at least one game at each position in a season — something Jenkins, who had started nine games at left guard after starting the opener at right tackle, won't do, either.
In recent years, guards Lane Taylor and Josh Sitton played left tackle a few times due to injuries, and Pro Bowl center Mike Flanagan famously shifted out to left tackle in 2002 after Chad Clifton was lost for the season to the hip injury he sustained when Tampa Bay's Warren Sapp cheap-shotted him with a blindside hit.
During the Vince Lombardi glory years, Pro Football Hall of Fame right tackle Forrest Gregg moved inside to right guard after his friend and fellow future Hall of Famer Jerry Kramer broke his ankle midway through the 1961 season. Gregg also played left guard in 1965 and spent the early part of the 1958 season at left tackle, but a search for evidence of Gregg ever playing center came up empty.
The only player in recent years to show Jenkins' level of versatility would be now-retired lineman T.J. Lang, who did play all five line spots at some point in his eight-year Packers career. A two-time Pro Bowler who left for his hometown Detroit Lions in free agency after the 2016 season, Lang started 94 regular-season games in a Packers uniform — 60 at right guard, 27 at left guard, five at right tackle and two at left tackle. He also played center on at least two occasions in games when injuries struck the position.
Sitton, meanwhile, played both guard spots and left tackle during his career.
"Those two guys were rocks for us, super versatile guys, extremely intelligent guys, some of the funniest guys I've ever been around — and guys I still keep in touch with," quarterback Aaron Rodgers said. "Elgton is a talented guy who has shown he can play various positions. He started at right tackle for us Game 1, he can play both guard positions, he's gotten a lot better at snapping if we need him in a pinch. So I'm really proud of him. He's a good kid. He really cares about it and he's improved from year 1 to year 2."
Then came last Sunday, when Linsley's back locked up during the first quarter and Jenkins took over. Although he wasn't perfect — and he made a crucial mistake on a failed fourth-and-1 play during the fourth quarter — Jenkins more than held his own in place of Linsley, who has been the NFL's best center this season, according to Pro Football Focus.
"I felt like it went good. A lot of things I can clean up on, a lot of technique that I was rusty on," Jenkins said. "But I feel like it went good. Around the building, we always say don't blink. Once my coach said I was going in to play center, I was like, 'OK, whatever I can do to help the team.'
"I'll just say (I'm) blessed. God gave me the ability and the talent to do those things, and my coaches from peewee all the way up to college, all the way up to the NFL helped me with technique and other things I need to succeed at every position."
---
Photos: Packers' 2020 season so far in pictures