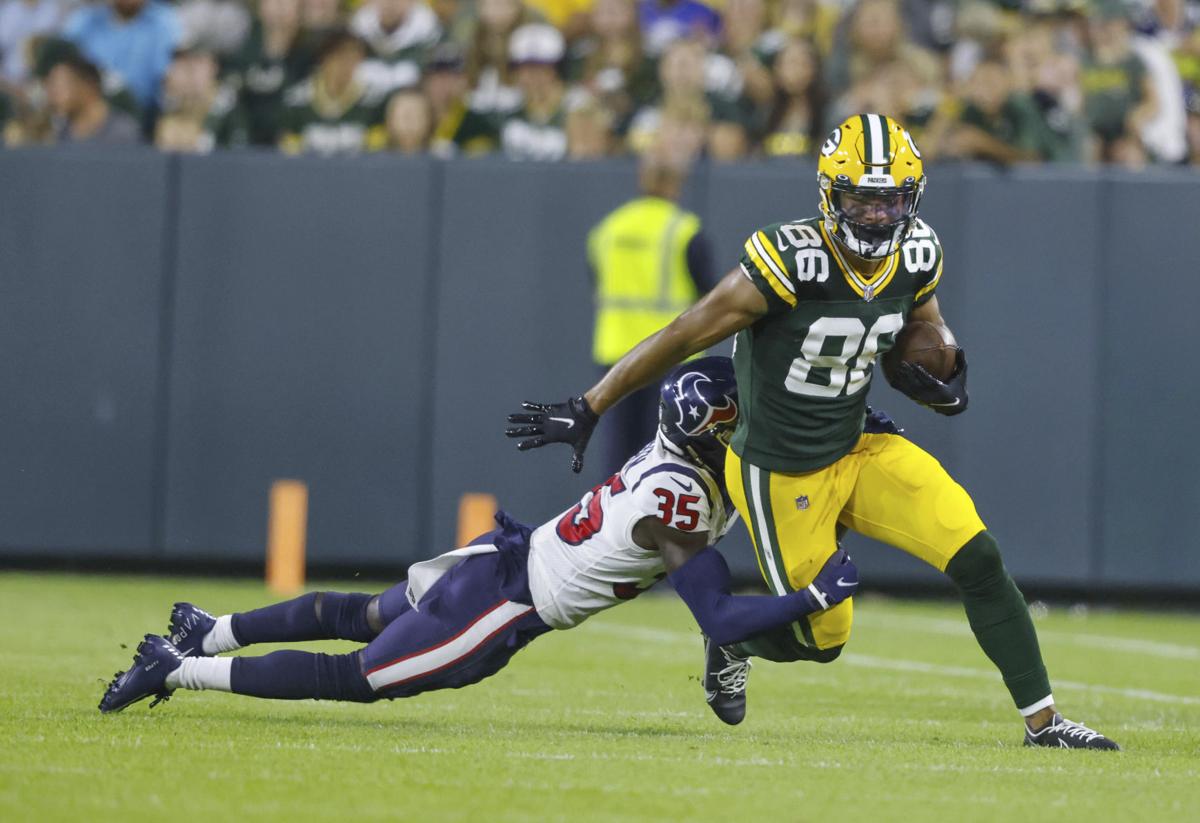 GREEN BAY — When the game was over, Jason Vrable sought out two of his lesser-known pupils, Malik Taylor and Reggie Begelton, with a message.
"I both gave 'em hugs and I said, 'I'm so proud of you guys,'" Vrable, the Green Bay Packers wide receivers coach, related Sunday afternoon. "And they were like, 'Whatever you need, coach.'"
With their top four receivers not playing in the team's 19-0 loss to the Buffalo Bills in Saturday's preseason finale, Taylor and Begelton were quarterback Jordan Love's top targets. And both delivered, under challenging circumstances: Taylor caught five of the six passes thrown to him for 69 yards, including a 27-yard catch; Begelton caught four of the six passes thrown his way for 51 yards, including a 29-yard grab.
Taylor finished the preseason as the Packers' leading receiver with 14 catches for 185 yards; Begelton finished as the third-most productive receiver with seven catches for 80 yards.
"Their mentality has been awesome, their preparation and just their work ethic," Vrable continued. "They both went out against the Bills' basically starting defense and you would've never known that they weren't in our rotation to be the top three the way that they performed on those first two drives.
"After the game, I was like, 'Man, these guys came a long way from two years ago.' That was really pleasing for me to see that."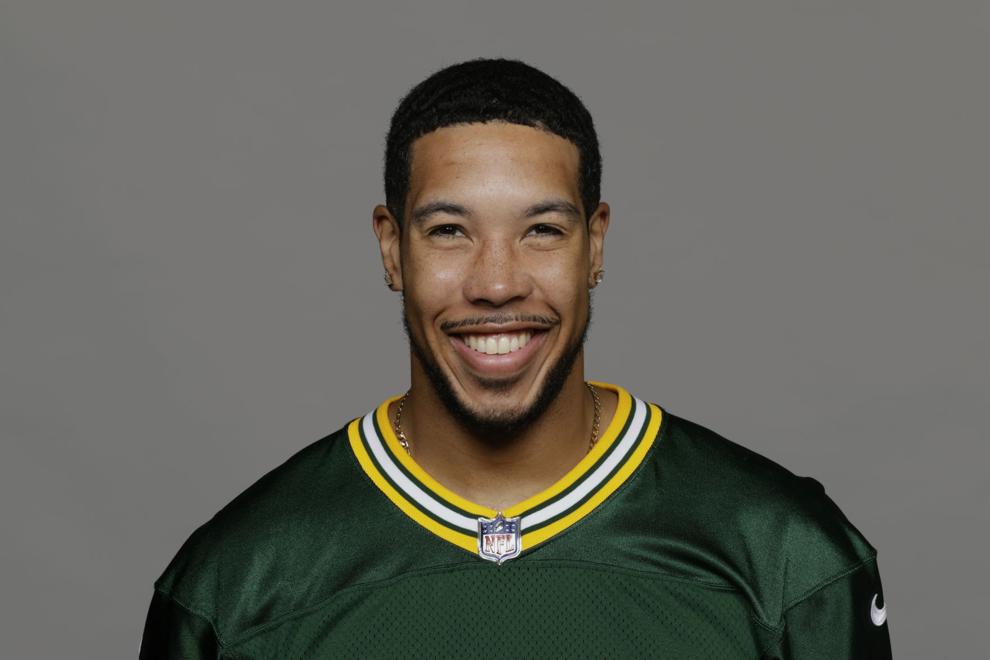 And yet, it might not be enough. The Packers' top five wideouts are set (Davante Adams, Marquez Valdes-Scantling, Allen Lazard, Randall Cobb and rookie Amari Rodgers), and there's no guarantee the team will keep a sixth receiver on the 53-man roster when final cuts are made in advance of Tuesday's 3 p.m. deadline. Both players knew that coming in, and both of them knew it even after their productive showings against the Bills.
"At the end of the day, I came out healthy, I showed what I could do, I helped the team," Begelton said.
Said Taylor: "You'll drive yourself crazy trying to think of different scenarios and what'll happen if this happens and things like that. I think the best way to go about it is to go out there and play your best game, put out good film."
Both of them did that, and with expanded 16-player practice squads being held over from last year, they could both return even if a sixth receiver doesn't make the active roster. If released, they'll have to get through waivers unclaimed on Tuesday to be re-signed to the practice squad on Wednesday.
"Those guys have had a really good training camp. They've both gotten a lot better. And whatever happens is going to happen," offensive coordinator Nathaniel Hackett said. "But it's just awesome, working with those guys and watching them get better and rise to those occasions.
"I mean, that's all you can do. It's an audition for everybody — for our team, for all the teams across the league. And whatever happens, I hope we get everybody. You don't want anybody to ever leave."
Putting it on the line
Head coach Matt LaFleur delivered a pair of I-know-something-you-don't-knows on Sunday: What the starting offensive line will be in the Sept. 12 season opener at New Orleans, and whether five-time All-Pro David Bakhtiari has a chance to be part of it.
First, Bakhtiari, who has spent all of training camp on the physically unable to perform list after tearing the ACL in his left knee during a Dec. 31 practice. The Packers essentially have three options: 1) place him on the in-season PUP list, which would mean missing the first six games; 2) keep him on the 53-man roster, then place him on injured reserve, with him eligible to be activated from IR after three games; or 3) keep him on the 53, and have him be a game-day inactive until he's cleared to play, giving him a chance to play before Week 4.
"That is something that I am not willing to share right now and you guys will find out soon enough," LaFleur said.
As for the starting offensive line, which has fill-in left tackle Elgton Jenkins, right tackle Billy Turner and rookie center Josh Myers set but questions at the guard spots, LaFleur replied, "We have a pretty good idea of what we're going to do. We do still have some more practices, but we won't unveil any of that until game time."
Rookie fourth-round pick Royce Newman appears on track to start at right guard, so the question is whether veteran Lucas Patrick or second-year man Jon Runyan will get the nod at left guard, assuming Bakhtiari isn't a go for the opener.
Meanwhile, offensive line coach Adam Stenavich left the distinct impression that with a crowded group competing for spots on the roster, former University of Wisconsin lineman and Green Bay-area native Cole Van Lanen is likely headed for the practice squad. The Packers would have to cut the rookie sixth-round pick and then could add him to the practice squad if he clears waivers and isn't claimed by another team, if that's indeed their plan.
"We moved him around a little bit to see where he'd most comfortable, at guard or tackle. I'm not really sure if he got settled in at any spot," Stenavich said. "That's going to be a work in progress just to see where he fits in this league and what his best position is."
Extra points
With an extra week between final cuts and the opening of the regular season, LaFleur said his team will practice Tuesday, Wednesday and Thursday this week before the players have Friday, Saturday and Sunday off. … LaFleur also said the coaches will install a "preliminary" game plan for the Saints this week. … With Hurricane Ida slamming Louisiana, LaFleur said he had not heard from the NFL on whether the storm might impact the Packers-Saints game. "I know that the league's monitoring it, certainly," said LaFleur, who was with Houston when Hurricane Ike hit Texans in 2008. "I know from my own experience … I just hope they do right by everybody and help everybody stay safe down there. And I'm sure we'll figure (the game) out later." … LaFleur said the team is optimistic that offensive lineman Dennis Kelly (knee) and defensive lineman Tyler Lancaster (elbow), who both suffered training camp injuries, might be good to go for the opener, saying they'd likely be listed in the "questionable category."