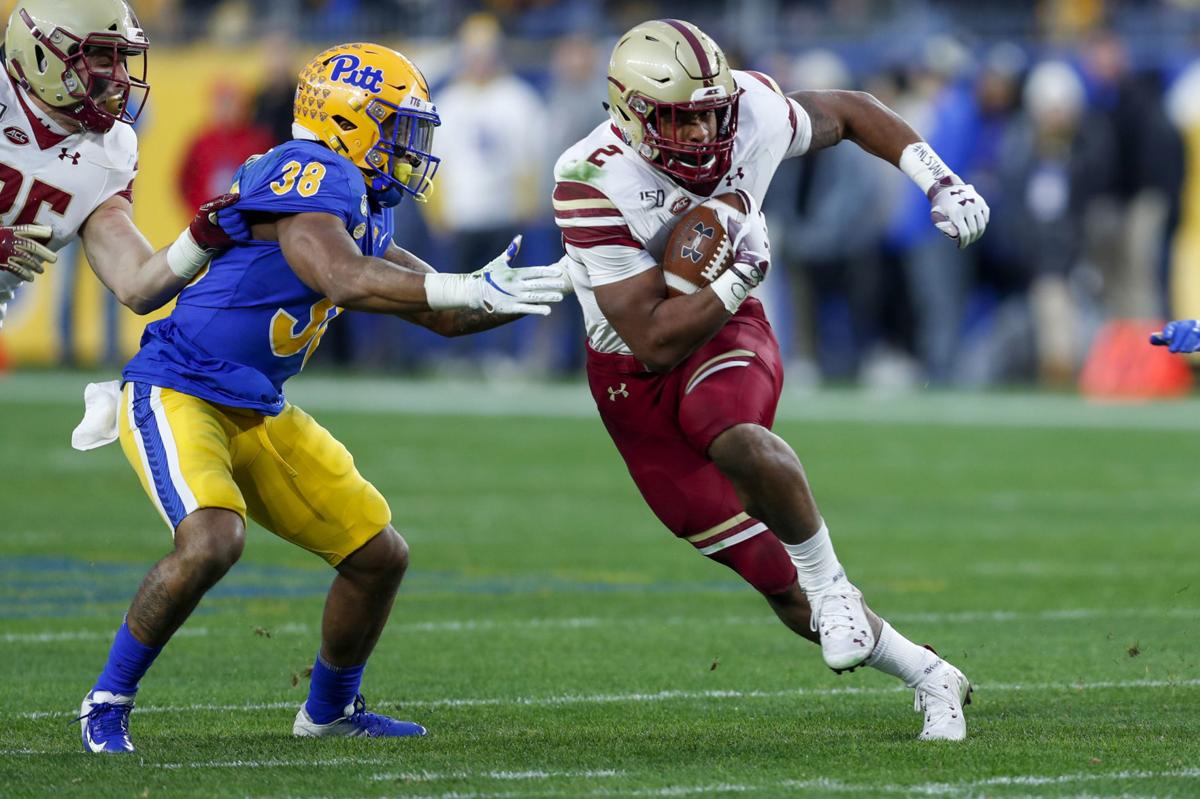 GREEN BAY — Mike Owen didn't score many creativity points for the metaphor, but it was apt nonetheless.
The Green Bay Packers scout was trying to explain what the team was getting in their second-round pick, Boston College running back AJ Dillon, and what the 6-foot, 247-pound Dillion would bring to a Packers backfield that already includes quick, slashing starter Aaron Jones and capable backup Jamaal Williams.
"I think he'll be a great complement to Aaron Jones and Jamaal," Owen said on a conference call with reporters after Dillon was taken with the 62nd overall pick. "I think that's a three-headed beast that can come in, take this running game to the next level. You've got a nice mixture of running styles. I would say Aaron Jones is more like lightning, you've got the thunder right here with AJ Dillon and Jamaal Williams."
Not only will Dillon be the thunder, he might also be the starter a year from now. Both Jones and Williams, whom the Packers added on Day 3 of the 2017 NFL Draft, are headed into the final years of their contracts, and general manager Brian Gutekunst will have to decide at what price he'd be willing to bring Jones back and whether Williams can be had for a reasonable rate to continue as a valuable backup.
In Dillon, the Packers get a workhorse back who carried the ball an astonishing 845 times in three years for the Eagles before declaring for the draft after his true junior season. While his workload might've concerned some teams given how much punishment he absorbed on that many carries, Dillon never suffered any significant injuries and was remarkably durable for an offense that really centered around him. He finished his BC career with 4,382 rushing yards (a 5.2-yards per carry average).
"I would say this, and I would echo this to everybody across the Packers Nation: I'm good to go, healthy as can be," Dillon said. "I had a lot of carries but that just shows I can handle the workload, I can be the workhorse. Everybody can know that the ball's coming to me and I can still churn out yards. I went to the combine, went through all the medical, and I didn't get sent back for any extra X-rays or scans. I went there, performed and I'm still healthy, which is a blessing, and I'm ready to just get to work."
Quarterback chat
Give Aaron Rodgers this much: He may not be thrilled that the Packers traded up and drafted his heir apparent in Thursday night's first round of the NFL draft, but he didn't hold it against Jordan Love.
The Packers' veteran quarterback spoke to his new rookie teammate on Friday, Love said in an interview with Maria Taylor during ABC's telecast of the draft.
"I was able to talk with him earlier," Love said. "Really good guy. (He) just congratulated me, and I was just letting him know that I was excited to be able to work with him."
Rodgers was the one who initiated the conversation, a source said.
The Packers moved up from No. 30 to No. 26 to take Love, who in a conference call with Wisconsin reporters early Friday morning said he was looking forward to learning from Rodgers, who is entering his 16th NFL season and 13th year as the Packers' starter.
"I already know I'll be able to learn a lot from Aaron Rodgers. He's one of the greats of the game, knows what he's doing, has a lot of knowledge," Love said. "I'll be able to sit behind him, pick his brain and grow as a player and develop my game. Just learn as much as I can from him."
Another third-round tight end
The Packers have taken a lot of third-round tight ends over the past dozen drafts or so, and now you can add Cincinnati's Josiah Deguara to a list that includes Texas' Jermichael Finley (2008), California's Richard Rodgers (2014) and Texas A&M's Jace Sternberger (2019).
Deguara finished his career with the Bearcats having caught 92 passes for 1,117 yards and 12 touchdowns in four seasons, but at 6-foot-2 and 242 pounds, he projects as more of a hybrid tight end/fullback or H-back in the NFL. The Packers seemed to be planning for fullback Danny Vitale to have an important role in the offense last season, but that never materialized and Vitale ended up departing in free agency last month to join the New England Patriots.
Gutekunst acknowledged earlier this offseason that it can be difficult for rookie tight ends to have an immediate impact, meaning the Packers will likely be relying on Sternberger, who didn't have a single regular-season catch during an injury-riddled rookie season, to lead the way at the position with veteran Marcedes Lewis and Robert Tonyan as complementary pieces following the release of veteran starter Jimmy Graham.
Be the first to know
Get local news delivered to your inbox!