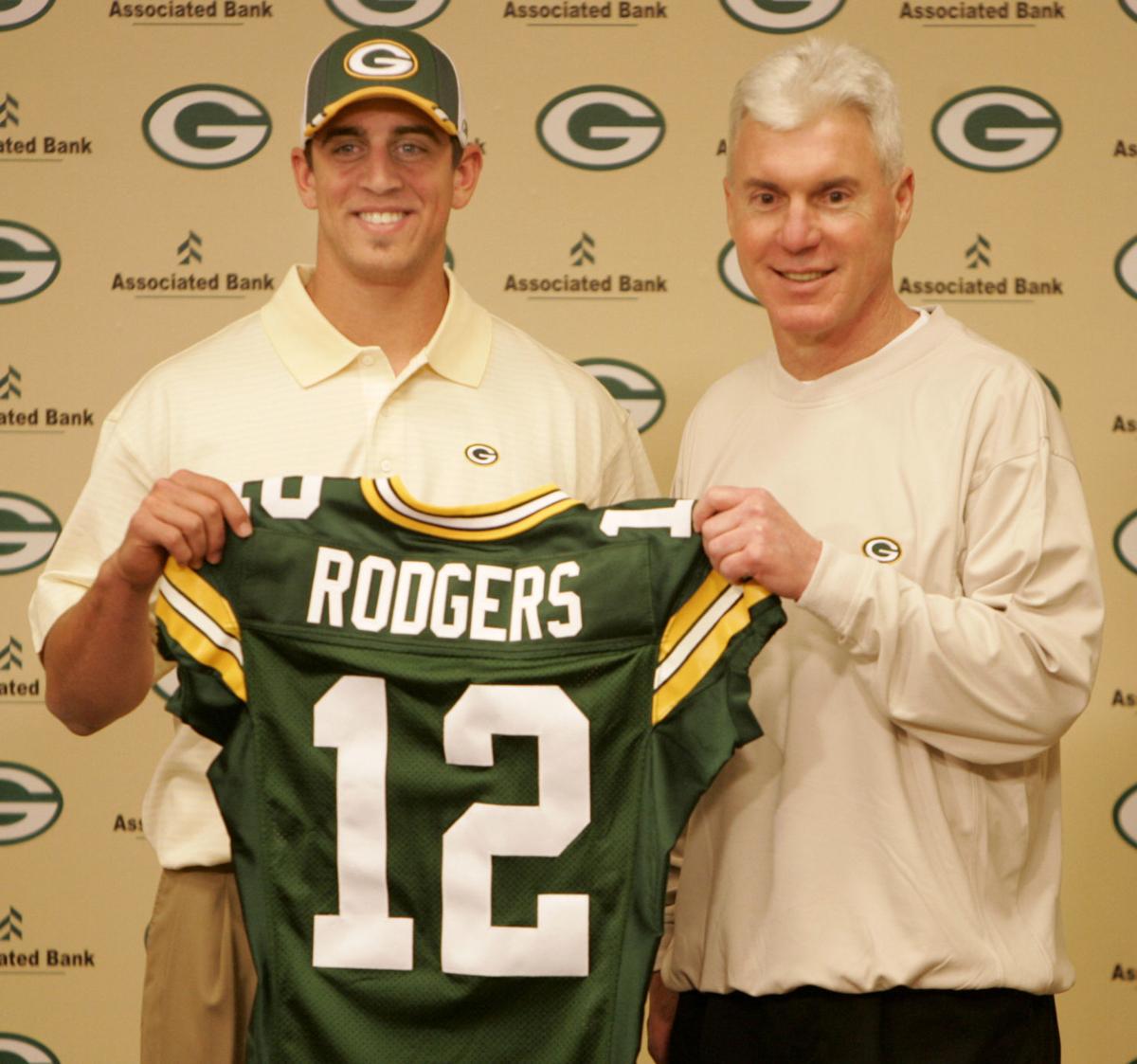 GREEN BAY — Ted Thompson leaned forward in his chair and considered the question. It was the summer of 2007, and the then 54-year-old was beginning his third season as the Green Bay Packers general manager.
He'd already made one of the decisions that would define his tenure, using his very first draft selection as GM on University of California quarterback Aaron Rodgers during the 2005 NFL Draft — even though future Pro Football Hall of Famer Brett Favre was still the starter, despite the iconic Favre's annual will-he-or-won't-he retirement musings.
Thompson's next career-defining decision — severing ties with the legendary quarterback by trading him to the New York Jets in August 2008, during what team president/CEO Mark Murphy still refers to as "The Summer of Favre" — was still a year off.
And yet, with a portion of the team's passionate fan base having already developed a disdain for him and his draft-and-develop approach, Thompson was already drawing harsh criticism from some. That view had been fueled, at least in part, by Favre's publicly-expressed frustrations about certain roster decisions after the Packers went 4-12 in 2005 (in Mike Sherman's final year as coach) and 8-8 in 2006 (in Mike McCarthy's first season).
So, Thompson was asked that summer afternoon in his sparsely appointed office on the third floor of Lambeau Field, why didn't fans like him?
"But at the same time, this is a big boy place, and if I get criticized, I'm OK with it. Personally, I can take it from an ego standpoint, but I would prefer it if it was more of a positive message, just because of the people out there who are getting up and reading that at the breakfast table or watching it on the nightly news at night. It might make them have a bad day thinking, 'Oh, my gosh,' that sort of thing. I'm not immune to that. But I'm fairly thick-skinned about other things.
"The people here are very nice. They're not mean-spirited, they aren't necessarily mad, they just want the Packers to do good. And there's no animosity, no hatred or anything like that. Ultimately, that's all everybody wants, is the Packers to do good. That's what I want, too.
"Look at this place. This place is one of the most storied franchises there are, but Packers fans don't care. They want to win (now). And that's the reason I sort of fight against this we're-building-for-the-future thing. We're building to put the best team we can out there. Certainly, we want to look at the big picture, but we want to win (right away).
"I am confident we're going to do everything we can to make this the best place to work and best place to play and give our players the best chance to win. Outside of that, that's all I can do. And then you see how that works.
"There will be surprises along the way, good surprises and bad surprises. But I think as long as we keep to the making sure we try to do things the right way, that we try to get the right character people on this team, then I think it gives you a chance. That's all you can ask for.
"Five years from now, I would hope that I do this job well enough that I'm still sitting here. I won't be here forever, but I'm healthy, I enjoy this job, and I think we have a chance to do some good things. I'd like to be here for a good long run and win tons of games and make everybody that cheers for the Packers happy."
Hall call
As it turned out, the Packers did exactly that during Thompson's 13-year tenure as GM. The team compiled a regular-season record of 125-82-1 on Thompson's watch and made the playoffs nine times, including a franchise-best eight straight seasons from 2009 through 2016. Green Bay was 10-8 in postseason play during that time, reaching four NFC Championship Games (2007, 2010, 2014, 2016), and the 2010 team won Super Bowl XLV — led by Rodgers, the game's MVP
On Saturday night at Lambeau Field, Thompson was enshrined in the Packers Hall of Fame, feted 16 months after transitioning to a senior advisory role when current GM Brian Gutekunst was named as his successor. Among those in attendance were Gutekunst; Cleveland Browns GM John Dorsey and several of the former Packers staffers he brought to the Browns (assistant GM Eliot Wolf, offensive line coach James Campen); ex-Oakland Raiders GM Reggie McKenzie, one of Thompson's longtime lieutenants in Green Bay; Pro Football Hall of Fame mentor, Ron Wolf; retired team president/CEO Bob Harlan; and several players Thompson drafted, including wide receiver Jordy Nelson and kicker Mason Crosby.
"A great person," Nelson replied Saturday night when asked what stood out about Thompson. "I think you can tell by the people he brought into this organization. I think that was first and foremost — the (kind of) people he brought in was more important than the skill and the talent because he wanted the right locker room, the right guys in the community, the right leaders. Obviously, I'm extremely thankful for what he's done for me and my family, giving us that opportunity. It's great to be back to see him receive this honor and see him again."
In addition, Rodgers, former All-Pro defensive back Charles Woodson, whose free agent arrival in 2006 was vital to the Super Bowl XLV team, former head coach Mike Holmgren and Seattle Seahawks GM John Schneider recorded video tributes.
"I'll never forget your loyalty," Rodgers told Thompson in his video message. "I'm going to always be thankful for the time I had to spend with you, and the fact that you took a chance on a young kid from California. Thank you for your vision, thank you for believing in me year after year, thank you for representing the Green Bay Packers so well. And I'll see you down the road."
Thompson was presented for induction by longtime friend and former Houston Oilers teammate Mike Reinfeldt, who said in part, "I think history is going to be kind to Ted Thompson. When they look back and see what he accomplished, it's a pretty golden era for the Packers."
Thompson, meanwhile, limited his brief acceptance speech — which he began by acknowledging that he has always been "a man of few words" — to a simple thank-you after a video was played showing the many players he brought to Green Bay.
"This is a great honor. I appreciate it more than you could ever know. … This means a lot to me," Thompson said.
"For whatever reason, I think Ted is underappreciated," Murphy said in an interview in advance of Thompson's induction. "I think part of it is, he's not a self-promoter. He's just a very humble person, just did his job. But when you look at his record, it's really pretty remarkable. The league is structured where, it's really hard to win on a consistent basis. And what sticks out to me, when you really look at it, obviously (there's) the Super Bowl, but the consistency — eight years in a row to make the playoffs, four years in a row winning the division, nine out of 13 years in the playoffs.
"I do think as fans, our fans got a little spoiled. They were used to it. And when we weren't in the Super Bowl multiple times, that was a disappointment. But you couldn't have asked for more, really. I have such respect for Ted. And as great as his accomplishments are, the quality of the person … he's just such a good person."
Thompson was also such a good talent evaluator. He assembled that 2010 championship roster with terrific drafts that yielded many of the team's best players (Rodgers, Nelson, Crosby, wide receivers Greg Jennings and James Jones, offensive linemen Josh Sitton, Daryn College and Bryan Bulaga, safety Nick Collins, outside linebacker Clay Matthews and defensive tackle B.J. Raji) as well as vital depth that allowed the team to survive a spate of injuries that year.
Those picks were augmented by arguably the second-most significant free agent signing in franchise history (Woodson), a handful of vital veteran free agents (most notably nose tackle Ryan Pickett) and diamond-in-the-rough finds on the street (cornerback Tramon Williams) and in undrafted free agency (cornerback Sam Shields).
All the while, Thompson adhered to a draft-and-develop roster-building philosophy that had helped Holmgren build a Super Bowl team in Seattle, even if it differed from that of Thompson's mentor, Wolf. Wolf was among those who recommended Thompson to Harlan in 2005.
"Quite simply, it's one of those things where you have a list of candidates and there's nobody on the list," Wolf said Saturday night. "There's only one or two people you want to pick."
After Thompson's playing days ended, he spent seven years working in Houston's financial sector until Wolf hired him to work in the Packers' pro personnel department in 1992. He rose quickly through the ranks after that, ascending to director of pro personnel after one year, to Wolf's right-hand man as director of player personnel in 1997, to the Seahawks' vice president of football operations in 2000.
"I hired Ted with the thought that he could do for us what Ron Wolf did for us in the '90s. He built a great ballclub," said Harlan, who lured Thompson from Seattle to replace Sherman, who spent four years with the dual coach/GM position before losing the GM duties after the 2004 season. "Nobody agrees with every decision the general manager makes. But when you look at the two eras, they were built very much the same way.
"When Ron Wolf came in, he hired a good coach in Mike Holmgren, got a franchise quarterback in Brett Favre and he got a standout defensive player in Reggie White. And that was our foundation in the '90s. Now Ted Thompson comes in, gets a good coach in Mike McCarthy, gets a franchise quarterback in Aaron Rodgers and has a sound defense formed around Charles Woodson and Clay Matthews.
"So these two men have worked very much alike. And after what we went through in the '70s and '80s when we could never win, what Ron accomplished in the '90s and what Ted Thompson accomplished after that, it was just good to see the Packers back among the elite teams where they belong."
"They are different type people. Ron Wolf, he will take more chances. And he did appreciate the spotlight more. Ted is really a back room guy. I remember when I was going to hire him, I went to one of the PR individuals and told him what I was going to do, and the first thing the person said to me was, 'Boy, Ted's not very good with the press.' And I said, 'I'm not hiring him to be good with the press. I'm hiring him to build a football team for us. And he will do that.' And he did that. The personality doesn't matter."
As for that somewhat reclusive personality, those closest to Thompson, including former lieutenants such as Dorsey, Gutekunst and Schneider, say he has always been funny and self-deprecating, generous with his knowledge and time, and extremely smart.
"I have the utmost respect for Ted Thompson. I think he's genuine. I think he's absolutely smarter that people realize. I think he has humility within his heart. And he's got a really good belief about him — it's always, treat people the way you want to be treated. And Ted is like that," Dorsey said. "As far as the person, Ted and I shared an office for years. He and I have a really long friendship and will continue to have a long friendship. To me, he's one of the top GMs to ever go through the NFL.
"He's a deep thinker. He thinks through the whole process. That's not to say Ron didn't. All of us say we were all fortunate to work for Ron Wolf. He taught us all how that system works. We all tweak it to our strengths and weaknesses."
Added Gutekunst: "Ted's been such a mentor for all of us. He means (a lot) not only as a mentor in this profession, but also just as a friend. He's a really unique individual who cared about the guys who worked for him."
Perhaps, with the benefit of hindsight, Thompson's accomplishments will be better appreciated in time. Certainly, his final few drafts had as many misses as hits, and his decisions are not above reproach. Perhaps Rodgers' annual MVP-level play masked roster deficiencies that became more obvious during the 2017 season, when the Packers finished 7-9 while Rodgers missed nearly 10 games with a broken collarbone.
But for a man who dedicated everything he had to the organization — Thompson never married and never had children, which allowed him to dedicate virtually his entire life to the team during his time as GM — he probably never got his due during his tenure. Which made Saturday night so special.
"Ted's like an older brother. We're different personalities, but it's just like family members (are)," Schneider said. "Ron gave me my start, and Ted was the guy that really helped me learn how to write (reports) about players. But Ted and I were basically starting at the same time. He was just learning how to write himself, so he was teaching me about how to gather my thoughts and describe a player and put it on paper and try to present it to somebody who has no idea who the player is or what he looks like. That's probably the coolest gift he gave me.
"And then just the humility of being yourself. He never changed who he was for anybody. He always stayed the course — he was never one to get nervous or waver on anything. He was always, it was very unique for me going to Seattle, because in Green Bay (under Thompson), I was the one who always had his foot on the gas. But I was able to talk through issues with him. Do you want to do this? Do you want to do that? And sometimes he would go for it, and sometimes he wouldn't.
"And then I got to Seattle and I started working with Pete Carroll, who's 60 years old and he's in overdrive — it's in fifth gear and he's got it all the way down. so now I'm the one pumping the brakes now. Ted will go down in Green Bay history as one of the best people — you can talk about executives, players, coaches, all that — but he'll just go down as one of the best people to ever work for that organization."
Jason Wilde covers the Packers for ESPN Wisconsin. Listen to him with former Packers and Badgers offensive lineman Mark Tauscher weekdays from 9-11 on "Wilde & Tausch" on your local ESPN station.