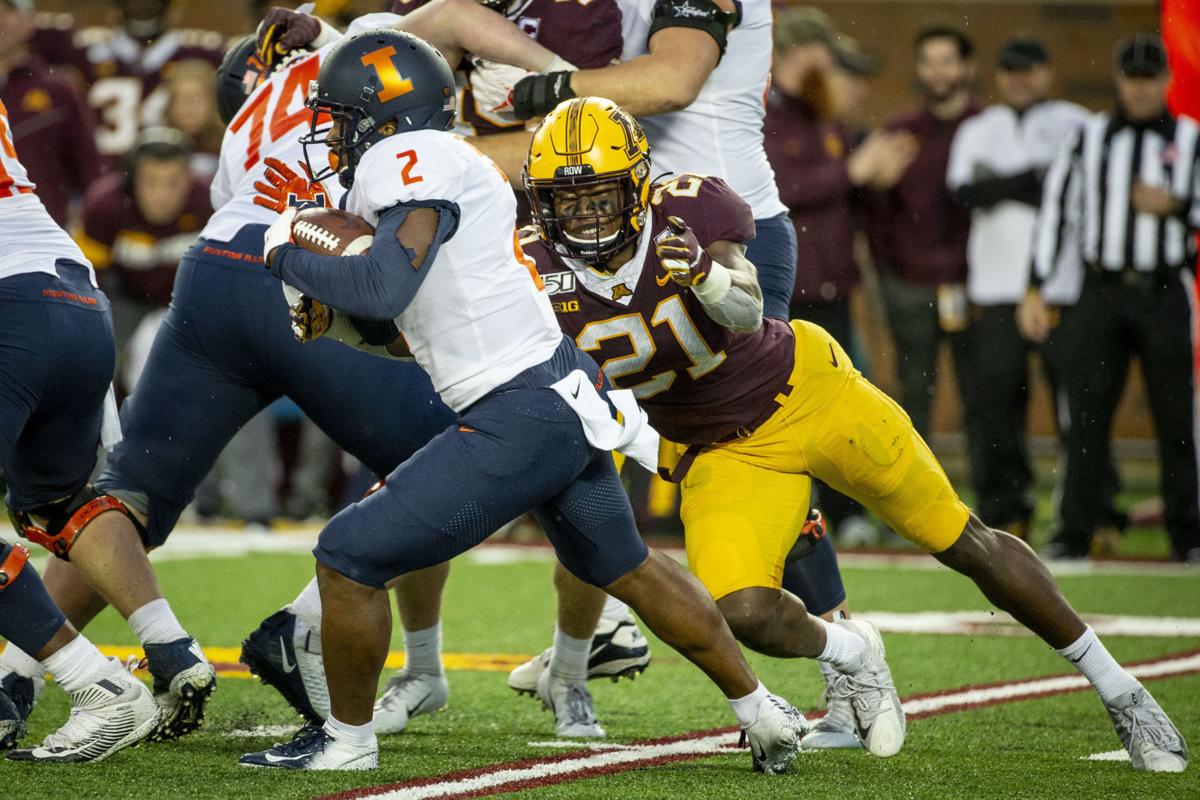 GREEN BAY — Afterward, there were no celebratory toasts of garage-fridge beers at Brian Gutekunst's house, or of Spotted Cows at a watering hole near Lambeau Field.
With the COVID-19 pandemic's stay-at-home orders forcing the Green Bay Packers and the NFL's other 31 teams to make their draft picks virtually, with each member of each team's personnel staff working remotely from their homes, the Packers' annual Saturday night post-draft tradition of the general manager and all of his scouts knocking back a few cold ones together in recognition of a job well done was put on hold.
"I suppose this is for everybody in pretty much all walks of life and professions but, yeah, it's not the same," Gutekunst confessed Saturday evening after making the team's final six selections on Day 3 of the draft. "When we work basically 11, 11 1/2 months on something and it comes down to three days, the amount of work that gets put into it … it is a bit of a letdown not to get together with everybody and celebrate and be together. We did a lot virtually as we went through it, but it is a little bit of a letdown."
But make no mistake: Even as much of the outside world panned the Packers' nine-player draft class — one that began with a first-round trade-up to pick Utah State quarterback Jordan Love as the heir apparent to two-time NFL MVP Aaron Rodgers and ended without the selection of a single wide receiver during a draft billed to be the best in history at that position — Gutekunst, head coach Matt LaFleur and the team's scouting and coaching staffs did not see their draft as a letdown at all.
As they clicked off their computers and television monitors in their makeshift home offices, they did so believing they had plied their club with ample help for the 2020 season.
Whether their assessment is wishful thinking or right on the money will be decided over time, but it was clear that Gutekunst, in his third draft as GM, believed he gave his offense a valuable depth charge and improved the roster of a team that went 13-3 last season and reached the NFC Championship Game.
Even if that sentiment wasn't shared by analysts, social media users or members of the team's passionate fan base, it was by his second-year head coach.
"We just wanted to get as many good players as we could," LaFleur said. "It's our job to adapt to our players and find out what they do well, and highlight that. That's exactly the approach we're going to take."
Having traded their fourth-round pick to the Miami Dolphins on Thursday to move up to take Love, the Packers picked five players on Saturday: Minnesota linebacker Kamal Martin in the fifth round (No. 175); three offensive linemen — Michigan guard Jon Runyan (No. 192), Oregon center Jake Hanson (No. 208) and Indiana guard Simon Stepaniak (No. 209) — in the sixth round; and TCU safety Vernon Scott (No. 236) and Miami (Fla.) defensive end Jonathan Garvin (No. 242) in the seventh.
Those selections followed Gutekunst's surprising decision to pick Love with the 26th overall pick on Thursday night and add Boston College running back AJ Dillon in the second round (No. 62 overall) and Cincinnati tight end/H-back Josiah Deguara in the third round (No. 94 overall) on Friday night.
In the end, the Packers wound up with six offensive players and three defensive players, with Gutekunst acknowledging that he went into the three-day affair believing he needed to replenish the offense after what he did last year on defense, signing three high-priced free agents and using both of the team's first-round picks on that side of the ball.
"(That) wasn't necessarily by design. But I think certainly we added a couple good players on offense. Where our roster sits now, I thought that was something that was important for us," Gutekunst said. "Obviously, on Day 1, getting a quarterback we think can play in the National Football League is something that we think is obviously very important. I think we added a lot to our offense."
What they didn't add was a receiver, even though 37 were selected during the seven-round draft and a record 13 went in the first two rounds. As a result, the Packers enter their virtual offseason program with star wideout Davante Adams atop the depth chart and a host of questions and inconsistent performers thereafter.
"We really like the group of receivers we have. We think there's some guys really coming into their own," Gutekunst said. "If the right players would have been there when we picked, if we had the opportunities we liked, we certainly would have considered it. It just didn't happen."
Gutekunst also insisted that even had the Packers invested in a wide receiver, the odds were against that player having an immediate impact, just as other standout wideouts in recent Packers history were unable to break through as rookies.
That said, while Gutekunst acknowledged that Love shouldn't be expected to play right away with Rodgers at the helm, the GM does believe he got a few players who can help right away.
"I'm not going to put any kind of limitations on their ability to contribute this year. I can understand with the quarterback that that's probably true. As far as the running back and the tight end, I think there's ample opportunity for those guys to contribute this year," Gutekunst said of Dillon and Deguara. "I think in general, all NFL teams, they're usually counting on their veterans and their young players to improve from Year 1 to Year 2, Year 2 to Year 3, to give you that push to improve as a football team. I think for all rookies in general, there's a learning curve and it takes some time.
"Rookie classes, the impact initially is not that great. It's usually Year 2 and Year 3 where you feel the impact of the draft class. We're excited about the guys we got, and we felt we were disciplined enough to not reach for positions of need. I like our football team right now. It doesn't mean it won't change, but I like where we're at."
---
JORDAN LOVE — QB — UTAH STATE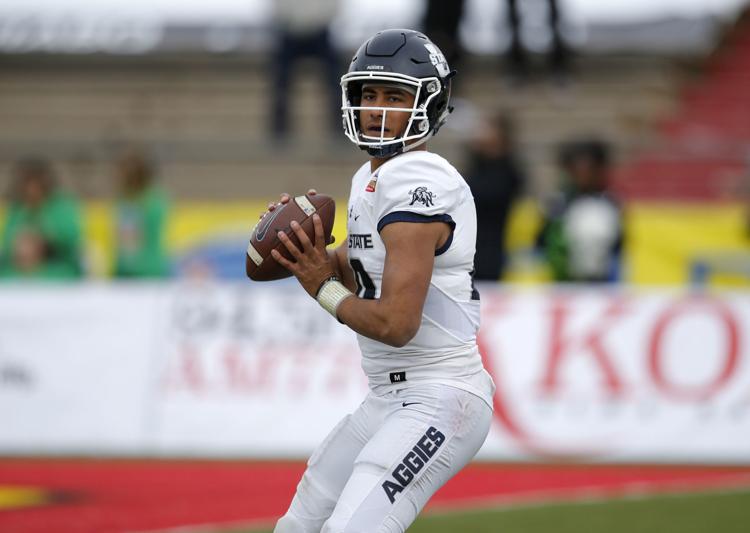 Pick: No. 26 overall (From Houston via Miami)
Packers jersey number: 10
Notes: The Packers gave up a fourth-round pick in this year's draft to move up four spots from No. 30 to take Love, who saw his production slip last season with nine new starters and a new coaching staff in place for the Aggies. After completing 64 percent of his passes as a sophomore for 3,567 yards, 32 touchdowns and 6 interceptions, Love connected on 61.9 percent last season for 3,402 yards, 20 touchdowns and 17 interceptions. 
AJ DILLON — RB — BOSTON COLLEGE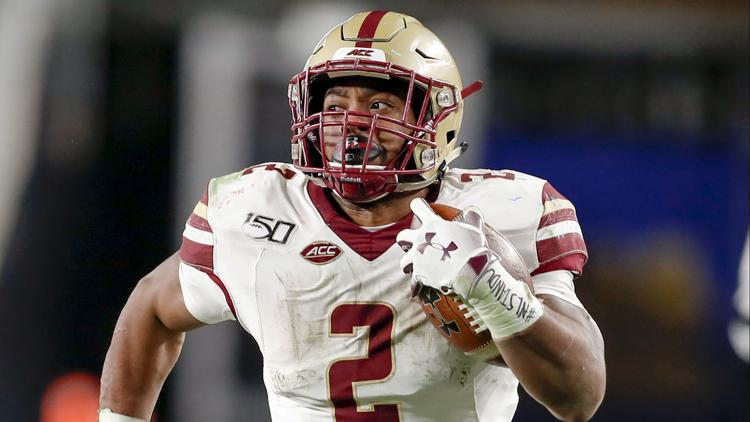 Notes: Dillon carried the ball an astonishing 845 times in three years for the Eagles before declaring for the draft after his true junior season, finishing his BC career with 4,382 rushing yards (5.2 yards per carry) and 21 rushing touchdowns. Despite his prolific rushing output, Dillon only caught 21 passes for 236 yards and two scores in his three seasons with the Eagles.
JOSIAH DEGUARA — TE — CINCINNATI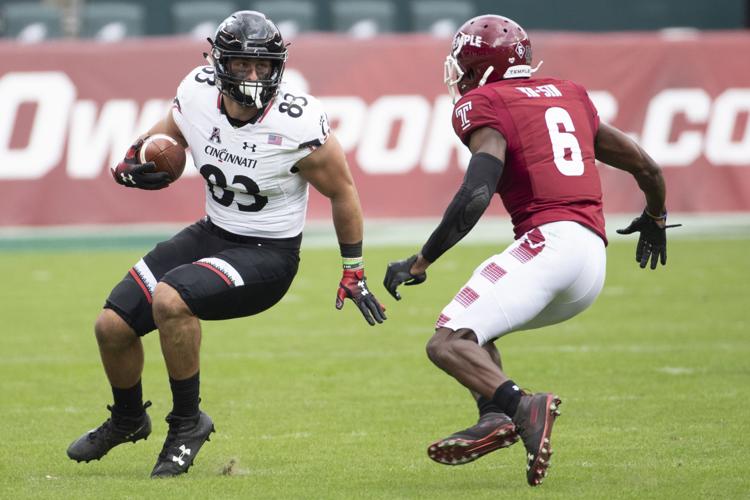 KAMAL MARTIN — ILB — MINNESOTA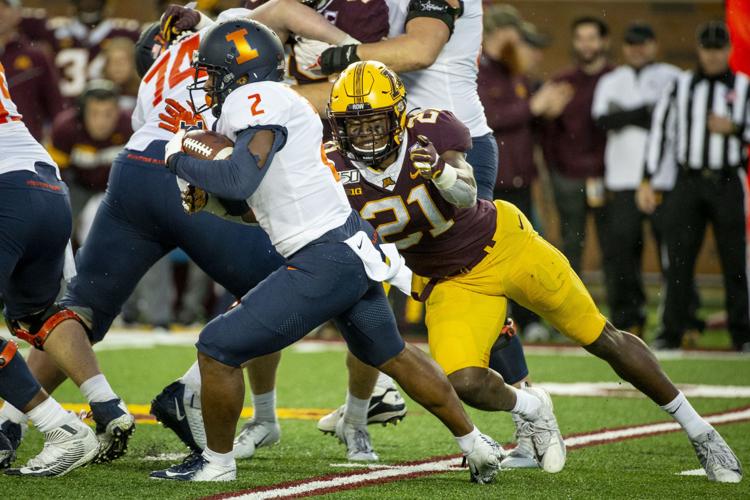 Notes: Martin finished his four-year career with the Gophers with 66 tackles, including 2 1/2 for a loss. In Minnesota's loss to Wisconsin in the battle for the axe in November, he had nine total tackles as the Badgers offense put up 453 total yards. Martin also had two interceptions last season in Minnesota's 38-31 win over Purdue to bring his career total to four. 
JON RUNYAN — OG — MICHIGAN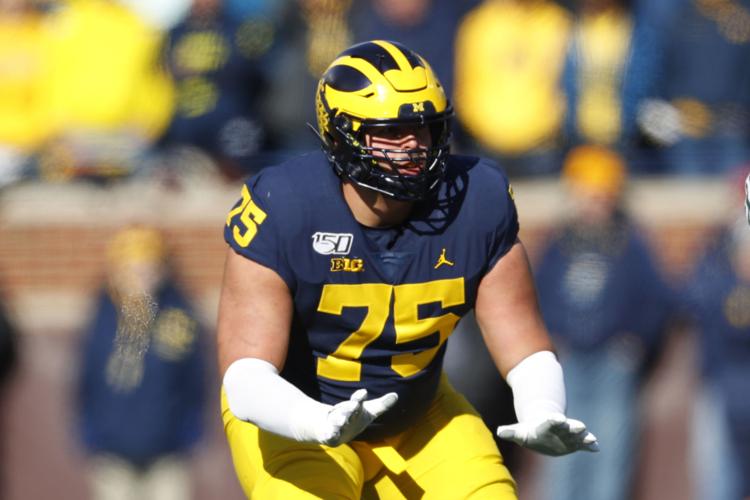 Pick: 192 (From Las Vegas)
Notes: Runyan, who made 25 of his 26 starts at left tackle, was a two-time winner of the University of Michigan's Hugh H. Rader Memorial Award, given to the Wolverines' top offensive lineman. Runyan's father, Jon Runyan Sr., also took home the award, making them the only father-son duo to earn the honor in school history. The junior Runyan almost cost himself his opportunity in Green Bay when he accidentally declined a call from the organization on the final day of the draft Saturday. "I declined a call from Green Bay, Wisconsin," Runyan said. "I tried to call back and my call didn't go through, and I had no idea what I just did." Luckily for Runyan, the Packers called right back and the rest is draft history. 
JAKE HANSON — C — OREGON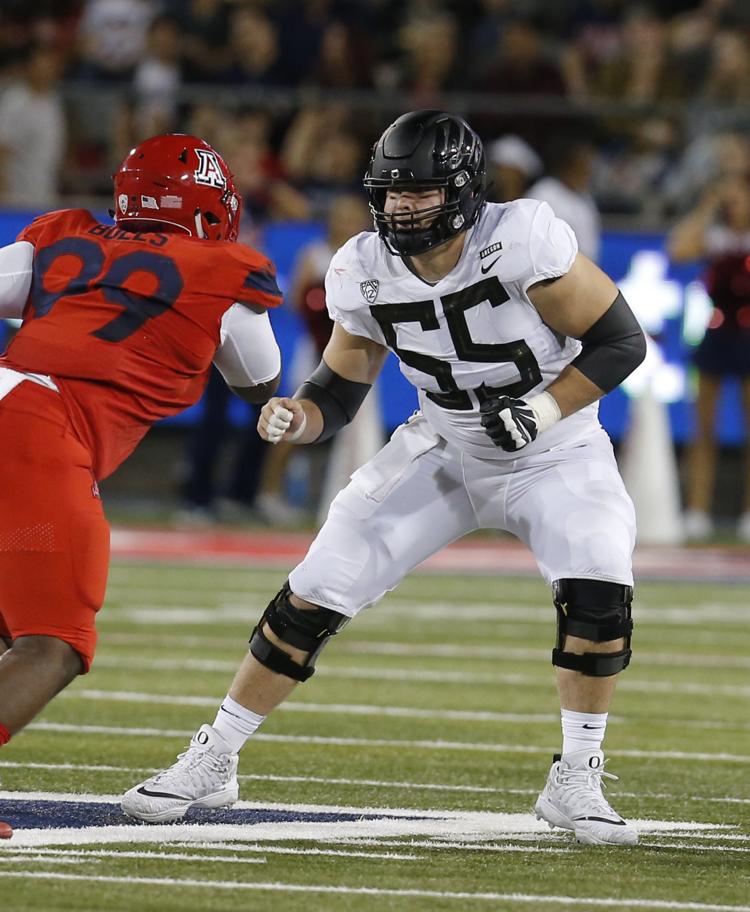 Pick: 208 (From Tennessee) 
Notes: Hanson, a two-time Associated Press Pac-12 All-Conference second team pick who started 49 games at center in four season with the Ducks, did not allow a single sack in 2,738 snaps over his first three seasons at Oregon. While starting 12 games as a senior, Hanson committed only one penalty in 746 snaps.  
SIMON STEPANIAK — OT — INDIANA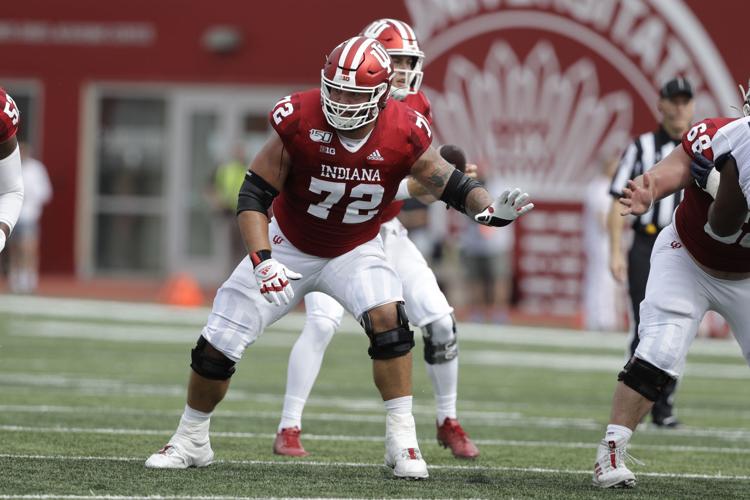 Notes: A team captain last season for the Hoosiers, Stepaniak was a third-team All-Big Ten pick by the media and an honorable mention All-Big Ten selection by the coaches as Indiana finished the year second in the conference in pass offense (302.4 yards) and first downs (23.4) and third in total offense (432.8 yards). He made 31 starts at Indiana, with 30 coming at right guard and one at left guard. Stepaniak tore his ACL in December during a practice ahead of Indiana's Gator Bowl loss to Tennessee but is expected to return to football activities in mid-July. 
VERNON SCOTT — S — TCU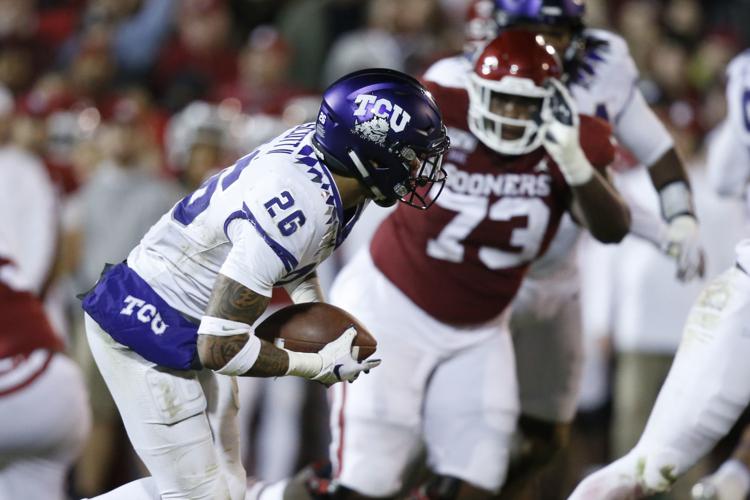 Pick: 236 (From Buffalo via Cleveland) 
Notes: Scott appeared in 26 games for the Frogs over three seasons, turning in his best effort last season when he started 10 games and had a career-high 44 tackles on the year, as well as a fumble recovery and a 98-yard pick-six in TCU's 28-24 loss at Oklahoma in November. 
JONATHAN GARVIN — DE — MIAMI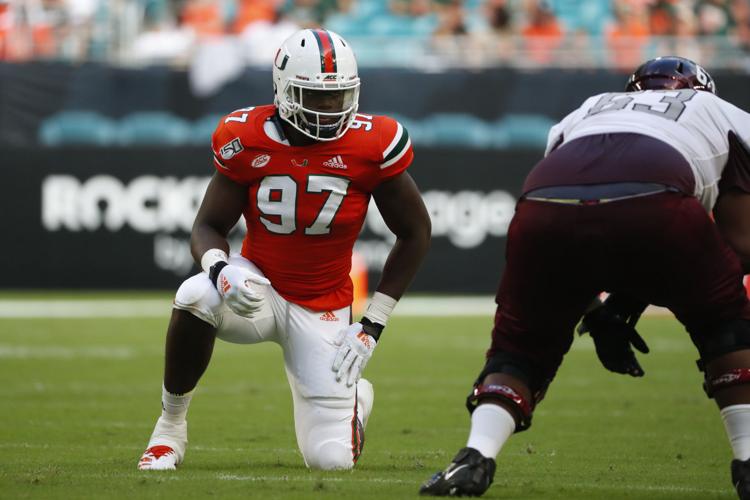 Pick: 242 (From Baltimore) 
Notes: A two-year starter for the Hurricanes, Garvin had 12 1/2 sacks and 29 tackles for a loss during his three seasons in Miami. Last season as a junior, Garvin made 11 starts while appearing in 12 of 13 games, finishing with five sacks, nine tackles for a loss, four quarterback hurries and two forced fumbles. 
Be the first to know
Get local news delivered to your inbox!