GREEN BAY — Late last week, a Green Bay Packers employee was making his way up the wide hallway that leads from the Lambeau Field stadium tunnel to the home team locker room. He was so bundled up from having just watched practice outside — bulky Packers parka, knit winter hat with a hood over the top, Nike Therma-Fit pants — that as he removed one of his oversized gloves to deliver a fist-bump greeting to a passer-by, it was hard to tell just who the person was. Then he said hello.
It was Packers general manager Brian Gutekunst.
The hallway conversation was brief, and then Gutekunst went on his way, past the Packers locker room and toward the elevators that would take him up to his office. It's a safe bet he had film of some little-known prospect to watch — perhaps from the Canadian Football League, considering he's signed two ex-CFL'ers to futures contracts in the past week — or some other scouting work to do.
One thing he did not have on his to-do list was speaking with reporters. While certainly more willing than his predecessor, Super Bowl XLV-team architect Ted Thompson, to grant interviews, Gutekunst wanted the focus to remain solely on first-year coach Matt LaFleur and the players as Sunday's NFC Championship Game against the San Francisco 49ers at Levi's Stadium in Santa Clara, Calif., approached. So he declined interview requests, something he's done since midseason after the Packers' 7-1 start.
But while he might not want to talk about it, it's impossible to deny that the Packers are where they are — one victory away from a Super Bowl LIV berth — in large part because of the moves Gutekunst has made, both large and small.
"'Gutey' and his staff, man, they work tirelessly. Their effort and their detail is second to none, in my opinion," LaFleur said. "We're just really fortunate to have those guys on our side. They've done a great job bringing in all those names that have been key contributors for us all season long. They're always searching. They're combing through everything, trying to find great players. A lot of those have been a big reason why we've gotten to where we've gotten."
The big-name signings are well known by now. Knowing the defense needed an overhaul, Gutekunst shelled out $56 million in guaranteed signing bonuses to four veteran free agents, three of them on defense: outside linebackers Za'Darius and Preston Smith, safety Adrian Amos and right guard Billy Turner. The Smiths have combined for 29.5 sacks (including two apiece in last week's NFC Divisional playoff win over Seattle), while Amos has steadied a shaky defensive backfield and Turner has solidified the interior of the offensive line. All four players have been durable, too, starting all 17 games.
"When we signed those guys, there was certainly that optimism of, 'Hey, these are three key positions in the defense that needed to be addressed.' And we were 3-for-3 on those signings," said defensive coordinator Mike Pettine, who as free agency began was hoping to just get one of the Smiths.
"You'll obviously see free agents (and) it's just like the draft — hit or miss. So give credit to Gutey and his staff that it was three hits. It's rare that you fix everything or a lot through free agency, and we've been able to accomplish that."
Even ex-Packers coach Mike McCarthy noticed. McCarthy, whose teams frequently struggled on defense under previous coordinators Bob Sanders (2006-'08) and Dom Capers (2009-'17) and who hired Pettine last year, took note that the Smith signings delivered far more pass-rush productivity than what the Packers had last year.
"Brian did exactly what needed to be done — he made the roster more competitive," McCarthy said in an interview shortly before his hiring as the Dallas Cowboys' new coach. "Those were constant conversations in the short time we worked together.
"They've done a great job. You have to give them credit."
Gutekunst deserves perhaps even more credit for the lower-profile additions he's made.
After starting right tackle Bryan Bulaga suffered a knee injury nine snaps into the Packers' 37-8 loss at San Francisco on Nov. 24 and young backup Alex Light struggled mightily, Gutekunst put in a waiver claim on veteran tackle Jared Veldheer, who'd ended his brief retirement and been waived off the New England Patriots reserve/retired list. Veldheer replaced Bulaga (concussion) in the regular-season finale at Detroit and played well, then started for an ill Bulaga against the Seahawks and more than held his own.
Having watched the return game struggle with various returners (Trevor Davis, Darrius Shepherd, Tremon Smith), Gutekunst claimed Tyler Ervin on waivers on Dec. 3. Ervin averaged 9.6 yards per punt return to end the season — which would have ranked fourth in the NFL if he had enough attempts to qualify — and now has been integrated into the offensive game plans as well.
Gutekunst also wisely brought back key veterans such as tight end Marcedes Lewis and cornerback Tramon Williams. While his decision to bring back tight end Jimmy Graham was questioned throughout the season, Graham did deliver three crucial catches which all went for first downs against the Seahawks last week.
"I think he's done a great job. I think he deserves a lot of credit," quarterback Aaron Rodgers said. "Him and his staff have done a great job of finding that talent. I know that they had eyes on a number of players and Tyler (Ervin) was one of them, because I was talking to (personnel lieutenants) Milt (Hendrickson) and Jon Eric (Sullivan) the other day and just telling them what a great pickup I thought that was. And they said, 'Yeah, we kind of had eyes on him for a while.' He's made a huge difference for us.
"There's been a lot of great pickups. The big-name ones have been fantastic. But it's the other ones that have been kind of the glue pieces, I feel like. Bringing Marcedes back, I think, was a super underrated move that has really helped our run game and our locker room with leadership. Tramon, picking him a couple years ago was important and keeping him on the roster, how important he's been from a leadership standpoint, from a playing standpoint.
"It's little things like that that I think really make this thing go."
Vitale questionable
The Packers listed only one player — fullback Danny Vitale, who continues to battle a nagging knee injury — on their final injury report of the week as questionable. Vitale did practice on a limited basis.
---
Packers vs. 49ers: Three things to watch in NFC title game
1. MAN WITH A PLAN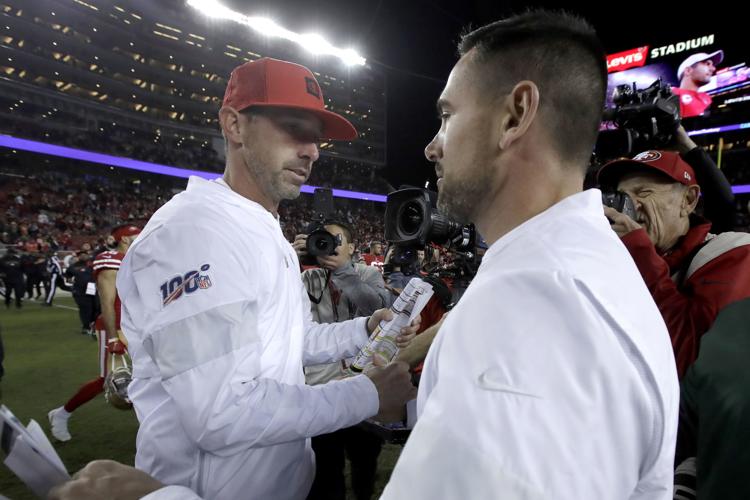 There was plenty of discussion about the teams' first meeting this season on Nov. 24, when the 49ers' walloped the Packers, 37-8, at Levi's Stadium. While the Packers players and coaches were repeating the mantra that the game was a long time ago and didn't matter at this point — presumably because they were so soundly beaten — the 49ers and head coach Kyle Shanahan (above left) were doing their best to downplay the game's significance, too. Why? To prevent overconfidence, for one.
But the game does mean something to Packers head coach Matt LaFleur (above right): It serves as a lesson on what not to do this time around. And according to LaFleur, who went back over the film of that game with a fine-tooth comb earlier in the week to extract any lessons he could, that starts with a smarter offensive game plan than the one he used the first time. Certainly his players have noticed.
"We're definitely going into this game with a much better plan than we did the last time we played them," star wide receiver Davante Adams observed.
Asked why he thought Adams might feel that way, LaFleur replied, "I think that's a product of these guys having been in the system longer. So, I hope they're more comfortable and more confident. I don't think you ever design a game plan feeling bad about it. You always want to feel great about your game plan. But certainly, obviously, it wasn't good enough last time. There's no doubt about it. When you get beat by 29 points like that, it wasn't a good plan.
"Certainly we feel confident about it (for this game), but ultimately, we've got to go out there and execute it against a really good defense."
What might that plan look like? Against a dominant front four, LaFleur likely will want quarterback Aaron Rodgers to get the ball out of his hand quickly. It would also stand to reason that he'd want to move the pocket so Rodgers has a better chance of eluding the rush and getting the ball to Adams, who set a Packers single-game postseason franchise record with 160 receiving yards in last week's NFC Divisional playoff win over Seattle.
Also, as good as the 49ers were this season (No. 2 in total defense, No. 8 in scoring defense), they still had games where opponents put up points; New Orleans' 46-point effort in a Dec. 8 loss to the 49ers surely caught the Packers coaches' attention.
"Obviously if we left the game with eight points and lost by 29, obviously the plan wasn't good enough. That's not a knock on Matt or anybody. The execution obviously wasn't good enough, either," Adams said. "The plan, so far what I've seen, I really like, and I think it's a better way to attack this defense. And yeah, we're all jacked up for it."
2. KITTLE TO BITS
With a bevy of talent on both sides of the ball, it's hard to pick just one 49ers player who should worry the Packers the most. But a vote for tight end George Kittle (above), who finished the season with team-high numbers in receptions (85), receiving yards (1,053) and touchdown catches (five) is probably a smart one. And the Packers will have to be smart about defending him, because the 49ers have seen opponents try a variety of techniques — and then taken advantage by getting the ball to other players when need be.
"I feel like we've seen almost everything on how to stop Kittle — different stuff to do for our run game, a lot of things," Shanahan said. "Kittle always makes it tough because he's not just a one-dimensional player. You've got to find a way to stop him in the pass game but sometimes when you do that it'll hurt you in the run game, as good of a blocker as he is. Sometimes when people do too much to stop Kittle, it makes things a lot easier in another way.
"There's not really a spot on the field that he can't be effective for the offense and help the offense. It's hard to say that about many tight ends."
Kittle caught six passes for 129 yards, including a 61-yard touchdown, in the teams' first meeting, and while he only had three catches for 16 yards against Minnesota in last Sunday's NFC Divisional round, the Packers know better than to underestimate him.
"He's a great player. He makes plays all over the place," LaFleur said. "I think he's the most complete tight end in the National Football League. I love watching this guy play, just the emotion he plays with, the energy. He's a big part of that offense, a big part of that football team, and we've got to make sure that we do our best to try to contain him as best as we can.
"He's going to get his touches, he's going to get his yards, but what we can't get beat on is like the big play when they ran the keeper-corner-post on us the last time we played them for a touchdown. Just got to do our best to eliminate those types of plays."
The Packers might be inclined to be physical with Kittle at the line of scrimmage to disrupt his routes, but defensive coordinator Mike Pettine cautioned that doing that on every down could backfire. Instead, he'll likely use a mixture of coverages and assign Kittle to various defenders.
"There's a bunch of different things, whether it's having multiple guys cover him, have certain people in zones lock on him," inside linebacker Blake Martinez said. "Whatever it ends up being, it's just having more than one set of eyes on him at all times."
3. THIRD DOWN IS FIRST PRIORITY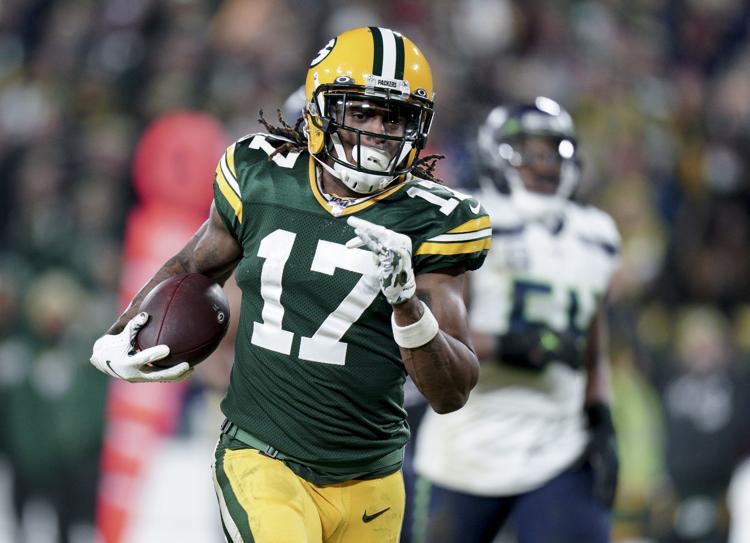 In a season in which the Packers constantly struggled in third-down situations — only nine teams in the 32-team league were worse than the Packers, who converted 36% of their third downs — it was never uglier than it was against the 49ers in Week 12, when they finished the game 1 for 15 (6.7 percent) and were actually skunked while Rodgers was still in the game. Their only conversion came with backup quarterback Tim Boyle playing in garbage time.
Adams (above) called the performance "terrible," and that might've been generous. They'll have to find a way against the second-best third-down defense in the NFL, a unit that allowed a 32.4% conversion rate during the regular season and held Minnesota to just seven total first downs and a 2 for 12 conversion rate on third downs.
"I think it's critical. You've got to stay on the grass," LaFleur said of third-down success. "When you look at this style of defense, it's hard to get those explosive plays. So in order to string together drives, you've got to convert on third down. And this is as good as defense as there is out there. And really, they were missing a lot of key players for a good portion of the year. So it's going to be a great challenge for us. But that is going to be absolutely critical to our success is just being able to have some of those long drives in order to generate points."
The good news? The Packers had their best game of the season in third-down situations in beating Seattle last week, converting 9 of 14 situations, including two clutch conversions on their final possession with Rodgers hitting Adams (32 yards) and Jimmy Graham (9 yards) to run out the remaining clock. Could it carry over?
"I think it's game to game," LaFleur replied. "I think a lot of our success is going to be dependent upon how we do on those first and second downs, getting in those third-and-manageables, trying to get them into certain looks. Ultimately, it's going to be about our guys winning those one-on-one battles. You always think about receivers and tight ends, but it's going to come up front as well. They're going to be putting us in some situations where it's going to be man-versus-man and our guys are going to have to win those in order for us to have success."
---
Jason Wilde covers the Packers for ESPN Wisconsin. Listen to him with former Packers and Badgers offensive lineman Mark Tauscher weekdays from 9 a.m. until noon on "Wilde & Tausch" on 100.5 FM ESPN Madison.
Be the first to know
Get local news delivered to your inbox!