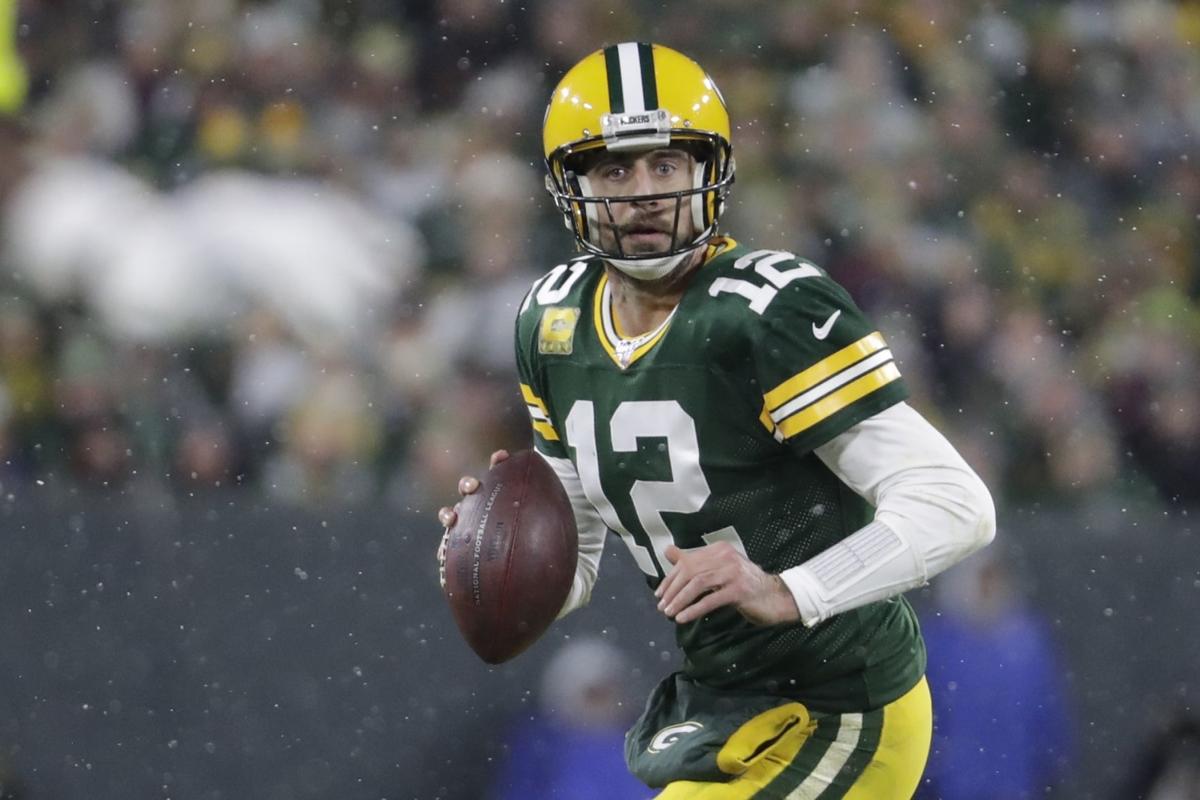 GREEN BAY — Aaron Rodgers' logic was hard to dispute Wednesday.
The Green Bay Packers quarterback had been asked just how big Sunday night's showdown is between his Packers (8-2) and San Francisco 49ers (9-1) at Levi's Stadium in Santa Clara, California. In a bunched-up NFC where five teams are all within striking distance of the conference's No. 1 playoff seed with six weeks left in the season.
And to Rodgers, it wasn't really a matter of whether the Packers were likely to see the 49ers again — regardless of Sunday night's outcome — so much as it was about where the two teams might meet again in the postseason.
"I mean, this is an important one for us," Rodgers said following Wednesday's practice. "The way I look at it, we've got to beat them once at their place at some point. It would be nice to do it now."
Why is it important to do it sooner rather than later? Because a playoff rematch would almost certainly be at Lambeau Field if the Packers managed to win this one and improved to 9-2. If they lose, it's far more likely that the 49ers, who'd be 10-1 and would hold the head-to-head tiebreaker if their challenging late-season schedule hands them a few more losses and the two teams end up with identical final records.
Rodgers is acutely aware what kind of opportunities the Packers have in front of them. In fact, unlike past bye weeks, when Rodgers has traveled internationally, he instead stayed in the contiguous 48 states – and said he did so because of what lies ahead.
"I was enjoying my bye week like I always do. (But) as opposed to years past, where maybe I went out of the country, I didn't do it this time. Maybe I was a little more appreciative of where we're at at 8-2 and how special the opportunity could be if we can take care of business the last six games of the regular season," Rodgers said. "Everybody was excited getting back here on Monday. We know what we have. We have a great football team at their place on 'Sunday Night Football.' What else could you ask for?"
You have free articles remaining.
One thing the Packers couldn't ask to be much better? Their health. The only two players who didn't practice Wednesday were tight end Jimmy Graham, who turns 33 on Sunday, and 36-year-old cornerback Tramon Williams. And both those players were held out for veteran rest, not for a specific injury. The only players on the report who were limited were wide receiver Davante Adams (toe) and fullback Danny Vitale (knee).
Fourteen players were listed on the report, but defensive tackle Kenny Clark was not among them. Clark had been on the report this season for three injuries — calf, back, shin — but looked healthy during the team's pre-bye victory over the Carolina Panthers and apparently healed during the week off to the point of not being listed at all.
The 49ers, meanwhile, saw six important players not take part in Wednesday's practice: Running back Matt Breida (ankle); tight end George Kittle (knee, ankle); defensive end Dee Ford (quadriceps, hamstring); wide receiver Emmanuel Sanders (ribs); tackle Joe Staley (finger); and kicker Robbie Gould (quadriceps).
If Kittle misses his third straight game, it would be a huge boost for the Packers, who've struggled to defend tight ends all season. Kittle leads the 49ers in receiving with 46 catches for 541 yards and two touchdowns in just seven games, although backup Ross Dwelley caught 4- and 5-yard touchdown passes from quarterback Jimmy Garoppolo as the 49ers rallied to beat Arizona last Sunday.
"I don't know if he'll be available, but whether or not Kittle will be there, you could argue he's the best one in the game right now," LaFleur said. "And then Dwelley's been playing really well for them and the way they use (Kyle) Juszczyk (as) not only as a fullback, but they put him in that (tight end) role as well. We're going to have our hands full with those guys this weekend."
After missing four games with his turf toe injury and not quite feeling like himself in his two games back in the lineup,
Adams said before the bye that he wanted to be "3 million percent" back to normal entering the final six games. He said Wednesday he's still dealing with discomfort in his foot but otherwise feels close to himself.
"I'm definitely getting better and better. I mean, it's a tough injury. It's the toughest one I've ever had," said Adams, who caught seven passes for 118 yards against Carolina but hasn't scored a touchdown this season. "I'm not going to say it's the hardest injury to deal with in football as far as recovery time, but it's something you've really got to pay attention to and really listen to your body and scan it and look at it and see if it's healed or not – which obviously it is, but I'm dealing with some discomfort and things like that at this point that it's stuff that I've got to battle through. It's definitely not the easiest thing but we're seeing what we can do."
Extra points
LaFleur acknowledged that he has some concerns about how the Packers will bounce back from a Sunday night game on the West Coast going into next week's game against the New York Giants on the East Coast. "That's something I've thought of. But that's not something that we've discussed as a team because we can't for one second have our focus on anything other than the San Francisco 49ers. You're talking about a 9-1 football team that easily could be 10-0 right now. If we look elsewhere, we're going to be in trouble," LaFleur said. ... LaFleur said he's already adjusted next week's practice schedule, though, to help in recovery before traveling to New York. … Rodgers, a Bay Area native, said he's hoping plenty of Packers fans will be in attendance at Levi's Stadium on Sunday night. "I know there's a lot of West coast Packers fans. I also know they're bumping the prices (up) out there, too," Rodgers said. "Hopefully we get can some green and gold butts in the stands. But I'm sure it's going to be a loud crowd for (the 49ers). When you're 9-1 and you're the No. 1 seed going into Week 12, I would expect it to be a pretty loud crowd."