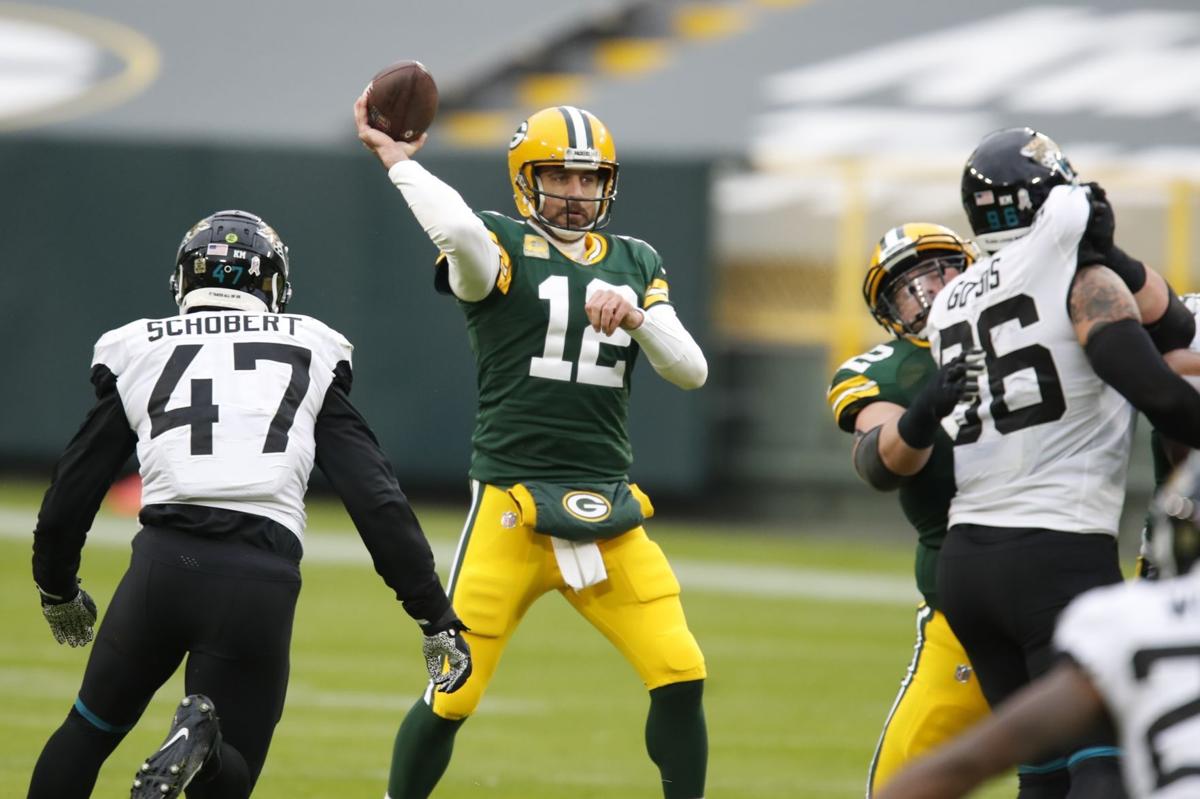 GREEN BAY — It's never a good sign when you win a game and the head coach is exasperated by his team's lack of energy and the star quarterback hedges on the idea of how meaningful homefield advantage might be in January based on how things have been going in their empty stadium.
But that's exactly where the Green Bay Packers found themselves Sunday afternoon in the aftermath of an uninspired, unimpressive 24-20 victory over the Jacksonville Jaguars at a windy, chilly, fan-less Lambeau Field.
"That wasn't good enough, there's no doubt about it. In terms of just the energy, the passion," a visibly irritated head coach Matt LaFleur said in his postgame Zoom call with reporters. "We're playing football. These guys are playing a kids' game — and getting paid for it, man. It's disturbing to me. And it starts with myself and our staff. We've got to bring more energy for these guys."
Yes, however ugly their performance was against the 1-8 Jaguars, a team that has now lost eight in a row and was playing with a rookie sixth-round pick at quarterback making his second NFL start, the Packers are seemingly in a good place — at least in the standings.
They're 7-2, a ledger that gives them the lead in the NFC North and a share of the best record in the NFC with the New Orleans Saints. (The Seattle Seahawks, who started the day in a three-way tie for the NFC's best record, fell to 6-3 with their loss to the Los Angeles Rams later Sunday.) And having beaten the Saints earlier this season, the Packers are well-positioned for the conference's No. 1 seed — and the lone first-round playoff bye and homefield advantage throughout the postseason that come with it.
But based on how they've looked in their last two home games — their listless Nov. 1 loss to the Minnesota Vikings, who came into that game with only one victory on the season, and in Sunday's win over the going-nowhere-fast Jaguars — it's reasonable to wonder whether there'd even be much of an advantage in playing at Lambeau in the playoffs given the likely lack of fans based on the current COVID-19 surge, the unpredictable weather conditions and the home team's obvious lack of energy.
Would they be better off not having such a homefield, er, disadvantage?
"I think that's a great question," acknowledged Rodgers, who completed 24 of 34 passes for 325 yards with two touchdowns (including the game-winner to Davante Adams with just over 9 minutes to play) and an interception for a passer rating of 108.1. "(It) depends.
"Are we going to have fans or not? From what I've heard, even for the Super Bowl, they're not expecting a lot of fans. So I would assume, even under the best conditions in those (other) cities, that maybe 20, 30% is the most that can be hoped for. I don't think that's going to make a huge difference.
"The difference, to me, that's always been the biggest difference is the conditions themselves. Obviously having a loud fan base is important and feeling the energy, especially for the defensive players is very important. But getting warmer weather or dome teams up here in December and January has always been, I feel like, a good advantage for us. And we've thrown the ball well in bad weather, we've won big games in the bad weather.
"But getting a home game in January, with or without fans, hopefully will definitely be an advantage for us."
Sunday's game marked the fourth game played without fans at Lambeau Field because of the COVID-19 pandemic. While the majority of other NFL teams are allowing limited fan attendance, the Packers have said bringing fans into the stadium remains on indefinite hold as the state of Wisconsin sees record positivity rates almost daily.
From the beginning, LaFleur had preached the need for the team to bring its own "juice" — his word — knowing that the artificial crowd noise and bizarre-looking empty stadium bowl wouldn't provide any. What he saw from his team on Sunday, despite the victory, left him sounding as angry — if not angrier — than he had following the team's season-ending blowout loss to the San Francisco 49ers in the NFC Championship Game last January. 
"I think every player, everybody involved with this team has got to look deep inside of them and understand and appreciate the opportunity to go out there and compete," LaFleur said, repeatedly saying that it starts with him and his staff. "It's special, when you get a chance to go play a football game in the National Football League. And we've got to do a better job of bringing more juice, just bringing a tougher mindset to the game day — especially when we're at home. I don't know what it is about the last couple games here at Lambeau, but certainly it hasn't been our best. And we've got to be better. 
"The big concern for me is it just seems to be more in our home games than when we're on the road. I get it: It's a strange year. Certainly, we're used to having fans to help bring that energy to our football team. We don't have that right now, unfortunately. That's the situation and it is what it is. We've got to do a better job of supplying that juice internally. All we have is the men in the locker room."
In fact, LaFleur said that while the offense "felt out of sync all game," even the defense's ability to rise to the occasion in the waning moments — when two sacks of quarterback Jake Luton (by Rashan Gary and Preston Smith) and a fourth-and-26 stop sealed the win — was a reminder of the lack of energy up until then. 
"I felt like that was the first time our team came alive," LaFleur said. "You could feel it on the sidelines (with) everybody rooting for one another. (But) we need that from the opening kick. That's the standard. We can't just pick and choose when we want to do that.
"Yeah, the game's on the line, so it's easy to get up for that. We have got to do a better job from before we start the game to show that kind of energy, show that kind of emotion, show that kind of support for one another that we saw at the end of the game. And if we don't get that, we're not going to be at our best."
---
Photos: Packers hold off strong effort from Jaguars