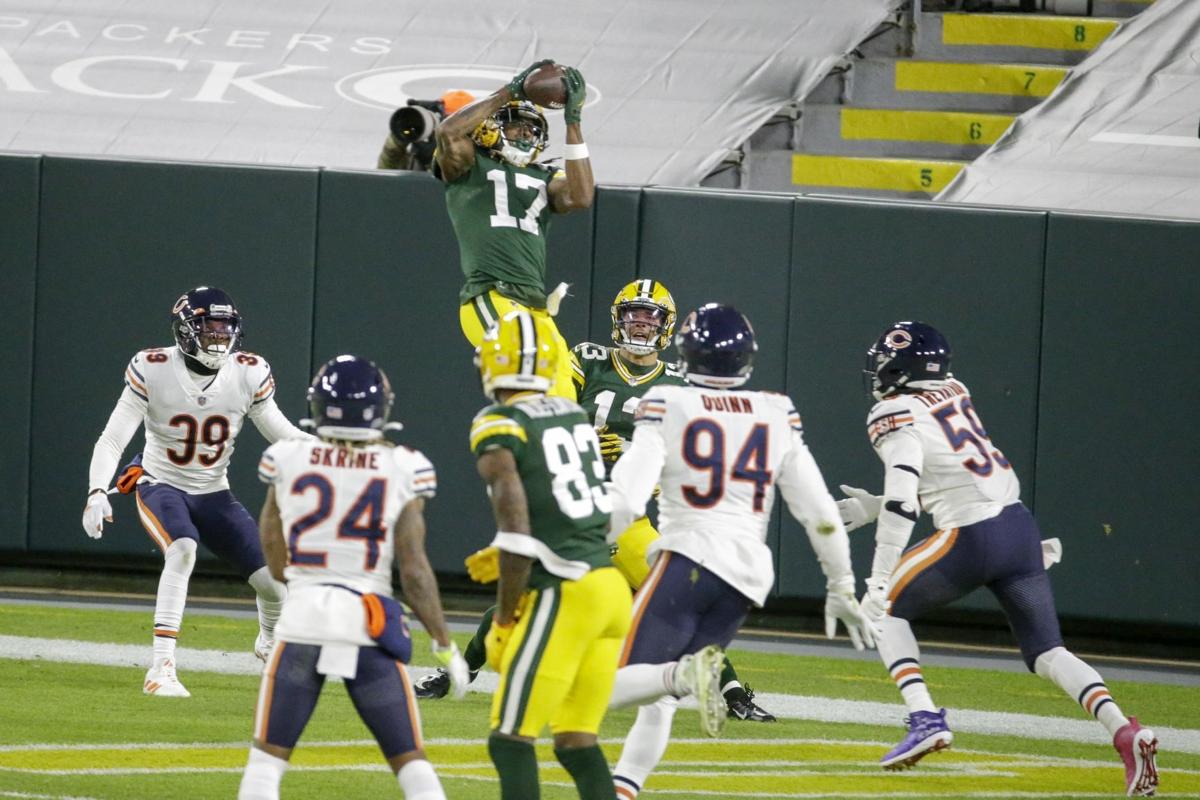 GREEN BAY — Tarik Cohen couldn't help himself. And you couldn't really blame him, either.
The injured Chicago Bears running back, out for the season with a knee injury, picked up his iPhone and opened his Twitter app at 8:27 p.m. Central time.
"(I) thought if I didn't watch we would play way better," he wrote. He then added an expletive to make his exasperation clear.
If Cohen indeed wasn't tuned into NBC's telecast of the Green Bay Packers' 41-25 rout of his struggling team, he must have been getting notifications, since his electronic missive came about a minute after Packers linebacker Preston Smith's scoop-and-score 14-yard touchdown return gave Green Bay a 27-3 lead late in the first half.
By the time the fourth quarter started, the Packers' lead had reached to 41-10, and it was just a matter of salting away the final 15 minutes of a dominating performance inside a not-quite-as-empty-as-it-had-been Lambeau Field, where roughly 300 team employees and their families were allowed in the bleachers after the venerable stadium hadn't hosted any fans during the first four games because of the COVID-19 coronavirus pandemic.
"That was a great team win," Packers head coach Matt LaFleur said. "That's a good football team. I thought we were physical, I thought we brought a lot of energy. Certainly (we are) appreciative of the people in the stands cheering for us. We knew it was going to be a physical football game, and I thought our guys did an outstanding job in every facet."
But maybe it wasn't a matter of Cohen's teammates playing poorly. Maybe the Packers are just that much better.
"I think it just says a lot about who we are as a team," wide receiver Davante Adams said of the dominant performance. "We've won games all different types of ways. To be able to run the ball the way we did against a really good front seven, it's not easy going in there and doing that. Especially when you have a lead, and they know you're going to run the ball. Just a complete win."
With the victory, the Packers improved to 8-3 and opened up a three-game lead on the rest of the NFC North. The Bears, coming off their bye week, lost their fifth straight game to fall to 5-6.
"I like where we're at," Packers quarterback Aaron Rodgers said. "Obviously, last week was a tough one, losing in overtime to a good football team. But to bounce back against a division rival in a game that could really put us in the driver's seat, we played the way we needed to play.
"This was a really important game for us, huge momentum for us, winning this one — as far as the division is concerned, and obviously we're in the mix for that No. 1 seed as well."
The Packers, who were coming off a 34-31 overtime loss at Indianapolis last Sunday, still haven't lost back-to-back games under LaFleur. They also stayed within one game of the conference-leading New Orleans Saints, who improved to 9-2 over the quarterback-less Denver Broncos earlier Sunday.
Which, you could argue the Bears essentially were, too, on Sunday night — quarterback-less. At the very least, even if they weren't like the Broncos, whose entire QB room was placed on the reserve/COVID-19 list as high-risk close contacts after not wearing their masks in a meeting, the Bears were at a similarly distinct disadvantage at the position.
Rodgers, continuing a season in which his numbers have closely resembled the ones he put up in his NFL MVP seasons of 2011 and 2014, completed 21 of 29 passes for 211 yards with four touchdowns, no interceptions and no sacks for a passer rating of 132.3 before exiting with just under 90 seconds left in the game.
It marked the 10th time in 11 games that Rodgers has finished with a passer rating over 100. For the season, he's completed 65.8% of his passes for 3,100 yards with 33 touchdowns and four interceptions for a 117.6 passer rating.
"This is as good as I've ever seen anybody play," LaFleur said. "Even when I make a bad call, he definitely makes us look good. In my eyes, he's an MVP player. No doubt about it. And I wouldn't want any other quarterback on our football team."
The Bears, meanwhile, started their 2017 No. 2 overall pick, Mitchell Trubisky, who was benched in Week 3 in favor of veteran Nick Foles, who was inactive with a hip injury. Trubisky finished his night having completed 26 of 46 passes for 242 yards with three touchdowns and two interceptions (74.7 rating).
But, he racked up 112 of those yards and two of his TD passes during the meaningless fourth quarter. Through three quarters, Trubisky had completed 13 of 25 passes for 130 yards with a touchdown and two INTs (47.1 rating).
As a result, how much could be gleaned about the Packers defense and their Super Bowl LV hopes was hard to say.
But offensively, it was a near-perfect performance in which the play-caller, the quarterback, the offensive line and the skill-position players appeared in complete synchronicity. While LaFleur repeatedly spoke of the players' terrific execution, Rodgers must've praised LaFleur's scheme, game-planning and play-calling a half-dozen times during his postgame Zoom call.
Throughout the week, LaFleur had repeatedly touted the Bears defense as the best group his offense would have faced this season, and the Packers' balanced attack basically did whatever it wanted.
Perhaps the most important development offensively was the return of a productive ground game, as the Packers ran for 182 yards on 39 attempts (4.7-yard average) as LaFleur and Rodgers expertly mixed runs and passes throughout the night. Lead backs Aaron Jones (17 carries, 90 yards) and Jamaal Williams (17 carries, 73 yards, one touchdown) both turned in efficient performances.
"We haven't had the run game anywhere near this efficient the last five, six weeks," Rodgers said. "Both those guys combined for over 160 yards. That's a credit to them, a credit to the offensive line. I just thought it was an expert-level way that Matt called it tonight, and then obviously we executed it the way we needed to."
On defense, the Packers forced three turnovers — two interceptions by second-year safety Darnell Savage and Smith's fumble return for a touchdown, which started with Za'Darius Smith stripping Trubisky on a sack.
"I thought our defense did an outstanding job in that first half, getting the two turnovers, getting a score," LaFleur said. "I thought all in all it was a pretty good night, but there's still areas we can improve upon.
"That's what's great about football. Even when you have a great performance, there's still things to improve on. Until we get that perfect game, we're going to continue to coach our butt off and our players are going to keep working. But I thought all in all it was a pretty good performance throughout the entire game. Certainly that was a big-time win tonight."
---
Photos: Packers cruise past Bears to retain control of NFC North