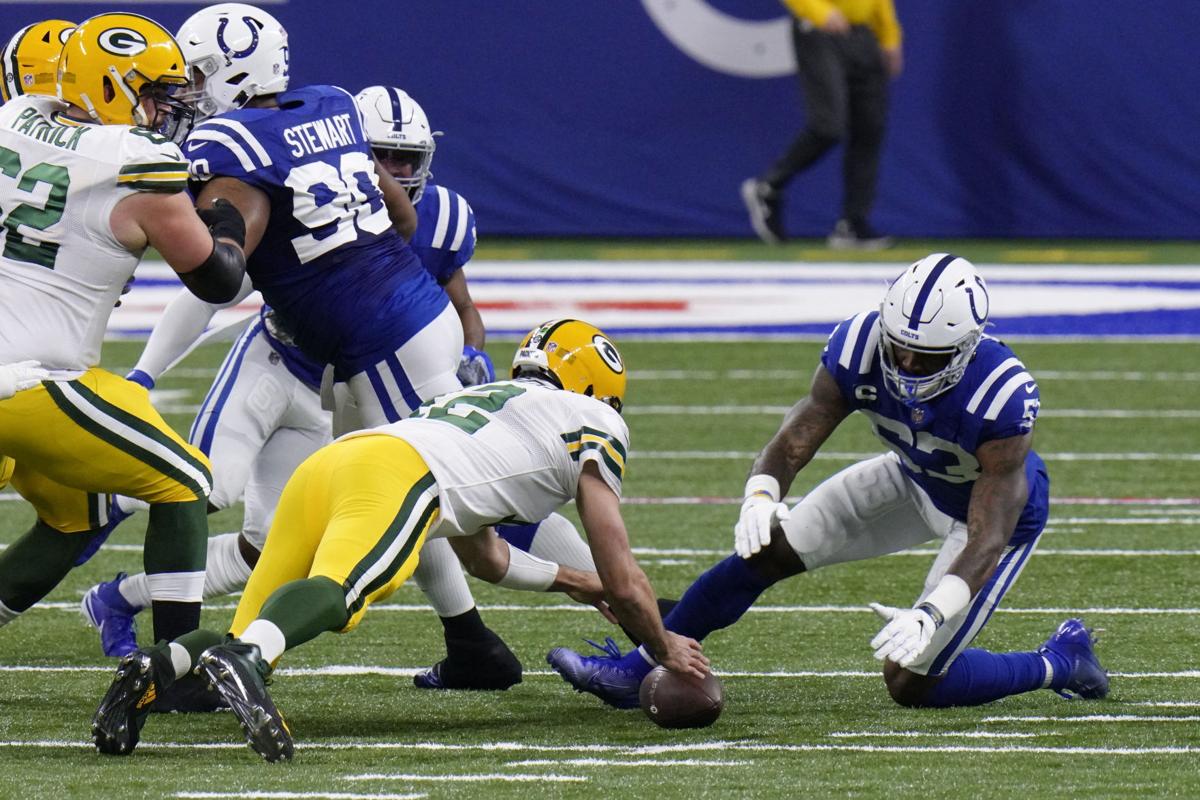 At midweek, Matt LaFleur had spoken of the importance of being process-driven, not results-driven. While the Green Bay Packers' second-year head coach understands he's in a results-based business, he made it clear that his decision-making is predicated on making the best decision he can with the information he has at the time.
After all, LaFleur's aggressive decision with the Packers at the Indianapolis 34-yard line and trailing 31-28 with 3 minutes, 11 seconds to go surprised quarterback Aaron Rodgers — pleasantly surprised him. It just didn't work, as the play was designed to go to No. 1 wide receiver Davante Adams, who was double-covered by the Colts defense. Rodgers wound up throwing over running back Jamaal Williams' head in the left flat, turning the ball over on downs.
"I was actually mildly surprised that he wanted to go for it. But I was excited," Rodgers said. "The play was for Davante. And they doubled him. … I liked the aggression from Matt — we have to execute a little bit better in that situation. Obviously. it was a rough drive, ending there, not getting any points."
LaFleur's other options were to trot Mason Crosby out for a 52-yard field-goal attempt, or call a running play and try to get the 1 yard on the ground. The offense ended up getting the ball back and forcing overtime on Crosby's 26-yard field goal with 3 seconds left in regulation.
"It was kind of the mindset to be aggressive," LaFleur said. "We could've attempted a really long field goal, but (I) just had confidence in the play. Unfortunately, you've got to give Indy a lot of credit in that situation. We had Davante out there and they doubled him, and the play was designed to go to him. In hindsight, it was not a good call. Aaron tried to hold on as long as he could and tried to hit the checkdown with Jamaal. Unfortunately, it didn't work out."
Rodgers, who had joked during the week about not being allowed to quarterback sneak in such situations, was actually more upset with the throw he'd made on the previous play, when on third-and-7 he threw to tight end Robert Tonyan on the sideline but didn't put the ball where he wanted it. The completion gained only 6 yards, setting up fourth-and-1.
"Not being able to get a first down on that one, I really liked the call on third down, and we actually protected really well," Rodgers recounted, adding that he might've been better off throwing to wide receiver Marquez Valdes-Scantling across the middle instead of going to Tonyan, whose route required a challenging angle.
"Bobby might've been a little too wide, and the ball, I should have put it on his upfield shoulder because that should have been a first down. We got 6 (yards) there on that third-and-7, so that's the disappointing play. Fourth down, you know, they covered it well. But the third down play, that's the one I'd like to have back — for sure."
Turnover troubles
Rodgers also wished he had back the Packers' four turnovers — and not just Valdes-Scantling's overtime fumble that led to the loss. The Packers also lost a center-quarterback exchange between Corey Linsley and Rodgers; saw Rodgers throw his fourth interception of the season; and lost another fumble when kickoff returner Darrius Shepherd coughed it up in the fourth quarter, leading to the Colts' go-ahead field goal.
"That stuff is just not going to cut it in this league," LaFleur said.
The Packers came into the game with just five total turnovers (three Rodgers interceptions, two lost fumbles) and lost the turnover battle, 4-2. That said, the Packers turned both the Colts' turnovers into touchdowns, while the Colts only managed just two field goals (albeit one of them being the game-winner) off the Packers' four giveaways.
"I think it is an anomaly based on the nine games we've played. We hadn't had more than two in any other game. A lot of zeros," Rodgers said. "Obviously we had a fumbled exchange, a pick, and a fumble on the kickoff and a fumble at the (end of) the game. Uncharacteristic, but they had six points off those four turnovers and we cashed in on their turnovers. So our defense deserves a lot of credit for making some good stands there when we turned the ball over."
Extra points
The Packers had to shuffle their offensive line when Linsley departed with a back injury in the first quarter. Left guard Elgton Jenkins moved to center, while rookie Jon Runyan came off the bench to play left guard. It was just the latest move for Jenkins, who has played every position on the line except right guard this season. … Punter JK Scott punted three times and averaged just 39 yards per punt, but at least he played. He was added to the injury report on Saturday due to a personal matter that the team did not disclose, and the team signed punter Drew Kaser as insurance. In 2018, the Packers signed Kaser when Scott's wife, Sydney, was expecting the couple's first child and was in danger of missing a game. LaFleur said the team knew Scott would be able to punt as of Saturday night. "Thankful that he showed up for us," LaFleur said. … The Packers momentarily had a go-ahead touchdown with 1:33 left when Za'Darius Smith hit Colts quarterback Philip Rivers and the ball came out. Initially ruled a fumble on the field, linebacker Christian Kirksey returned it 71 yards to the end zone, but the call was reversed on replay and correctly ruled an incomplete pass. "I thought Za'Darius made a good play. It was a close call," Kirksey said. "It just came down to Philip's arm moving a little forward. We wish we obviously could have a different outcome on that."
---
Photos: Colts quickly erase Packers' early lead