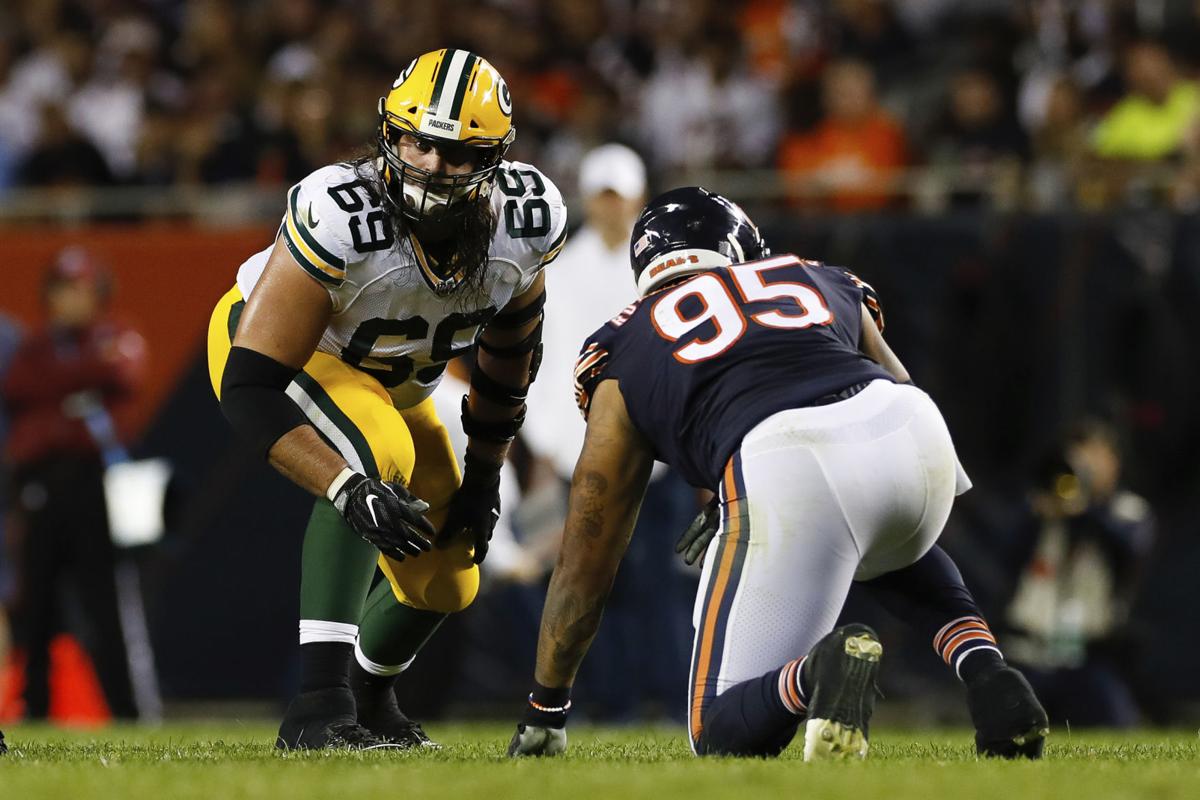 GREEN BAY — David Bakhtiari didn't offer any guarantees Friday or vow that the Green Bay Packers medical staff would have to lock him in some Lambeau Field utility closet to keep him from playing in Sunday's home opener against the Minnesota Vikings.
But the All-Pro left tackle did strike a hopeful chord after practicing earlier in the day that his aching back, which flared up during a practice earlier this week, won't keep him from protecting quarterback Aaron Rodgers' blindside against the Vikings' vaunted pass rush.
Speaking in the locker room with Sunday's kickoff 47 hours away on Friday afternoon, Bakhtiari said he and the team's medical staff would "monitor" the injury in advance of the game and that he will "hopefully" be good to go. Bakhtiari was officially listed as "questionable" on the Packers' injury report after being deemed a limited participant in Friday's practice, but it's worth noting since the league did away with the "probable" designation a few years ago, a player's odds of playing when listed as questionable aren't quite as long as they might've been in the past.
"It was nice to have him out there. He did a little bit of work," Packers coach Matt LaFleur said. "We've just got to make sure he's ready to go and can protect himself and play high-quality football. If he can't, then he won't play.
"He's got a big task ahead of him. They've got two premier rushers in Everson Griffen and Danielle Hunter. It's going to be a big task for whoever's in there."
Bakhtiari said there was no specific moment where he felt he injured his back, saying simply it was "just not cooperating" and forced him to miss Thursday's practice.
"I think Bryan's being humble. I think you can get by without the work. It's more a matter of comfort," Bakhtiari explained. "We're creatures of habit, so we enjoy going through the work week, getting your sets, getting your fits, getting your angles, actually running the game plan. At this level of our careers, I don't think it would hinder it that much.
You have free articles remaining.
"The No. 1 thing you do, no matter what, regardless of your injury leading up into the week or if you're not technically a starter, you always prepare like a starter. You sit in every meeting, you pay attention, you take mental reps in practice as much as you can to know what to expect and how to adjust."
The Packers ruled inside linebacker Oren Burks (chest) and wide receiver Darrius Shepherd (hamstring) out for the game, though Shepherd did practice on a limited basis for the first time since sustaining the injury in the preseason finale.
All in the wrist
Most of the reporters watching Friday's practice missed it, but John Doran from Green Bay's FOX11 TV station did not: Rodgers wearing a play-calling wristband on his arm throughout practice.
"We're just trying something new," LaFleur replied when Doran asked him about it following practice. "We'll figure out where we are going with that."
LaFleur, who was the Los Angeles Rams' offensive coordinator in 2017 and the Tennessee Titans' offensive coordinator last year, said he has experimented with such wristbands in the past. Rodgers wore one earlier in his career when then-coach Mike McCarthy began using the no-huddle offense in 2012. Rodgers and his skill position teammates would all wear wristbands and Rodgers would call the plays at the line of scrimmage.
Whether or not LaFleur and Rodgers use it during Sunday's game or later in the year remains to be seen, but LaFleur tried to downplay the importance of it.
"We've integrated that in previous years. But I just wanted to experiment with something," LaFleur said. "Just wanted to give it a go and just working through some things."
One way the wristband might help is getting the offense in and out of the huddle more quickly. That's something Rodgers and LaFleur both said they needed to do better against the Vikings than they did last week against the Chicago Bears.
"(The play-call) definitely gets out of my mouth a lot faster, I'll tell you that much. Maybe it helps me get him the play a little bit quicker," LaFleur said. "I think anytime you can change tempos and use different variations, it just kind of keeps the defense on their toes a little bit more."