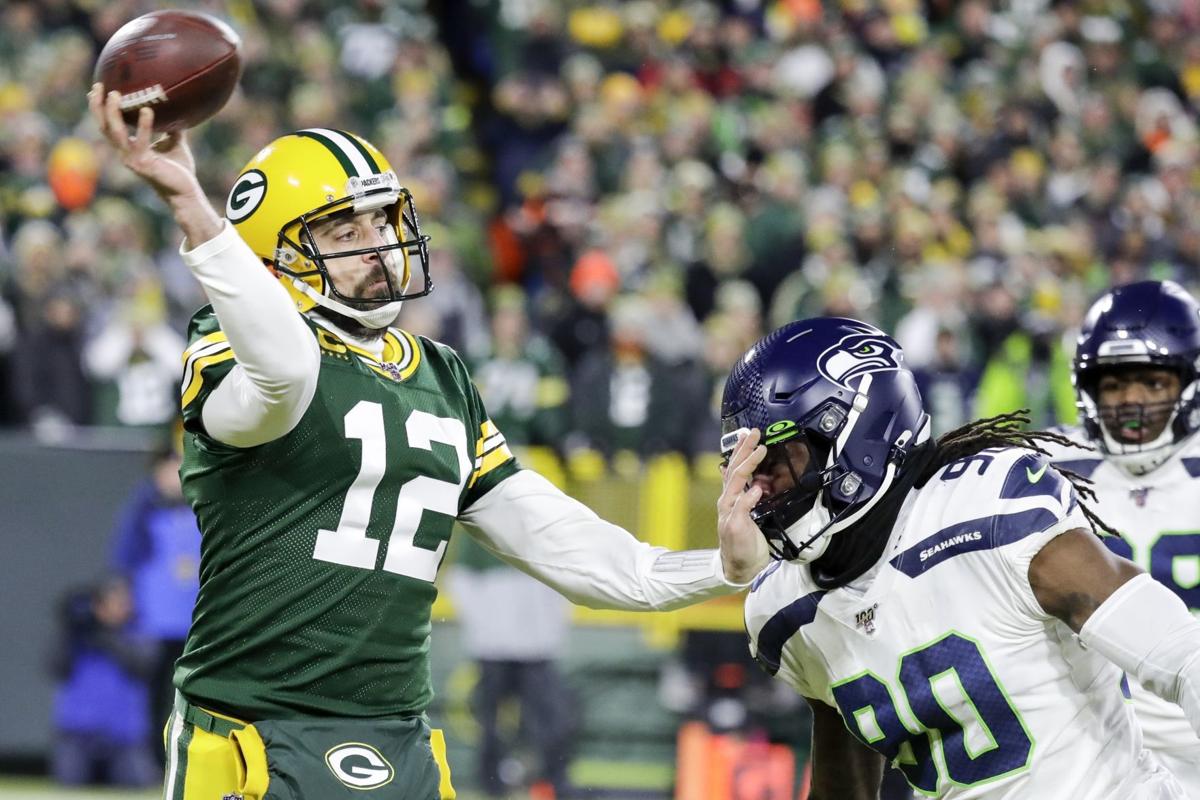 GREEN BAY — Aaron Rodgers is far more concerned about the collective bargaining agreement his fellow NFL players are about to agree to with owners than he is about the Green Bay Packers using a high draft pick on another quarterback.
Speaking in a lengthy interview on ESPN Wisconsin's "Wilde & Tausch" Friday morning, the quarterback railed against the deal players are expected to accept in a league-wide vote next week and against the apathy he believes many players showed in the days leading up to the NFL Players Association sending the full CBA proposal to membership.
Rodgers, who serves as the team's NFLPA representative, was in Indianapolis during the recent NFL scouting combine and was among the reps who voted against the CBA proposal. The vote to send the proposal to the full membership for a vote passed by a 17-14 margin, with one abstention.
Rodgers contends players haven't extracted enough in return for giving into owners' desire for a 17-game regular-season schedule and expanding the playoffs.
"The point that I was trying to make in that meeting and as we talked to the PA afterward was, 'Tell me what I can go back and tell my veteran players. What are we getting in return for this 17th game?'" Rodgers said. "To me, it just wasn't substantial enough to go back and tell those young players and older players, 'Hey, look, this is what you're going to be getting.'"
Rodgers was especially frustrated with the idea that many younger, less experienced players didn't seem engaged in the process or to have taken the time to educate themselves on the pros and cons of the owners' offer. Rodgers said he sent multiple messages to every player on the team's private communication app and then emailed a lengthy explanation of the proposal and "got next to no responses" from his teammates.
"That's probably the most disheartening thing," Rodgers said. "This is a society we live in now that's so distracted by the swiping world of apps and social media. I don't know. Do guys really care about this stuff? Unfortunately, or fortunately — however you look at it — for the people wanting to push this deal through so badly, that's kind of a win because nobody's critically looking at this or thinking about it. They're just like, 'Oh, what's my salary going to be? Oh, OK, cool.' Not like, 'Are we taking care of former players? What kind of additional player risks are we taking on? What are we getting in return for that?'
"There's not a lot of critical thinking going on. There was a ton of information out there. You email 73 guys; how many responses you think you're getting back on this 2,000-word email that goes out? You'd be really disappointed to hear the actual answer.
"That's the problem. I think we just haven't had a chance to look at this critically. It's kind of been pushed through, pushed through, pushed through, pushed through, and it's bullet-point highlights in quotations with this deal. (And you want to say), 'Well, no, that's not the whole deal.' And also, 'Understand what you're signing and what this means for the future of this game.'
"I'd like to hit the pause button, but I'm not sure that's even going to be a possibility. We'll find out in a few days if this goes through or not."
Rodgers also said he was mystified by how the 17th game became a non-negotiable part of the deal — "A lot of us are wondering how the hell that even got into the conversation, because nobody wanted it," he said — and felt that some with the NFLPA were surprised by his passionate input during the recent meeting because he felt like he was brought in as a "show pony" and nothing more.
Rodgers said he understood why a young player with limited experience and no guarantee of a long career would vote in favor of the CBA. He also wondered how many of them will actually vote on the deal, given the tepid response he received to his communiques in recent weeks.
"It'll be interesting to see the numbers on who actually votes," Rodgers said. "I know there's a lot of us who have or will vote 'No' on this and believe that there's a better deal to be made, but I know there's guys who want to do it and see the minimum jump and are OK with 17 games. Which, again, I don't relate to that. But I understand there are some good things in it.
"I think (the vote) is going to be a lot closer than people think. I just don't quite understand the necessity for speed in pushing this through and the information that's being put out there. … To hang our hats on some of these (concessions) that to the owners are a nothing, to me lessens our value. I think we should've stood firmer on revenue and player safety.
Toward the end of the interview, Rodgers was asked how he'd react if general manager Brian Gutekunst used one of his premium picks in next month's NFL draft on a quarterback, given the apparent roster holes on a team that went 13-3 and advanced to the NFC Championship Game last season.
Rodgers, of course, famously was selected by then-GM Ted Thompson with the 24th overall pick of the 2005 draft — even though the Packers had 35-year-old Brett Favre as their starter at the time. Rodgers wound up sitting the bench for three years behind Favre before leading the 2010 Packers to the Super Bowl XLV title in his third year as the starter.
Unlike Favre, who publicly mulled retirement after every season, the 36-year-old Rodgers has repeatedly said he wants to play into his 40s and is under contract through the 2023 season.
"Look, I'm realistic; I know where we're at as an organization and where I'm at in my career," Rodgers said. "I still feel like I have a ton of years left playing at a high level. I'm confident enough. I've always felt like it doesn't matter who you bring in, they're not going to be able to beat me out any time soon. I feel really confident about my abilities and my play.
"We've drafted guys over the years. My first year starting we drafted two quarterbacks in 2008. We've drafted various guys over the years. I understand the business and the nature of it.
"I'd obviously love to bring guys in that are going to be able to play and compete right away. I understand it's a business. I wouldn't have a problem."
Be the first to know
Get local news delivered to your inbox!