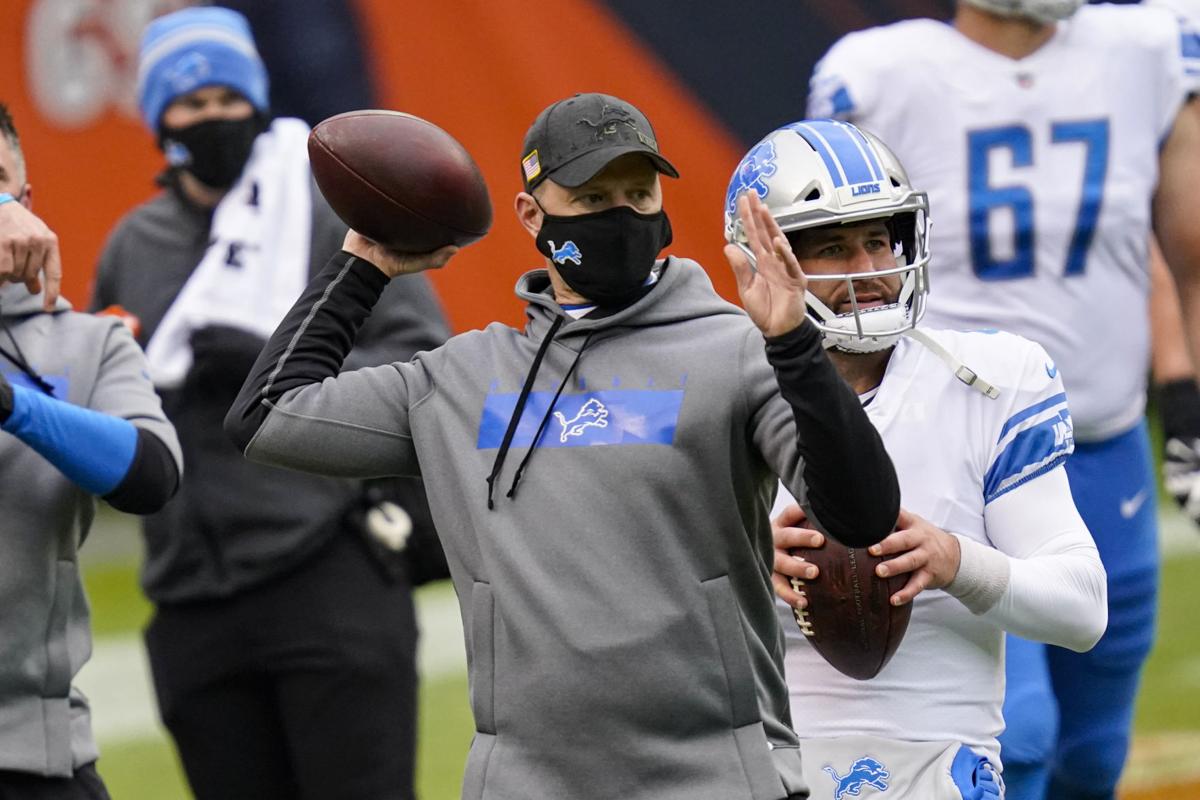 Brad Childress has so many Darrell Bevell stories it's hard to choose just one. So, he wouldn't.
From having to explain to University of Wisconsin football coach Barry Alvarez what a Mormon mission was and why his next starting quarterback was on one, to trying to convince Bevell to postpone his wedding in the interest of learning the Badgers' offense, to Bevell's designated driver duties for his offensive linemen's State Street exploits, no one knows more about the Detroit Lions interim head coach's path to this moment than Childress.
The former UW assistant and Minnesota Vikings head coach has known Bevell since Bevell was a star quarterback at Scottsdale (Ariz.) Chapparal High School and Childress recruited him to Northern Arizona in 1989.
Childress then brought him to Wisconsin in 1992 to be the Badgers' starting quarterback; put in a good word for Bevell with the Green Bay Packers to help him get an offensive quality control coaching job under Mike Sherman in 2000 (where Bevell helped coach Pro Football Hall of Famer Brett Favre); hired him as his own offensive coordinator with the Vikings in 2006 (where Bevell coached Favre again in 2009 and 2010); and has been watching the Lions closely since the team fired head coach Matt Patricia and appointed Bevell as interim coach.
So as the Packers and Lions face each other at Ford Field in Detroit on Sunday, Childress, now 64 and happily retired in Bonita Springs, Florida with wife Dru-ann, will be tuning into the FOX Sports telecast and contemplating the circuitous route Bevell has taken to what he has described as an "audition" for the Lions' full-time position or a head-coaching job elsewhere.
Shortly after Bevell learned on Dec. 5 he would be taking over the Lions after Patricia's firing — he received a text while touring the Henry Ford Museum with his wife, Tammy, their three daughters and his two soon-to-be sons-in-law, telling him to return to Lions' headquarters — Childress sent Bevell a text of his own.
Hope you're ready to sit in the big seat.
In truth, Childress knew his protégé was ready. And he told Bevell so when his iPhone buzzed 15 minutes later.
"Phone rings, and it's Bev: 'You got any pointers for me?'" Childress recounted with a chuckle in a phone interview Friday afternoon. "I said, 'Bev, it's too late.'
"He's been in so many different environments with so many different, good people — Barry, then Mike Sherman, then he got to coach with us in Minnesota, and then on to Seattle (with Pete Carroll). He has the instincts and the intuition, he does well with people, and he has the smarts to do it the way it should be done."
Let's have some fun
Having led the Lions to an improbable comeback victory at Chicago last Sunday, the 50-year-old Bevell has been the toast of Motown for the past week. The seemingly constantly retooling Lions finally gave up on Patricia and general manager Bob Quinn, who were trying to transplant the so-called "Patriot Way" from New England and bring it to Detroit. Since then, Bevell's less autocratic style has resonated with the Lions players, some of whom were beaten down by Patricia's rigid approach.
"It's something that's pretty cool to see," longtime Lions quarterback Matthew Stafford said. "I know that Bev has a great appreciation for Brett, and I think (Favre) probably rubbed off on him a little bit, just how much fun a grown man can have playing a kid's game. And he brings that sort of youthful joy to the game, and always has since I met him. That's really never changed."
Which explains why Bevell's message to his players in their first meeting following Patricia's firing was a simple one: Let's have some fun.
"It's obviously been a difficult year, whether you're talking about the COVID-19 pandemic, all the other stuff that's happening around the world, the way the season is going," Bevell recounted. "But I told them, 'The game doesn't care.'
"I'm asking the guys to come in with refreshed attitude, ready to work, No. 1, but ready to have a good time, (too) — and let them play with their hair on fire. Let them play fast; let them play free. We'll worry about the end result at the end.
"My thing is, I just want them to be able to have a great time. It's important to know that being able to have a good time and work hard don't have to be individual deals. You can have a great time and work hard. I want them to be able to have fun. I mean, there's no fun in losing. It's all about winning in this business."
Bevell, who joined Patricia's staff as offensive coordinator last season following a year out of football in the wake of his dismissal as the Seahawks' offensive coordinator, also embraced the opportunity as his chance to show what he can do.
"Regardless of what happens, I get five weeks to audition," Bevell said. "I did tell (the players), 'Everybody's watching.' Everybody's watching, whether it's our team, whether it's other teams, other organizations, because everyone is in different situations, contract situations, that kind of thing. We have no other opportunity than just to be at our best, and that's what I'm going to do. I'm going to do my best, and I hope what that is, is that you'll see a difference in them. You'll see a difference in their play. You'll see a difference in, really, hopefully, everything."
'Brilliant offensive-minded coach'
News of Bevell's promotion traveled fast, with everyone from Childress to Alvarez to Favre expressing their happiness for his opportunity
Asked during his WIBA radio show this week by UW play-by-play man Matt Lepay if Bevell's opportunity brings a smile to his face, Alvarez replied: "Yeah, it does. You could see that first game that the players responded to him. They said a lot of positive things about him, they had a come-from-behind divisional win against the Bears. You know, it's not just an audition with Detroit, but it's also an audition for the rest of the league to see how he handles himself. If he can get them on track, I'm excited for him. I'm really proud of him."
Favre, who has remained friends with Bevell since their time together in Green Bay (2000-'05) and Minnesota (2009-'10), endorsed Bevell during his Sirius XM NFL Radio show, calling him a "brilliant offensive-minded coach. Very low key, not a big rah-rah guy, kind of tells you what he's thinking, and easy to get along with. Not complicated. I think he deserved a shot long before this shot. But you've got to make the most of the opportunity, and I'm happy for him."
Bevell, meanwhile, spent part of his week reliving some of his fondest Madison memories during Zoom interview sessions with both the Michigan media and Wisconsin media, recalling everything from his iconic touchdown scramble in the 1994 Rose Bowl ("I think it's a little ironic that the play I'm known for in Wisconsin history was a run, since I was not the fastest guy," he said); to his experiences with Favre, including a Wisconsin State Journal photo shoot with Favre in 1995 ("He looked like Dolph Lundgren, without the muscles," Favre joked); to the lessons he learned from Alvarez that he's still applying today ("I was able to watch how he was able to turn a program around," Bevell said).
"I just have great memories," he said. "I had great coaches, a bunch of great teammates. To be able to go into a place, turn it around with a bunch of great people and then be able to go from (where UW was) — we hadn't been to a Rose Bowl in 31 years, the school had never won — to being able to go there, to win the game, it's close to my heart. I love it. Really fun memories."
Story time
Which brings us to those Childress stories. While he shared nearly a dozen of them, Childress seemed to have three favorites.
First, on Bevell's father, James, telling him in 1990 that Bevell was leaving Northern Arizona to go on a mission for The Church of Jesus Christ of Latter-day Saints to Cleveland after his redshirt freshman year: "In the summertime, I call Jim Bevell on the phone. I'm just starting to learn about Mormonism because (now-Kansas City Chiefs head coach) Andy (Reid) is a Mormon, and he's our offensive line coach. I tell Jim, 'I'd love to have your son up here to throw the ball, be around football, get in the weight room.' Jim says, 'No, he got the call, and he's not going to do that.' I said, 'I don't know what call he got, but the call I'm making is to get him back up here.
"Jim says, 'No, Coach, you don't understand. He got a call to go on a mission for the church.' I was like, 'OK, hard to argue against God, I guess.'"
Second, on Bevell's initial workouts at UW upon returning from his mission and joining the Badgers' offseason strength and conditioning program: "He gets off his mission, and (strength coach) John Dettman said, 'Is he in any kind of shape?' And Bev said, 'Coach, the only running I've done in the last two years is from dogs and guys with guns going door-to-door in Cleveland.' The first time he takes his shirt off, everybody wants him to put his shirt back on. Dettman is like, 'Wait a minute, this is the savior? This is the guy who's going to lead us out of the woods, Chili?'"
And third, on asking Bevell to postpone his wedding, which he'd planned for during first season with the Badgers in 1992: "He enrolls in January, he's at spring ball. He was going to get married to Tammy, and I wanted to get him indoctrinated into the offense. Tammy and I can laugh about it now, but I basically nixed the wedding. And I don't think Tammy's ever really forgiven me."
---
Every game where a Wisconsin QB threw 4 or more touchdowns
Every game where a Wisconsin QB threw 4 or more touchdowns
When Badgers quarterback Alex Hornibrook completed his fourth touchdown pass in Wisconsin's 40-6 win over Brigham Young on Saturday, he joined an exclusive club. 
Only eight other Badgers have managed to throw four TDs in a single game, and only Darrell Bevell and Jim Sorgi have thrown five.
Here is a quick look back at those standout performances, starting with Hornibrook's effort in Saturday's win over the Cougars in Provo, Utah.