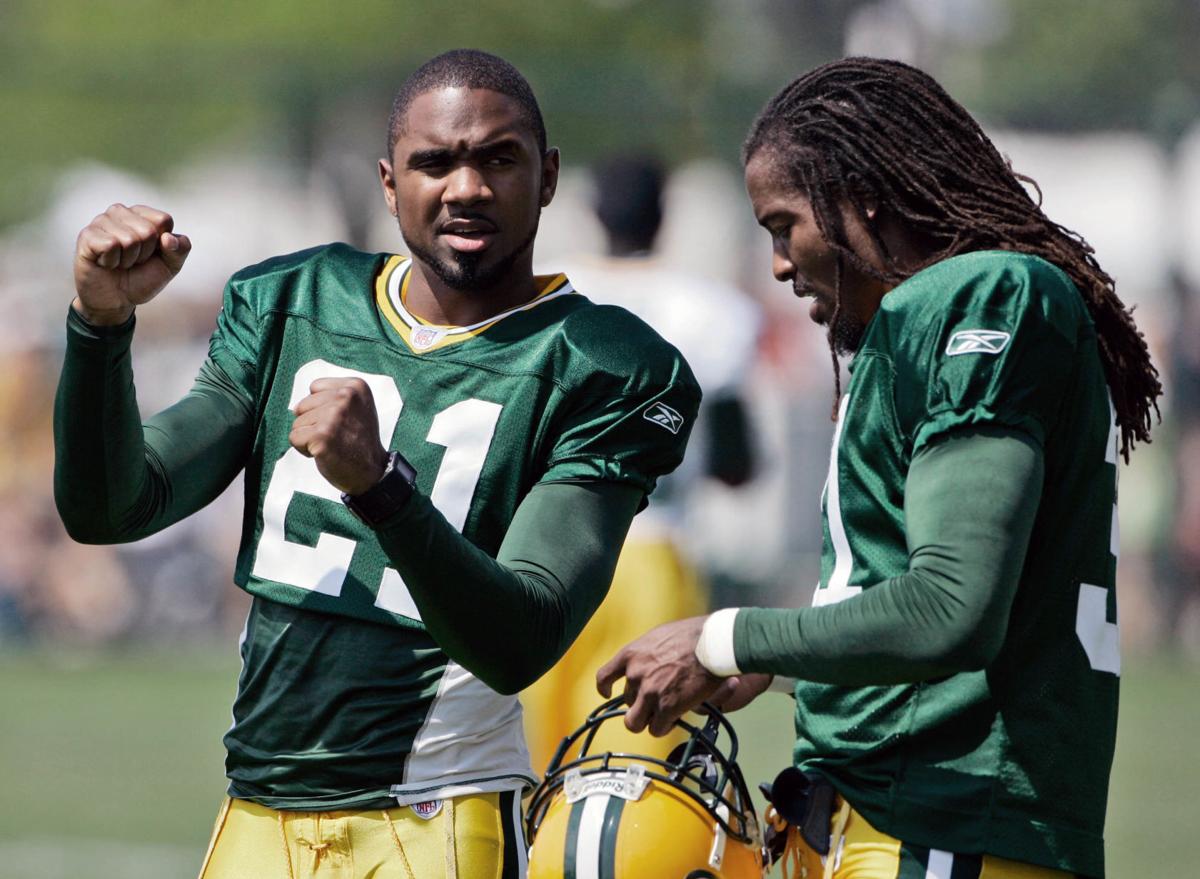 GREEN BAY — The letters came in the mail, as required by NFL rules, sent from 1265 Lombardi Avenue.
One, in November 2010, was delivered to Al Harris. The other, in February 2013, came to Charles Woodson.
Both, though, said essentially the same thing: The Green Bay Packers don't want you anymore. As great as you were as cornerbacks at shutting down opposing wide receivers and intercepting passes, the team is moving on.
On Thursday night, the duo returned home to Lambeau Field, entering the Packers Hall of Fame together — as they were meant to. The ceremony, delayed multiple times by the COVID-19 pandemic, was held inside the atrium, with Harris' longtime agent, Jack Bechta, presenting him for induction and Packers longtime athletic trainer, Bryan "Flea" Engel, presenting Woodson, who was enshrined into the Pro Football Hall of Fame last month.
"There's been countless guys go into the Packers Hall of Fame. I don't know how many guys actually go in with the guy they really grinded with every day, to be the best at their position, the way we did, at the same position, playing corner," Woodson said of Harris. "I watched him all the time take on that challenge of trying to be the best corner in football, and here I am on the other side, trying to be the best as well. So that's the way we pushed each other. To go in with him is the only way it could be, to be honest."
Both of them played seven seasons in Green Bay — Harris from 2003 through 2009, Woodson from 2006 through 2012 — and while both ended their careers elsewhere, they had their finest seasons in green-and-gold. They both wished they'd have overlapped by more than those four years, and they both wished they could have finished their careers with the Packers.
The paperwork is just a formality, of course. Every player who gets released — no matter if you are an all-time great nearing the end of the line, or a lesser-known, long-shot NFL dreamer who was cut last week from the 2021 Packers roster — gets one, a stark statement in black-and-white that his services are no longer needed.
And near the bottom of the form letter is a space for why the team is getting rid of you. That was the section that stuck with them both.
"The fact that they said, 'This injury, that's it for you …' I wasn't so mad or upset that I got released, but when you read the paper and it says you can't do your job, in your mind as an athlete, you always can do your job," said Harris, who'd suffered a catastrophic knee injury during the 2009 season but worked endlessly in rehabilitation in hopes of returning during the 2010 season — the year the Packers won Super Bowl XLV. "So that fueled me, to make sure I got back and played at the level people were used to seeing me.
"It didn't end the way I wanted it to. But my memories here are all fond memories. That part of it never changed. After that, I did want to play another year, and I got to play that other year (with the St. Louis Rams) and finish my journey as a player and check all the boxes. Which is big for me, being extremely goal-oriented. It didn't take time for me (to get over how it ended). My wife on the other hand, she might still be mad."
Woodson felt that same anger. He'd broken his left collarbone during the first half of that Super Bowl XLV victory over the Pittsburgh Steelers — having led the team both on defense and in the locker room, where his speeches were legendary — and then broke it again in October 2012, leading to his release four months later with two years left on the contract he thought would take him to the end of his NFL career.
"It was never an issue of appreciating my time here. I appreciated my time here — no question about it," Woodson said. "But when you listen to Al and what he said about what he read about him as a player, what people said he couldn't do — that was the thing that stung. When I got the letter and the Packers told me I could no longer compete at that position … really? Wow. That was a gut punch. That was hard to take, that was hard to swallow.
"It was like, walking through these halls and the people you work with saying, 'You're not good enough to play here anymore. So, you've got to go.' That was hard. But in terms of my time here, I think about it all the time. It was a great seven years I spent here in Green Bay, and I still come back to Green Bay. I'm still a Green Bay Packer. Regardless of how it turned out. I'll never forget my time here or take for granted my time here. I'll always appreciate my seven years here. But the drive comes from someone telling you what you can't do, or that you're not good enough."
Fierce competitors both, Woodson played three more NFL seasons with the Oakland Raiders, where he'd started his NFL career in 1998. Harris joined the Miami Dolphins after the Packers released him off the physically unable to perform list in 2010, then played one year for the Rams in 2011. He's now the Dallas Cowboys' secondary coach, working for ex-Packers coach Mike McCarthy.
Harris came to the Packers first, in a 2003 trade with the Philadelphia Eagles, where he'd spent his first five NFL seasons as the third cornerback behind two of the league's best at the time, ex-University of Wisconsin star Troy Vincent and Bobby Taylor. He arrived in Green Bay and was immediately the team's best cover man, and his pick-6 overtime interception for a touchdown in the 2003 NFC Wild Card playoffs against Seattle remains one of the greatest clutch plays in team history.
Woodson arrived as a free agent in 2006, less than thrilled that the Packers were the only team that wanted him as a cornerback after injuries and unhappiness near the end of his first stint in Oakland. They hit it off immediately, competing in practice and forming not just one of the NFL's best cornerback tandems but a close friendship that has endured long after their time in Titletown ended.
"From Day 1 when he got here, it just all clicked," Harris said. "We didn't have to force anything. Everything was genuine. 'Wood' is serious a lot of the times, just serious. But we laughed a lot, and just the way we went about business every day was super awesome.
"It just happened. It was all organic. Passionate about the game, passionate about the position. Everything just fell in line."
And on Thursday night, they joined the line of Packers legends, becoming the 163rd and 164th inductees.
"For it to happen, for it to happen now, to go in with 'Wood,' I'm super-stoked," Harris said. "It means the world to me."
Photos: Packers' 2021 season in pictures
Check out photo galleries from every game of 2021 from the preseason through the end of the regular season and the playoffs.