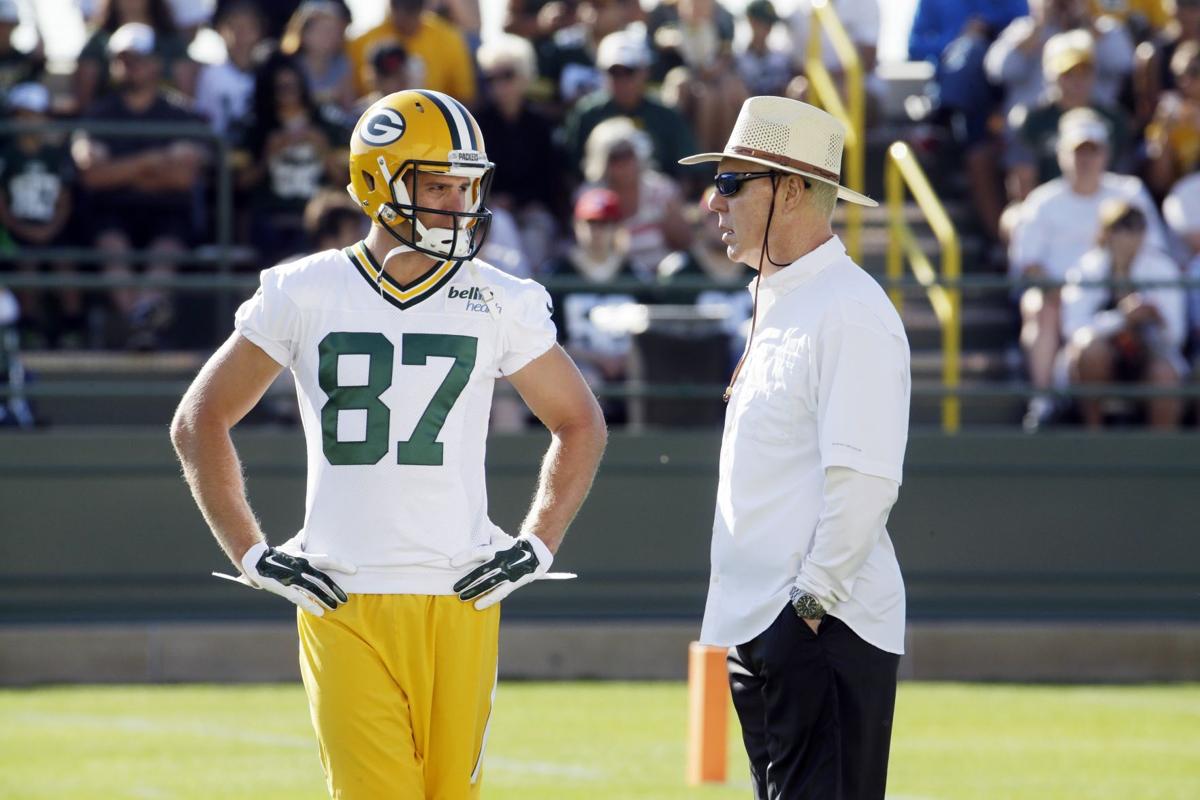 GREEN BAY — All Ted Thompson wanted was for the Green Bay Packers to win — and, to a much lesser degree, for their passionate fans to believe the team was in capable hands. He didn't care about getting credit, he didn't mind enduring criticism from those who disagreed with some of his roster moves.
"I think the people I work with understand how I go about my business and why we're doing certain things," Thompson said in an interview with the State Journal in the summer of 2007 — two years after he selected a future Pro Football Hall of Fame quarterback named Aaron Rodgers with his first draft pick; a year before he would trade another future Hall of Fame quarterback, Brett Favre, away during the tumultuous summer of 2008, and three years before the Packers would win their 13th NFL championship by beating the Pittsburgh Steelers in Super Bowl XLV.
"Yeah, from an organizational standpoint, I would like for the Packer fans to think the Packers are in good hands, quite frankly. But at the same time, this is a big boy place, and if I get criticized, I'm OK with it. Personally, I can take it from an ego standpoint. But I would prefer it if it was more of a positive message, just because of the people out there who are getting up and reading that at the breakfast table or watching it on the nightly news at night. It might make them have a bad day thinking, 'Oh my gosh,' that sort of thing. I'm not immune to that. But I'm fairly thick-skinned about other things.
"Five years from now, I would hope that I do this job well enough that I'm still sitting here. I won't be here forever, but I'm healthy, I enjoy this job, and I think we have a chance to do some good things. I'd like to be here for a good long run and win tons of games and make everybody that cheers for the Packers happy."
As it turned out, the Packers did exactly that during Thompson's 13-year tenure as GM. The team compiled an overall regular-season record of 125-82-1 on Thompson's watch and made the playoffs nine times, including a franchise-best eight straight season from 2009 through 2016. Green Bay was 10-8 in postseason play during that time, reaching four NFC Championship Games (2007, 2010, 2014, 2016), while his 2010 team won Super Bowl XLV — led by Rodgers, the game's MVP.
Thompson died on Wednesday night, just three days after his 68th birthday. The news spread among his former players and scouts Thursday morning before Packers coach Matt LaFleur confirmed Thompson's death as his team prepared for Sunday's NFC Championship Game against the Tampa Bay Buccaneers at Lambeau Field.
That team will be led by Rodgers, whom Thompson selected with the 24th overall pick in 2005, a move that was the first of many that drew sharp criticism from the fan base — but one that set the stage for the team to be competitive for the next decade and a half, continuing today.
"I'll never forget your loyalty," Rodgers told Thompson in a prerecorded message when Thompson was inducted into the Packers Hall of Fame in May 2019. "I'm going to always be thankful for the time I had to spend with you, and the fact that you took a chance on a young kid from California. Thank you for your vision, thank you for believing in me year after year, thank you for representing the Green Bay Packers so well. And I'll see you down the road."
I hope in death Ted Thompson will be appreciated more than he was all to often in life by some. This @WiStateJournal story was one I have always cherished, because Ted did something for me he rarely did: He let me in a little bit. I am very sad today. https://t.co/WKibRN6cQ5

— Jason Wilde (@jasonjwilde) January 21, 2021
Thompson, who would reveal that he was suffering from what he termed an "autonomic disorder" a few days after his induction, kept his remarks brief that night. But those who knew him best spoke glowingly of his commitment to the Packers and to always making decisions in the team's best interest — even as he often eschewed spending lavishly in free agency and preferred to build through the draft.
"For whatever reason, I think Ted is underappreciated," team president/CEO Mark Murphy said the night of Thompson's induction. "I think part of it is, he's not a self-promoter. He's just a very humble person, just did his job. But when you look at his record, it's really pretty remarkable. The league is structured where, it's really hard to win on a consistent basis. And what sticks out to me, when you really look at it, obviously (there's) the Super Bowl, but the consistency — eight years in a row to make the playoffs, four years in a row winning the division, 9 out of 13 years in the playoffs."
Added Thompson's longtime friend and former Houston Oilers teammate Mike Reinfeldt, "I think history is going to be kind to Ted Thompson. When they look back and see what he accomplished, it's a pretty golden era for the Packers."
This season, the Packers had four players voted as first-team All-Pro selections by The Associated Press: Rodgers, wide receiver Davante Adams, left tackle David Bakhtiari and center Corey Linsley. All four players have one thing in common: They were all Thompson draft picks. Kicker Mason Crosby, running backs Aaron Jones and Jamaal Williams, defensive linemen Kenny Clark and Dean Lowry, cornerback Kevin King, right guard Lucas Patrick and tight end Robert Tonyan were all originally acquired by Thompson before Thompson transitioned into an advisory role in January 2018, when he was replaced by one of his protégés, Brian Gutekunst.
"He's had a tremendous impact," LaFleur said Thursday. "Not only on people in this building — obviously 'Gutey' and a lot of our personnel people — but people in other departments as well. His impact is still felt to this day when you look at our roster, but I think he's had a tremendous impact amongst many people across the league when you look at all the other GMs that have learned under him. Certainly, we're sitting here with heavy hearts today."
Thompson, who began his NFL scouting career with the Packers in 1992, left the organization in 2000 to serve as ex-Packers head coach Mike Holmgren's personnel chief with the Seattle Seahawks, building that team's roster and filling it with players that led the Seahawks to a berth in Super Bowl XL. Thompson returned to Green Bay in 2005, after then-head coach/GM Mike Sherman was stripped of his personnel duties by then-team president/CEO Bob Harlan, who had hired Ron Wolf to resurrect the franchise in 1992.
Thompson also played 10 seasons in the NFL with the Houston Oilers, from 1975 through 1984, as a linebacker who saw most of his action on special teams. Thompson never forgot how it felt to be a player, and he approached his frequently cutthroat job with sensitivity for the challenges his players faced.
He assembled that 2010 championship roster with terrific drafts that yielded many of the team's best players: Rodgers, wide receivers Greg Jennings, Jordy Nelson and James Jones, offensive linemen Josh Sitton, Daryn Colledge and Bryan Bulaga, safety Nick Collins, outside linebacker Clay Matthews and defensive tackle B.J. Raji. He then retooled the roster around Rodgers to build a 2014 team that seemed ticketed for another Super Bowl before an inexplicable fourth-quarter meltdown in Seattle led to an overtime loss to the Seahawks.
Now, a team that bears his fingerprints is again one victory away from a Super Bowl berth.
"I do think as fans, our fans got a little spoiled. They were used to it. And when we weren't in the Super Bowl multiple times, that was a disappointment," Murphy said in 2019. "But you couldn't have asked for more, really. I have such respect for Ted. And as great as his accomplishments are, the quality of the person … he's just such a good person."
---
Photos: Packers' 2020 season in pictures
Check out photo galleries from every game of 2020 through the end of the regular season and the playoffs.