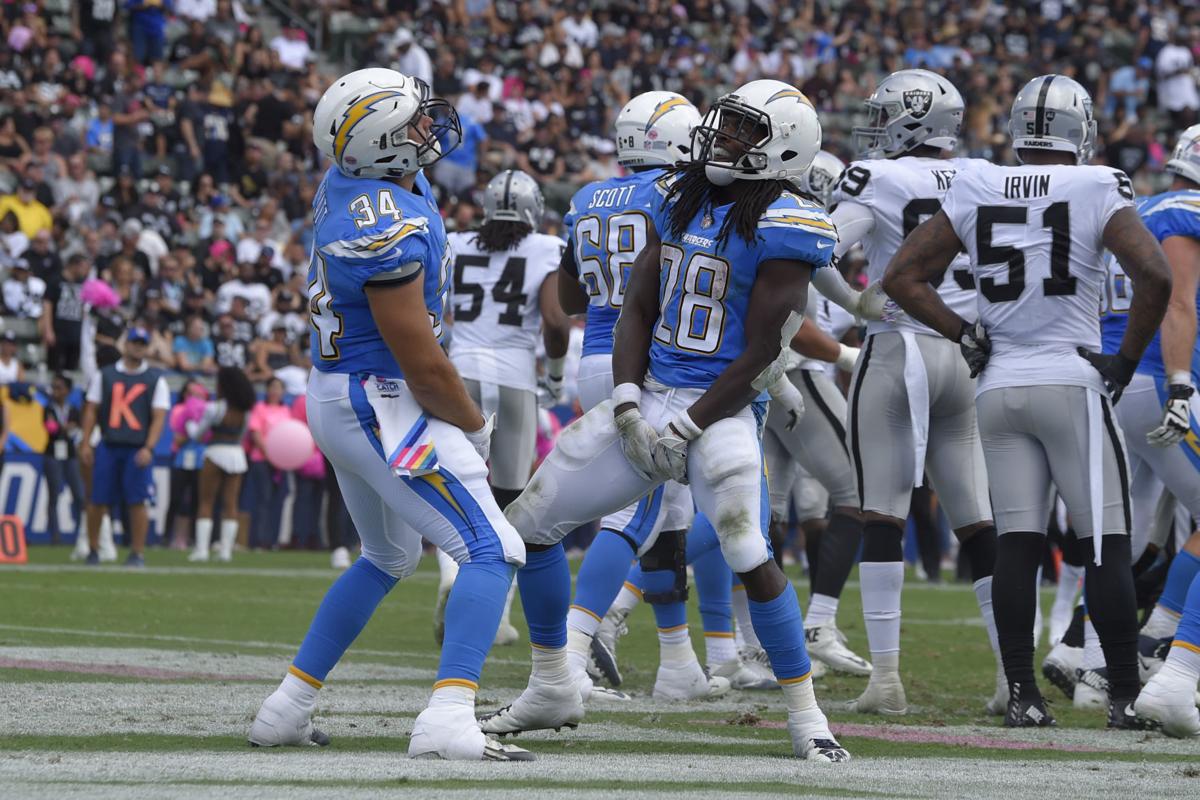 Even though it's been over four years since Melvin Gordon last suited up for the University of Wisconsin, it still holds a special place in his heart, and the Los Angeles Chargers running back is excited to return to Madison and pass on his knowledge to the next generation of football players.
Gordon is set to co-host a youth football clinic June 15 at UW's McClain Center along with former UW teammate James White, who's fresh off another Super Bowl victory with the New England Patriots.
While the clinic will focus on helping participants develop their running back skills, Gordon has another important lesson he wants to share with the kids.
"I just want to stress the fact that you're young, to just have fun with the game," Gordon told the State Journal this week in a phone interview. "It's all about having fun at the end of the day, regardless of what you're doing."
Gordon, who played for the Badgers from 2011-14 before being drafted by the Chargers at No. 15 overall in the 2015 NFL draft, has helped host camps the last two summers in his hometown of Kenosha and is eager to follow the example of other former Badgers and give back to the Madison community.
"It's a goal of mine, a dream of mine, to be able go back to college and do things like this," he said. "I remember in college when Russell (Wilson) used to have his camp. …. He used to come back and we used to help Russell out with his camp and I just thought that was awesome."
Registration for the non-contact camp for children ages 6-18, which runs from 9 a.m. to 1 p.m. June 15, is $75 and includes a T-shirt, lunch and awards. Participants can also purchase autographs and photos with the players for an additional fee.
For Gordon, who didn't have opportunities as a kid to see professional athletes up close, it's important to make himself available as an example to the young players at the camp.
"I never had that opportunity," Gordon said. "That's why I always told myself if I was in this position I'd at least give the kids the opportunity to meet (me)."
Gordon has extensive knowledge to share with the kids on the football field, but he also wants to pass along the importance of finding balance in life off the field.
"You have to get your mind right, that's the biggest part of this game," Gordon stressed. "If your mind's not refreshed or fresh, that's when it becomes tough, the game becomes hard. I'm always thinking about football, but I like to be away from the facility."
Despite skipping the Chargers' organized team activities this spring before the final year of his contract, Gordon is confident he's doing everything he can to improve in his fifth season in the NFL.
"I'm never content," he said. "I didn't lead the league in receiving as a running back, and I didn't lead the league in rushing. Therefore, everything must be addressed in my eyes."
While there were questions about Gordon's attendance at the opening of the Chargers' mandatory minicamp next week, Los Angeles coach Anthony Lynn expects Gordon to arrive Monday and Gordon echoed the desire to get the most out of camp.
"When I get there for minicamp," Gordon said, "we're just going to continue to get after it."
Even with all that goes into preparing for the grind of another year in the NFL, Gordon is excited to return to Madison and work with White, who he played with from 2011-13.
"I'm excited to get this going with James," Gordon said. "I've been doing some camps in Kenosha, but it's awesome to be able to go back to the state that I'm from and be able to make this happen (in Madison)."
Be the first to know
Get local news delivered to your inbox!