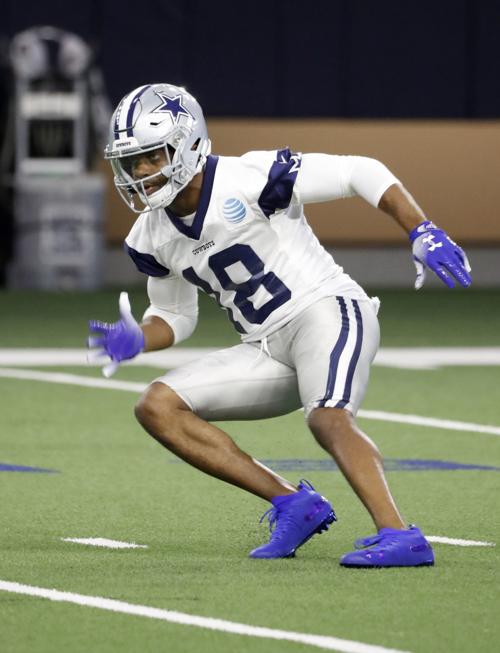 GREEN BAY — When Randall Cobb looks back at his Green Bay Packers career, as he did Friday morning, he knows he must acknowledge that amid all the great plays and great memories, there was too much disappointment during his eight seasons.
No Super Bowl appearances. Too many injuries. No NFL titles. Too many gut-wrenching postseason losses.
"I mean, it's disappointing," the now-Dallas Cowboys wide receiver confessed during an interview on ESPN Wisconsin. "Because I think of some of the teams we had, that I was a part of in Green Bay, and to know we didn't bring home the title with some of those teams is very frustrating.
"You look at some of the disappointments, you look at some things you wish you could have done differently, you wish that you could have avoided some of those injuries and been able to be a little bit more productive."
Truth be told, Cobb also wishes he would have been able to continue his career with the team that chose him in the second round of the 2011 NFL Draft out of the University of Kentucky. Instead, Cobb said the Packers never made an offer during free agency and suggested that he even waited to see if the team would want him back after he fielded offers from other teams — including the Cowboys, whose one-year, $5 million deal Cobb ultimately accepted.
Former Badgers lineman Rob Havenstein played for new Packers coach Matt LaFleur when he was an assistant with the Los Angeles Rams in 2017.
"I didn't really have any conversation personally. I don't know how much conversation there was between my agent and the Packers organization. But I know there was never an offer put on the table — before or after the offer from Dallas and a couple other teams," Cobb said. "I think it kind of made my decision easier. If the Packers would have made an offer, I would obviously have had to weigh that decision. But I'm very excited and very happy to be down in Dallas. I think it's a great situation and I look forward to this season."
Cobb, 28, left the Packers after catching 517 passes for 6,120 yards and 46 touchdowns in 116 career games, including playoffs. He was on the receiving end of some of quarterback Aaron Rodgers' most memorable passes, from a fourth-down, last-minute, playoff berth-clinching touchdown catch-and-run in Chicago in the 2013 regular-season finale to his 75-yarder against those same Bears in last year's dramatic come-from-behind win in the season opener.
But he battled a myriad of injuries the past four seasons. After signing a four-year, $40 million deal in March 2015, Cobb never duplicated his 2014 regular-season numbers (91 receptions, 1,287 yards, 13 touchdowns). Instead, he averaged 60.8 receptions, 618.7 yards and four touchdowns over the next four seasons, and he finished his final year in Green Bay with 38 catches for 383 yards and two touchdowns after hamstring issues cost him seven games and parts of two others.
Perhaps that's why general manager Brian Gutekunst, despite calling Cobb "one of the all-time Packers" at the NFL scouting combine in Indianapolis in February, opted to move on from him less than a month later — setting the stage for the Cowboys to sign him.
Smith is excited about Gary's size (6-5, 277 pounds), speed and athleticism (a 4.58-second 40-yard dash time and a 38-inch vertical jump) and strength (26 reps at 225 pounds despite a lingering shoulder injury).
"The transition's been great. Obviously, it was a little weird at first," Cobb said. "When you're somewhere for eight years and then you go to a different team, you kind of feel like the new kid at school — just trying to find your way around and not knowing exactly what to expect. But it's been great so far. I've enjoyed it. I'm making strides with my new teammates, and I'm just trying to pick up the new offense and get ready for the season.
"When you go to a new team, obviously a lot of these guys know me, we played against each other. But it's different. They want to know what kind of practice player you are. They want to know what kind of teammate you're going to be. And is it all about you? Are you just worried about yourself? Or are you going to try to make the guys around you better? The biggest thing for me in this whole process was just trying to earn the respect of my new teammates and do everything I can to better myself and better those around me."
Cobb chalked his departure up to being "part of the business," and joked that he was unaware that the Packers face the Cowboys on Oct. 6 at AT&T Stadium. ("When is that, November?" he deadpanned.) But he also confessed that he'll be aiming to show the Packers he still has plenty left.
"(Savage) has done a great job," coach Matt LaFleur said. "He's a smart guy. He's really talented. So, we'll see. Everything looks pretty now when you don't have the pads on. We'll see what it looks like when we've got the pads on."
"It's like the ex-girlfriend that broke up with you," Cobb said. "When you see her five years later, you hope you're in a better situation than you were before — married, with kids, and you're able to say, 'Yeah, I did better without you.'"
As for Rodgers, whom Cobb called "one of my closest friends, football aside," Cobb predicted his old quarterback and new Packers coach Matt LaFleur will figure things out and get on the same page with the offense — despite the existing differences between Rodgers' skill set and the design of the scheme.
"I think it'll go both ways. I think that he will challenge LaFleur, I think he will challenge him to raise his IQ, for both of them to be successful," Cobb said. "And I also think with the new offense, Aaron is going to be excited to prove that he's (still) Aaron Rodgers. I definitely can't wait to see how it all plays out."