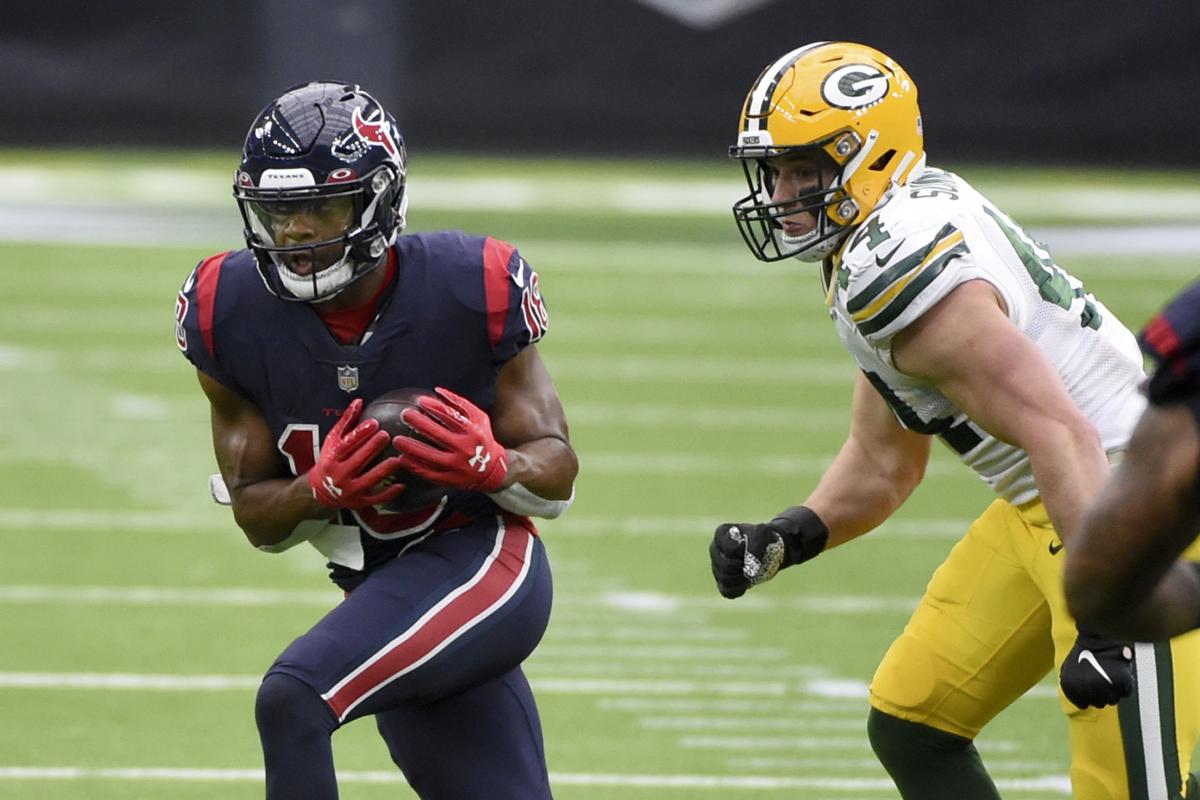 GREEN BAY — Brian Gutekunst made himself crystal clear: Randall Cobb would not be a member of the Green Bay Packers had Aaron Rodgers not wanted him on the team.
Without the three-time NFL MVP's insistence on bringing back one of his BFFs, Gutekunst would never have added Cobb.
Gutekunst, now in his fourth year as the team's general manager, made no effort to re-sign Cobb in free agency following the 2018 season, so his decision to send a sixth-round pick to the Houston Texans to bring the veteran wide receiver back was all Rodgers-based.
Asked directly Thursday morning if adding Cobb was done to make his quarterback happy, Gutekunst replied: "I think that's a big part of it. Obviously without Aaron, I don't think we would probably be pursuing that. But he's still a really good player. Seeing him last night just kind of reminded me of what kind of impact he'll have in our locker room for our football team. This is a very important thing for Aaron and that's why we did it."
Later, Gutekunst added, "When we realized this was an important piece for Aaron early on, we started seeing how could this work — not only from a football team perspective, (but) salary cap, trade, all that compensation, and all that kind of stuff.
"At the end of the day, there are positives and negatives to everything. Having Randall Cobb in our building is a positive. There's no question about that. What he brings not only as a player but as a person to our locker room is a positive, specifically to our quarterback, which is a very important piece for what we're trying to accomplish in 2021."
And that's just fine with Cobb, who spent the first eight years of his NFL career with the Packers before Gutekunst didn't even make him an offer to return when free agency hit. Cobb signed a one-year, $5 million deal with the Dallas Cowboys instead, then joined the Texans on a three-year, $27 million deal last year. The Texans picked up $3 million of Cobb's $8.25 million salary.
Asked after his first practice with the Packers how he felt about Gutekunst's candid answer as to why the team added him, Cobb was honest but unfazed.
"About the same way it made me feel when I signed with Dallas and I was waiting, hoping for another opportunity to come back," Cobb replied. "That didn't happen, but we're here, and I'm back.
"That's in the past. It's about today, it's about moving forward, it's about being the best that we can be today for this team and try to find a way to win a championship. None of that other stuff matters. … I'm going to do my job, I'm going to be the best teammate I can be, I'm going to continue to be the person that I am, and hopefully I can bring some positivity and energy around and be who I am."
Cobb, who turns 31 next month, caught 38 passes for 441 yards and three touchdowns last season in Houston. In his first eight seasons with the Packers, he caught 517 passes for 6,120 yards and 46 touchdowns in 116 career games (including playoffs) and made the Pro Bowl after the 2014 season.
Now, he'll be charged with contributing from the slot and mentoring rookie third-round pick Amari Rodgers, whom Cobb has known since the kid was 12 years old and Cobb was a University of Kentucky player under Rodgers' father, Tee Martin.
Coach Matt LaFleur, meanwhile, will be tasked with finding ways to use both undersized receivers (Cobb is 5-foot-10, Rodgers 5-9) creatively in his offense.
"I think there's a lot left there," said LaFleur, who saw Cobb in person when the Packers played Dallas two years ago and Houston last year. "I got a chance to meet him for the first time (Wednesday) night in the locker room. There was a lot of excitement in the locker room, and I just can't wait to kind of get him immersed in what we're doing and get him out on the field."
As for what he'll mean for his protege's growth, LaFleur said: "I actually think he's going to be a big help in Amari's development. Obviously, there's a strong relationship there that goes back a long time with Amari's father being his coach at Kentucky. I think there's always a learning curve for younger players, specifically at the wide receiver position. So I think he's going to be instrumental in Amari's development."
The two Rodgers won't be the only players in the locker room happy to see Cobb. Running back Aaron Jones and tight end Robert Tonyan were both first-year players in 2017 and spent two years with Cobb as their teammate during his first go-round in Green Bay.
"It's amazing. My first two years I was here with Randall and he's a great leader. So I'm definitely happy to have him back," Jones said. "He can teach me a few things out there. … I'm happy to learn from him, and we've got another playmaker, so I'm extremely happy to have him back."
Added Tonyan: "Honestly, I'm so happy. For Aaron, he gets one of his best friends back. And it's just a morale booster for him with what's going on. And I think Randall is a key piece. He's a great leader, he's a veteran, everyone in the Packers organization knows who he is. He has a lot of weight to his name. Good dude, great man off the field. I think it's huge to have someone like that in the locker room, and him being back home where he belongs."
For his part, Cobb said he teared up as he got in his car to catch his flight to Green Bay — he said his wife, Aiyda, was even more emotional — and he was emphatic about what matters to him in his second chance in Green Bay: Having been a rookie second-round pick in 2011, the year after the team won Super Bowl XLV, he's never won a championship. This is his chance to change that — and do whatever he can to make it happen.
"This game is the biggest team game of any sport in my eyes. There's no one person that can make everything go and win a game, win a Super Bowl by himself," Cobb said. "I'm a piece of this puzzle. I'm not the whole picture. I'm a very small piece. And there's 90 other guys in the locker room right now that are pieces as well. I'm just trying to do my part.
"I don't care about how many snaps I get, I don't care how many catches, I don't care about how many yards, touchdowns. If you don't know that about me now, I don't know what else to tell you. I'm here to win a championship with a football team. I don't care about Pro Bowls, I don't care about All-Pro, I don't care about any of those things. It's about finding a way to win a championship and doing my piece whether it be on the field or mentoring or leadership or special teams, whatever is asked of me, I will be there and I'll do it."
Photos: Packers' 2020 season in pictures
Check out photo galleries from every game of 2020 through the end of the regular season and the playoffs.