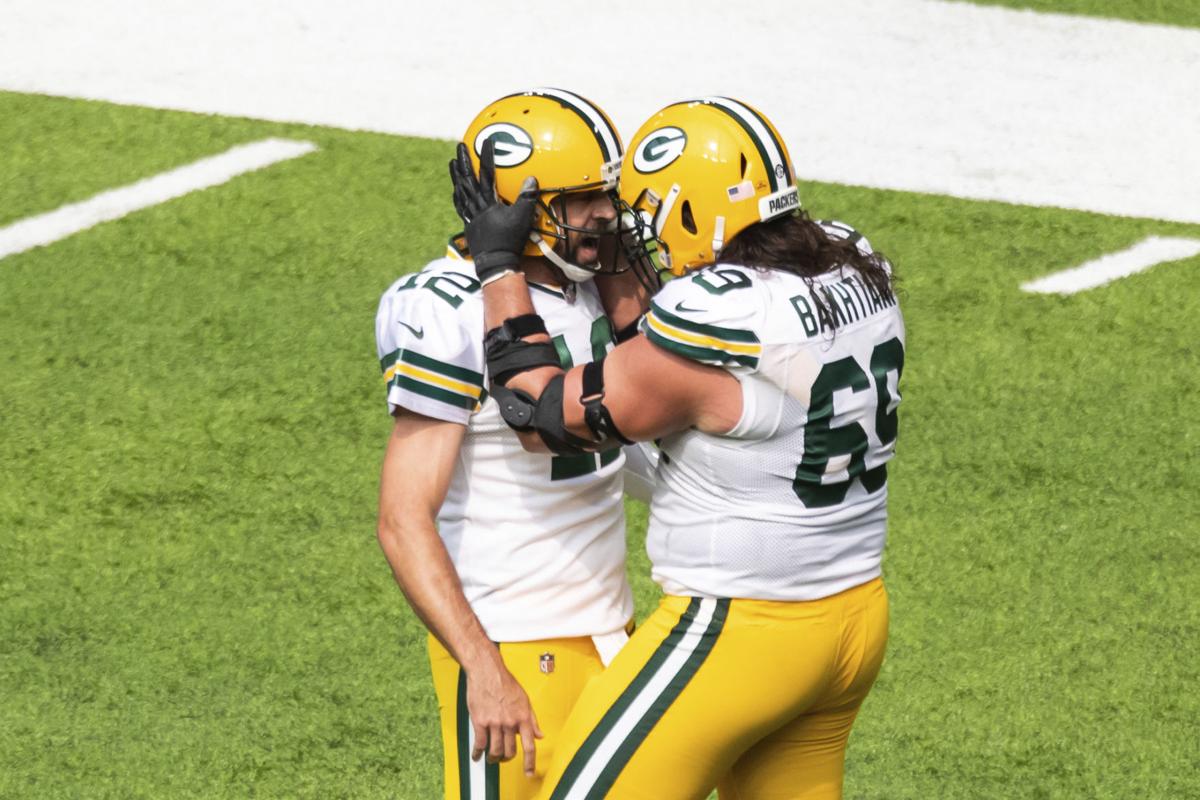 GREEN BAY — The chair sat empty for 5 minutes, then 10. Then 15. Then 20.
David Bakhtiari was supposed to be in the not-so-hot seat for his weekly Zoom video call with reporters Thursday afternoon, but it was almost 4 o'clock and the Green Bay Packers franchise left tackle was nowhere to be found.
Finally, when Bakhtiari arrived, sat down in front of the camera and unmuted himself, he was asked if the delay had been caused by him signing a new, lucrative contract extension to keep him in Green Bay for the next several years.
"No," Bakhtiari said. "I was honestly just cold-tubbing and hot-tubbing, taking care of my body."
So, much like his quarterback and close friend, Aaron Rodgers, who faces an uncertain future of his own with the franchise he'd hoped to finish his career with, Bakhtiari is taking an enjoy-every-moment approach to this season. And there's been plenty to enjoy during a 2-0 start as part of an offense that's averaging 42.5 points and 505 yards per game entering Sunday night's meeting with the New Orleans Saints at the Mercedes-Benz Louisiana Superdome.
"Headspace wise, yeah, I feel fantastic. Really just taking it one day at a time. (I've) really enjoyed everything that's been going on," Bakhtiari said Thursday. "I think Aaron's and my position are a little different, so I can't really say if we're together on anything, but he's in a good headspace, I'm in a good headspace. Maybe just a good season mentally for us."
But how many more seasons they might be together is the question.
ESPN.com reported last week Bakhtiari is seeking a deal that would put him among the NFL's highest-paid left tackles, which would mean a contract that would average $22 million per year. ESPN.com reported the Packers' offer at this point is roughly $4 million below that.
In a radio interview with 105.7 FM in Milwaukee earlier in the week, Bakhtiari had expressed frustration with the idea the Packers won't have the cap room to accommodate keeping him, nose tackle Kenny Clark (who signed a four-year, $70 million extension last month as camp practices began), running back Aaron Jones, center Corey Linsley and cornerback Kevin King, all of whom are in the final year of their contracts, too.
"A lot of excuses can be thrown around, and misinformation," Bakhtiari said in the interview. "The point is, at the end of the day, if you want to sign a guy and you want to keep him, you can do it.
"People use the cap as an excuse that they can hide behind. (But) they can get it done. You can go and restructure with whoever, and get money pulled from wherever, and push the potential cap hit to later years. You can get it done if you want to get it done."
Asked Thursday about those comments and if he was frustrated by the lack of progress, Bakhtiari replied: "Contract wise, I've been pretty candid and transparent about it. I don't really have much else to add onto it. I think I've been pretty clear on what's going on on that front, so I'll leave it at that. Any other questions, you guys can go ask the third floor on that one.
"Am I frustrated? At the end of the day, I love what I do, I've been doing it for a long time. I talked about being in a good headspace and being happy. I'd like to say (being happy) is the only focus. Right now that's what makes me happy every day, doing what I love, being around the guys I enjoy being around. I can only control my attitude and my effort every day, so that's what I'm going to do."
Asked if the lack of progress and the possibility of being franchise-tagged next year had created any animosity for him toward the organization, Bakhtiari replied: "No. I mean, it's business at the end of the day, so you can never take anything personal. That's really how I look at it."
Extra points
The Packers had a good news/bad news day on the injury front. Wide receiver Davante Adams (hamstring) missed his second straight practice while Clark (groin) practiced on a limited basis for the first time since going down against the Minnesota Vikings in the Sept. 13 opener. "It's just such a lift to have him out there," defensive coordinator Mike Pettine said of Clark. "He obviously would be very welcomed back and he can't wait to get them out there. And we're hopeful that it's going to be this weekend." … Punter JK Scott was absent from practice for a personal matter, though special teams coordinator Shawn Mennenga said the Packers "anticipate him being here." The team did work out free agent punters earlier this week, and backup quarterback Tim Boyle would be the holder on placekicks if Scott isn't back for the game. Two years ago, the team signed a backup punter in case Scott's wife, Sydney, went into labor with the couple's first child. … The Saints announced they would have 750 family members of players, coaches and staff at Sunday night's game as a test run of having fans back in the Superdome.