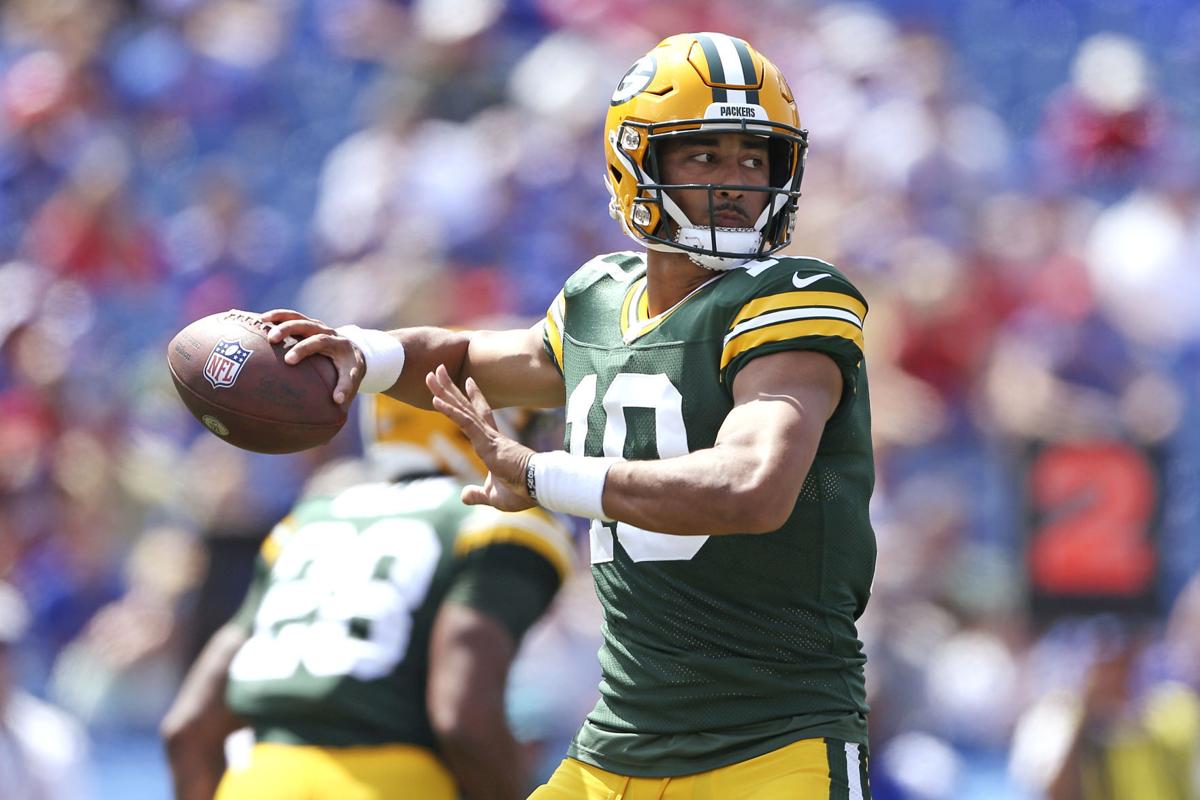 GREEN BAY — No one on the Green Bay Packers coaching staff was suggesting that Jordan Love's interception during Saturday's preseason finale in Buffalo — or the near-interception he tossed shortly thereafter, for that matter — was a good thing.
"He cannot put the ball in jeopardy," head coach Matt LaFleur said Sunday afternoon. "And he did that."
Indeed, he did — twice. But for a guy who is a second-year quarterback largely in name only — after a COVID-19-affected rookie season that had no on-field offseason work, a truncated training camp, no preseason games and limited in-season opportunities for significant development as the No. 3 quarterback behind Aaron Rodgers and trusted primary backup Tim Boyle — what Love did during Saturday's 19-0 loss to the Bills (and in the Packers' Aug. 14 preseason-opening loss to the Houston Texans) did deliver the kind of much-needed teachable moments the coaches were looking for.
"I thought he did a really good job. He had a couple of those errors that you just want to take out of his game, when people were running right at him," offensive coordinator Nathaniel Hackett said, adding that going against the Bills' No. 1 defense — including ex-Packers safety Micah Hyde, a Pro Bowler who intercepted Love in the end zone — gave Love's work against Buffalo added value. "(But) that's the first time you get to see how he's going to react, so I think that's good for him to put in his memory bank — that (if) he can just take care of the football, then those drives are going to be even better."
Quarterbacks coach Luke Getsy said he pulled Love aside after his second risky throw, a red-zone near interception that was intended for rookie Amari Rodgers on third down, and emphasized the importance of the situation on both throws.
"When you talk about teachable moments … The interception was on first-and-10. We've got three more downs to go get it," Getsy explained. "The other one, it's later in the downs and we get to kick a field goal (if you don't turn it over).
"I sat him down right after that (second) one, and I just said: 'Hey dude, look. It's 13-0. You've had 200 yards of offense in the first half. You're kicking butt. Look at how important the ball is in this league.' And so I think it's those moments, when you just kind of sit back and say, 'Look this thing could be 13-10 or whatever.' That's what he didn't get last year, not having preseason and all that stuff. So, really (we're) glad he was able to get that."
Love had four possessions against the Bills, which ended with a fourth-and-goal incompletion from the 1-yard line, the interception, a missed chip-shot field goal from Mason Crosby after the near-INT, and a six-plays-and-out punt. For the day, he completed 12 of 18 passes for 149 yards with no touchdowns and the one interception for a 69.1 passer rating.
Having missed the team's Week 2 loss to the New York Jets with what Love described Saturday as a strained rotator cuff in his right (throwing) shoulder, Love finished preseason play having played 66 snaps, completing 24 of 35 passes (68.6%) for 271 yards with one touchdown, one interception and two sacks (89.1 rating). He took advantage of some wide-open receivers who were schemed open but also made his share of on-the-mark throws under duress.
"Obviously it was a lot better this year to finally get those preseason games and get some action in there," Love told reporters after the game. "I think I got a lot better, got some game reps that I can learn from and experience that I can build upon going forward.
"That's the whole point of the preseason, to come out here and take advantage of the opportunity. I think I did what I needed to do, (but) there's a couple of bad plays that I can learn from and know that I can't make those mistakes again."
Asked what's next for him, Love replied, "I'm going to be the backup quarterback for the Green Bay Packers, back up Aaron Rodgers as best I can and help him. He's going to go out there and do great things this season. … Obviously being a backup, you've still got to be ready."
And therein lies the challenge for the Packers coaches, not to mention general manager Brian Gutekunst, who won't have much more to go on in deciding on Love's readiness to be his 2022 quarterback if Rodgers stays healthy this season and Love is relegated only to scout-team snaps in practice.
With Love having gotten only limited such work during the season last year, the coaches will emphasize translating upcoming opponents' plays that Love runs to get the No. 1 defense ready into the Packers' play-calling vernacular wherever possible. That's not something new; they did the same for Boyle. But it takes on greater importance when trying to groom the heir apparent.
"Part of that is him learning how to now prepare to be a starter in this league, where last year he just kind of got to sit back and watch (because) we had Tim in the room, too," Getsy said. "Now, it's his turn to really step up in the room and have a bigger role in our game plan and have a bigger role in finding things for Aaron on film and say, 'Hey, these are some keys, these are some tips.'
"(That's) the mental part of the game, and that's one thing I imagine Aaron would say in his three years behind Brett (Favre), he dove into the game that way. He mastered that craft. So that's kind of where Jordan's got to go now. The mental side of it, he's got to dominate.
"And then when we're on the practice field, he's got to dominate and take advantage of all those repetitions that he'll get against our defense or in those (occasional) moments where he'll take reps for our offense, too. But he's got a lot of work to do. And I think there's a lot of opportunities to grow mentally and physically as we go through the season to help him prepare for whenever his opportunity is."