GREEN BAY — Corey Linsley is not a fan of social media.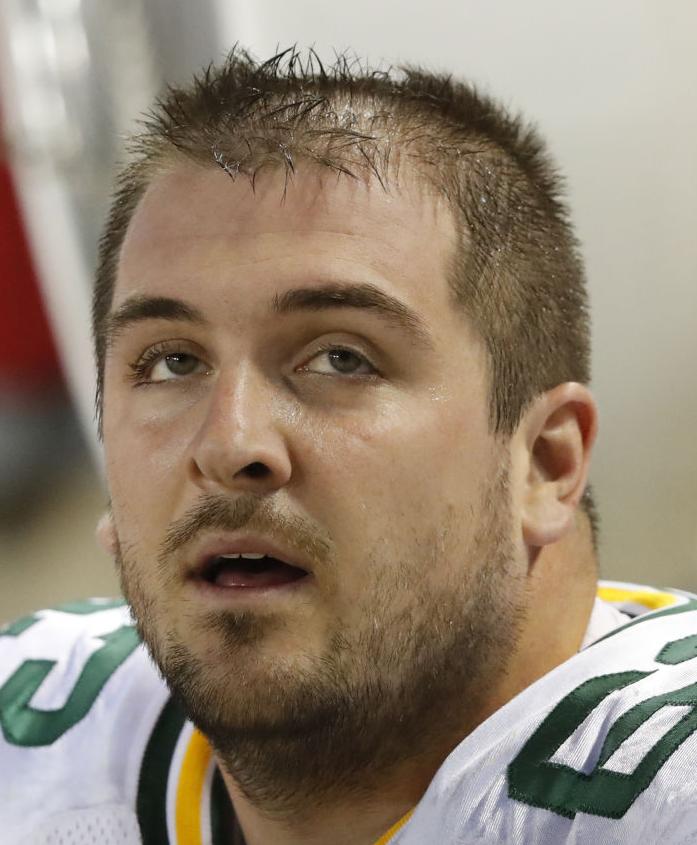 The Green Bay Packers' veteran center keeps his Twitter account, which he signed up for in October 2013 while he was a senior at Ohio State, to keep up on current events and the news of the day. Beyond the occasional sharing of a post from The Onion that makes him laugh, Linsley's 29,753 followers don't get much engagement from him.
Monday afternoon was different. Linsley had emerged from a Zoom video conference call with his fellow Packers offensive linemen, having listened to two of his linemates share their life experiences as black men: Veteran right guard Billy Turner, a Minneapolis-area native who has been back in the Twin Cities since the Packers' loss to the San Francisco 49ers in the NFC Championship Game on Jan. 19; and Yosh Nijman, a rookie last season who started the season on the practice squad, spent three weeks on the active roster and finished the year on injured reserve.
While Linsley didn't want to share the specifics of the stories Turner and Nijman shared — "I don't want to misstate anything they said," Linsley said — the session proved to be elucidating to him, especially as a white 28-year-old man who grew up outside Youngstown, Ohio.
"After having conversations with a few of my teammates over the course of the past six years I've been with the Packers, the thing that I've learned is that a lot of these guys who are in the positions that we're in have experienced instances of racism that have affected their lives — deeply. And that's what Billy and Yosh were saying," Linsley recounted during an appearance on ESPN Wisconsin Tuesday morning. "The examples they were giving, they hit home.
"The biggest thing for me (was), Billy had mentioned that it was important to use the platform that we have to express what we feel is right and what we feel is just. And that's kind of what led me to post (on social media). I can't just do it lip service. I don't have millions of followers, but after what he said, I said, 'If I'm going to say it (to the other offensive linemen), I might as well say it publicly and stand by what I believe in.' I think it's important."
Speaking in an interview with The Athletic on Monday night, Turner said Packers head coach Matt LaFleur had called him on Sunday and asked for his input on how the team should move forward amid nationwide protests in the wake of George Floyd's death while in Minneapolis police custody last week. LaFleur then gave Turner and players in each of the other virtual position meetings time to discuss the ensuing protests, civil unrest, social injustice and other topics instead of football.
"I appreciate our coaching staff in recognizing that the game of football is bigger than just suiting up, going to practice and meetings and going out there and playing and winning football games," Turner told The Athletic while also thanking Linsley for his Twitter post. "Us as a team, we are a family. And that is how we operate. I appreciate the coaching staff telling us, 'Look, I think there are bigger issues other than us discussing football today.'"
That might have been why the team postponed a pair of scheduled media Zoom calls with two veteran players — left tackle David Bakhtiari and inside linebacker Christian Kirksey — on Tuesday, considering they didn't even have their players talking about football a day earlier amongst themselves during position meetings.
"We just kind of sat there and we just had a conversation," Turner continued, adding that he hasn't taken part in what he called the "peaceful" protests in part due to concerns about the coronavirus. Turner said he tried to give his teammates a "glimpse at my hopes of where we go, how we move forward — not only as a minority culture in America, but how we move forward as the Green Bay Packers offensive line room to help bring change in any way we can."
For his part, Linsley felt the discussion was eye-opening for him because he hadn't considered all the ways his black teammates in college and the pros might have encountered less blatant racism throughout their lives. He said he called one of his high school classmates, now a lawyer in New York, and talked about how unaware he was of some of the racism around him.
"I felt like our high school didn't have that type of overt racism. He reminded me of a few things that happened during our tenure at Boardman High School, and that my experience and my version of how my high school experience went was different — and will continue to be," Linsley said of his classmate, Greg Knight. "That's because of my socio-economic status, that's because of my skin color, that's because of my religion, that's because of a number of different things. You have to remember, other people aren't experiencing the same things you're experiencing.
"Billy's at the epicenter of this (being in Minneapolis), and when I hear these experiences, you do feel like your experience is dramatically different than theirs. I think it's important to listen to the people who are involved in this — the people who are really in these situations, and their individual voices. Not just what you hear on the news.
"When a cop kills George Floyd, because he put his knee on the back of his (neck), he needs to account for that. He needs to be charged with murder. There's no ifs, ands or buts about it. And who knows if he would have been charged for this had that video not come out? And it still took them however many days to be charged."
Linsley said the locker rooms he's been in at both Ohio State and with the Packers have contained "players from a variety of backgrounds" who helped him evolve.
"It wasn't like I got to college and all of a sudden I was enlightened. This is something you have to continue to approach with an open mind and you have to be taught," Linsley said. "When you come into a football locker room it is a diverse place, and it affords you the experiences that a lot of people don't get."
Be the first to know
Get local news delivered to your inbox!