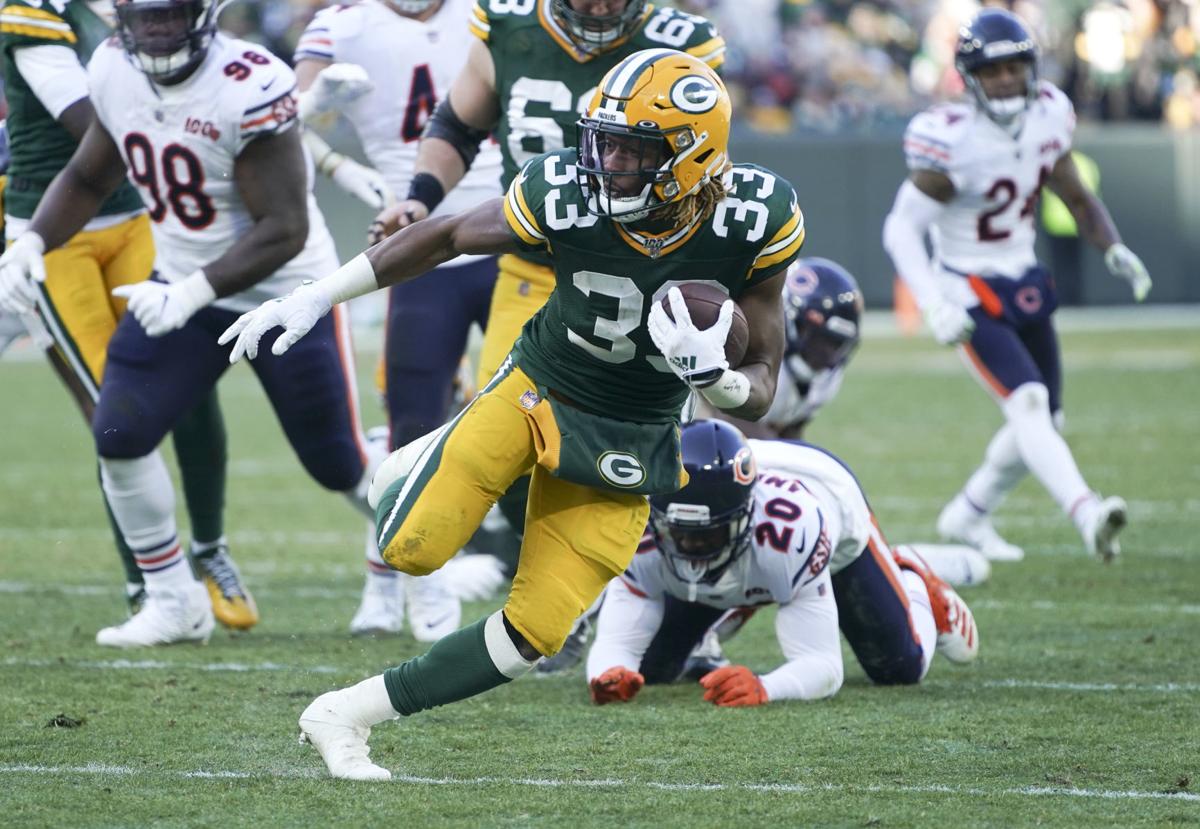 GREEN BAY — Aaron Rodgers and the Green Bay Packers offense's seemingly interminable search to find their identity may have finally reached its answer — one that likely has been plain as day to the two-time NFL MVP quarterback and head coach Matt LaFleur for weeks, if not months.
Get the ball to Davante Adams and Aaron Jones.
Forget for a moment that the Packers' 21-13 victory over the Chicago Bears Sunday afternoon at Lambeau Field was yet another one of those slightly underwhelming victories — "Wasn't always pretty" and "a little too inconsistent" were two ways LaFleur described it — following similarly lackluster triumphs over the New York Giants and Washington Redskins the previous two weeks.
Downgrade the aesthetics of those three Ws as you wish, but at this point, the Packers are 11-3, have officially clinched an NFC playoff berth — making LaFleur the first rookie head coach in the Packers' 100-year history to do so, where Super Bowl-winning coaches Vince Lombardi, Mike Holmgren and Mike McCarthy all failed — and outperformed even the most optimistic expectations one could have had for them entering the season.
That said, Rodgers has repeatedly acknowledged that in their first year in LaFleur's system, the offense has been struggling to find a distinct identity. They've won games in a variety of ways, but their quest for something to hang their proverbial hats on is not merely a media creation. It is something Rodgers and the offensive coaches acknowledge has been a struggle.
So perhaps Sunday's victory wasn't merely a functional win that punched their postseason ticket for the first time since 2016 after missing out on the playoffs the past two years. Perhaps it finally hammered home the reality that the Packers' best bet for offensive success — including once the win-or-go-home portion of the season arrives — is to cast their lot with their two biggest playmakers, sprinkle in the occasional contribution from their lesser-known skill position players and hope for the best.
"I think so," Rodgers acknowledged after completing just 16 of 33 passes for 203 yards with one touchdown and one sack (78.2 rating) on the day. "I think we're going to have to find ways to get them the ball and move them around. I think what Matt did today was great, moving Davante around. We had a number of snaps with him in slot. He was playing both 'Z' and 'X' — and we're going to have to do that.
"We had Aaron (Jones) split out a few times — didn't really target him when he was split out at receiver — but the more we can move him around, it just gives the defense more things to worry about, and he's a dangerous runner for us. Obviously Aaron ran the ball well, but I thought Davante was a difference-maker today."
Consider this: The Packers had three scoring drives Sunday, which ended in a 29-yard fourth-down Rodgers-to-Adams touchdown, a 21-yard Jones touchdown run, and a 2-yard Jones touchdown dive.
On those three drives, the Packers ran 14 total plays. On 12 of them, the only people who touched the ball were:
> Center Corey Linsley, who snapped the ball to Rodgers;
> Rodgers, who threw to Adams (five times), handed off to Jones (five times), ran it himself (once, on a 17-yard scramble) or threw an incomplete pass to someone else (once);
> Adams, who caught four passes for 78 yards on those three drives and finished with seven receptions (on 13 targets) for 103 yards and that touchdown;
> or Jones, who carried five times for 26 yards, including the 21- and 2-yard touchdowns, and finished the game having carried 13 times for 51 yards
"I mean, we don't care how it happens, as long as at the end of the game it says a 'W' in the win column," Jones said. "We'll get it together, but however it has to come, we'll take it."
Those three drives traveled a combined 174 yards, and the only other players to contribute were wide receivers Allen Lazard, who had a 4-yard catch on the first drive, and Jake Kumerow, who had a 49-yard tip-toe down the Packers sideline to set up Jones' second TD.
"Absolutely. I say it every week. We're trying to find ways to get our playmakers the ball," LaFleur replied when asked about getting the ball to Adams and Jones. (The two accounted for 154 of the Packers' 292 net yards on the day.)
"But at the same time, I just don't know if you can play (that way). You never want to force feed it. It's easier with a running back, obviously. You can always give him the ball in the run game. But as far as the pass game is concerned, we're trying to put guys in position to be at the point of attack, and if it's there, yeah, great, take it. And if it's not there, then we have to progress and find our other guys."
Others did have chances to contribute. LaFleur dialed up a shot play on the Packers' first offensive snap and Rodgers put the ball right where he wanted it on what should have at the very least been a 50-yard gain and probably should have been a 70-yard touchdown — if struggling ex-No. 2 receiver Marquez Valdes-Scantling not let the on-target ball sail through his hands untouched.
And Rodgers had a few mistakes of his own, including an third-down intentional grounding penalty late in the first half, two throws that should have been interceptions and an 11-yard sack late in the fourth quarter that cost the Packers a chance to add at least a field goal to make it a two-score game again.
"That's kind of the way it played out but at this point, honestly all I'm really worried about is the fact that we won the game," Adams replied when asked about the way he and Jones carried the load. "Obviously there's different things and particulars throughout every game that you can look back and say, 'We should've did this, we should've did that.' We've struggled a little bit in situations like that a little bit this year as far as just making sure we just bury these teams.
"But like we always say, you can't apologize for any victory."
Certainly not, but the Bears were still alive in the closing seconds, and the Packers had to survive a wild scene on the game's final play, when the Bears nearly scored a touchdown with a pair of laterals before tight end Jesper Horsted was finally taken down and fumbled the ball forward to end the game.
"I'm not going to walk out of here with my head down being 11-3. It's just not going to happen," veteran right tackle Bryan Bulaga said. "We haven't been in this position in a while, being 11-3. While there's a lot that we can improve on and get better at, 11-3 is a hell of a position to be in at this point in the season."
---
Photos: Green Bay Packers take down Chicago Bears at Lambeau to sweep season series
Packers 21, Bears 13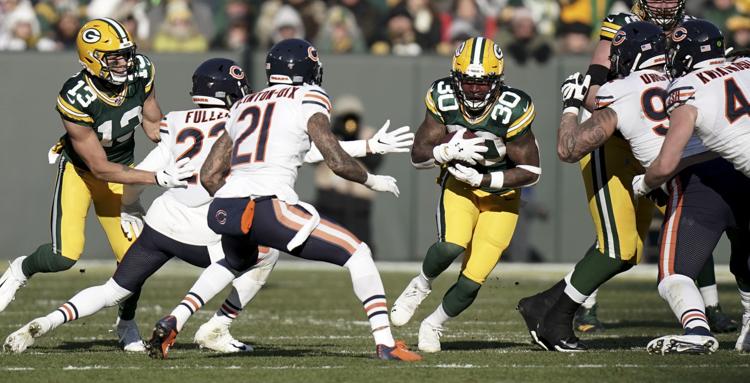 Packers 21, Bears 13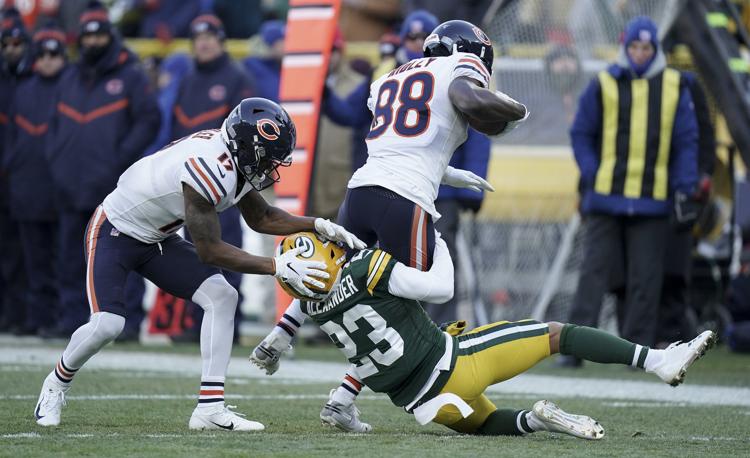 Packers 21, Bears 13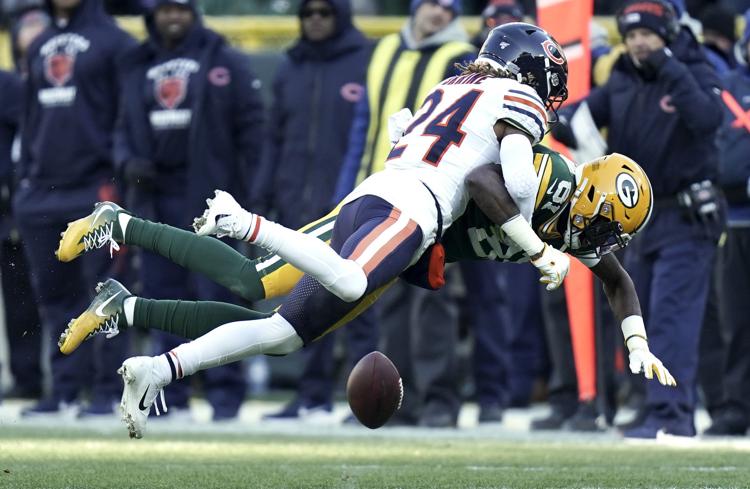 Packers 21, Bears 13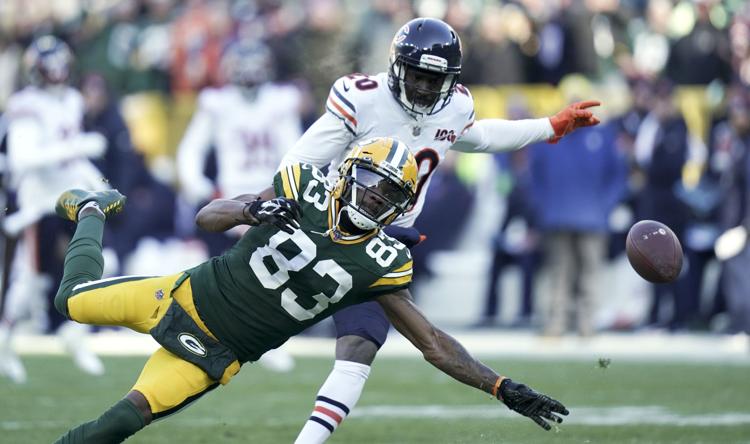 Packers 21, Bears 13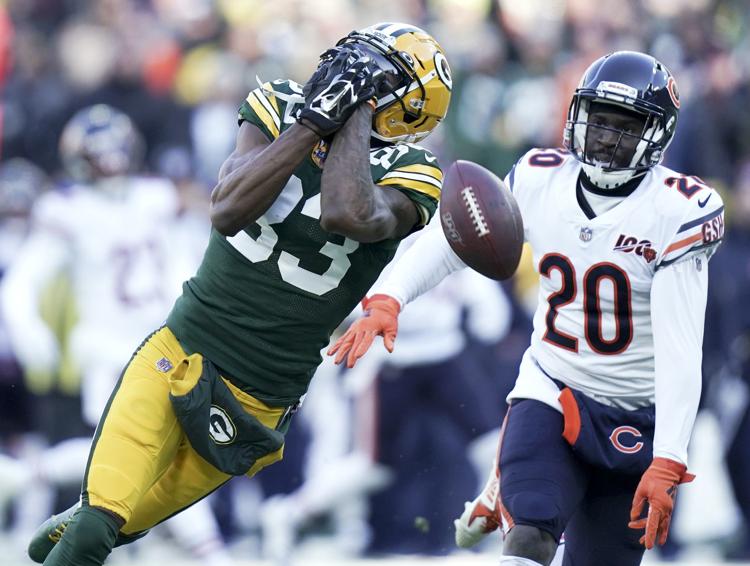 Packers 21, Bears 13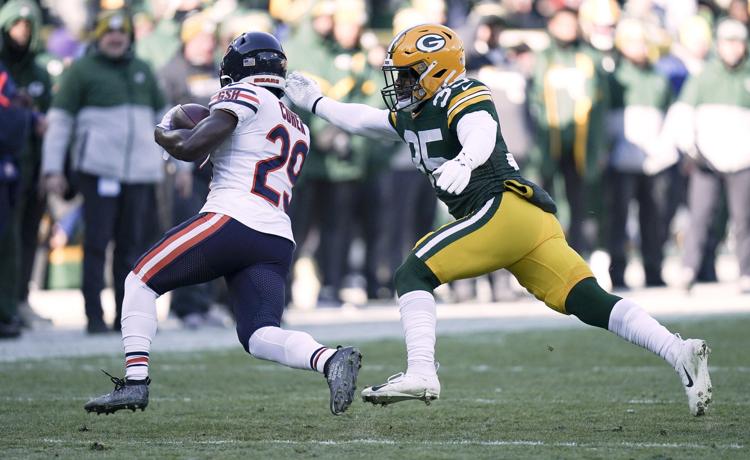 Packers 21, Bears 13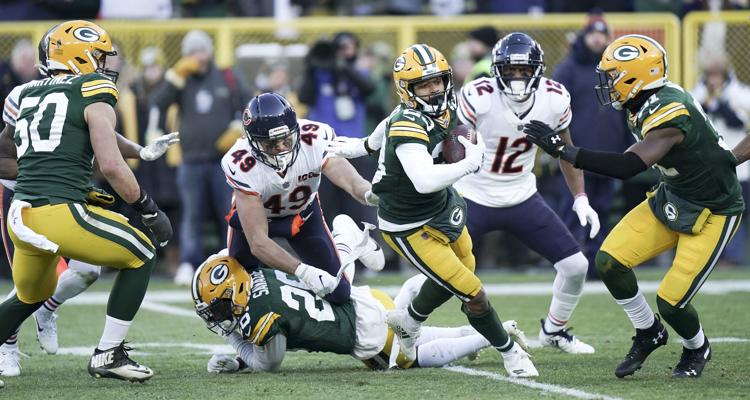 Packers 21, Bears 13
Packers 21, Bears 13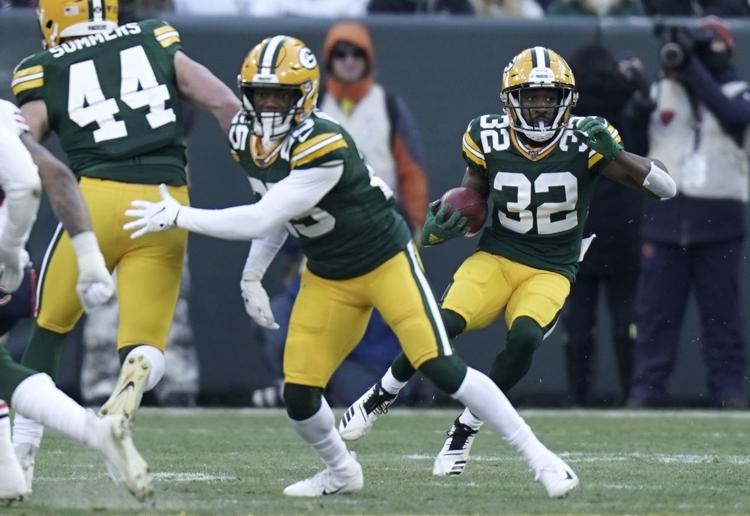 Packers 21, Bears 13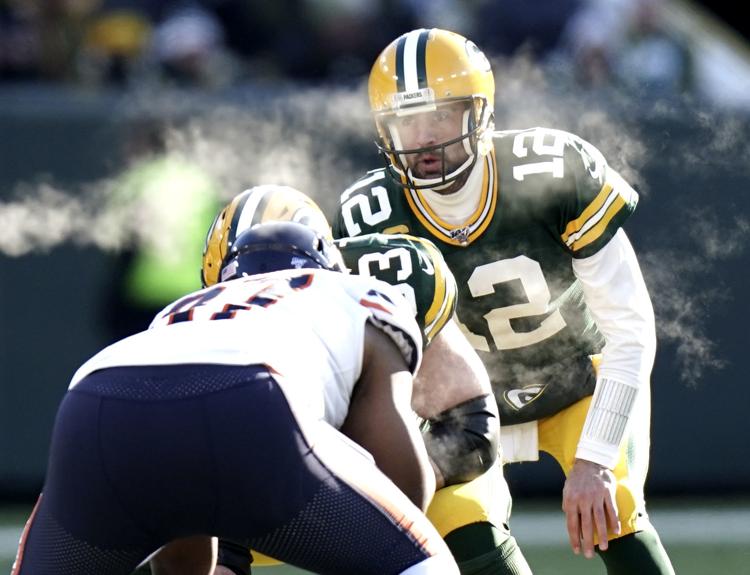 Packers 21, Bears 13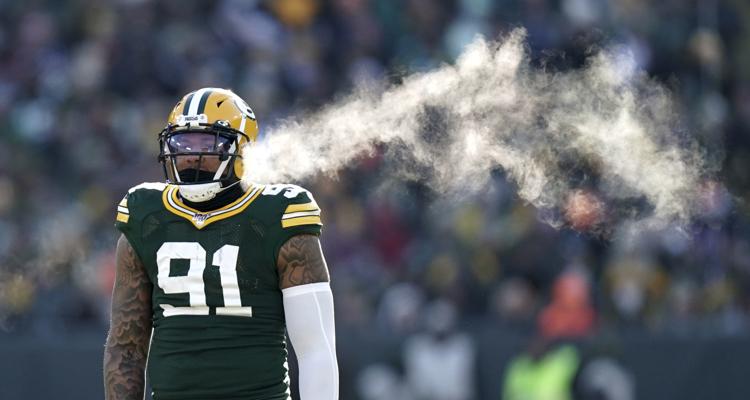 Packers 21, Bears 13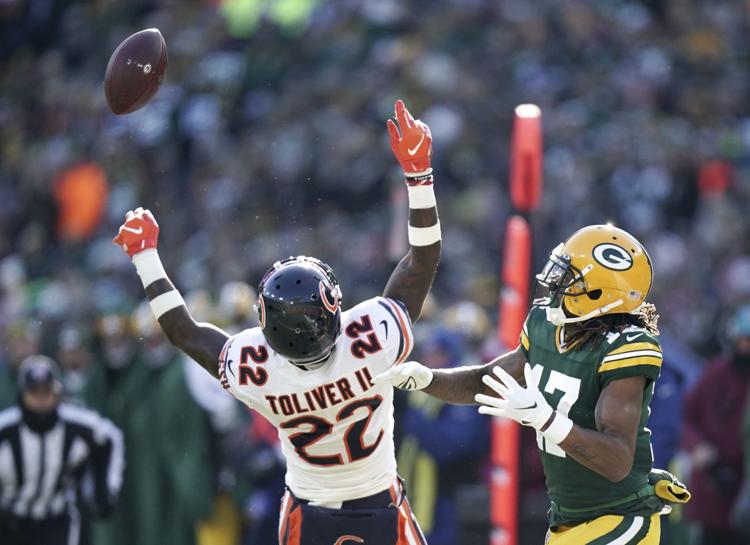 Packers 21, Bears 13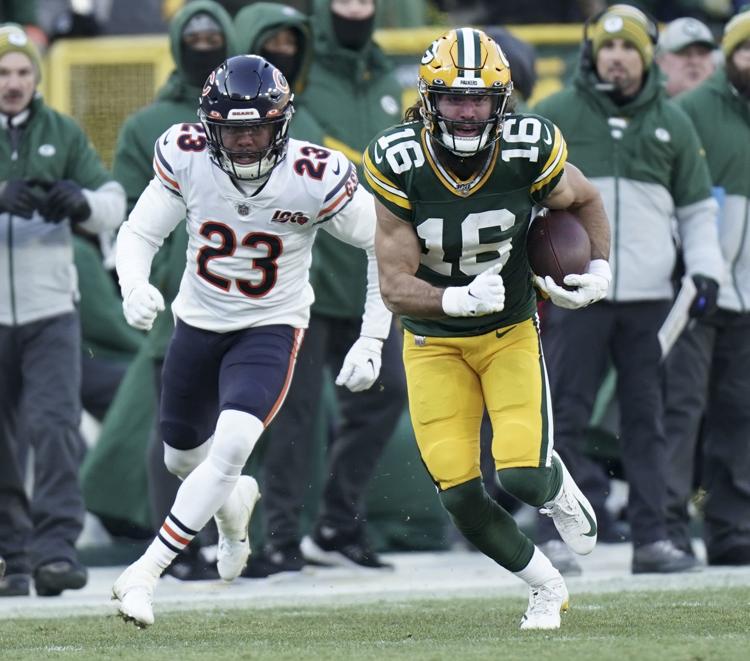 Packers 21, Bears 13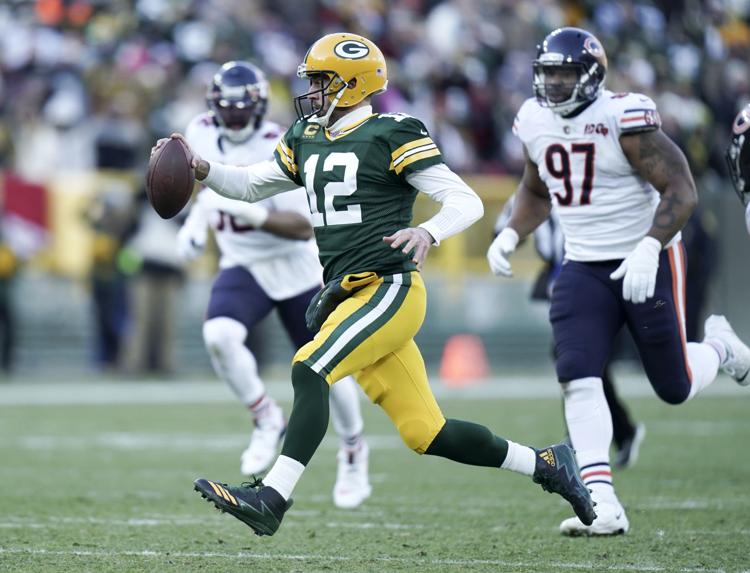 Packers 21, Bears 13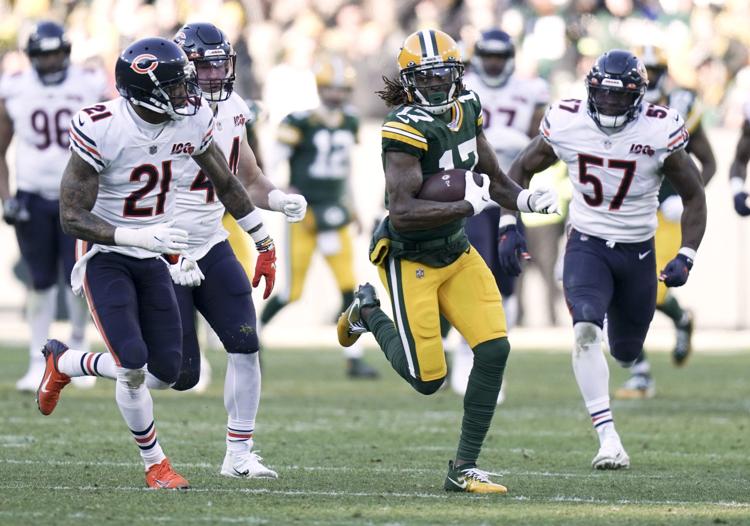 Packers 21, Bears 13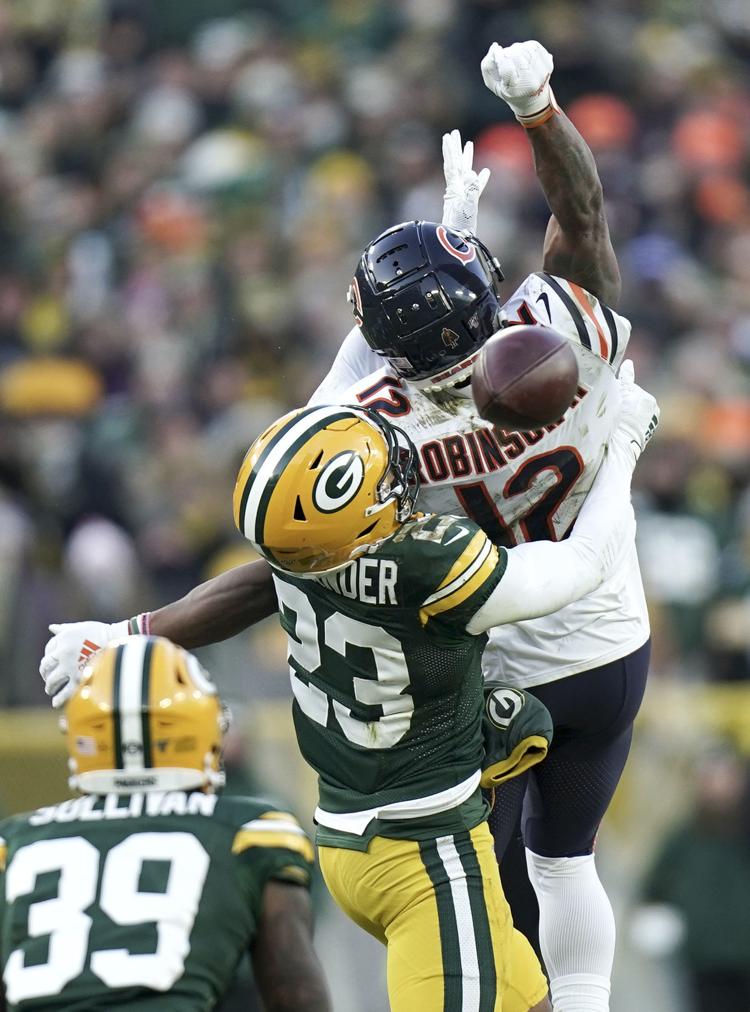 Packers 21, Bears 13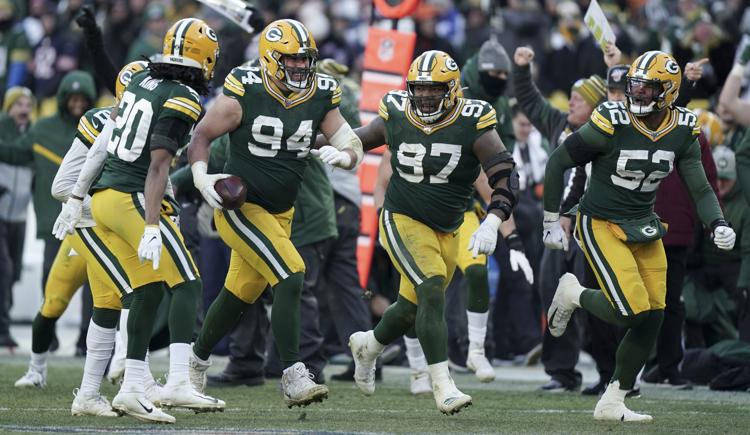 Packers 21, Bears 13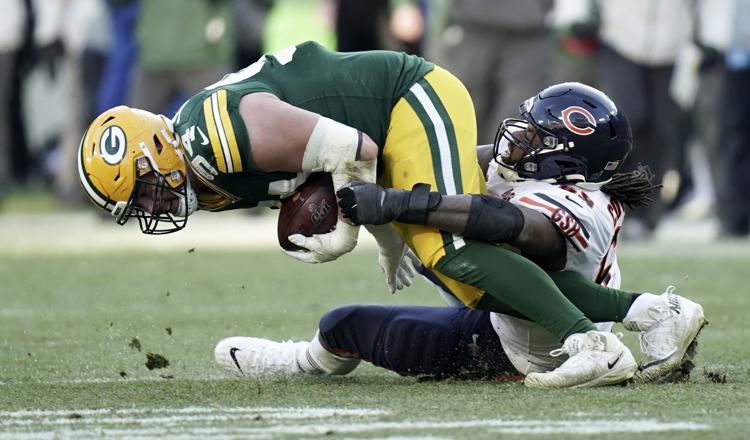 Packers 21, Bears 13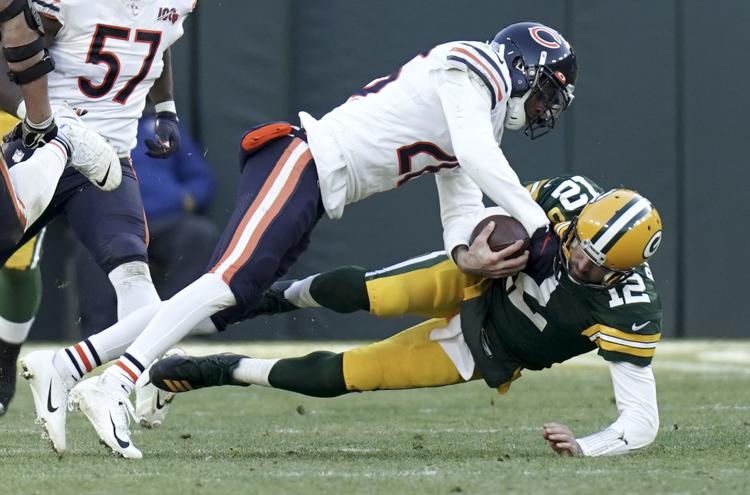 Packers 21, Bears 13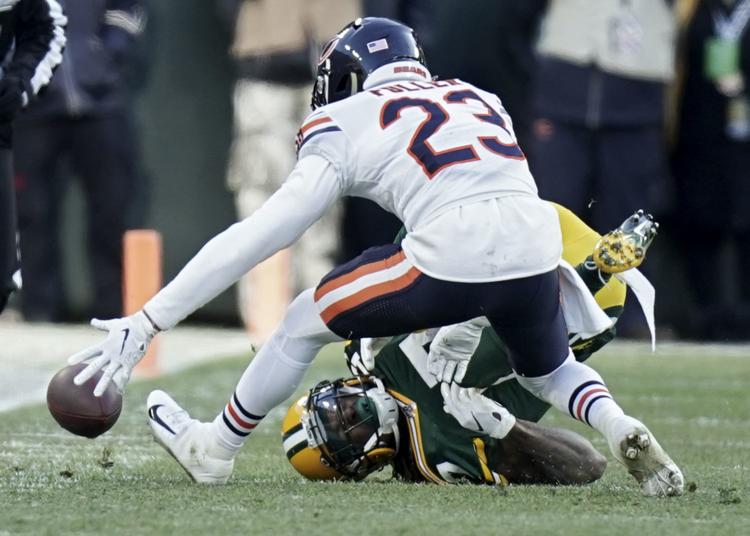 Packers 21, Bears 13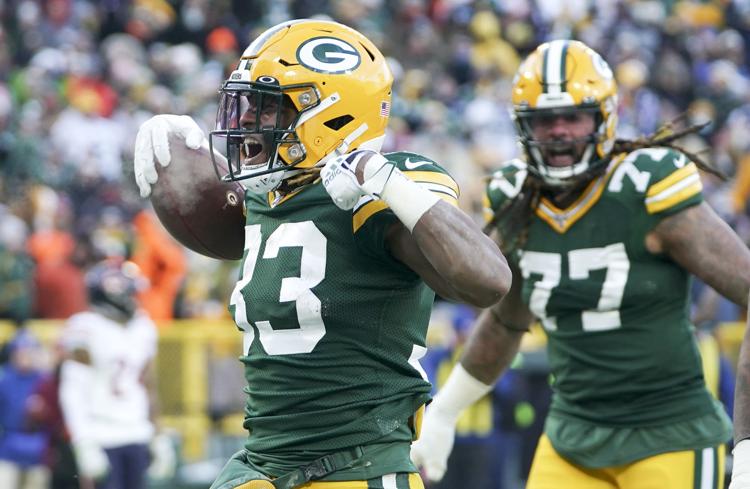 Packers 21, Bears 13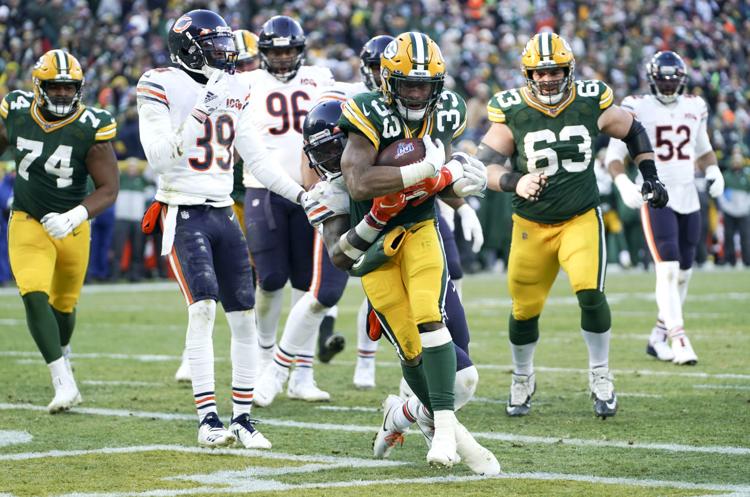 Packers 21, Bears 13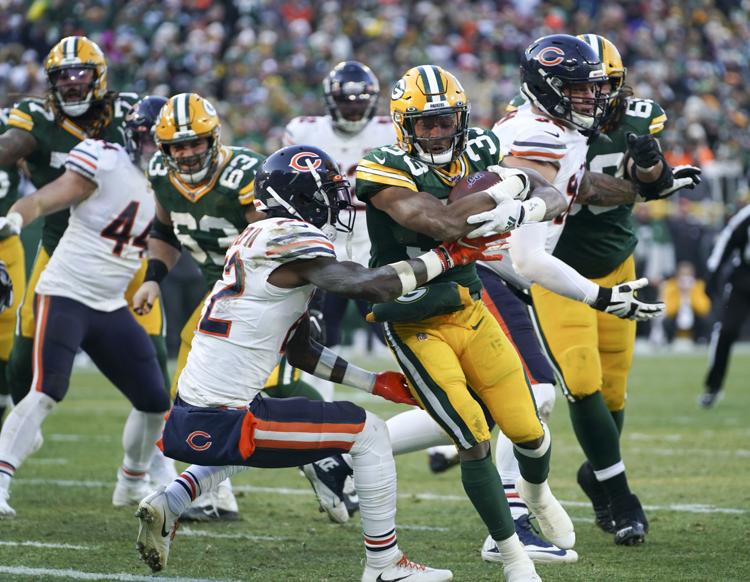 Packers 21, Bears 13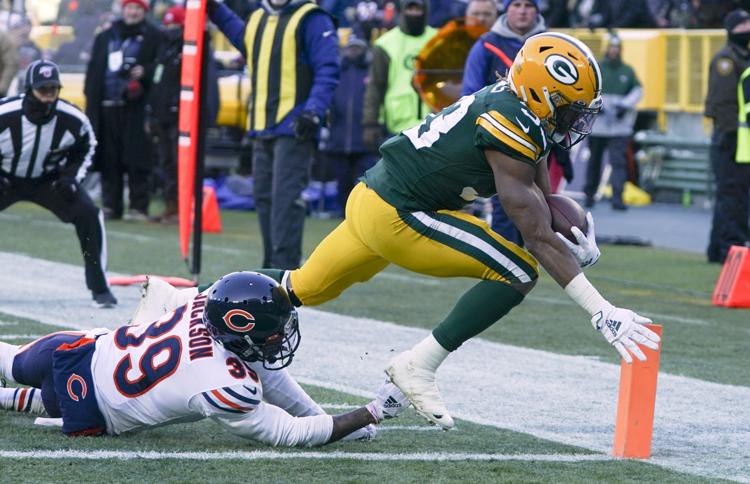 Packers 21, Bears 13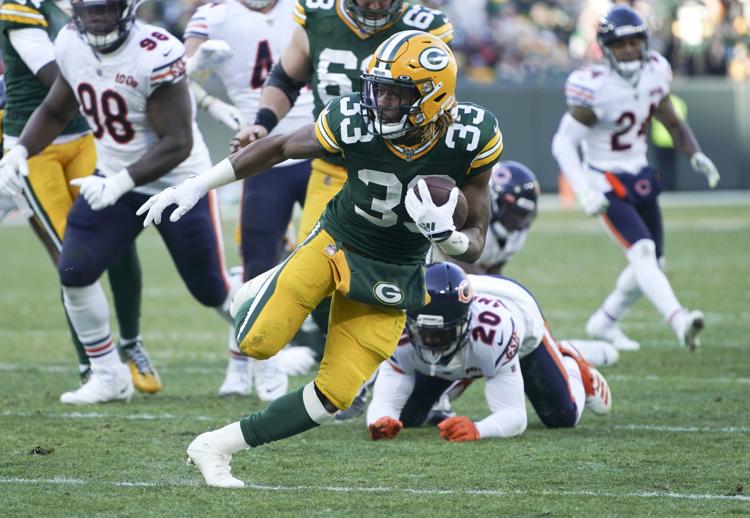 Packers 21, Bears 13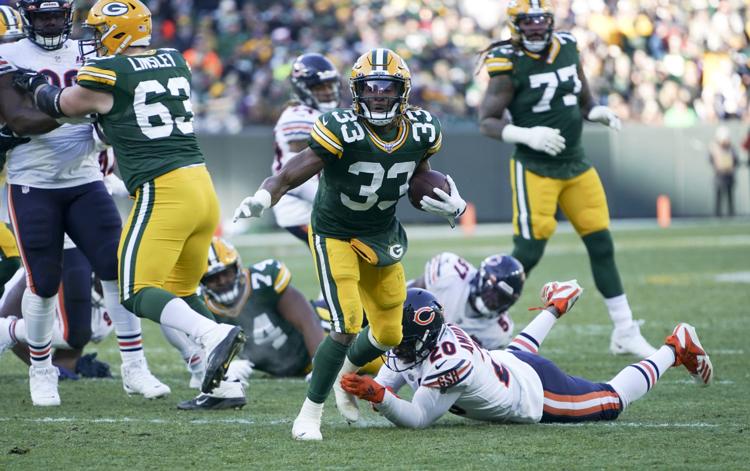 Packers 21, Bears 13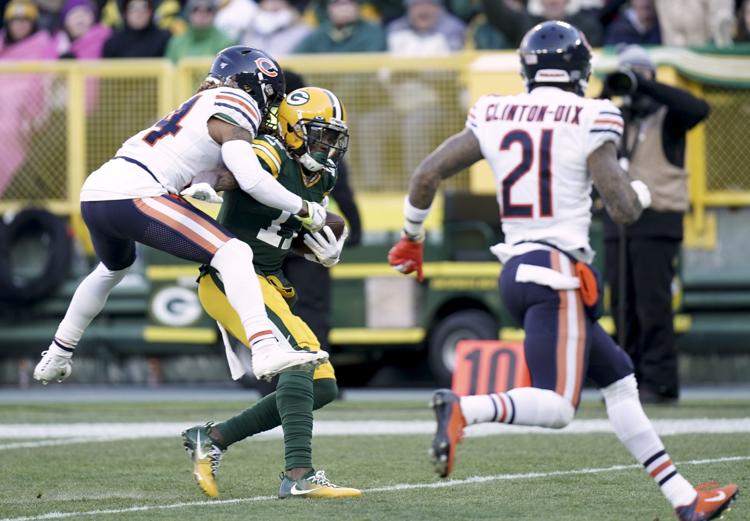 Packers 21, Bears 13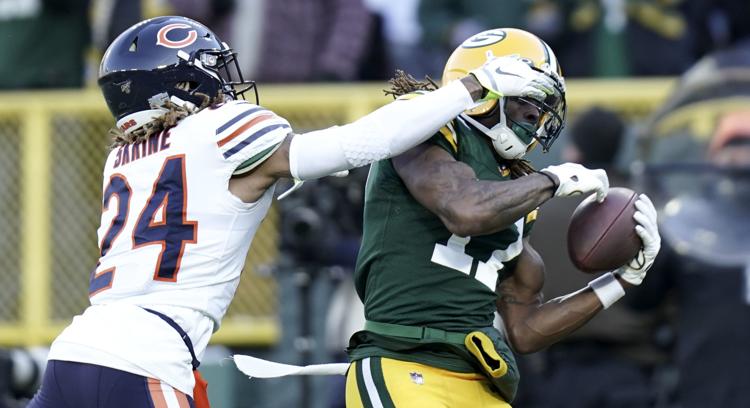 Be the first to know
Get local news delivered to your inbox!