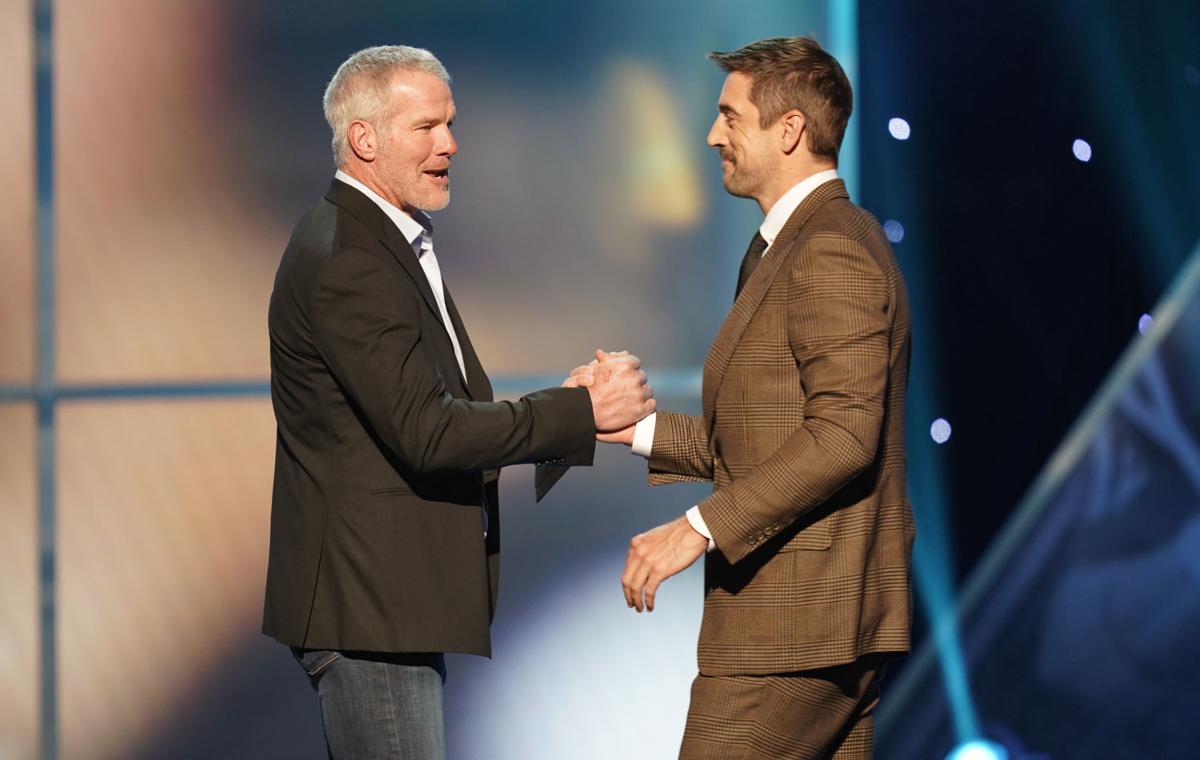 Brett Favre was back in his quasi-adopted home state Saturday, once again feeling the love that he seemed so unlikely to regain not all that long ago.
Playing in the annual celebrity foursome at the American Family Insurance Championship for the fourth consecutive year, the iconic former Green Bay Packers quarterback enjoyed every minute of the nine-hole celebrity exhibition at University Ridge, which this year also included golf legend Jack Nicklaus, country music star Toby Keith and Madison's own two-time U.S. Open champion Andy North, who is an annual staple like Favre.
Before teeing off, though, Favre had to clarify one thing: He's not plotting an NFL comeback in 2020, as had been reported on Favre's own verified Instagram account at midweek. (He reiterated his claim Saturday that his account had been hacked.)
Golf's greatest player teams up with Brett Favre, Andy North and Toby Keith.
"That's the last thing I want to do, is come back and play," said Favre, who is set to turn 50 in October and who, by unofficial count, retired three times before finally calling it a career for good in 2010. "It was fun — then. I'm not coming back."
While he might not be coming back to the game that made him famous, it's a safe bet Favre will be coming back to Wisconsin for years to come, given the warm receptions he continues to get — be it at the AmFam Championship or the Trek 100 charity bike ride in Waterloo, which he did again earlier this month.
Because, for a guy who a decade ago had become most Packers fans' Public Enemy No. 1 for joining the archrival Minnesota Vikings, Saturday was one more reinforcement — years after having his No. 4 retired and being inducted into the Packers Hall of Fame in 2015, and being enshrined in Canton in 2016 — that Favre is again beloved in the place where he spent 16 seasons of his 20-year Pro Football Hall of Fame career.
"I really don't think about it anymore, but there was a time that I questioned whether or not I should set foot on Wisconsin soil again," Favre confessed in an ESPN Wisconsin interview a few days before Saturday's exhibition. "Maybe that's a stretch, but you understand what I'm saying.
NASHVILLE, Tenn. — Tex Schramm often called Gil Brandt into his office to look at the fabric swatches draped all over his furniture, wanting a…
"Now, we can all point to times in our life, whether it be with siblings, a family member in general, a friend, that has either been hurtful toward us or vice versa — something that requires some type of healing over time, or even forgiveness. And generally, it happens. It may take time, but it happens. And this is no different. So when the time started drawing near that I knew my name would at least come up for the Hall of Fame, I wasn't eagerly waiting like, 'I hope I get in, I hope I get in.' It was more (about), what to expect, either good or bad. ... There was worry more than anything on my part.
"But as I look back, I think, 'What were you worried for?'"
So, it was a good thing that Favre threw that crucial late interception in the 2009 NFC Championship Game in New Orleans, keeping the Vikings from going to Super Bowl XLIV?
"Ah ...," Favre replied, pausing and laughing. "It didn't happen, so you know what? We don't have to worry about it. I tried my best, put it that way."
No longer 'strong enemies'
Perhaps Favre's reconciliation with Packers fans and the state of Wisconsin shouldn't be surprising given how loved he was during his playing career in Green Bay.
The Packers open the preseason schedule against Houston on Aug. 8 at Lambeau Field. The teams will have two joint practices at Ray Nitschke Field on Aug. 5 and 6.
What might qualify as surprising is the friendship he and his successor, Aaron Rodgers, have built in recent years. The pair recently attended a private funeral service in Alabama for the man who set the quarterbacking standard with the Packers — Hall of Famer Bart Starr, who died last month at age 85 — and the two speak on a regular basis nowadays.
Considering how Favre wasn't exactly thrilled when Rodgers arrived as a first-round pick in 2005 — both men have admitted in the past that it wasn't until their third season together, in 2007, that they started to truly get along well — and the way Rodgers absorbed much of the brunt of Packers fans' frustration during the messy divorce between Favre and the team during the summer of 2008, even Favre admits it's remarkable how far their relationship has come.
"We were, I would say, 'strong enemies.' I wanted to play my tail off, and so did he, especially when we played against each other," Favre said. "I thought we got along really well when he was a young, 21-, 22-, 23-year-old, and then we went about our way. Obviously, he has paved his own way and then some. He stands alone in the league today as the best player, in my opinion. And I'm OK with that. Honestly, I know people want to (ask), 'Who's the best player in Packers history?' People want to pick sides. I'm not picking sides. I could care less what people say, either way. I think Aaron is a great quarterback presently, one of the all-time greats in the league itself and will be remembered as that. And I'm really proud of him.
"Our relationship now is very good, and I'm more happy about that than anything else. I've been able to see a different side of him, a non-playing side. I think he's at a much better place in his life right now, which is great for him, and I think great for the Packers."
'Not here to mentor anybody'
Favre made headlines during Rodgers' rookie year for infamously saying that it wasn't his job to mentor his heir apparent after then-general manager Ted Thompson took Rodgers with the 24th overall pick in the 2005 NFL Draft, and while the two may be buddy-buddy now, Favre said he still believes what he said back then.
"There are a lot of things I've said and done in my life that I don't stand by. But saying 'I'm not here to mentor anybody, especially a quarterback,' I stand by that. And I think Aaron gets that as well," Favre said. "Look, you want to play as long as you want to play. And when Aaron was drafted, and obviously a first-round pick, which had never happened in my time there, you know to a certain extent the writing's on the wall. At some point, he is going to get his opportunity, which means you're getting phased out.
The Green Bay Packers announced Sunday that Bart Starr, the quarterback and catalyst of Vince Lombardi's powerhouse teams of the 1960s whose s…
"I wasn't upset with Aaron at all. My initial thoughts were, 'It's about time. I knew this time would come.' But I still felt like I could play, and I knew ultimately that I judged whether or not I would play longer or not by the way I played. So I controlled my destiny. Not Aaron. Not anyone else. If I felt like I still could play, I was going to work as hard as I possibly could, I was going to do the things that I'd always done and let the chips fall where they may. So, there was never any animosity toward Aaron.
"I can point to so many times where Aaron said, 'Hey, what are you doing?' like after our team film study after practice. I said, 'I'm going to watch a little film.' (He asked) 'Do you mind if I tag along?' (I responded) 'No.' We would sit in meeting rooms and watch film and he would ask questions, and I enjoyed that. Because I feel like some of things have carried over into how he plays today, how he looks at things. Obviously, his game is in some ways a lot different than mine, and it's very good. And I enjoy watching him play.
"But it isn't your job to mentor. That's a coach's job. It's the young guy's job to get what he can from the guy in front of him. Some people understood that comment. Other people (said) 'How dare you do that!' It is a competitive job and sport, and I think sometimes people lose sight of it."
Parallel paths
Now, 14 years after Thompson had the gumption to draft Rodgers as the best player available on his draft board despite having Favre on his roster — thereby setting the Packers up for three decades of virtually uninterrupted Hall of Fame quarterback play — Favre said Rodgers has a better understanding of what life was like for Favre during those early days of their relationship.
In fact, a recent conversation between the two focused on just how difficult it can be to see longtime teammates depart, leaving you as the only one left from some of your era's most iconic teams.
In Rodgers' case, following the offseason free-agent departure of outside linebacker Clay Matthews, only three other players — kicker Mason Crosby, right tackle Bryan Bulaga and cornerback Tramon Williams, who left and came back last season — are on the roster from the 2010 team that won Super Bowl XLV. He's also watched the team move on from two of his closest friends — wide receiver Jordy Nelson and Randall Cobb — the past two offseasons.
"Aaron and I have really spoke a lot in the last year and a half. By no means would I consider myself a mentor now, but it's funny. He and I were talking not that long ago, and he made the comment — sort of joking but so true, he goes, 'I'm kind of now at that spot or time in my career where you exactly were when I came in. And I see and understand why you were what you were,'" Favre recounted. "I don't know exactly from a definition point what that exactly means, but (maybe that means) somewhat reclusive, I guess, in regards to when you leave the building, and also when you're in it.
"I watched film with the guys. I was eager to help, because I wanted to win, but really you kind of look around and you go, 'Where did everyone go? I'm the last man standing that was here when I got here.' ... What is different when you get to the age that I got to, that Aaron (is at), when you're the elder statesman, you're not really into what the young guys are into. You're over by your locker. You could care less where they're going that night or who they're going with, or what they've got planned.
"You look at it differently when you get to the age that Aaron's at now. Now he gets it. You look around at the team snack, and you go, 'You know what, I'm the last guy left.' That's the reality."
For Rodgers, the reality is he's also going through a transition to a new head coach in Matt LaFleur, something Favre experienced multiple times in the later stages of his Packers career after Mike Holmgren departed following the 1998 season.
After Holmgren bolted for Seattle, Favre played for Ray Rhodes (1999), Mike Sherman (2000-05) and Mike McCarthy (2006-07) in Green Bay before playing for three more coaches — one with the New York Jets in 2008 (Eric Mangini) and two more with the Vikings in 2009 and 2010 (Brad Childress and Leslie Frazier).
But while Rodgers handles those changes, he also fully admits he has a better grasp of the interpersonal challenges Favre experienced as young, awestruck players arrived in the Packers locker room with very little in common with the old guy.
"That's actually what I told Favrey when I was talking to him (last) offseason. I understand a little bit more of what it was like for him to be 36, 37 in the locker room and feel closer to the trainers and some of the equipment guys because all the guys you kind of grew up playing with are gone," said Rodgers, who turns 36 in December. "But I think you have to dedicate yourself to getting to know your teammates and spending time with them and being intentional about getting to know them and what they're all about and how important team chemistry is.
"We've got a good young group of guys, but that is a different part of it. But that's not going to change as long as I'm still here. It's like the movie 'Dazed and Confused:' 'I get older and they stay the same age.'"
Be the first to know
Get local news delivered to your inbox!