GREEN BAY — Greg Gard's trip to Green Bay Packers training camp included an unexpected bonus Thursday. He got to see a guy he once recruited.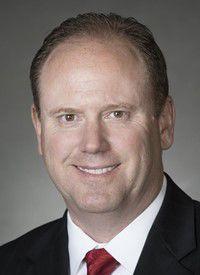 The University of Wisconsin men's basketball coach was an assistant on Bo Ryan's staff in 2003 and '04 when he scouted an athletic forward in Wilson, North Carolina. That player? Packers tight end Jimmy Graham.
Graham chose Miami (Fla.) instead, and the two crossed paths again when the Hurricanes and Badgers were in the Paradise Jam tournament in the Virgin Islands in November 2008, although the schools didn't face each other.
"So I go way back to when he was at Charis Prep," Gard said after practice. "He didn't play football (in high school) — they didn't even have football — and then we were in the same tournament when he was playing at Miami. I got a chance to talk to him. He came right over to me today and remembered. I said, 'Obviously you made the best career choice, to go to football.' "
Gard not only visited with McCarthy but also chatted with quarterback (and diehard UW hoops fan) Aaron Rodgers, first-year general manager Brian Gutekunst and former GM Ted Thompson during practice.
Both the Packers, who finished 7-9 and missed the playoffs for the first time since 2008, and the Badgers, who went 15-18 and missed the NCAA tournament for the first time since 1998, are coming off rough seasons.
"Obviously anytime you can get around successful people and successful organizations, I just like being a fly on the wall," said Gard, who watched the entire practice with son Isaac despite intermittent rain. "Mike's been awesome, getting to know him over the past year. He came down and talked to our team during the season, and there's a lot of similarities in terms of what coaches go through, what organizations go through, how you deal with adversity, how you deal with success."
"Obviously I've gotten to know Aaron, I recruited Jimmy Graham out of high school, so just personal experiences like that (are great). But obviously for me it's more professional development. Mike's been great to give me access and be a resource. You try to learn from other people's experiences."
You have free articles remaining.
Register for more free articles
Stay logged in to skip the surveys
Gard particularly enjoyed seeing Rodgers, who became a UW supporter through his friendship with former PGA golfer Andy North. He said Isaac and Rodgers have watched NCAA tournament games together when the quarterback has followed the Badgers in March.
"He's obviously a guy who's had the ultimate amount of success but is also very down to earth and very humble and understands the process," Gard said. "He understands what college players go through, he comes around our games a lot and talks to our guys. Anytime you can learn from other people's experiences, that's always a benefit. I always try to expose our players to those type of experiences and meet those type of people. To be able to have that personal interaction with somebody and allow them to share their experiences with our players, I think, is a huge benefit."
No-look pass
Rodgers not only follows the Badgers closely, he's also a part owner in the Milwaukee Bucks and was a pretty good basketball player growing up. So maybe his affinity for the sport explains the no-look touchdown pass he threw in practice Thursday as if he were Magic Johnson running the fast break with James Worthy and the 1980s Los Angeles Lakers.
Needing a touchdown and facing fourth down with 8 seconds left in an 11-on-11, 2-minute drill, Rodgers got the Packers' No. 1 defense to jump offside – as he's done to countless opponents over the years. With a free play, Rodgers rolled to his left and was looking toward that side of the field when he uncorked a 26-yard touchdown pass to wide receiver Geronimo Allison, who was near the right pylon of the end zone.
"Even Aaron, you don't expect him to make that type of throw," Allison said. "(But) you have to stay alive with '12' because he's going to do things like that. And even in those short, intermediate routes, sometimes he's looking back inside and throwing the ball outside. He has that element to him, so you've got to be prepared for it."
Allison went up over first-round pick Jaire Alexander to make the catch, and Alexander admitted afterward he didn't see the throw coming with Rodgers rolling the opposite direction and not looking Allison's way.
"I wasn't expecting it — at all. I'm glad it actually happened. Definitely a teaching tool," said Alexander, who intercepted a Rodgers pass earlier in the week. Then, with a laugh, Alexander added, "That was his first one on me, so I know I'm going to hear about that one later."
Extra points
Defensive end Mike Daniels returned to practice after missing time with a quadriceps injury sustained on Monday. Running back Aaron Jones (hamstring) was among the players who remained sidelined. … Kicker Mason Crosby, who was 14-for-16 on kicks coming into practice, went 5-for-8 Thursday. His misses came from 39, 47 and 49 yards. Still, he feels good about the kicking operation with a rookie holder and snapper. "Honestly, I think we're taking steps in the right direction," Crosby said. … Punter JK Scott continued his impressive camp by averaging 53 yards and 4.6 seconds of hang time on eight punts during practice. His best was a 59-yarder with 4.94 seconds of hang time, and he also had a 61-yarder that had 4.67 seconds of hang time.