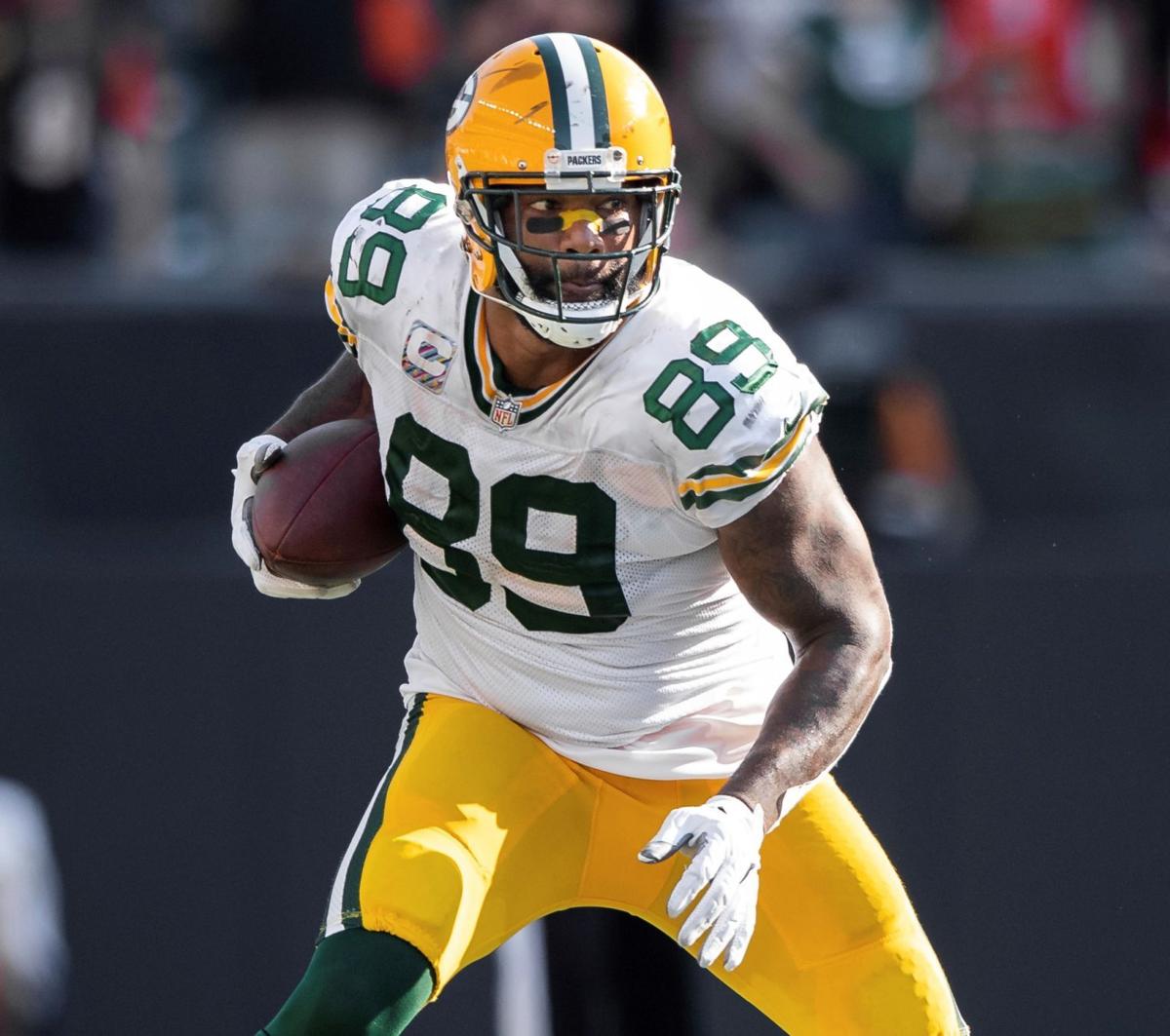 GREEN BAY — The video clip arrived in Marcedes Lewis' inbox, wholly unexpectedly, on Wednesday afternoon. The NFL's social media team had sent it to him, part of a service they apparently have for players who want to post highlights of themselves on Twitter or Instagram.
Given how rarely the Green Bay Packers veteran tight end gets to catch passes, it's no wonder Lewis had no idea the program even existed before this week.
"They have like a portal where, I guess, for certain guys, they just collect the (videos)," Lewis explained with a chuckle Thursday afternoon. "And then they shoot it out to us if we want to post it."
Most of Lewis' job in the Packers offense — imposing his will on would-be tacklers as a run blocker, taking out edge rushers as a pass protector — would bore social media scrollers too much to be worth aggregating.
But during the Packers' 25-22 overtime win over the Cincinnati Bengals last Sunday, Lewis had not one but two legit highlights: a 14-yard catch on a drag route in the second quarter to set up the Packers' first touchdown of the day; and a 20-yard tight end screen pass on the final drive of overtime, a bruising catch-and-run that helped set up kicker Mason Crosby's winning 51-yard field goal.
The NFL sent Lewis the first catch, with the full cinematic treatment — wide screen, hazy filter, ambient crowd noise. All that was missing was dramatic orchestral music playing underneath.
And Lewis, known affectionately as "Big Dog" among his coaches and teammates, probably should reach back out to the NFL's social media people about film of the second one — and make sure they send a camera angle that shows how the Packers' sideline exploded in excitement after Lewis had chipped Bengals defensive end Sam Hubbard at the line of scrimmage in pass protection, eluded linebacker Logan Wilson after catching quarterback Aaron Rodgers' pass, steamrolled linebacker Akeem Davis-Gaither and lowered his shoulder into safety Vonn Bell before finally coming to a stop in the Packers' bench area.
"I was going crazy in the (coaches') box. You watch the sideline, and it erupted," said Packers offensive coordinator Nathaniel Hackett, who coached Lewis in Jacksonville. "It's just unbelievable. I think that's how the team looks at him because of who he is, because of how much we respect him, because he doesn't say anything, he doesn't get upset if he doesn't get the ball. But when he does get the ball, he makes the best of it.
"I think it's just so great for the whole team to see that and it's so great to see them get fired up. Heck, we've got to get him the ball more, too."
Added tight ends coach Justin Outten: "The juice that he brought with that catch … anytime he gets the ball in his hands, you threw 'The Dog' a bone. You allow him to do his dirty work in the trenches and be consistent with it. But seeing him in open space like that, it's fun to watch, especially (when) he turned it into a physical run. That's his style of play, which is cool to see."
"Every time we go to 'Cedes in the pass game, even though we don't do it a ton, he seems to deliver," coach Matt LaFleur said. "That (overtime catch) was a pretty big moment in the game, taking that screen pass 20 yards and his ability to be elusive. I always call him, 'Sweet Feet' when he gets going like that."
Entering Sunday's game against the Chicago Bears at Soldier Field, the 37-year-old Lewis has just four receptions for 60 yards. Now in his fourth season in Green Bay, he's caught a not-so-grand total of 37 passes for 404 yards and four touchdowns in 56 games (including playoffs) with the Packers, a reception total he surpassed in five of his first seven individual seasons with the Jaguars, who picked him in the first round of the 2006 NFL draft out of UCLA.
"I mean, 'Cedes probably has the best film on the team since he's been here, as far as grading out," said wide receiver Davante Adams, who has become close friends with Lewis — and who has caught more passes in the first five games (42) than Lewis has in a Packers uniform. "Obviously he's not playing 70 plays (per game), but when he's in there, he's controlling grown men (as a blocker). And then when his name is called in the pass game, whether it's a screen or a keeper or whatever it is, he's making it count, man.
"That's really all I can say about 'Big Dog.' He's one of the most reliable people I've ever been around, and I think the fact that he doesn't get a ton of targets makes us go even crazier when he does get it. He's kind of the epitome of, 'Don't count your reps, make your reps count.' So we lean on him."
And learn from him. In addition to his on-field contributions, Lewis is one of the team's elder statesmen, having been voted an offensive captain by his teammates and serving as an invaluable support system to Rodgers and Adams, the team's two biggest stars.
For his part, those contributions are just as meaningful as his devastating blocks and rare-but-important receptions.
"There's a personal pride for me just because when I was born in the inner city, my mom had me at 15 years old. We didn't have nothing," Lewis said. "All the positive energy that I share with my teammates and my coaches and people around this building is an enhancement of my life. I look at it like just taking advantage of my opportunities and not wasting a gift.
"For me, it's just a blessing to be on a team where my skill-set is still respected, and I don't take that for granted."
Not only do the Packers not take him for granted, they'd like to keep him for as long as he'd like to keep playing. Lewis, who returned on a two-year, $5.92 million deal this offseason, is in his 16th NFL season, and Outten may have only been half-kidding when he gave his preferred timeline for Lewis' remaining years.
"We love having him and we're blessed to have him," Outten said. "Until he's 45 years old and he wants to shut it down, we're going to keep working and trying to get him back."
While Lewis isn't planning on playing eight more years, he does believe he has plenty more football left in him, based on how he feels right now. The Packers coaching staff takes care of him, giving him Thursdays off from practice for veteran rest, and his goal is to play at least two more years to push past Pro Football Hall of Fame tight end Tony Gonzalez, who played 17 years for Kansas City and Atlanta.
"I think realistically at this level that I'm playing, I have at least three (years)," Lewis said. "When I feel like I can't play at this level, I don't think I can be a guy just chilling with a jersey on. That's not me. I respect 'J.O.' so much, and I appreciate him saying that. I take that as a compliment.
"It's just special being here. The fact that I'm able to go do my thing on the field and come back and get in the meeting room where there's just positive vibration flowing all through that room, it makes it worth it."
Extra points
Both left guard-turned-left tackle Elgton Jenkins (ankle/limited participation) and center Josh Myers (finger/full participation) took part in practice for the second straight day, an encouraging sign that the Packers could have their five preferred starters on the offensive line together for the first time since their Week 2 win over Detroit on Sept. 20. … Cornerback Kevin King (shoulder) sat out his second straight practice, making it unlikely he'll be cleared for Sunday's game. … In Chicago, the running back ranks are thin. Already without leading rusher David Montgomery, who is on short-term injured reserve with a knee injury, and No. 2 back Tarik Cohen, who remains on the physically unable to perform list, the Bears lost veteran Damien Williams when he was placed on the COVID-19 list on Thursday. Williams and rookie Khalil Herbert job-shared at running back last week in Las Vegas, with Williams rushing 16 times for 64 yards. Herbert is expected to start now with Williams out. … Bears defensive tackle Akiem Hicks (groin), linebacker Khalil Mack (foot) and wide receiver Allen Robinson (ankle) missed their second consecutive days of practice, casting their availability for Sunday into doubt.