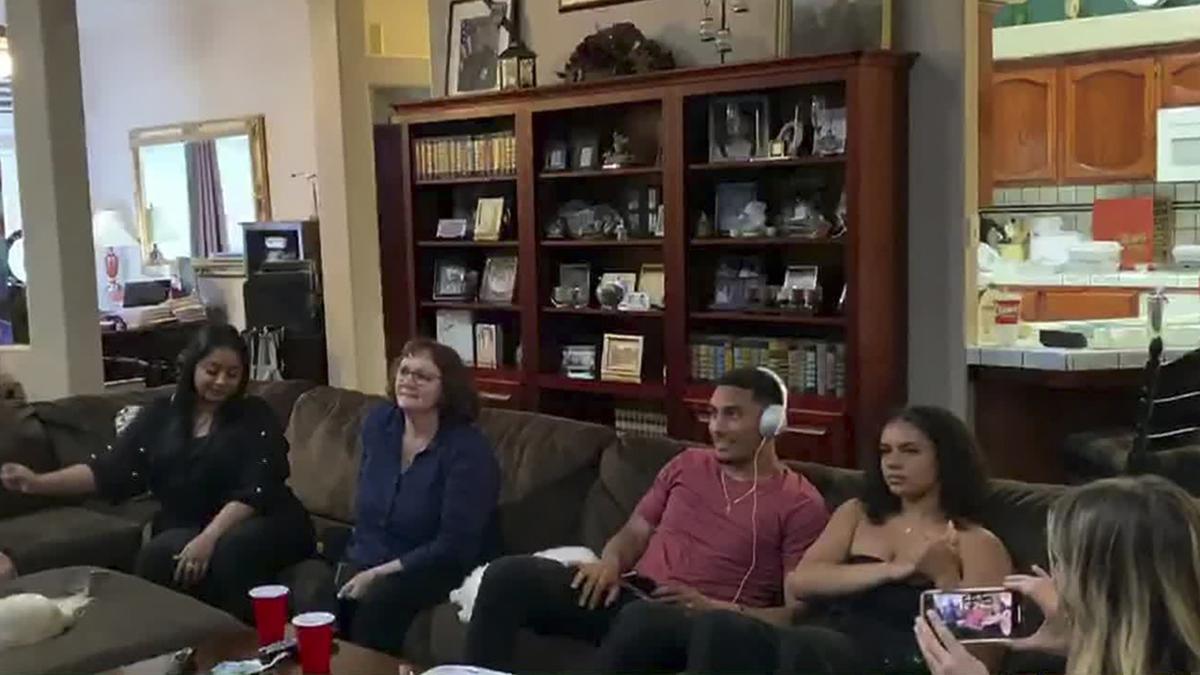 GREEN BAY — Aaron Rodgers spent part of his Thursday evening with his old teammate A.J. Hawk and ex-NFL punter Pat McAfee, taking part in a live YouTube broadcast. At one point, the conversation turned to all the alluring wide receivers prospects this year and whether the Green Bay Packers two-time NFL MVP quarterback might be getting a new pass-catching target in the first round of the NFL Draft.
"Well," Rodgers said, "we haven't picked a (offensive) skill player in the first round in 15 years. So that would be kind of cool."
His heir apparent surely wasn't what he had in mind.
Not only did Packers general manager Brian Gutekunst boldly select Utah State quarterback Jordan Love in the first round late Thursday night, he traded up four spots from No. 30 to No. 26 to do so. He sent a fourth-round pick to the Miami Dolphins (No. 136 overall) to make the move, which will almost surely define his tenure as GM, just as Ron Wolf's 1992 trade for Brett Favre and Ted Thompson's decision to draft Rodgers in 2005 defined theirs.
"Playing quarterback in the National Football League is probably the hardest position in all of sports," Gutekunst said in a conference call with reporters shortly before midnight. "I think whenever you have the ability to take a player – whether it's in the first round, second round, third round – that you think has a chance to play, you have to consider it. It really wasn't about this year (being the right time). This was not something we set out to do. It just happened that someone we liked fell to us, and we thought it was the best decision."
Asked if he had spoken with Rodgers yet, Gutekunst replied, "I haven't connected with Aaron yet, but he's obviously been through this and he's a pro. Certainly this is something that is a long-term decision. I think when you go through the way things went tonight, you run the short term and the long term. The way the board fell, this was the best decision for the Packers. I think obviously Aaron's been around for a long time and he knows what we're playing for right now and that's what's most important right now.
Gutekunst also tried his best to downplay the idea of Love being Rodgers' successor, saying, "I think that's probably not a fair (statement). I don't think you can put that on him right now. Right now, I think he just needs to come in and learn and try to become the best quarterback he can be. We did draft him in the first round, so we like a lot about him. We think he has a very good upside to become a starter in the National Football League.
"But we've got the best quarterback in the National Football League and we plan to have him for a while competing for championships. I can understand the fan base and people thinking, 'Why would you do this at this time?' But I just think the value of our board and the way it sat, it was the best for the Green Bay Packers and we're really excited to get Jordan here and get him in the door and learning our system."
The pick came fifteen years to the day after Thompson took a free-falling Rodgers with the 24th overall pick in that 2005 NFL Draft, a pick Gutekunst said took "courage" on Thompson's part when he spoke of the decision earlier this offseason.
Love's selection also makes it reasonable to wonder if Rodgers, who turns 37 in December, will finish his career with the Packers or wind up elsewhere as Favre, New England Patriots-turned-Tampa Bay Buccaneers quarterback Tom Brady and other great QBs have. Unlike Favre, who mused about retirement for several years before the Rodgers selection, Rodgers has repeatedly said he intends to play into his 40s.
Including the 2020 season, Rodgers is under contract for four more years after signing a four-year, $134 million extension in August 2018 with two years remaining on his existing deal. The salary-cap hit of moving on from him before the end of the 2021 season would be devastating, so barring injury, the Packers would seem to be planning on at least a two-year apprenticeship for the talented-but-raw Love.
But if the Packers did decide to sever ties with Rodgers after having Love as his understudy for the 2020 and 2021 seasons, the Packers would actually gain salary cap space in 2022, as Rodgers would count $17 million in dead cap money but his $25 million salary would be wiped off the books.
In a pre-NFL scouting combine Q&A session with beat writers in late February, he made it clear he would not shy away from taking a quarterback he — ahem — loved.
"Aaron didn't play for three years and for three years people were probably saying, 'Well, that was a total waste,'" Gutekunst said at the time. "I just don't think developing a young quarterback is (ever) a waste. You just don't know when the time is going to be when you're going to need him. ... I know this — if you make it a priority to develop quarterbacks I think it's going to be a positive for your organization."
That last offensive skill player Rodgers was referencing in his conversation with Hawk and McAfee, of course, was Rodgers himself in that 2005 NFL Draft. He wound up sitting the bench for three years behind Favre, then took over as the starter in 2008 when Favre retired, unretired and was ultimately traded to the New York Jets by then-GM Ted Thompson, who'd selected Rodgers with his very first draft pick as GM.
Speaking in an interview on ESPN Wisconsin's "Wilde & Tausch" earlier this offseason, Rodgers insisted that he wouldn't be bothered by the team picking a quarterback early.
"Look, I'm realistic; I know where we're at as an organization and where I'm at in my career," Rodgers said at the time. "I still feel like I have a ton of years left playing at a high level. I'm confident enough. I've always felt like it doesn't matter who you bring in, they're not going to be able to beat me out any time soon. I feel really confident about my abilities and my play.
"We've drafted guys over the years. My first year starting we drafted two quarterbacks in 2008. We've drafted various guys over the years. I understand the business and the nature of it. I'd obviously love to bring guys in that are going to be able to play and compete right away. I understand it's a business. I wouldn't have a problem."
With needs at wide receiver, tight end, inside linebacker and on the offensive and defensive lines, Gutekunst chose to invest in the quarterback position instead of filling the existing holes on his roster. After going 13-3 under first-year head coach Matt LaFleur and reaching the NFC Championship Game last year but making only a handful of inexpensive additions in veteran free agency, he now will have to try to fill those gaps in the roster with his second- and third-round picks.
As a first-year starter in 2018, the 6-foot-3, 224-pound Love completed 64% of his passes and threw 32 touchdown passes against six interceptions. Last year, after a coaching change, the departure of nine offensive starters, injuries on the offensive line and inconsistency at the receiver position, Love's completion percentage (61.9) and touchdown pass total (20) went down while his interceptions (17) went up.
The Packers' interest in Love was well-known after they conducted a virtual interview with him earlier this month, which meant they almost certainly would have brought him to Green Bay for one of their 30 pre-draft visits had the COVID-19 pandemic not forced those visits to be canceled league-wide. A year ago, Gutekunst used one of his visits on Missouri quarterback Drew Lock, who wound up going in the second round (No. 42 overall) to the Denver Broncos — two picks before the Packers might have taken him.
Now, Gutekunst has pulled the trigger on a move that will likely make or break his time as GM, and may mark the beginning of the end of Rodgers' time in Green Bay – despite needs he could have filled elsewhere with players who likely would have had a better chance to help the team in 2020.
"I'm not a big believer that you're ever one player away. I don't believe in that," Gutekunst said. "It was just really how the board fell. Obviously if there was a game-changer type player at another position, we would have seriously considered that. We didn't feel that there was, so we picked Jordan and were really happy to do it. But I think you can make mistakes thinking you're one player away from anything."
Be the first to know
Get local news delivered to your inbox!