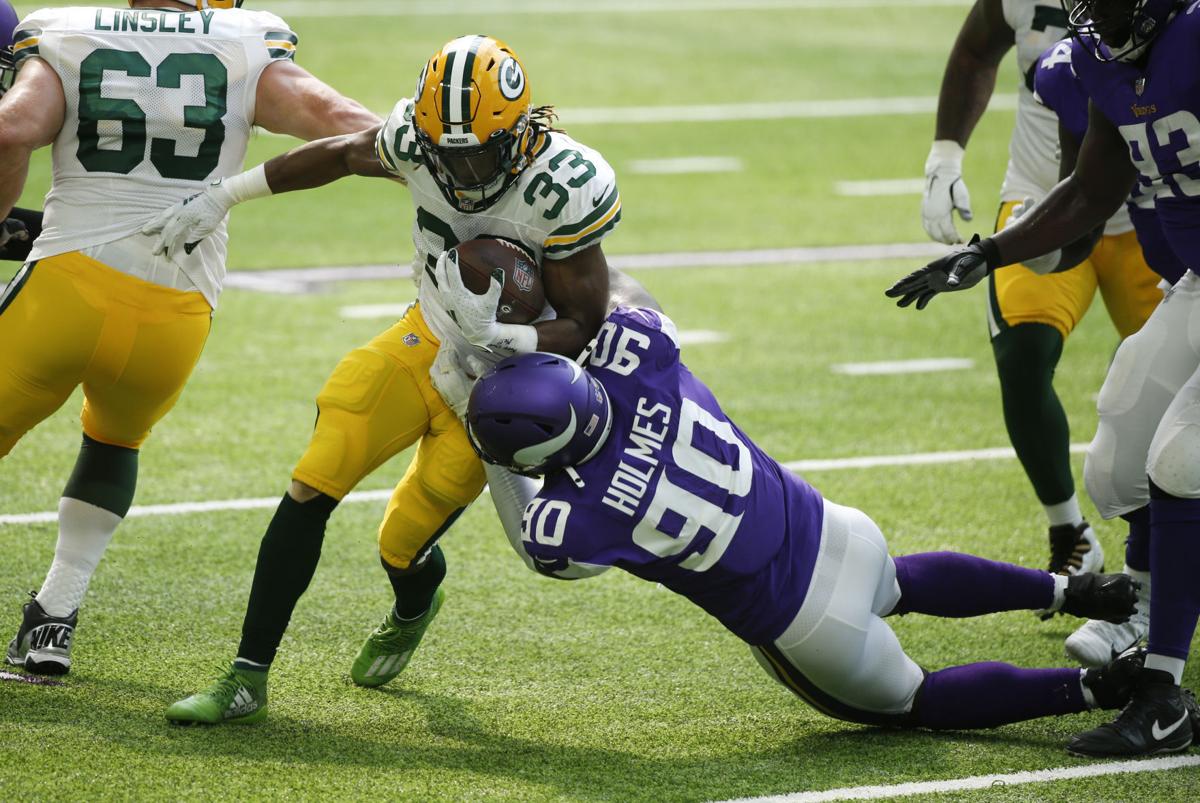 GREEN BAY — Before the NFL's opening weekend kicked off, two of Aaron Jones' 2017 NFL draft classmates cashed in.
The New Orleans Saints gave running back Alvin Kamara a five-year, $75 million deal that included a $15 million signing bonus and $34.3 million in guaranteed money. The Minnesota Vikings gave running back Dalvin Cook a five-year, $63 million extension that included a $15.5 million signing bonus and $28.2 million in guaranteed money.
The Green Bay Packers gave Jones 20 touches — on which he gained 76 yards and scored a touchdown — in the team's 43-34 victory over the Vikings on Sunday.
Jones insisted Friday that he felt nothing but good vibes for Kamara and Cook, whose deals came on the heels of the Cincinnati Bengals extending running back Joe Mixon (four years, $48 million, $10 million signing bonus, $19.3 million guaranteed) and were well below the deals of Carolina's Christian McCaffrey (four years, $64 million) and Dallas' Ezekiel Elliott (six years, $90 million).
"Just congratulations to those guys. They're just helping out all the running backs on the market," Jones said. "So, big kudos and congrats to those guys. It's very well deserved to them."
Not even the Packers' front-office staffers would dispute that an extension for Jones would be well-deserved, too. He's coming off a breakthrough season in which he rushed for 1,084 yards on 236 carries (4.6 yards per carry), caught 49 passes for 474 yards, scored 19 touchdowns — tied for the most in the league — and then added 149 total yards from scrimmage and three touchdowns in postseason play.
And while his numbers against the Vikings might not have excited fantasy football players, he had an enormous impact on the Packers' success. According to Pro Football Focus, while quarterback Aaron Rodgers and wide receiver Davante Adams were slinging it around U.S. Bank Stadium, Jones was facing loaded, eight-man boxes hell-bent on stopping the run. In fact, no running back in the NFL faced eight defenders in the box more frequently last week than Jones.
That not only freed up the passing game to be more productive against the Vikings' inexperienced cornerbacks, but it showed how Jones' game has evolved as he still was able to be productive and impact the game without an inordinate amount of touches.
"I think it just kind of depends upon how the game's flowing and what we're trying to get done," Packers coach Matt LaFleur said of Jones' carries. "I thought we were running it pretty efficiently, so we're going to continue to do that whether it's an eight-man box or a seven-man box."
Assuming Detroit Lions coach Matt Patricia decides to focus his game plan on taking Adams, who tied a franchise single-game record with 14 receptions last week, out of the mix, Jones could see less crowded boxes Sunday and get more involved.
Jones went into this season knowing he'd see more defenses geared toward stopping him, so the Vikings' plan didn't surprise him.
"There's going to be times, certain plays where they're just keying on me and that's just going to help our offense out," Jones said. "If they want to key on me, that's fine. We have all the key parts we need to make things work and that just opens it up for '12.'"
Jones initially signed a four-year, $2.602 million deal. Now, in his final season of that contract, he's earning almost as much as the original deal was scheduled to pay him.
He got a raise to a base salary of $2.147 million in 2020 as part of the NFL's "proven performance escalator," and he received an additional $226,850.49 from the NFL's performance pay pool.
Still, an extension would give him long-term peace of mind, and Jones admitted that while he's blocked out all contract thoughts as best he can, the Kamara and Cook deals did cause his own fiscal situation to cross his mind.
"It doesn't really seep into my mind. I guess you could say when you see other people getting paid, it does a little bit then. But other than that, not really," said Jones, who became a first-time father during the offseason. "I know if I handle business this year on the field, it'll come and I will be able to provide for my family. So I'm just going out and controlling what I can control."
That said, Jones hasn't given up hope of a new deal before free agency next spring and said he is open to signing an in-season extension if the Packers pursue one.
"I'm definitely open to getting something done whenever," Jones said. "But like I said, that's not my main focus. I'm just going to continue to focus on football and helping this team bring in the wins — as many as possible."
Health watch
LaFleur ruled out nose tackle Kenny Clark (groin) for Sunday's game against Detroit.
"I know he's doing everything in his power to be back as quickly as possible," LaFleur said. "But he won't able to play this weekend."
The Packers also ruled out outside linebacker Randy Ramsey (groin) and wide receiver Equanimeous St. Brown (knee). Guard Lane Taylor, who suffered a season-ending knee injury but has not yet been placed on injured reserve, also is obviously out.
Rookie tight end Josiah Deguara (shin/ankle) is listed as questionable, as is safety Raven Greene (quadriceps) and defensive lineman Montravius Adams (toe). Deguara was initially injured against the Vikings and hasn't practiced since working on a limited basis on Wednesday, but LaFleur is holding out hope he can go.
"He banged it up in the game," LaFleur said. "And then he was working through it and might have tweaked it a little bit there in practice."
On the offensive line, Billy Turner, who missed last week's opener with a knee injury, practiced for the third straight day and is still listed as questionable. So is guard Lucas Patrick, who started at left guard against the Vikings but left the game with a shoulder injury.
The Lions will be without No. 1 wide receiver Kenny Golladay (hamstring), cornerback Desmond Trufant (hamstring), starting left guard Joe Dahl (groin) and tight end Hunter Bryant (hamstring), all of whom were ruled out Friday.
Concerned about COVID-19?
Sign up now to get the most recent coronavirus headlines and other important local and national news sent to your email inbox daily.