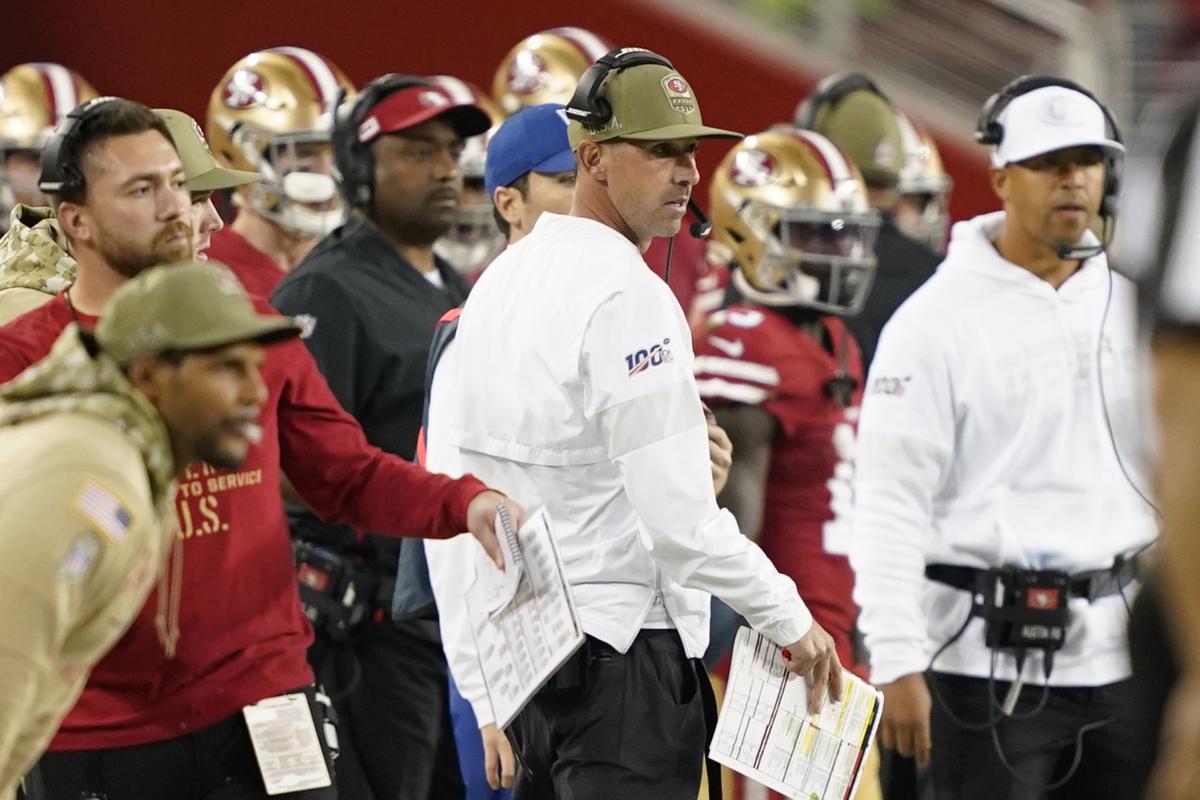 GREEN BAY — To understand the web of brother-like friendships that'll be criss-crossing the Levi's Stadium field on Sunday night — and what Kyle Shanahan means when he says of his buddy Matt LaFleur, "We just mess with each other a lot" — one only needs to hear Shanahan's take on LaFleur's travel plans leading up to the crucial NFC showdown between his San Francisco 49ers and LaFleur's Green Bay Packers.
Shanahan knew all about how poorly the Packers' last West Coast swing had gone when they traveled to Los Angeles an extra day early and delivered their worst performance of the season in an uninspired 26-11 loss to the Chargers on Nov. 3. In the aftermath of that loss, quarterback Aaron Rodgers wondered whether the decision to go west on Friday — rather than the usual Saturday day-before-the-game departure — might have played into the listless showing.
In turn, Shanahan was paying attention earlier in the week when LaFleur opted to make Saturday the team travel day. So while LaFleur's wife, BreAnne, and the couple's two sons spent much of the week in the Bay Area, the first-year coach and his team stayed back until the team charter departed Saturday afternoon.
"I'm really disappointed that you guys changed your schedule. I thought you guys were going to come out here a couple days early, and then we were going to try to sabotage Matt on Friday," Shanahan told Wisconsin reporters during a conference call at midweek.
By "we," Shanahan meant himself and 49ers defensive coordinator Robert Saleh, who are like brothers to LaFleur; LaFleur's real-life brother Mike, the 49ers' offensive passing game coordinator; and 49ers offensive running-game coordinator Mike McDaniel, who's worked with both LaFleurs during his various NFL stops.
"I think that's why he changed it," a clearly amused Shanahan continued. "He was worried about us, not what happened against the Chargers."
For those of you scoring at home, Shanahan is the coach who's had the greatest influence on LaFleur during his NFL coaching career, having worked with him with the Houston Texans (2008 and '09), Washington Redskins (2010-'13) and Atlanta Falcons (2015 and '16).
Saleh worked with LaFleur in 2004 at Central Michigan University, where the two were roommates and became best friends — a relationship that led Saleh, who was already working for the Texans, to recommend LaFleur to Shanahan and Houston coach Gary Kubiak when the offensive quality control coaching job came open.
Mike LaFleur, 7½ years younger than Matt, joined the clique in 2014, when he worked as an offensive coaching intern in Cleveland, where Shanahan was the Browns' offensive coordinator.
And McDaniel worked with Shanahan and one or both of the LaFleurs during his gigs in Washington, Cleveland and Atlanta.
And as if there wasn't enough crossover between the two coaching staffs, Packers defensive coordinator Mike Pettine was the Browns coach in 2014 and hired Shanahan and Mike LaFleur to his staff; Packers offensive coordinator Nathaniel Hackett and Saleh were on the Jacksonville Jaguars' coaching staff together in 2015 and '16; and Packers offensive line coach Adam Stenavich was a player on the Texans' practice squad in 2008 and '09, then worked for Shanahan as the 49ers' assistant offensive line coach the past two years before LaFleur brought him to Green Bay in January.
Meanwhile, Matt LaFleur's wife and kids have been staying with Mike and his family since Wednesday night, with Matt joking he'd told sons Luke and Ty to steal Uncle Mike's backpack upon their arrival, and BreAnne and Shanahan's wife, Mandy, went out to dinner together on Thursday night.
You have free articles remaining.
All of which might make for a slightly overwhelming scene at Levi's Stadium for a rookie head coach if LaFleur hadn't already gone up against Shanahan, Saleh and his brother in 2017 when he was the Los Angeles Rams' offensive coordinator under coach Sean McVay, another member of the crew who worked with the LaFleurs and Shanahan in Washington.
"(All the relationships) just add a little bit more to it. But at the end of the day, you just look at that football team and how good they're doing and we know this is an important game for us," LaFleur said before the team left for San Francisco. "I'm glad I went through this in L.A. (in 2017) when we played San Francisco because it was a little bit different for me. I had worked with a lot of these guys for a long time … but I kind of got that (feeling) out of the way in LA. It will feel different this time around."
Beyond all their personal connections, what will be fascinating will be how all their knowledge of each other's playbooks and coaching philosophies will impact the play-calling chess match on each side of the ball. When Saleh and LaFleur faced off in that 2017 49ers-Rams game, LaFleur wasn't L.A.'s play-caller — McVay was. And this will also be the first time Shanahan and Pettine have matched wits since going their separate ways after their time together with the Browns.
It'll also be fascinating to see how LaFleur's version of the modernized West Coast scheme compares to Shanahan's. While they have similar offensive ideologies, their schemes have diverged with different players to work with and other coaches bringing their own experiences and ideas.
"I feel like we see it so much alike. That's a byproduct of working with somebody for so long and having a lot of conversations about it. I feel like he's taught me how to see the game," LaFleur said. "There's so many things that I learned from him. I think it's just his detailed approach that he takes every day. I think he's a guy that has a great vision for what he wants to get done, how to use players, how to adapt and put people in the right position. A lot of my football philosophy has been shaped by him."
Responded Shanahan: "I think it's definitely different. You can see a foundation of where we both come from and stuff like that, but we've both evolved year-to-year based off what you think is best for your players, where you're at. Some of that stuff ties to how to win the game based off what you're doing defensively, special teams. I think the foundations are similar and a little bit of our philosophies. You definitely don't just turn on the tape and think it looks the same."
While Shanahan said he considered LaFleur "one of my right-hand guys" when they were together in their various stops and that they remain "pretty good friends," they remain ultra-competitive, too. They were while coaching together as well.
"We challenged the heck out of each other. We had a lot of good, hard arguments," Shanahan said. "And I think we both made each other better through it all."
And yet, for as competitive as they are with each other and all the good-natured grief they might give each other, Shanahan is thoroughly enjoying his friend's early success.
"It doesn't surprise me at all. He's a good coach. He knows what he's doing," said Shanahan, whose first 49ers team in 2017 started 0-9 before winning six of the last seven games. "It seems like he's with some good people, some good coaches and a great organization. He has a really good quarterback. It doesn't surprise me at all they're where they're at.
"It's just been cool to see him in that role. I always thought and knew he'd be good, but it's really cool when you see him in that role. It's not that I'm surprised, I always knew he'd be good, but to already see him there and see how comfortable he is and how natural he is at it, I've been very proud of him. He's been even better than I expected. And I know he's going to be doing this a long time."
<&rdpStrong>Packers vs. 49ers: Three things to watch</&rdpStrong>
1. 'THE PASS RUSH IS REAL'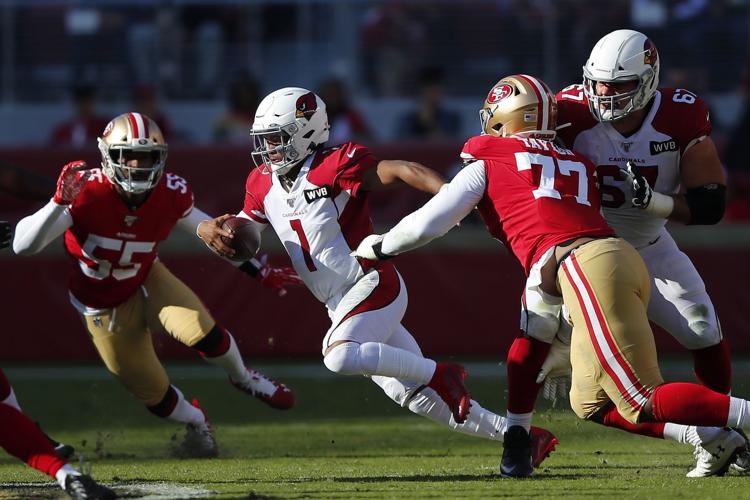 The 49ers pass defense has been nothing short of dominant. They entered the week No. 1 in the NFL against the pass (142.5 yards per game), tied for No. 1 in sacks (39), and ranked No. 2 in yards allowed per passing play (4.86), fewest 20-yard completions allowed (10) and lowest opponent passer rating (72.3). And it starts with one of the best pass-rush units in the league.
"The pass rush is real. I mean, it's an elite pass rush," Packers coach Matt LaFleur said. "It's just consistent pressure and they can do it with four. But I think it's their scheme, too. They've got a great scheme. You don't see a whole lot of explosive (plays). They do enough too to keep you off balance in terms of how they mix their two-safety defenses with their traditional three deep (defenses). They'll throw a little bit of pressure in there and play some man (coverage) on third downs. It's a complete defense, but it definitely starts up front."
That means the Packers offensive line, which has played well all season with one glaring exception (a Nov. 3 loss at the Los Angeles Chargers), will have to be on top of its game, and quarterback Aaron Rodgers once again extolled the unit's virtues at midweek.
"The big key that I'm sure you guys have written about and talked about is the offensive linemen. To be able to have those guys help me through 10 weeks has been really important," Rodgers said. "We've been really fortunate to have those guys healthy and practicing all the time. I think the continuity that they have upfront has been a big part of our success."
The other challenge the 49ers present defensively, though, is that their predominantly zone coverage approach in the secondary limits opportunities for explosive plays.
"Games like this, sometimes you've just got to take what they give you at the beginning and then let those (big plays) come," wide receiver Davante Adams said. "The more you go chasing them, you're just going to get frustrated and you may waste downs trying to beat them with something they're ready for. So you just learn, you gather information throughout the game so hopefully we can do that early and find a way to hit 'em on one."
2. JIMMY G'S INCONSISTENCY
As well as the 49ers have played during their 9-1 start, and as good as quarterback Jimmy Garoppolo's stats look, their passing game has been inconsistent, primarily because Garoppolo's penchant for turning the ball over.
Garappolo enters the game having completed 218 of 317 passes (68.8%) for 2,478 yards with 18 touchdowns (97.7 rating). But he's also thrown 10 interceptions and lost four fumbles, including three interceptions and two lost fumbles over the past two games.
"I think Jimmy has done some really good things this year. This has been the first year that he's been able to play at least half a season," 49ers coach Kyle Shanahan said of his quarterback, who missed most of last season with a knee injury. "He hasn't played a ton of football. Coming off an ACL, I knew there would be some ups and downs this year. I think he's gotten into it better and faster than expected. I know he'd like to eliminate a number of those picks – which, as always, not all are his fault. But definitely we've had too many of them. But what I like about Jimmy is he makes a lot of plays too, and he keeps coming. He's not scared to turn it over, because he's not scared to make the big play. But we've definitely got to cut down on those turnovers."
The Packers defense, meanwhile, thrives on takeaways, as the team entered the week with the best turnover differential in the league. To win Sunday night, the defense will have to take advantage of Garoppolo's mistakes.
"The takeaway piece is big, much more than we had a year ago, where we are as a whole team," defensive coordinator Mike Pettine said of the team's 16 takeaways — already more than the Packers had last season (15) — and plus-9 turnover ratio, tied for second-best in the league. "We're ranked pretty high in the league as far as turnover differential. I think we've been better in the red zone. Because really it's points and takeaways. Those are two areas where we have improved. And I think if we get some of the other things headed in the right direction or just cleaned up, we have a chance to be pretty good."
3. TAKING APPLICATIONS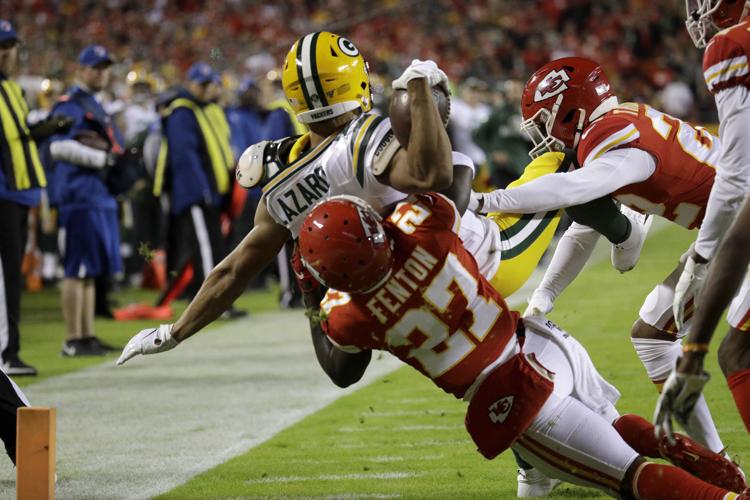 When the Packers kicked off their offseason program, Geronimo Allison was the team's No. 2 receiver behind Davante Adams. As training camp unfolded, Marquez Valdes-Scantling appeared to move ahead of Allison. But as the season has gone on, Valdes-Scantling's playing time as dwindled and Jake Kumerow and Allen Lazard (above) have seen more action. In the Packers' pre-bye win over Carolina, Allison played 40 snaps, followed by Lazard (30) and Kumerow (21). Valdes-Scantling played just 11 offensive snaps.
From Rodgers to LaFleur to offensive coordinator Nathaniel Hackett, the party line has been that the team doesn't need anyone to establish himself as the second receiver behind Adams. Even if that's true — which is debatable — it appears no one told Lazard, who has been backing up his breakout performance against Detroit on Oct. 14 with consistent contributions. After not having a reception in the first five games, Lazard enters Sunday with 18 receptions for 220 yards and a touchdown — almost as much production in half the games as Allison (23 receptions, 211 yards, two touchdowns) and Valdes-Scantling (22 receptions, 420 yards, two touchdowns).
So can the Packers win without a clear-cut No. 2?
"We've been finding a way to win different ways. I think we can, is the answer," Rodgers replied. "It's going to take guys buying into their roles and understanding that one week they might have a couple of big catches and 140 yards and a touchdown and the next week they might not be as big a factor in the game. That's just the way the game plays out, the plan, the defense we're playing against.
"I think great teams understand their roles and embrace them and make it more about the team. Obviously, everybody wants to go out there and compete and put up numbers and make splash plays. But I think the character and the unity of this team is that every week it could be something different, someone different."
---
Jason Wilde covers the Packers for ESPN Wisconsin. Listen to him with former Packers and Badgers offensive lineman Mark Tauscher weekdays from 9 a.m. until noon on "Wilde & Tausch" on 100.5 FM ESPN Madison.