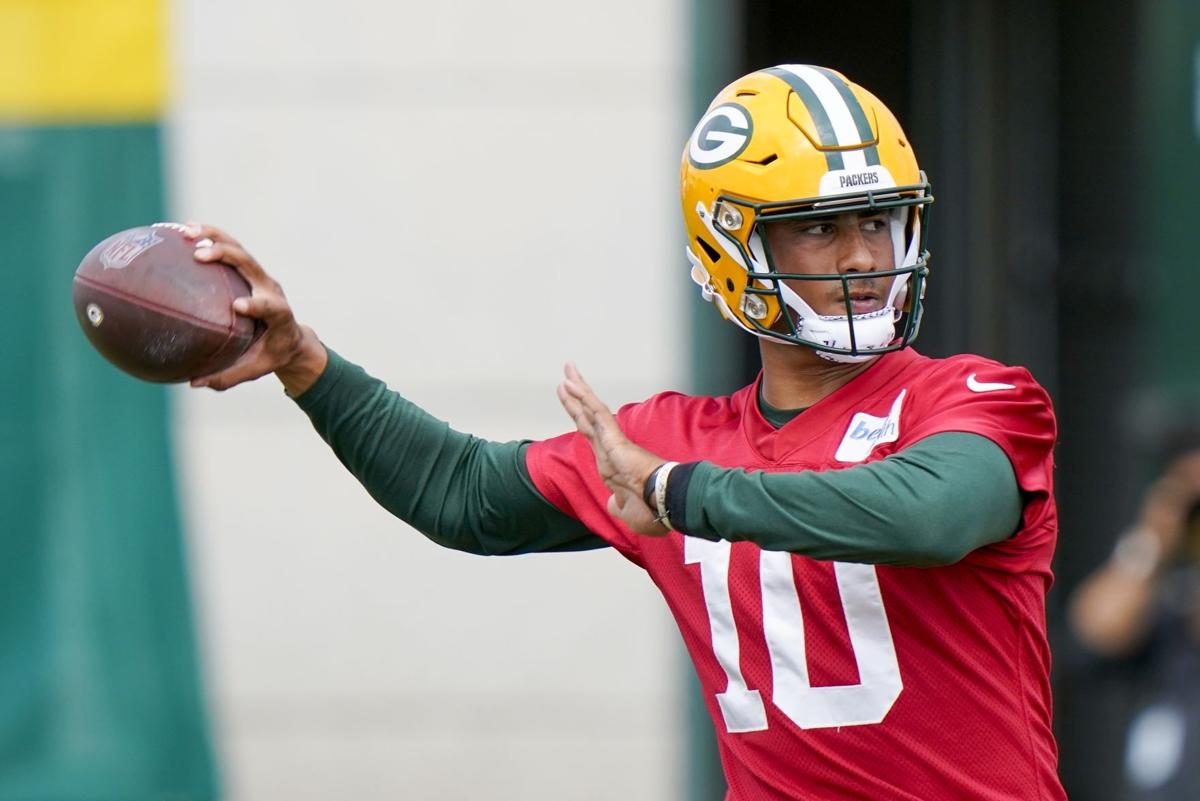 GREEN BAY — It may have been 15 years ago, but Aaron Rodgers certainly hasn't forgotten what it was like to be a rookie first-round pick playing quarterback for the Green Bay Packers behind a legendary, iconic starter.
So Rodgers can feel Jordan Love's growing pains, ones that have been exacerbated by the fact that unlike Rodgers, who in 2005 had a typical NFL offseason, Love and this year's rookie class didn't set foot on a practice field until training camp began because of the COVID-19 pandemic.
"The most important thing for me was the studying. I remember sitting up in the classrooms at St. Norbert just taking copious notes and trying to figure those out, and wake up with enough energy to go out and execute (at practice the next day)," Rodgers recalled during a Zoom call with reporters earlier this week. "It was a different type of camp (back then), from a physical standpoint based on the number of practices and the number of padded practices we had, but it really comes down to the mental side, I think, for a young quarterback. Because when you can mentally start to slow things down, it really settles your body in."
Tuesday's practice inside Lambeau Field was a perfect example. Love directed a field-goal drive during the 2-minute drill that included a near interception at the goal line. During the extra session after the veterans were dismissed, he had a couple of nice completions to tight end Jace Sternberger before throwing an interception to rookie safety Vernon Scott and throwing several inaccurate balls.
While Love has shown good touch on some of his throws, coach Matt LaFleur acknowledged he hasn't seen Love drive a lot of high-velocity throws so far in camp.
"That's kind of one of the things I challenged him to do today," LaFleur said. "I know in that move-the-ball period we had at the end, he hit Malik Taylor on a nice in-cut. I just told him, 'Hey, you can't play hesitant, you can't play tentative.'
"We tell the quarterbacks, 'Indecisive equals ineffective.' Sometimes, I know there's a lot going through his mind right now, but sometimes you've just got to shut it off and let your instincts take over and really go out and rip the ball. That's kind of the challenge to him right now."
It's a challenge Rodgers remembers well, and understands.
"It's a process as a young quarterback because you're moving so quickly, and I think (Love) has done a nice job. He's had a couple ups and downs, but that's what being a rookie is all about," Rodgers said. "It's about learning and then locking those things away. The greatest thing you can take with you each day is the recall, being honest about your performance and trying not to repeat mistakes. Your rookie year is a different year, especially for a quarterback when you're an offense that's so complex and there's so many different things that you have to understand."
Nothing for granted
Jake Kumerow knows all too well how hard it can be to make an NFL roster, so even though the former UW-Whitewater star made last year's team — and appears to be a lock for the roster again given the lack of quality proven depth at wide receiver — he insists he's not altering his approach one bit.
"It's the same mindset every camp coming in. I'm coming in to earn a spot," said Kumerow, who finished last season with 13 receptions for 242 yards and a touchdown (including playoffs). "You've got to earn your spot every single day out here. You can't come out and be slacking off day in, day out. You have to come prepared mentally and physically every single day. I just try to do my best in taking care of my body and making sure I'm in the playbook."
Extra points
Cornerback Jaire Alexander and outside linebacker Za'Darius Smith were back in pads for practice but right tackle Rick Wagner remained sidelined for the fourth straight practice. … Safety Raven Greene remained sidelined for the second straight day after dropping out of Sunday's practice with an undisclosed injury. … The players have Wednesday off before starting another four-day practice gauntlet on Thursday that will run through Sunday. … Tuesday's practice was the longest (2 hours, 3 minutes) and most intense in-pads session of camp so far, including a nearly 40-play uninterrupted 11-on-11 move-the-ball session. "It felt like the flow was pretty good," LaFleur said. "I definitely have to get used to or get back in the flow of calling plays, both myself and (defensive coordinator Mike) Pettine, just to make sure our tempo is on point and the guys are getting the calls in and are able to communicate at the best of their ability so we can have success. But overall, I thought the competition was great."
Concerned about COVID-19?
Sign up now to get the most recent coronavirus headlines and other important local and national news sent to your email inbox daily.