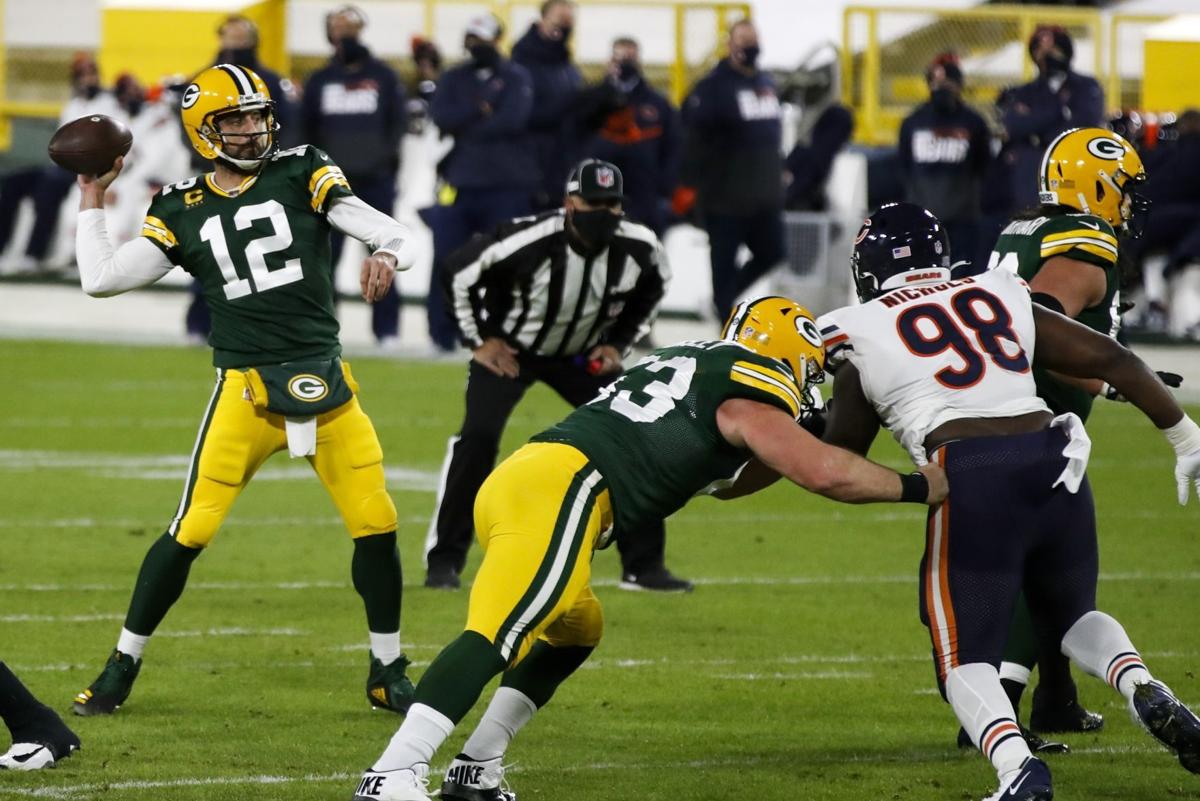 GREEN BAY — Aaron Rodgers can tick off any number of reasons for his MVP-level numbers this season — and did exactly that in the wake of the Green Bay Packers' 41-25 victory over the Chicago Bears on Sunday night.
The Packers' two-time NFL MVP spoke of coach Matt LaFleur's innovative offensive scheme and play-calling, which he felt were as good against the Bears as they've ever been. He talked about the productivity of the run game, which returned to form behind a combined 163-yard effort from Aaron Jones and Jamaal Williams. He pointed to his own offseason workout regiment and good health, part of his holistic approach to wellness.
But perhaps the most underrated — but just as significant — factor has been how well the offensive line, despite seemingly constant shuffling due to injuries, has protected him.
"For a soon-to-be 37-year-old, that's my dream," said Rodgers, who will celebrate his 37th birthday Wednesday. "That's an amazing feeling, to go home and not be feeling like an almost 37-year-old. I've been feeling really, really good all season, so I appreciate those boys up front."
The win against the Bears marked the 10th time in the season's first 11 games in which Rodgers absorbed zero or one sack. Against the Bears, it was a goose egg, a meaningful accomplishment against one of the NFL's top defenses.
For the season, Rodgers has been sacked 11 times in 11 games, which puts him on pace for what would be a career-low 16 this year. Even in 2013 and 2017, when Rodgers missed extended time with collarbone injuries, he absorbed at least 20 sacks. In his MVP seasons, he was sacked 36 times in 2011 and 28 times in 2014.
Meanwhile, Rodgers' other numbers have him once again in the MVP discussion. He enters Sunday's game against the Philadelphia Eagles at Lambeau Field having completed 65.8% of his passes for 3,100 yards with 33 touchdowns and four interceptions for a 117.6 passer rating.
"Obviously, I've got my legs underneath me and my health has been great, thanks to the work I've put in, but also the way I've been protected this year," Rodgers said.
What has made the line's work even more impressive has been the way the group has rolled with seemingly weekly changes. Against the Bears, center Corey Linsley sustained a first-quarter knee injury — the second straight game he left early due to an injury — and left guard Elgton Jenkins moved to center, just as he had the previous week at Indianapolis. Rookie sixth-round pick Jon Runyan once again came off the bench to take over at left guard.
Then, in the second half, right tackle Billy Turner moved from right tackle, where he'd stymied Bears edge rusher Khalil Mack, inside to replace Lucas Patrick, who aggravated a toe injury he'd been dealing with in recent weeks. Ex-University of Wisconsin tackle Rick Wagner took over at right tackle. Only left tackle David Bakhtiari finished the game where he started.
"Dave is just such a rock over there. You just have so much confidence with him on that side," Rodgers said. "Mack traditionally lines up on the offense's right, so it was a tough task for Billy. I thought we did a nice job of giving (Mack) a bunch of different looks. He's a premier pass rusher, one of the top players in the game, and you've got to put some different things in his face: guys chipping him, body presence, movement, just so he can't get comfortable because he's a game-wrecker. And I thought we did a great job up front."
Responded Bakhtiari: "It builds confidence in your quarterback when he does want to extend plays. That's been something that Aaron has made a killing off of. When he wants to extend plays and we can do that for him, that's huge. You've got to tip your hat to Billy. Billy went out there against a very dominant player and matched up very well and kept him at bay. That speaks volumes to his preparation and who he is because, we've shuffled a lot in games and we've been shuffling around a lot in practice."
The juggling has been going on all year, starting with the regular-season opener at Minnesota, where Jenkins started at right tackle for Turner, who was still recovering from a training camp knee injury, then moved to his usual left guard spot when right guard Lane Taylor sustained a season-ending knee injury and Runyan took over at right guard.
Jenkins has moved around the most, including during the Packers' victory at San Francisco, where Jenkins started at left guard, moved to left tackle and then finished the game at center.
"What's so beautiful about him is just that ability. I can't tell you how hard that is mid-game when you've been repping one position all week and now you've got to step in and go to another spot," LaFleur said. "Our goal is always — like you've heard me say 1,000 times — is we're going to get the best five out there, whatever that combination is for the week."
Lost in the shuffle has been that Runyan, the son of the longtime Houston Oilers/Tennessee Titans and Philadelphia Eagles guard by the same name, has played 156 snaps this season (21.7%) despite transitioning from being a left tackle in college at Michigan to working inside in the NFL.
"I've got to tip my hat to him," Bakhtiari said. "The best compliment I can give him is it doesn't seem like the lights are too bright for him, which is big. No mental lapses. What I appreciated the most was his in-game adjustments. When I was telling him what he should expect to see based on how (the Bears) were playing early on, it's one thing to listen. It's another thing to ask of your body to do that. And I thought he did a great job on it. Something that, I think that's going to carry him very far down the road."
---
Photos: Packers' 2020 season so far in pictures
Photos: Packers' 2020 season so far in pictures
Check out photo galleries from every game of 2020 through the end of the regular season and the playoffs — if the Packers make it.