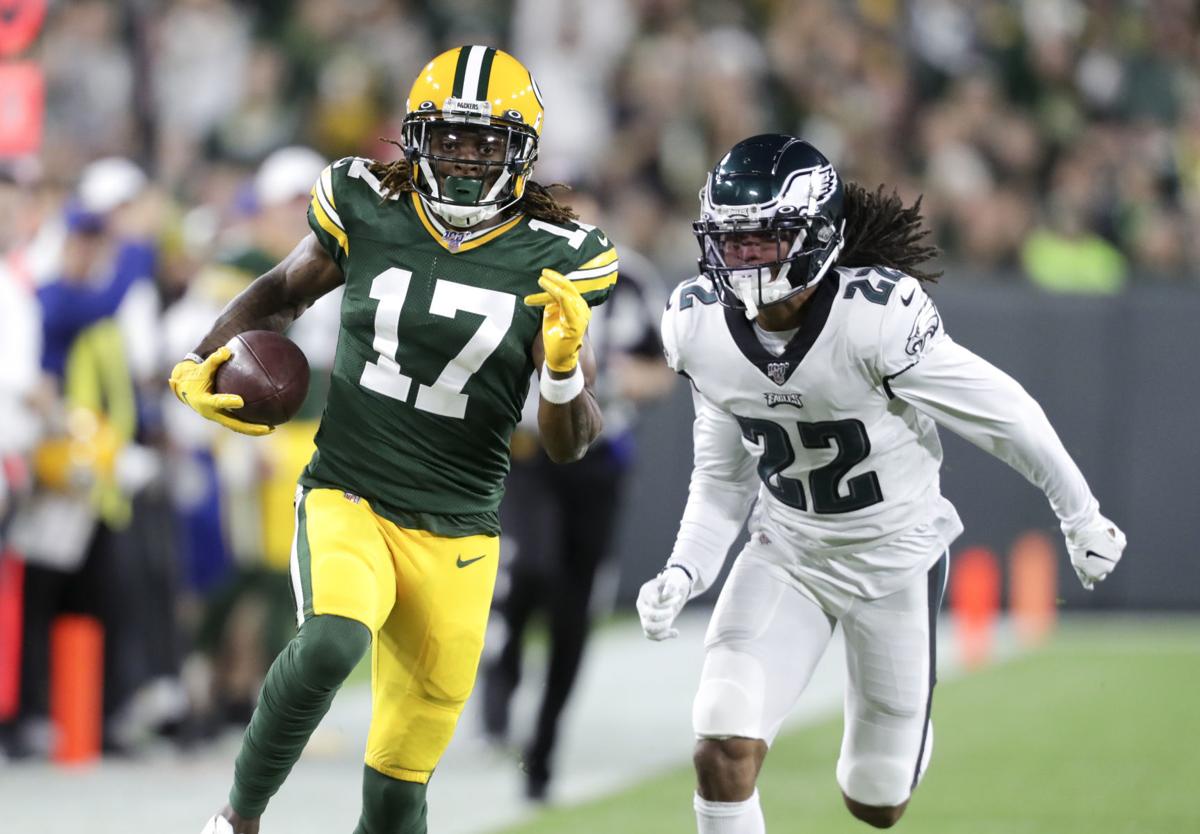 GREEN BAY — Leapfrogging another human being — even one who is standing straight up as Davante Adams did Friday morning during the early portion of practice — is not the same as running full-speed routes in an NFL game, but that the Green Bay Packers' No. 1 wide receiver was able to accomplish such an impressive athletic feat has to be a good sign for his return to the lineup Sunday at the Los Angeles Chargers.
Adams, who has missed the past four games with the turf toe injury he sustained Sept. 26 against Philadelphia, is listed as questionable on the team's injury report, and while coach Matt LaFleur hadn't seen the viral video of Adams skying over assistant strength and conditioning coach Grant Thorne, even LaFleur sounded guardedly optimistic about Adams' return.
"We're all anxiously awaiting that. And I think everybody will know about 90 minutes before kickoff," LaFleur said, referring to the NFL's game-day deadline for teams' inactive lists — and his preference not to talk about players' injuries. "But, in all seriousness, he has made progress. But again, we're going to take it day to day with him. So, we'll see. I have not seen any video."
What LaFleur has seen is Adams go through practice on a limited basis for three straight days — something he hadn't done since the injury. When Adams spoke with reporters Wednesday, he also struck a hopeful chord about rejoining an offense that has helped the team go 4-0 in the games he's missed. He also insisted he wouldn't overdo it if he does play while trying to make up for lost time.
Success in free agency and the emergence of Aaron Jones are near the top of the list for the 7-1 squad.
"You just have to let the game come to you. At this point, I'm not competing with people to be the leading receiver in the league," said Adams, who had 25 receptions for 378 yards and no touchdowns at the time of his injury after catching 111 passes for 1,386 yards and 13 touchdowns in 15 games last season. "Obviously, my focus every week is to be the best receiver in the league. I mean, I missed a month of football. It's going to be tough to catch (New Orleans') Mike Thomas at this point."
While Thomas leads the NFL in receptions (73) and receiving yards (875), the Packers will have to decide how much Adams should play if he is active against the Chargers. Asked if Adams might be on a pitch count in his first game back, LaFleur said he'd monitor Adams' snaps during the game and then decide whether to scale back or let him loose.
"I think it's such a case-by-case basis in terms of how somebody's feeling within the game," LaFleur said. "We've had that multiple times this year with guys like Kevin King and you don't know if he's going to be in there and then he's in there. Certainly, we're always mindful of a guy that's been out for a while when you bring him back. You just don't want to overload them. But typically those discussions take place during the game."
As for the remainder of the Packers' injury report, only tight end Robert Tonyan (hip) remains on the list, having also been deemed "questionable." Among the players removed from what began as a 22-player report was right tackle Bryan Bulaga (finger), who will play.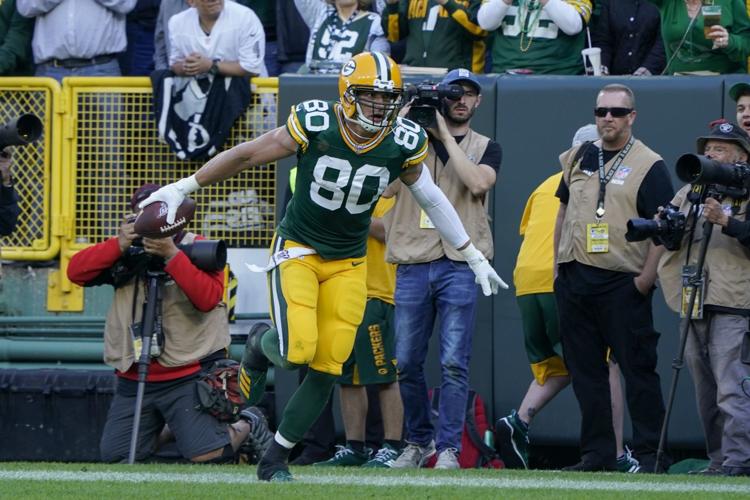 Graham: 'I'm about winning games'
Veteran tight end Jimmy Graham, speaking with reporters for the second time in as many weeks, said he is ready if the Packers offense needs him to have a big game at any point during the second half of the season — but he's also just fine with his here-and-there contributions to the passing game. Graham enters Sunday's game against the Chargers having caught 21 passes for 234 yards and three touchdowns.
"When and if my number's called, I'll be there ready and I know I've got to produce," Graham said. "It'll happen. It's always happened in my career, where I rally and make stuff happen and I'm still that same guy. I want to do those things and be ready when they come.
"Through the years, obviously at times I've been the No. 1, and now I have a No. 1 (in Adams). So as long as we're winning games, I could care less. I don't care what they ask me to do or how they ask me to do it. I'm going to do it. And I'm happy to do it. I'm about winning games — simple as that. I'm not a stats guy or check stats or really read social media or do a lot of media. It's really not my thing. I just want to go out there and win games."
Extra points
LaFleur and the team's equipment and technology staffs are trying to figure out why quarterback Aaron Rodgers' helmet speaker keeps malfunctioning. Rodgers has had the speaker go out three times this season, including last week at Kansas City. "I'd be lying to you if I told you I knew what was going on with that. I don't," LaFleur said. "I just know that I am giving a lot of people earfuls about getting it fixed." … The Packers were set to depart Austin Straubel International Airport at 5:30 Friday evening, leaving for Los Angeles a day earlier than they normally would for a road game. LaFleur said the team would have a walkthrough on Saturday in advance of Sunday's game. … The Packers' roster remained at 52 players Friday afternoon, leaving one spot open for safety Ibraheim Campbell or tight end Jace Sternberger, both of whom are eligible to be added to the roster after practicing in recent weeks. Asked if Campbell or Sternberger could play Sunday if needed, LaFleur replied: "Absolutely. We've got confidence in both of those guys that if need be they'll be ready to go."
Be the first to know
Get local news delivered to your inbox!